28 Best Things to Do in Istanbul & Turkey
Turkey is a dazzling destination filled with historical sites, archaeological wonders, beaches and friendly people. The country is surrounded by ancient monuments, and it's not long ago that the Turks enter into the tourism arena. Every landscape in Turkeys tells a story of events and history about the people of the country. Its scenery never failed to impress any visitors, be it the mighty mountains, sun-soaked Mediterranean right up to the arid steppe which also highlights the country's beauty.
1. See and Explore Nature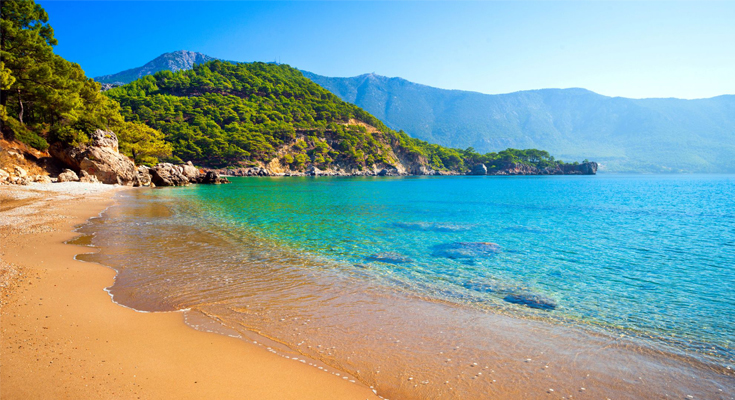 Turkey is filled with beautiful coastal lines, beaches, valleys, and if you are looking for things to do in Turkey, visit the Turquoise Rivera, it's a beautiful sight with natural beauty, warm climate, mountainous scenery and warm sea. Another place with white sand, breathtaking spot and turquoise water is Oludeniz. You can even step on a boat and tour the butterfly valley.
2. Try Turkey's Wellness and Spa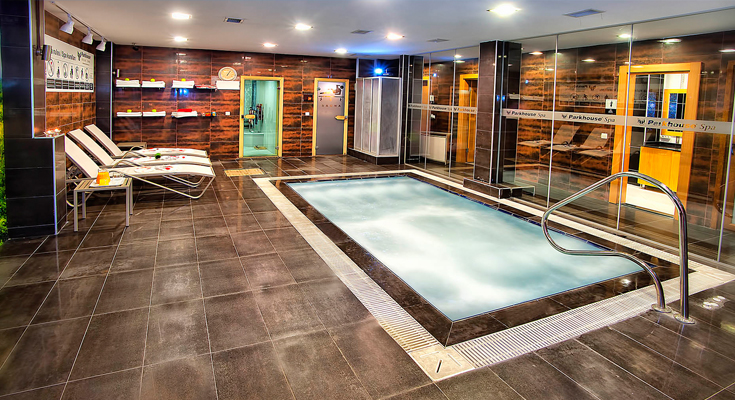 If you are thinking of what to do in Turkey, try wellness and spa! Turkey thermal resource is well known in the world and it's on the number one list in Europe. Boasting healing mud, hot springs and therapeutic waters will give you rejuvenating holiday. Relax and with specialized spa treatments like hot stone therapy, Shiatsu massage and the Traditional Turkish Hammam. You will find it in places such as Aegean, Marmara and Central Anatoli.
3. Cheap Eats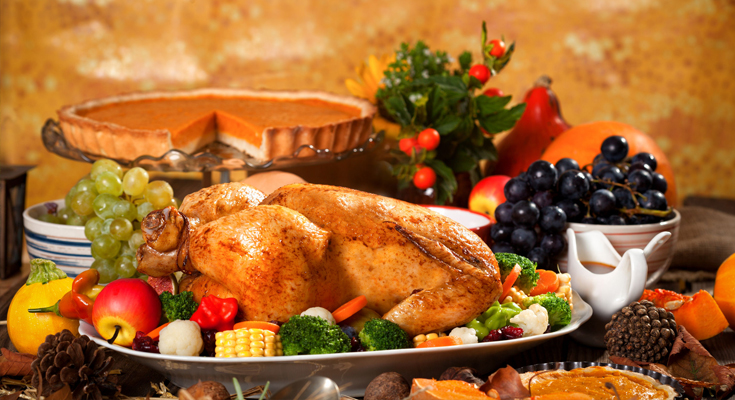 If you are looking for good and cheap treats, try few local foods at Tarihi Eminonu Balik Ekmek for fish bread, fish fillet rolled in with some salad and onion slaw to it. If you craving for some really good meat, Street Food in Taksim Square is just about the place to get chicken, beef or lamb wraps.
4. Sports & Adventure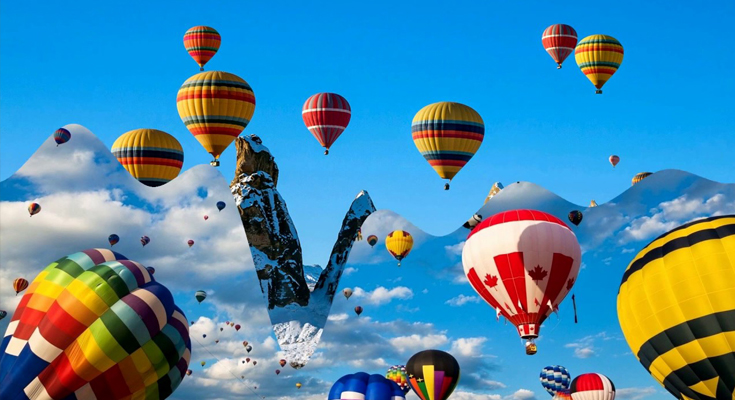 Looking for fun activities in Turkey? There's a lot to do here in Turkey, you can go canoeing, trekking, and golfing or even try winter sports. Turkey is a perfect destination to take advantage of the sporting holiday and adventure activities. With such a landscape, the country can entertain you with almost any type of activity.
5. Visit all the UNESCO World Heritage Sites in Turkey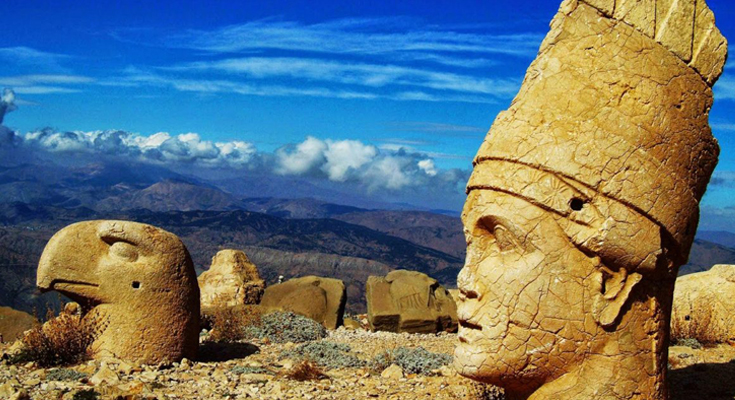 Discover some of the most important and famous UNESCO World Heritage Sites in Turkey such as Göbeklitepe (2018), Historic Areas of Istanbul (1985), Archaeological Site of Troy (1998), Göreme National Park and the Rock Sites of Cappadocia (1985), Hattusha: the Hittite Capital (1986), Nemrut Dağ (1987), Ephesus (2015), Great Mosque and Hospital of Divriği (1985), Xanthos-Letoon (1988), Hierapolis-Pamukkale (1988), City of Safranbolu (1994), Selimiye Mosque and its Social Complex (2011) and a few more added to the list.
6. Cave Church of Saint Peter
It's one of the holiest and the first church in the world. It was first established as a natural cave and used by St. Peter. In 2011, the site was inscribed in the UNESCO World Heritage. It's one of the most visit and famous pilgrimage sites of Christianity.
7. Enjoy Shopping and List of Things to do in Turkey only at Grand Bazaar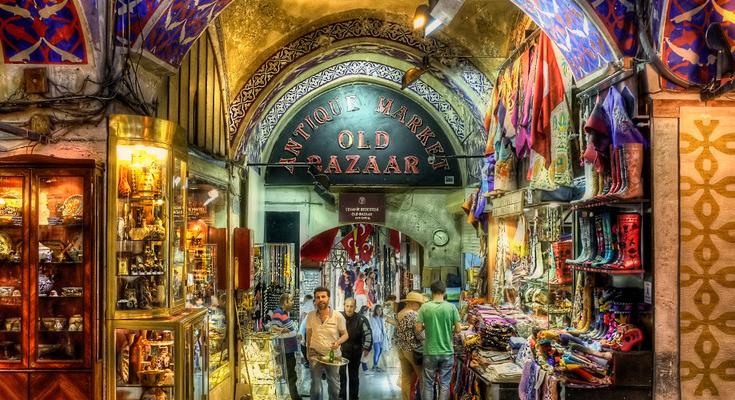 The Grand Bazaar is one of the largest and oldest shopping centres in the world. Its historic and astonishing site attracts many visitors from all over the world. There are about 3000 shops selling just about everything, be it handbags, carpets, antiques, textiles, chinaware, gold and silver jewellery. You never know what you will find until you explore the bazaar!
8. Go and See the Oldest Statue in Asia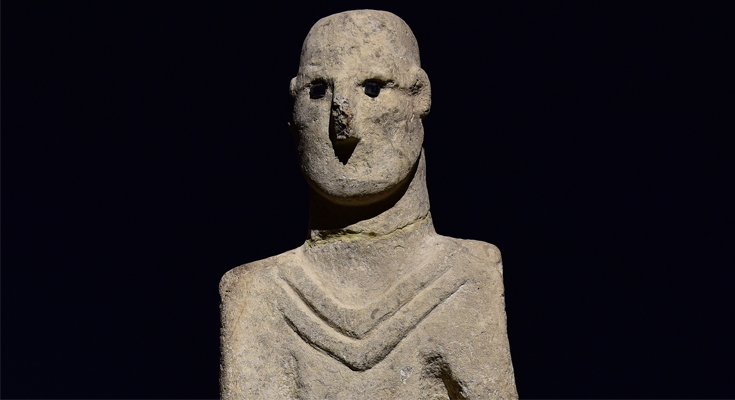 The Balikligol Statue is one of the oldest statues in Asia. It's an 11,500-year-old masterpiece carved out of limestone, and its creation is so realistic that it stir in the scientific world. There's no security to whether the statue was depicting a God, an ordinary person or even an administrator.
9. Aqua Vega Aquarium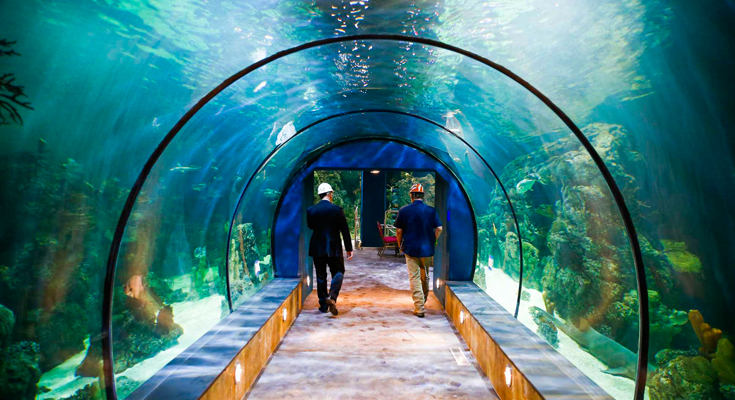 Visiting the Aqua Vega Aquarium is one of the fun activities in Turkey, especially if it's with family. It is one of the largest underwater worlds and houses the third largest tunnel aquarium. You can get up close with sea animals such as sharks, Napoleon fish, koi fish, clown fish and many others. So if you want to explore an aquarium world, Turkey has it all for you.
Know More: About Turkey
Top Things to Do in Istanbul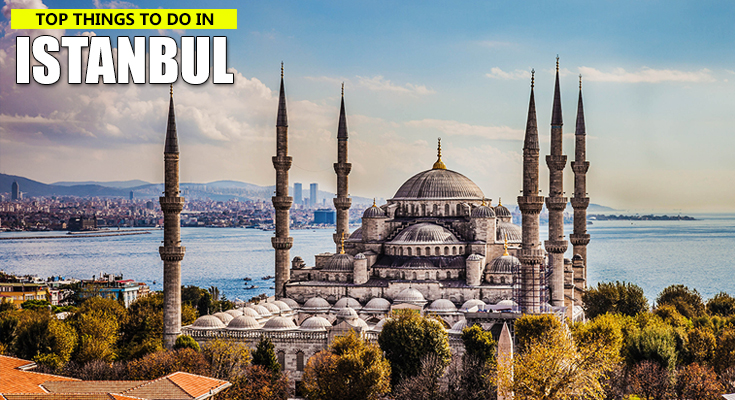 Ever wondered what to do in Istanbul? There are many things to do in Istanbul, the city spans two continents and it's massively huge. Istanbul is one of the biggest city in Istanbul, and a city that wears off its culture and history well. It's an exciting place to be as it remains so true to its basilicas, mosques, cathedrals and ancient bazaars. The legendary Silk Road linking Europe and Asia is what's drawn merchants to the country. They like it so much that they stayed, and that's what gave the city its cultural diversity up to this day and it's become one of turkey tourist spots. Let's tell you what to do in Istanbul as its appealing to all the tourists, you can visit Hagias Sophia, Topkapi Palace, Archaeology Museum, the Bosphorus Cruise, visit Local Market and much more sights to see and do in Istanbul, Turkey.
1. Visit the Spice Market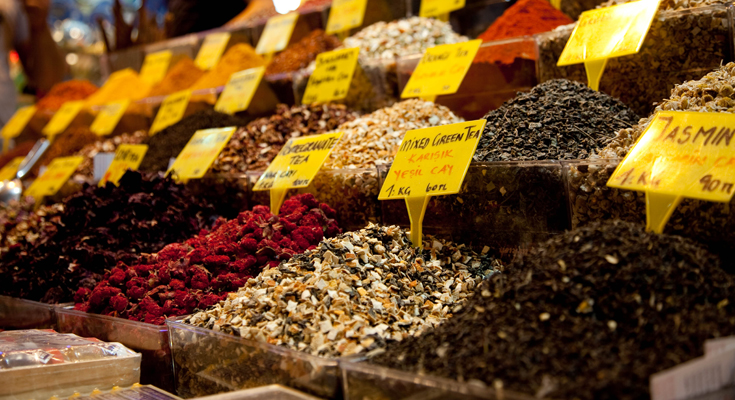 The Grand Bazaar is one of the largest and oldest shopping centres in the world. But the Spice Market is second to the Grand Bazaar which sells out the best spices, dried fruits, nuts, tea and even the true Turkish delight. Along with a line of shops selling spices, you can find a number of stalls selling tourist trinkets which turn out to always be a good souvenir.
2. Visit the Hagia Sophia Museum (Aya Sofya)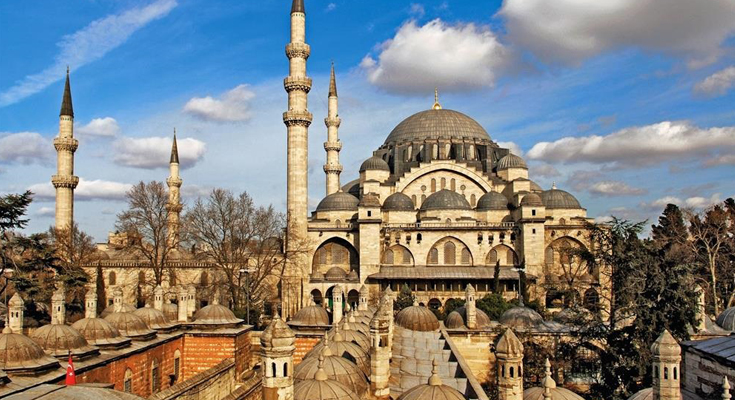 Tourist is flocking here to see the glorious church turned museum for its stunning architecture and historical significance. It's one of Istanbul sights to see and explore! The entrance has a mosaic of Christ as Pantocrator, and its main building is adorned with gold mosaics and huge nave. The focal point of beauty in the museum is the 9th-century mosaics of Virgin and Christ Child.
3. Understand Istanbul archaeology at Istanbul Archaeological Museum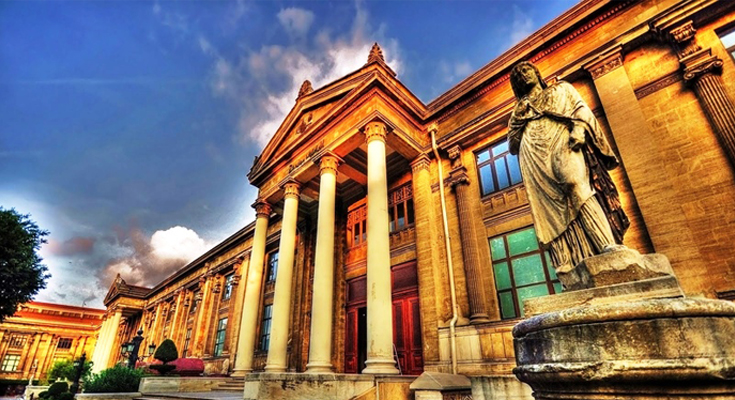 The Istanbul Archaeological Museum is one of the most important museums in Istanbul, Turkey. The museums have three museums namely the Archaeological Museum, the Ancient Orient Museum and the Tiled Kiosk Museum. There are about 1 million objects from civilizations from all over the world. It was firstly a Turkish museum and founded in 1891.
4. Dolmabache Palace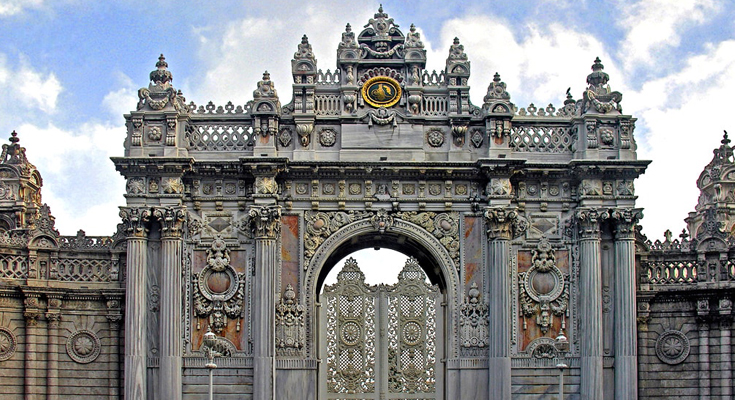 There no better word to describe the palace other than graceful, luxurious and exemptions piece of art. The palace has always been compared to the Palace of Versailles. It was built in the 19th century blending an architectural style of Ottoman along with Europe style such as Baroque, Neoclassical and Rococo. If you are still wondering what to do in Istanbul, do visit the Dolmabache Palace.
5. Take a Cruise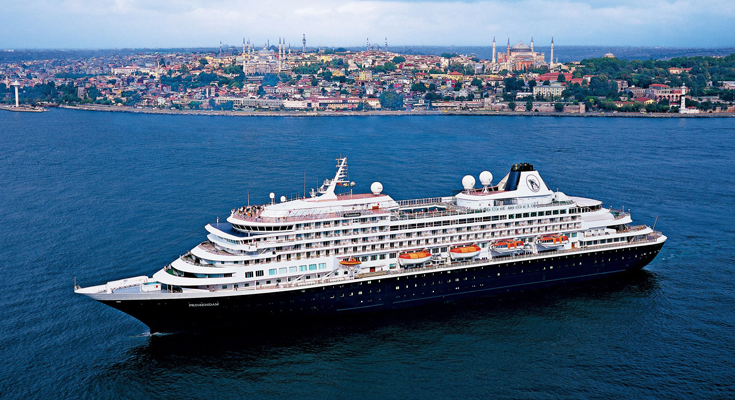 A trip to Istanbul is incomplete without a Bosphorus cruise. It is one of the best activities in Istanbul. The cruise provides a wide view of the city. You can either take the long one or the short one and in the summertime, the sunsets tours are also available. You can choose the basic, dinner entertainment, evening sunset or a private yacht.
6. Get an Underground Tour at Basilica Cistern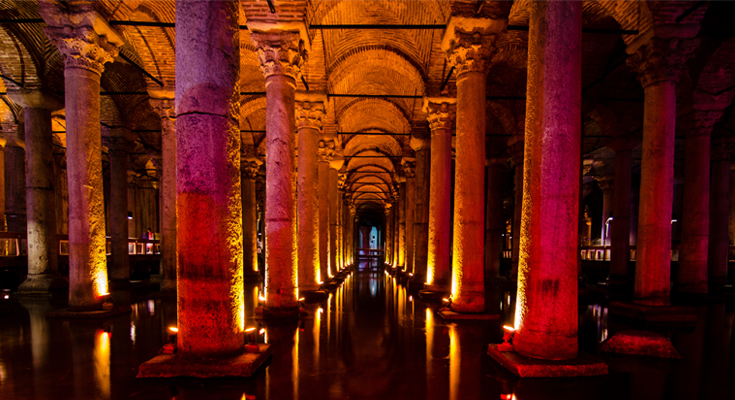 The Basilica Cistern is one of the most ancient and largest underground cisterns found in Istanbul. Most of the columns in this site seem to have been recycled from the ruins of many other buildings. You will notice that Medusa's head is used an as a base and the column which has engravings are supposed to have the power to make your wishes come true.
7. Eat a Kumpir at Many Local Cafes and Restaurants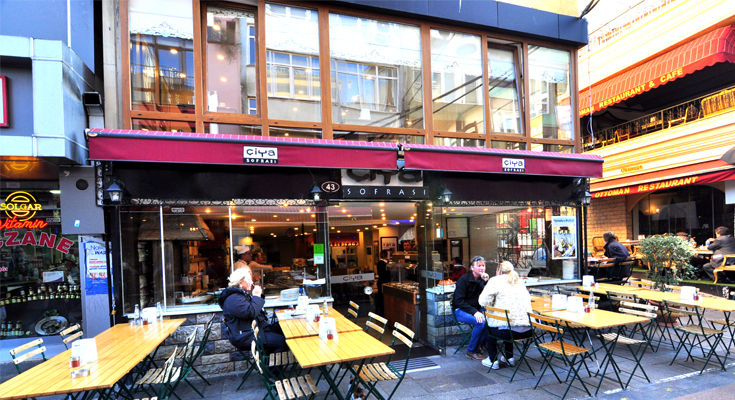 A Kumpir is a local food of the Turks mainly loaded with the baked potato. The potato is mixed with butter and cheese until if fluffy and tops it up with anything you like such as pickles, corns, peas, olives etc. It the perfect and easy to carry along with the snack!
8. Indulge your Sweet Tooth into Turkish Delight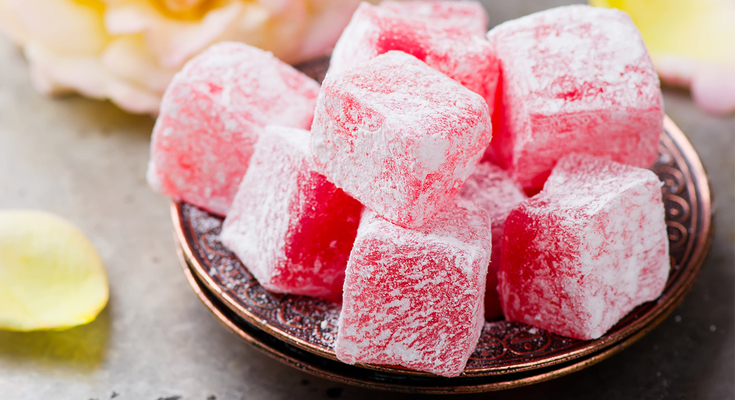 Turkish delight is also known as Lokum to locals in Turkey. It a very popular gummy treat and you can actually get to try the samples of Turkish delight. And, one of the best places to try out Turkish delight is at Hafiz Mustafa. There is a variety of flavours which you can choose from such as mint, cinnamon, rose, strawberry, orange, lemon, kiwi, apple and pomegranate. You will not be disappointed and put this on the list of best activities in Istanbul.
9. Enjoy the City View from Galata Tower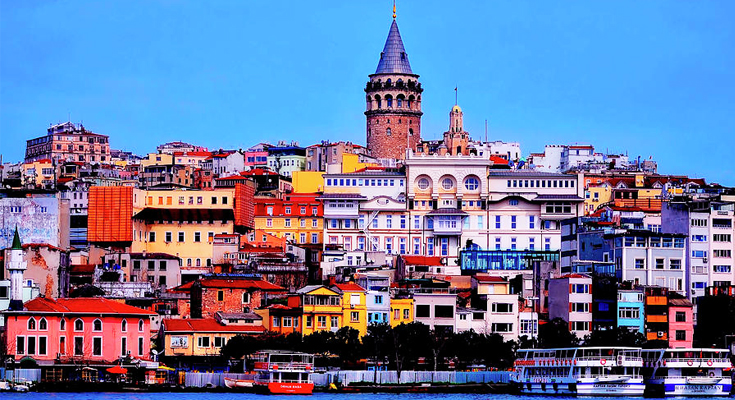 It is one of the oldest and highest towers in Istanbul and stands 63m in height giving a clear view of the whole city. No wonder its one of the best things to do in Istanbul for many visitors! It's relaxing to just stand and gaze at the beautiful city. If you do this especially in the evening, the whole city is clothed in lights.
10. Do a Day Trip to the Prince's Island's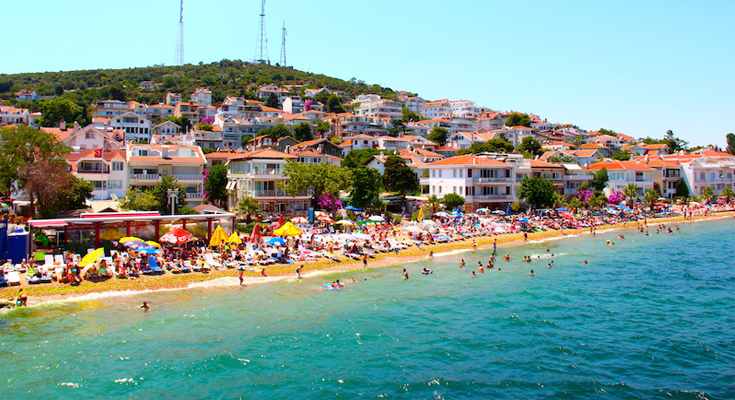 There are about 9 islands which lie on the shores of Istanbul. The island is a good relaxing vacation spot if you still think of what to do in Istanbul. The Island received its name during the Byzantine and Ottoman period, and it was a place of exile. If any member of the dynasties fell out of favour, they were often sent here to this island. Today, it's a very popular spot for couples, families, weekend getaway.
11. Nightlife in Istanbul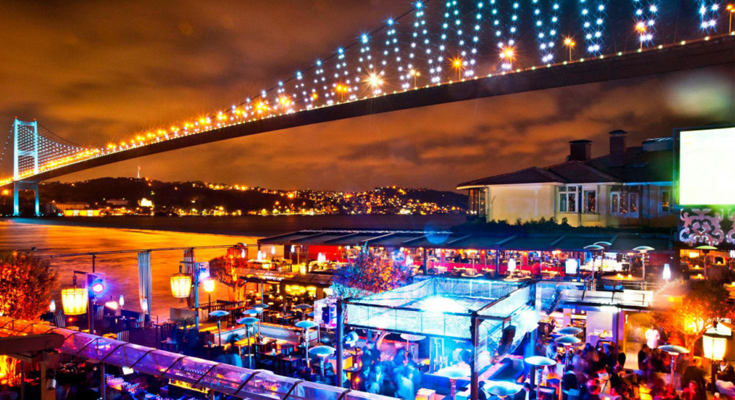 Talking about Istanbul's nightlife, it can't be compared to the rest of the world. Whether you want to just relax and sip your favourite drink, see concerts, live music, dance clubs or just celebrate the night, Istanbul has it all for you with its best places.
12. Shop at Local Markets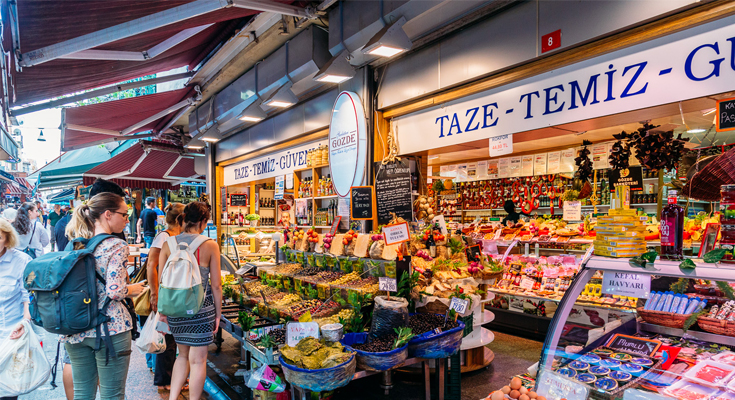 You will find almost everything in the local market that's in an around Turkey, as the Kitchen of Turkey has the best of all, blending the flavours of all continents and countries. You will see that all the vegetables and fruits in the market are freshly produced. And, that's the reason why they have good and fresh food in restaurants.
13. Get Scrubbed and Relax in a Hamam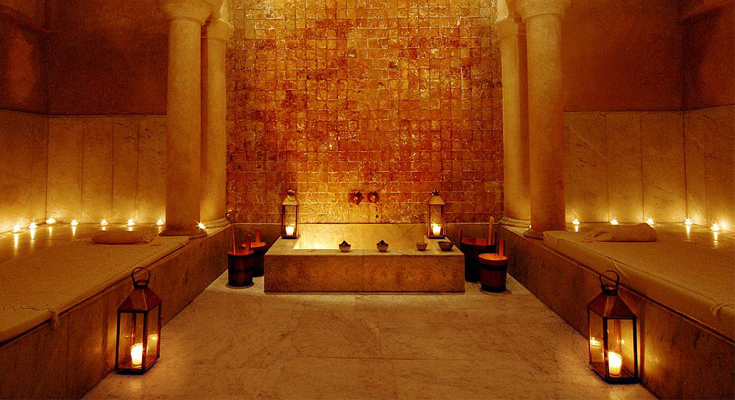 After a long tiring day, you should try the Hamam! You could get in there and relax. They will provide you with a thin cotton cloth where you steam yourself away in a steamy room lying on hot marble. There are many hamam available in the city, but the most popular among them is Ayasofya Hürrem Sultan Hamam and Kılıç Ali Paşa Hamam.
14. Gets a Ride Using the Funicular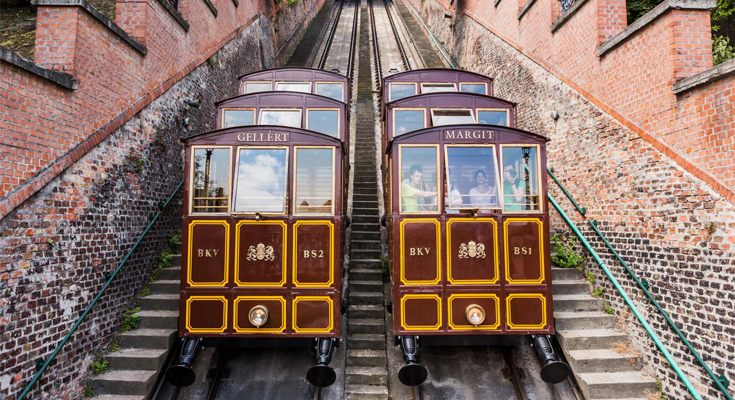 If you want to take a break from walking or even want to try out the funicular, you should give it a shot. It's one of the fun things to do in Istanbul as it gives you an exciting feel of a child. Climbing the hill can also be quite a rough patch, so you can ride the funicular. One of the oldest and oldest underground metro tunnels is the Tunnel line.
15. Where to Stay in Istanbul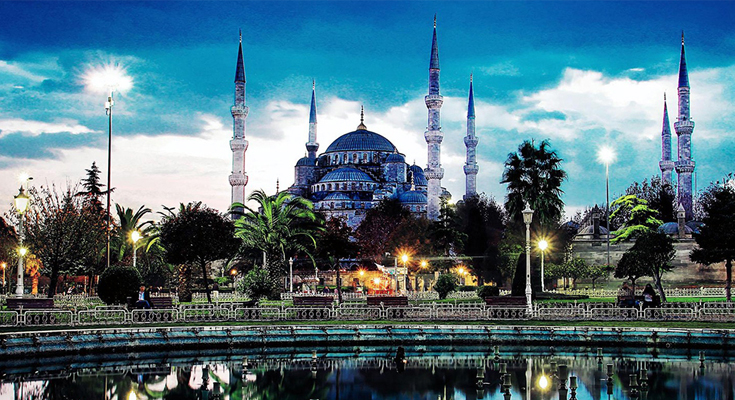 There are never any shortages of finding accommodations in Istanbul, the hardest part is deciding what's best for you, these are few options that you might want to consider like the Sultanahmet, Beyoglu, Kadikoy etc.
Explore More! Attractions in Istanbul
Top Things to Do in Ankara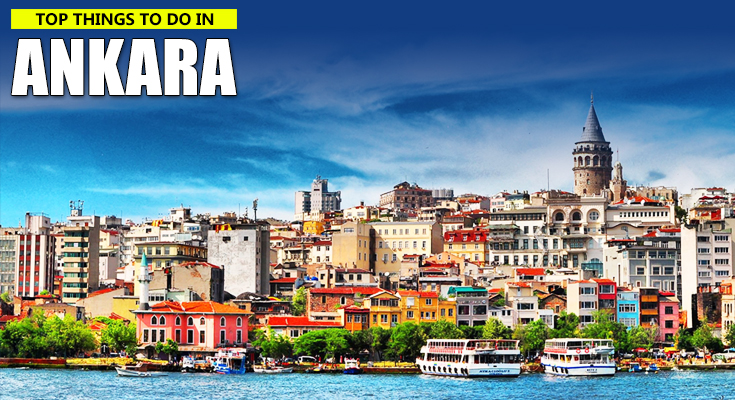 Ankara is the capital city of Turkey lying at an altitude of 850 m on the Anatolian Plateau. The capital city is known to be a modern centre, yet beyond modernity and skyscrapers, you will find the country's best museum, domed mosque and buzzing street life with a touch of Ottoman charm. Though it is the second largest city in Turkey, yet Istanbul is still the largest. Being the capital city, there are many things to do in Ankara as well as attractions to see in Ankara such as Ankara Citadel, Anıtkabir, Kocatepe Mosque, Atakule Tower and many others. Here are a list of some of the attraction and things to do in Ankara:
1. Anıtkabir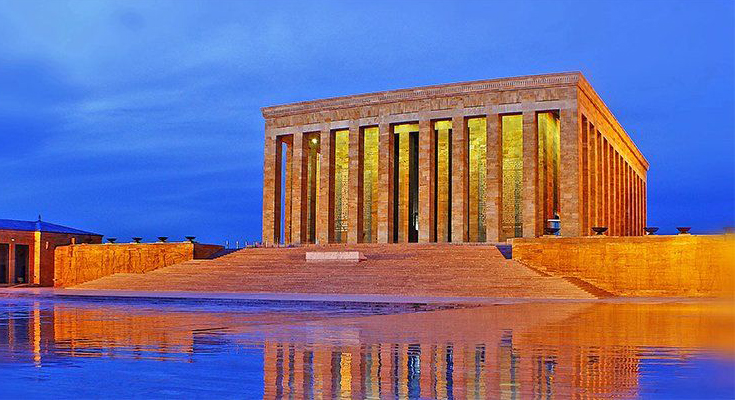 Anıtkabir isn't just a significantly important site because of its status as the tomb of Mustafa Kemal Atatürk, yet additionally because of it being a terrific accomplishment of design and an incredible case of a Turkish compositional style called the Second National Architectural Movement. Situated right in the heart of Ankara, it is a site worth to be visited if you are looking for things to do in Ankara.
2. Atakule Tower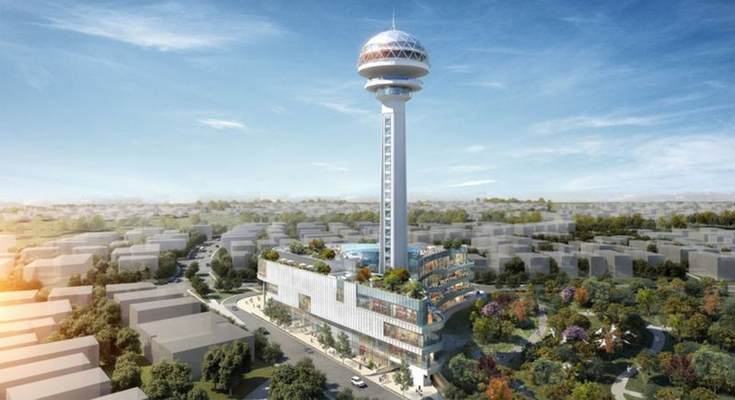 Transcending the Ankara horizon, the Atakule Tower is a symbol. The high rise, at a height of 410 feet (125 meters), remains on a slope as an ever-present gatekeeper of the city. Ragip Buluç built the site during the 1980s and it was finished in 1989. You can appreciate the city's fabulous emblem, from its round vault at the top. There's also a restaurant which you can dine in and see the whole view of the city and see it draw farther away.
3. Genclik Park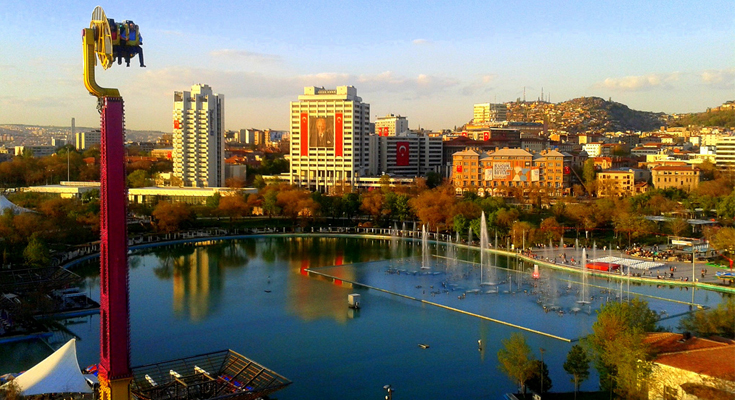 The Park is located right in the heart of the city, and it's one of the best places to spend an afternoon especially for families. There's greenery everywhere here and it's fresh and cool with a nice tea garden. The park is Middle Eastern in style and you will find many water fountains across the park. There is also fun thrill amusement for children and terrifying looking rides for teenagers.
4. Ankara Castle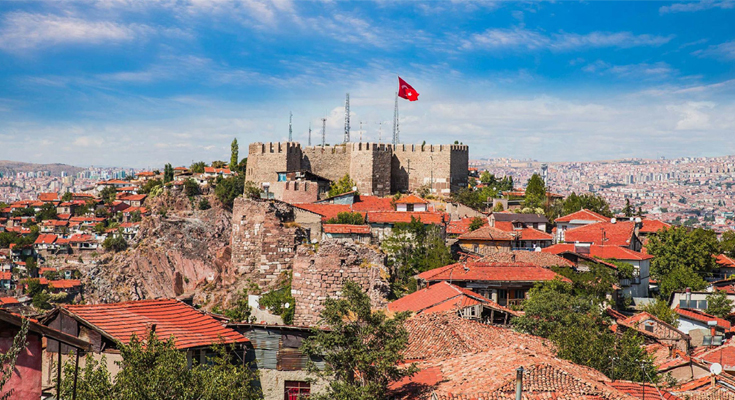 The castle takes up the entire part of the peak, which sits above the city and the red-tiled tops of old Ankara's notable houses. It's one of the oldest sights, and there's been different civilizations such as Persian, Hittite, Arab and many others who's been staying here. It's not just a popular destination among the tourist, but as well as the locals.
Dook International – Leading Turkey Tour Operator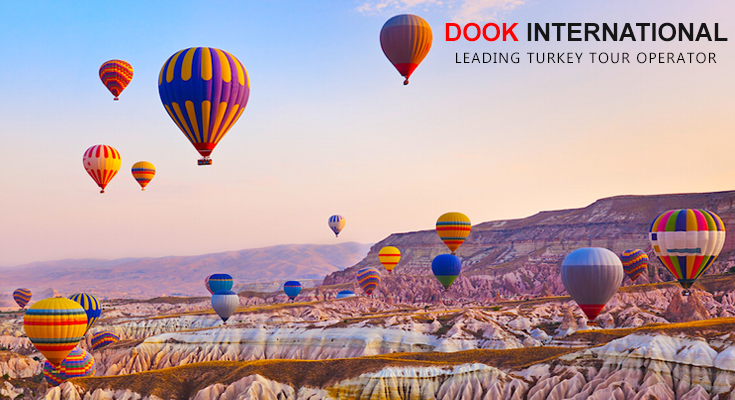 Dook International is one of the Leading Tour Operator for Turkey offering the Best Packages for Turkey. We have so many passengers flying to CIS and European countries through us. The reason why we have been so demanded in the travel industry is because of Customer Delight. We believe in giving the best packages to our customers so that they are happy and satisfied with our services and products. We want to always have a good relationship with our customers so that we can build and grow together. Our packages include flight booking, visa support, food, hotel stays, transfers and other kinds of travel related services. We have it all covered for your stay in Turkey as we want you to have the best experience while you stay in Turkey without any hassle.
Read More: Best Honeymoon Destinations in Turkey
Book Now: Hot Air Balloon Rides in Cappadocia