See the Seven Wonders of Kazakhstan
Isn't it best if you know top sites of a travel destination you are planning to go to? When you plan to visit Kazakhstan, you always plan for Almaty and Astana, two major travel destinations in the land locked country. So, in this article we are making things easier for you. We are bringing 7 Wonders of Kazakhstan for you.
1. The Bayterek Tower, Astana
Bayterek Tower is quite popular tourist attraction in Astana. It is a monument and observation tower in Astana. On your Kazakhstan holiday package you can see Bayterek tower which is meant to embody a folktale. The folktale is about a mythical tree of life and a magic bird of happiness. The bird, named Samruk, had laid its egg in the crevice between two branches of a poplar tree. This is 105 m tall consists o f a narrow cylindrical shaft, surrounded by white branch-like girders that flare out near the top, supporting a gold-mirrored 22 m diameter sphere. The tower has two levels and you can see 360 degree view from level one. You can also make a wish by placing your hand in the imprint here.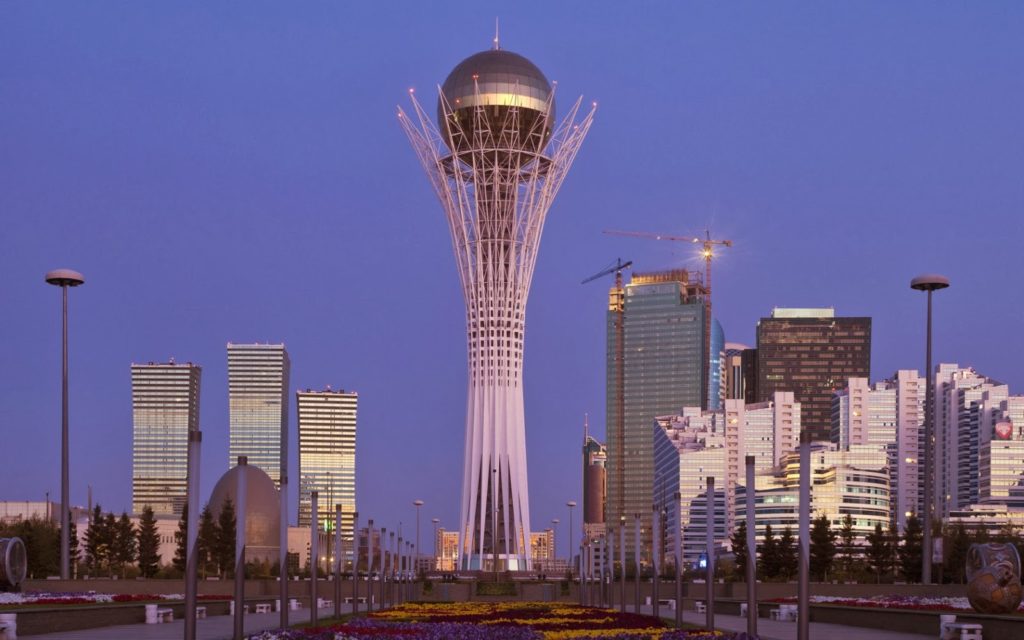 2. Opera House, Astana
Opera House in Astana is a new cultural attraction in Kazakhstan. The opera was opened in June 2013 where the first performance was of a classic Kazakh love story. Before this opera theater opened in Astana there was no such attraction in the city. And today this is one of the most fascinating theater and attractions in Astana. The look of the theater is similar to Bolshoi theater in Moscow, and the front side of Astana Opera evokes the famous Pantheon, the Bolshoi Theater in Moscow and the Ak Orda palace, the residence of the President of Kazakhstan. This is considered to be the first unique architectural miracle not just in Kazakhstan but also in Eurasia in recent years. If you are a music lover, then you should visit the Astana Opera House and if you love to explore history then also you should visit the opera for its repertoire features historic highlights.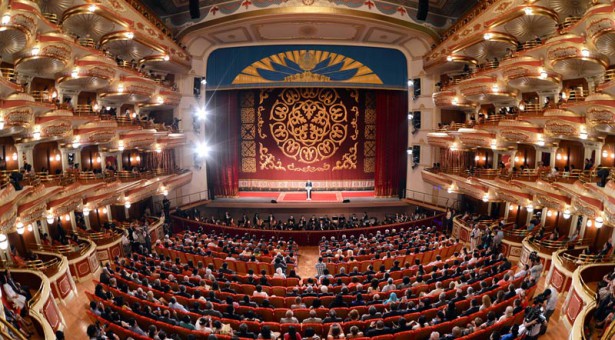 3. Esentai Tower and Mall, Almaty
Those who love to spend their time in shopping for the latest trend on their trip can enjoy a great time in Esentai Tower and Mall in Almaty. You can enjoy fashion tourism in modern Almaty and your destination should be Esentai Tower and Mall where you can enjoy world class shopping. The tower houses the Ritz-Carlton Hotel and a boutiques galleria headlined famous international brands like Louis Vuitton, Gucci, Prada and the Saks Fifth Avenue outpost. If not shopping you can enjoy a coffee and an art tour on the 2nd floor of the tower or you can simply visit just to keep up with the latest trends.
4. Mausoleum of Khoja Ahmed Yasawi, Turkestan
This is yet another attraction in Kazakhstan. This is an unfinished Mausoleum in Turkestan in southern Kazakhstan. Original structure was made way before in 1389 by Timur but when Timur died in 1405 the construction of the mausoleum was halted then. After that it has remained unfinished Mausoleum and survived till date. You will see the distinctive art of that time in the making of the mausoleum. The experimental spatial arrangements, innovative architectural solutions for vault and dome constructions and ornamentation using glazed tiles of that time go beyond the Timur Empire.
Mausoleum of Khoja Ahmed Yasawi also attracts lot of religious pilgrimage from across Central Asia. This has become Kazakh national identity. The mausoleum is listed on UNESCO world heritage site, epitomizes the Remains of medieval structures such as other mausoleums, mosques and bath houses. So if you are in Kazakhstan you should visit this unfinished Mausoleum. Read More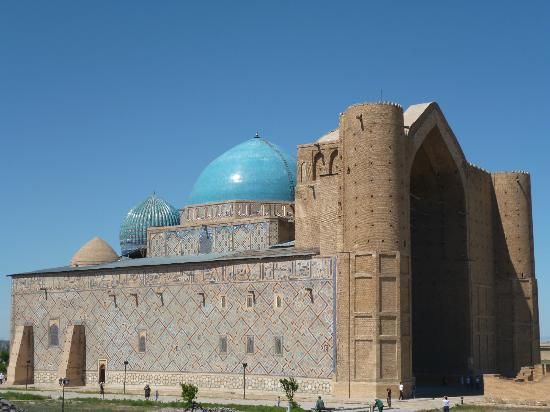 5. Kok Tobe Hill, Almaty
Kok Tobe is highest point in Almaty. So going up there and having a view from top is quite an adventure. It also happens to be one of the main landmarks of Almaty. This is also a place for those who look for simple fun and food sort of things, because on top Kok Tobe has recreational area with many amusement parks type attractions and on foot it has a TV tower with height of 372 meters. There are in fact many restaurants offering variety of food. The TV tower is one of the highest towers in the world and is unique in a way that the entire tower is built of steel. Now the panoramic view from the top of the Kok Tobe hill is worth watching as it gives the view of Almaty in all directions. You can reach the top of the hill through cable car and this is quite interesting. It takes you through some of the oldest part of Almaty city. Evening time probably is best time for those who would love to see city bathing in lights. Read More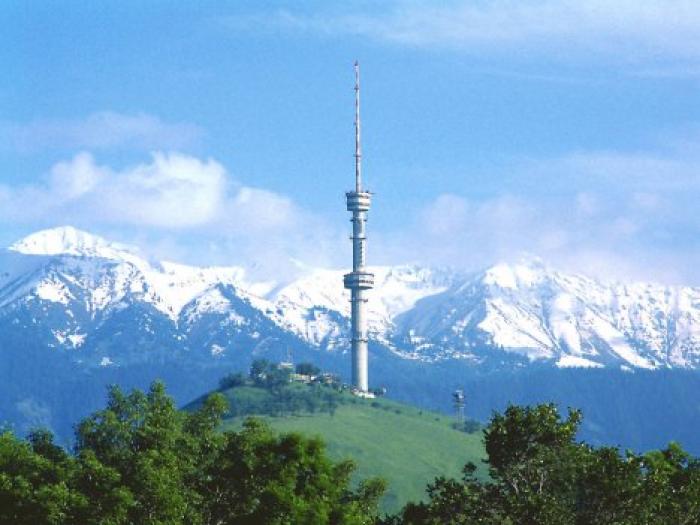 6. Shymbulak Ski Resort, Almaty
If you are adventure sucker then Shymbulak Ski Resort in Almaty is a certain joy. Shymbulak is a place brimming of snow pack and a great ecstasy for viewers to see. There is consistent snow cover on Shymbulak. The snow is on average 150 cm thick in winter, with consistent snow cover from November to May. However, most of the days in the year are sunny here. You can cover the slopes with three chairlifts and two tow ropes. You can go for extreme skiing, and for snowboarders there is a new Park as well. The chairlifts can take you from a height of 2260 m above sea level to the Talgar pass (3,163 m), for a vertical drop of 903 meters. Shymbulak has been a ski base since 1954. Skiing competition has been held here since 1950 when it was under Soviet rules. And since 1983 Shymbulak has been operated as an Olympic center of downhill ski training. You can enjoy natural beauty and adventure sports along with comfortable stay at Shymbulak ski resort. Read More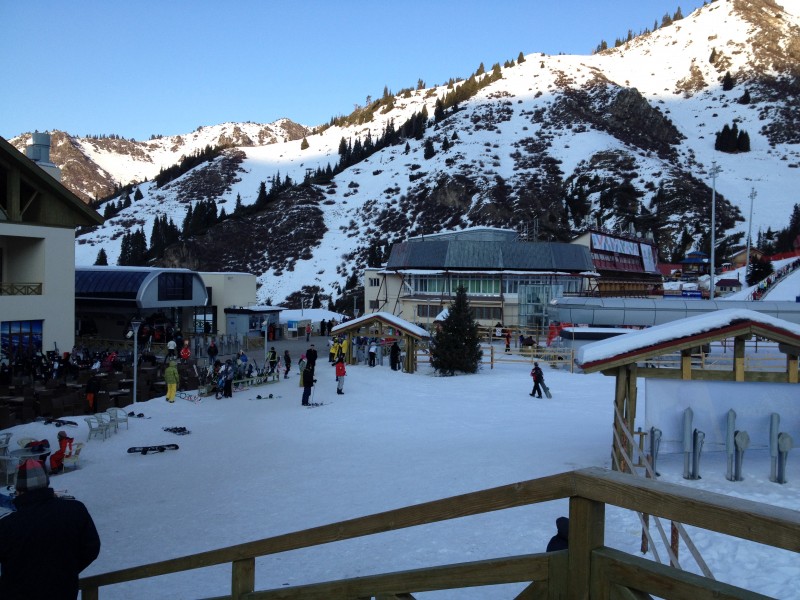 7. Zenkov Cathedral, Almaty
Zenkvo Cathedral is unique piece of architecture because it is probably only cathedral in the world which is made of wooden completely. Second unique thing about the cathedral is that it is built without using any nails. Third uniqueness of the cathedral is that it has survived major earthquake in the region which is attributed to the architect quality of the cathedral. You can visit Zenkov Cathedral on your Kazakhstan Tour from India for religious purpose and also for its internal and external beauty. Read More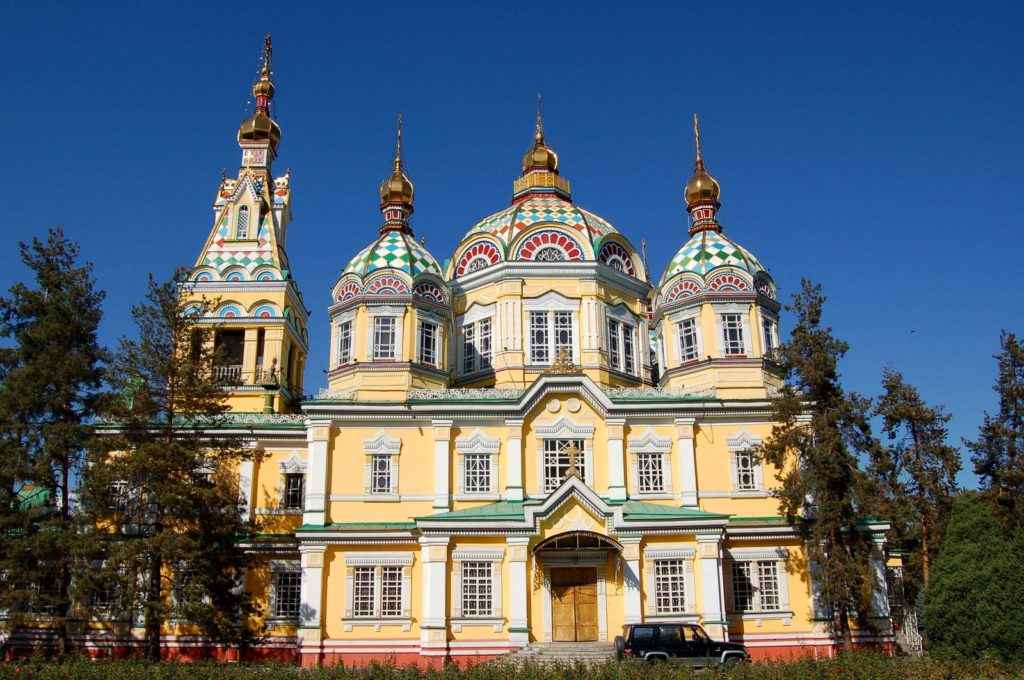 Viewing the cathedral from all four sides is worth and so is the walk around. On one side you can see an open area where stalls for children's activities and rides are laid out. In the Center of Panvilov Park, Zenkov Cathedral is worth a visit for everyone who is in Almaty on a Kazakhstan Tour.