Hill Stations in Himalayas - I
Himalaya has been a sense of wonder for people from across the Globe for centuries. Travelers from India and all parts of the world continuously visit India especially for Himalaya tours. Over the years several hill stations in Himalaya attract hundreds of visitors with modern infrastructure in place. Shimla, Nainital, Dharamshala, Manali, Mussoorie, Ladakh, Rishikesh are some very popular hill stations in Himalayas in India. As there are several popular hill stations in Himalayas in this article we will try to cover some of them and some more in next article. These hill stations are popular tourist destinations in India.
1. Shimla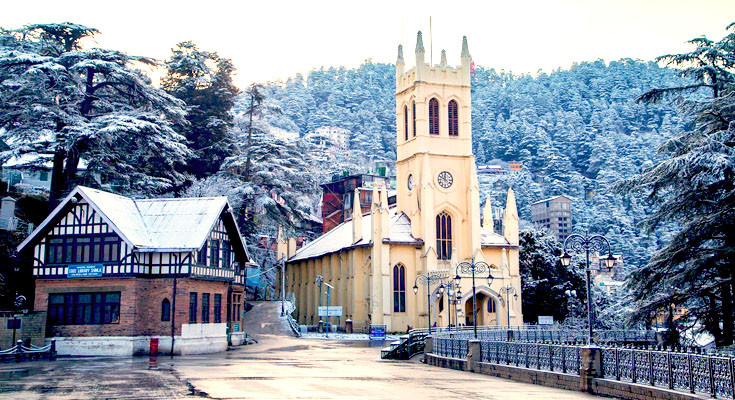 Shimla is an absolute beauty. Known as one of the God's gifted land this hill station in Himalaya attracts tourists all round the year. The hill station is famous for its panoramic beauty. Shimla is the capital city in beautiful state of Himachal Pradesh in northern part of India. Located at the height of 2,159 m above the sea level, Shimla has numerous beautiful sites to see. Some of them are Mall road, Christ church, Kufri, Narkanda, Green valley, Himalayan Nature Park, sankat Mochan temple, Chail Palace etc. One can go to Shimla from Delhi and the nearest railway station is Kalka which is 90 KM away from Shimla. You can also go by air. The nearest airport is Chandigarh. Green pasture and snow capped peaks of Himalay entice visitors. You can also go for mountain activities in and around Shimla like trekking, horse riding, Bike Riding, River Rafting, Paragliding, Skiing, Camping and much more. Shimla is also a great destination for Honeymoon. Kalka Toy Train is also one of the major attractions of this beautiful hill station.
2. Manali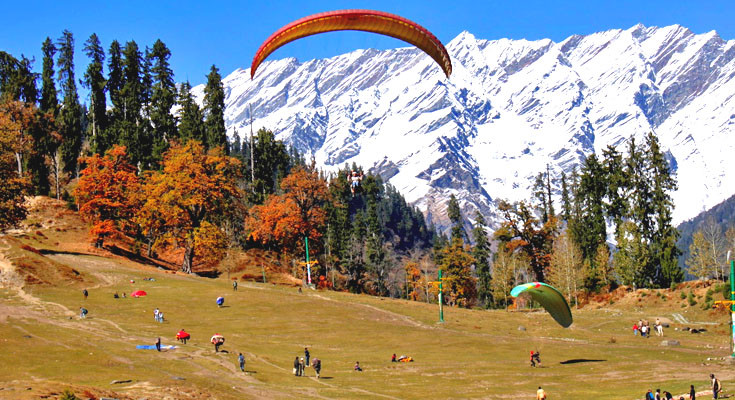 Manali is another famous hill station in Himalaya in Himachal Pradesh, India. Manali is surrounded by majestic Himalaya and woody forests. Manali has grabbed the attention of tourists from all parts of the world and is now one of the most visited tourist destinations in India. The major attractions of Manali are Rohtang Pass and Solnag Valley. Rohtang Pass is covered with snow for whole year and is an exciting experience. One who loves to rejuvenate in the lap of nature must visit Manali and spend some great time here. Manali is at the height of 6260 feet above sea level in the Himalaya. Manali offers lot of activities for adventure lovers. Trekking, Paragliding, Skiing, Zorbing, Water rafting and such adventurous activities fascinate hundreds of visitors. Manali is close to another famous place Kullu. One can take a bus or hire a cab from Delhi to get to Manali and one can go and enjoy in Manali for 12 months of a year.
3. Dharamshala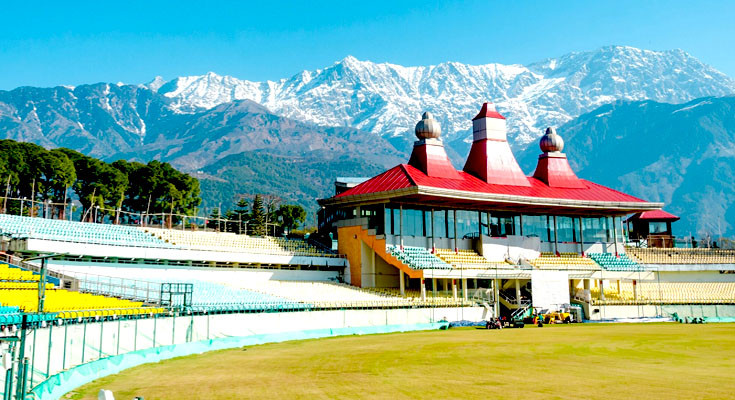 Dharamshala is a nature's gift located in Himalaya in the state of Himachal Pradesh. One who is on a trip of Himachal Pradesh or on a North India tour must visit Dharamshala. 185 KM away from Shimla the weather of Dharamshala is pleasing almost for the full year. Snow capped mountains in this hill station must be seen especially in winters. Some of the major attractions of Dharamshala are Kangra Art Museum, Dharamshala Cricket stadium, Chintpurni Temple, St. John in the wilderness church, Kareri Lake, Namgyal Monastery and more. The Colorful temples and Gompas attract hundreds of visitors. Food here is also superb as is in the other hill stations in Himalayas. Reaching Dharamshala from Delhi is easy by bus and Cab. One can be easily mesmerized by dense pines trees and deodar forests that surround Dharamshala. Adventure activities like Trekking, Camping, and Paragliding etc. can be enjoyed by all the adventure lovers.
4. Nainital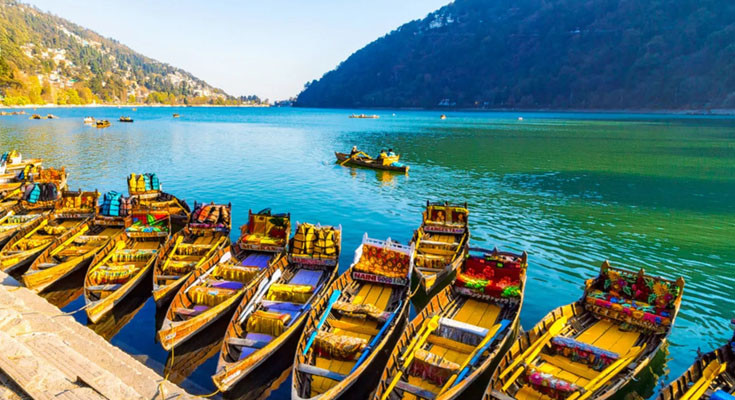 Nainital is in another Himalaya state Uttrakhand in India. Quite close to Delhi, Nainital is an absolutely popular hill station and tourist destination in India. Located at the altitude of 1,938 m Nainital is in the hills of Kumaon in Uttrakhand. Nainital is a beautiful travel destination which is surrounded by mountains from 3 sides. Nainital is famously known as City of lakes. Some major attractions of Nainital are Naina Peak, Raj Bhawan, Kilbury, Naini Lake, Eco Cave Garden, The Mall Road, Naina Devi Temple, Snow View Point, Jeolikot, Himalaya View Point, Land's End and Hanuman Garhi etc. Here you get great panoramic view of snow capped Himalaya from Naina Peak. Like other hill stations here also you can do lot of adventure activities like Trekking, Paragliding, Horse Riding etc. Reaching Nainital from Delhi is quite easy and can be accessed by both road and train.
5. Mussoorie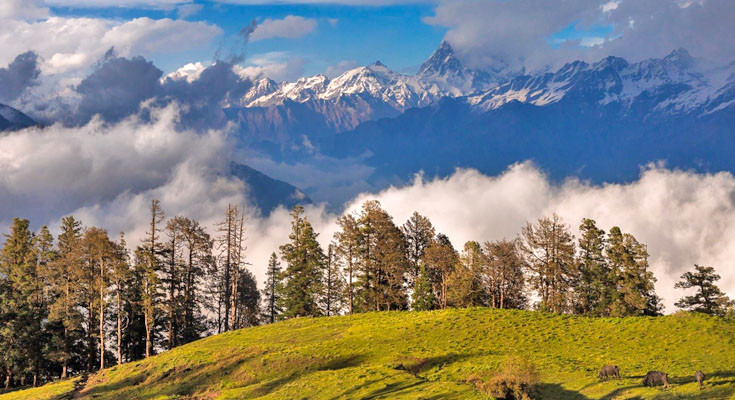 Mussoorie is also in the state of Uttrakhand in India, another popular hill station in Himalaya. Mussoorie is in Garhwali hills located only 34 Km away from capital city Dehradun of Uttrakhand. Mussoorie is located 2,500 m above from the sea level. Mussoorie is famous for its immense natural beauty among visitors and that is the reason why it is also called the queen of hill stations. Its natural beauty is a visual treat for nature lovers and onlookers. The One can enjoy the view of contemporary bungalows, beautiful gardens and malls here. These are the main reason for tourist attraction. Some of the main tourist attractions in Mussoories are Lal Tibba, Municipal Gardens, Kempty Falls, Gun Hill, etc. Also nearby attraction from Mussoorie are Dehradun, Rishikesh, Haridwar, Sahastra Dhara, etc. One can enjoy adventure activities also and all those newly wed couples find Mussoorie a great Honeymoon destination also.

These are only 5 major hill stations in Himalayas in India. In the next article we will see few more beautiful hill stations from Himalayas in India. Every nature and adventure lovers from all round the world who are on India travel package must see these famous and beautiful hill stations.