11 Safest Travel Destinations to Visit in 2022-23
11 Destinations You Can Visit Without Worrying About the Coronavirus
Pandemics are not a new phenomenon. Over history, there have been plenty of them and they have also claimed many lives. With the birth of modern medicine, our ability to control and contain pandemics has increased considerably. But this does not mean they do not pose a threat. Conditions like the Coronavirus can be a major setback to your travel plans.
The Coronavirus, named COVID-19 by WHO, has now spread to the US from China and many nations in between include European nations like Italy. The virus has been classified with other recent viruses like SARS and MERS and this makes it highly contagious. You wouldn't want to be anywhere near any country which has witnessed a COVID-19 outbreak. So, does that mean your travel plans are as good as dead (no pun intended)?
No! While you do want to make an awesome vacation, not a lazy staycation, travelling to areas with registered cases can be dangerous. So, the best way out is to simply choose a destination where there has not been an outbreak. Here are 11 such destinations you can visit right now without the whole Coronavirus risk cramping your holidays:
11 Safe Holiday Destinations Where You Can Travel Right Now
1. Kazakhstan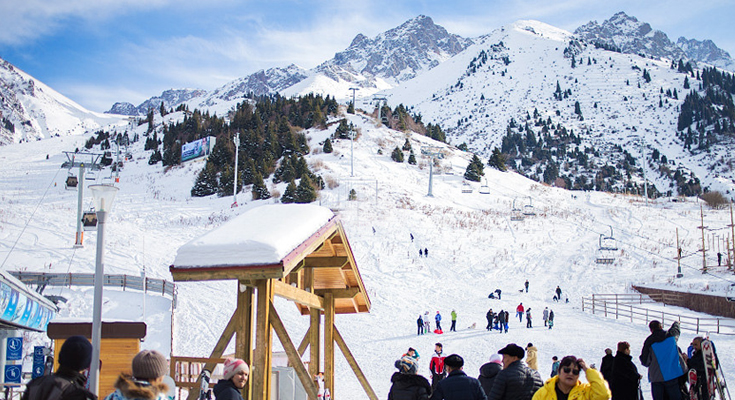 Kazakhstan is one of the several post-Soviet countries which has a lot to offer to tourists. Its capital, Almaty, is a local up and comer which is catering to tourists from all over the world. The government of the nation has put in a lot of effort in upscaling the image of the nation into a lucrative travel destination and this has paid off spectacularly. In just a few years, the travel industry in Kazakhstan has surged tremendously. Now, in 2020, the nation is likely to see the most attention from international tourism ever. And given the outbreak of Coronavirus, this nation is likely to see a lot more traffic than before.
Some of the most popular places to visit for tourists in Kazakhstan include the Shymbulak Ski Resort. This travel destination is a popular and out-of-the-way place to experience the wonders of skiing. The season lasts from December to April so you have at least 2 months to go for this. The locality is awesome with warm welcoming cafes and magnificent panoramic views to offer. Other places include the amazing Charyn Canyon, The Magnificent Nur Astana Mosque, enchanting Lake Kaindy, and many others.
Explore: Kazakhstan Tourist Attractions
2. Uzbekistan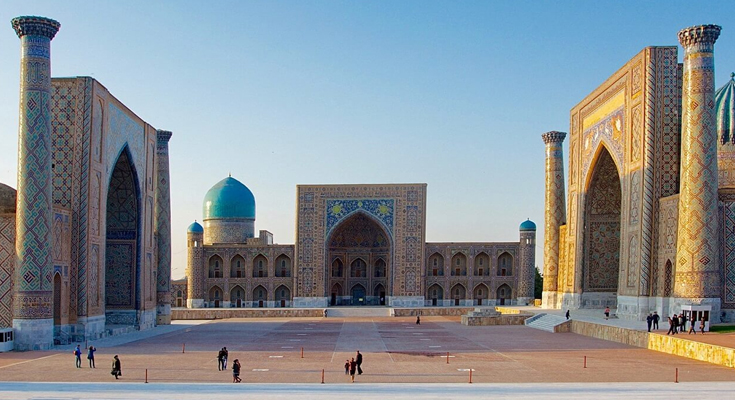 Uzbekistan carves a unique identity in a region full of countries with something or the other to offer. It has a marvelous list of great places tourists can visit and there are more gems to explore here than you could in one trip. Still, if you are looking for an exotic destination like no other, Uzbekistan is definitely a place to check out. Let's look at a few places you can visit in this awesome travel destination.
Tashkent is the capital city of Uzbekistan and a premier tourist spot. This city has many wonders for you to explore including stately Soviet Era buildings, beautiful statues, bustling bazaars and many more. But Tashkent is not the only city for amazing sights in Uzbekistan. The city of Khiva holds UNESCO World Heritage status which used to be a major trade city on the historic Silk Road. Other popular tourist draws include the UNESCO world heritage site of Samarkand and Bukhara, an important centre of Islamic theology.
Explore: Uzbekistan Tourist Attractions
3. Kyrgyzstan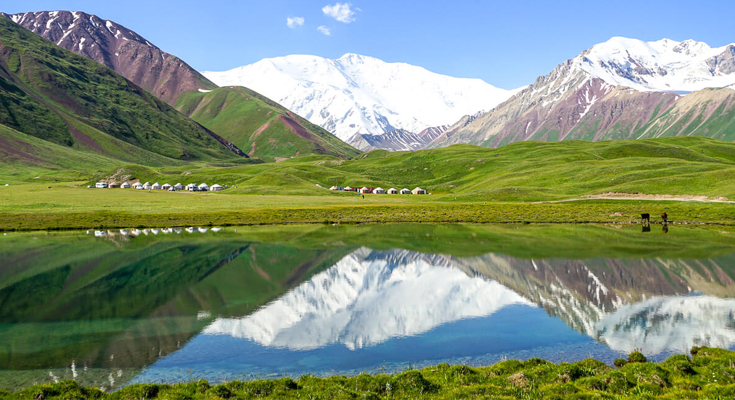 Kyrgyzstan is one more post-Soviet country that has unique sights to offer to tourists. Since the country has undergone a massive development period, its tourism volume has risen significantly. In fact, it is one of the best places to visit in the world on account of the Coronavirus. It boasts of beautiful cities, spectacular mountain ranges, magnificent lakes, and many other sites which make it a must-visit. Here are some of the things we love about Kyrgyzstan.
The capital city of Kyrgyzstan is an intriguing confluence of central Asian, Soviet and nomadic roots. The architecture of the city is astounding and is probably unique even among its neighbors. Being a popular city, there are tons of restaurants and cafes you can go to. There are many other haunts like quintessential bazaars and markets where you can find trinkets available nowhere else. Aside from Bishkek, tourists can also enjoy the wonders of Issyk Kul Lake, the Historic Tash Rabat, and the Ala Archa National Park.
Explore: Kyrgyzstan Tourist Attractions
4. Tajikistan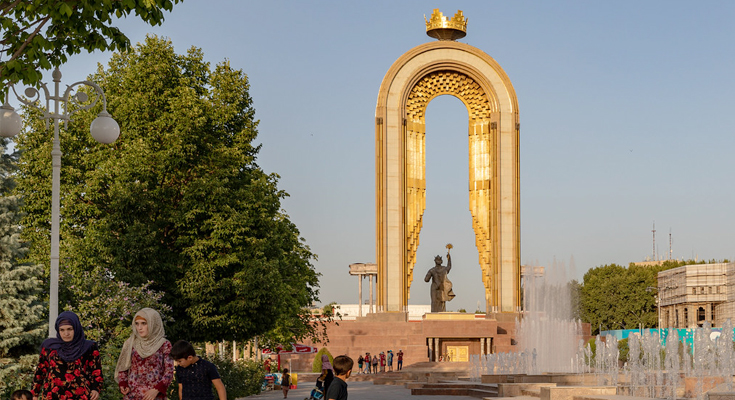 Tajikistan stands amidst the Central Asian nations as something of a distinct destination thanks to its distinguishing list of tourist attractions. Right from the start when you touch down in Dushanbe, you can tell this is a place unlike any other. The city is filled with marvelous sculptures, statues and museums that will give you great time diving into its past. Add to that the lip-smacking local delicacies and you've made the ideal start to your holiday already.
Once you've taken in Dushanbe, you are basically offered a host of potential things to do. If you are a hiker, then you have picturesque Jisev Valley hiking trail. If you are a cyclist or road trip lover, then the Pamir highway offers the perfect stretch of road to run on. If relaxation is your motive, then the Iskanderkul Lake is a great spot to picnic. If you like fortresses, then the Wakhan Valley will give you what you are looking for. Other attractions include the Fann Mountains, Yaghnob Valley, and many others. It goes without saying that Tajikistan is a trip you won't likely forget soon even if you aren't photo-savvy.
Explore: Tajikistan Tourist Attractions
5. Russia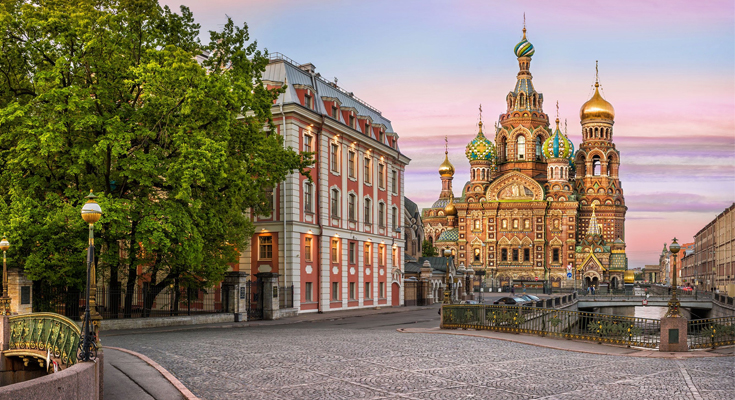 Russia is probably the most well-known tourist destination on our list today. Despite its popularity and its ties with China, the nation has not yet seen any incidences of the Coronavirus popping up. This alone makes it a great place to plan your vacation this year. Of course, when you plan to travel to a country as big as Russia, you need to be selective. The major tourist attractions are of course the cities of Moscow and St Petersburg respectively. You will find an assortment of places to visit within these two hot tourist destinations. But for those looking to go beyond the usual haunts of tourists in Russia, the nation offers a lot more.
Russia has many cities like Vladivostok and Velky Novgorod which offer a unique view of Russia's most generic tourists won't find in the two major cities. Indeed, there are many sights in such cities as well as others like Kazan where Europe and Asia meet and the frozen Siberian city of Irkutsk. If you are familiar with Russian literature, then you might even enjoy cities like Nizhny Novgorod, the birthplace of Maxim Gorky, Russia has more places than you can explore in a single trip and more than merits a visit this year.
Explore: Russia Tourist Attractions
6. Ukraine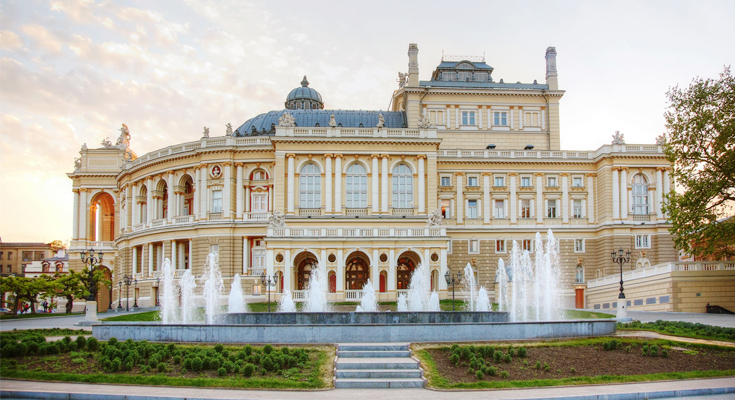 Ukraine is one of the more well-known of nations in the post-Soviet bloc. The country has a thriving tourism industry which has steadily been growing. Thanks to unprecedented economic and political stability, the nation is able to target more international tourism draws. This results in Ukraine is one of the best countries in Eastern Europe to visit for tourists this year. And it does not disappoint with the nation offering some of the most wonderful and unique sights among all its close neighbors.
Once you have touched down in Kiev, the wonders of Ukraine will be yours to unravel. It is customary for tourists to start with a visit to the fabled St Sophia Cathedral. Once that is done, you can ride over the Kiev River. This trolley ride is famed for offering great sights and brings shutterbugs from all over for this very reason. If you like East European cuisine, a fine borscht and salo at a popular joint is an obvious next choice. You can also visit the Kamianets-Podilskyi Castle after you are done with that. There are many other sights to see and experience in Ukraine and this is why it is a top tourist draw in the local region.
Explore: Ukraine Tourist Attractions
7. Azerbaijan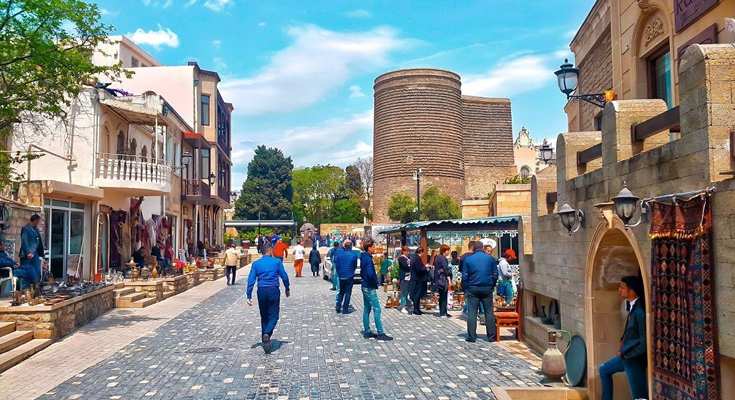 Azerbaijan is easily among the most popular former Soviet tourist hotspots in the world. This is on account of the fact that it is among the most promoted globally. The nation has seen a massive upsurge of tourists in the past few years. That is why you will find the capital city of Azerbaijan brimming with tourists all year round. From the marvelous museums of contemporary art to the Teze Bazaar and its brilliant kebabs, you can spend the perfect holiday in this city alone. But that is not all that Azerbaijan has to offer.
Since it is called the Land of Fire, Azerbaijan does offer some great sights and sounds outside of Baku. The Mud Volcano is a unique place of global tourism unlike any other. The Caspian Sea is the world's largest lake and has its own distinct reasons to draw tourists. Shirvan and Agh Gol National Parks offer a break away from the heyday of tourism and some much-needed moments of relaxation. The Goyazan mountains and its nearby reservoirs are a beauty in their own right. With so many places to explore, it's not surprising to see how popular this country is for international tourists this year.
Explore: Azerbaijan Tourist Attractions
8. Armenia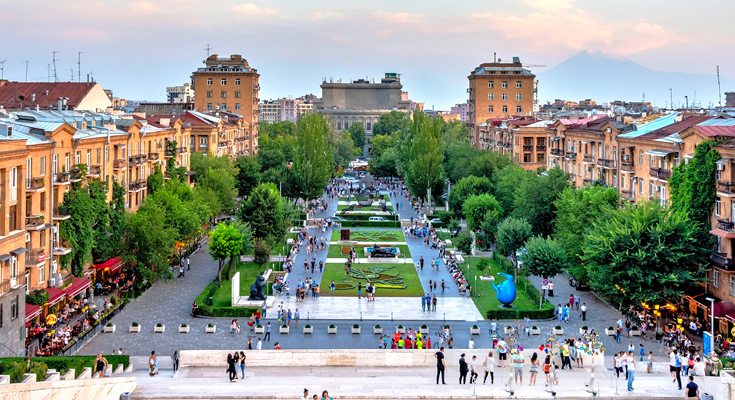 If you are a footloose and make-my-own-way kind of tourist, then Armenia is one of the places you must visit. This country is one of those rare jewels of the Central Asian post-Soviet bloc which will surprise you. The capital city of Armenia already has many sights and sounds to delight tourists with and you can have a great time simply walking around. The ambiance of the buildings and the overall architecture gives this city a distinct identity in the local area.
Further, there are plenty of museums in the city where you can delve into the nation's past. The Flea Market is consistently drawing tourists and this is the place to make a good thrifty purchase if you go your bargaining skills right. Aside from Yerevan, Echmiadzin is also very popular for its historical and religious significance as is the Tatev Monastery. Finally, Armenia offers Lake Sevan, Selim Pass and the spa town of Jermuk for nature lovers. So, Armenia has something for everyone and adventurous travelers are sure to love it.
Explore: Armenia Tourist Attractions
9. Georgia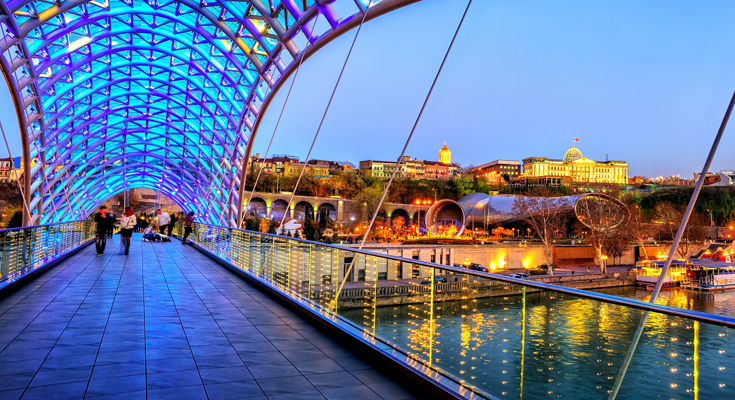 Georgia is another former USSR member that has recently emerged from the shadow of its bigger cousin. However, unlike Russia, Georgia's attractions are more sober, yet enchanting. While other countries may have grandiose monasteries, castles, fortresses, etc. Georgia boasts of a more rustic and nature-oriented appeal. Despite that, Tbilisi, the country's capital is packed with tons of things to do. You can also visit Batumi, a perfect beach getaway for shoreside lovers.
Also, Kazbegi is billed as the most beautiful place in the entire country so it is definitely worth checking out. If you want an even mix of world-class hospitality, travel options and the luxury of exploring a relatively lesser-known nation, Georgia will fit you like a glove.
Explore: Georgia Tourist Attractions
10. Belarus
Belarus is another country on our list which boasts of a wealth of natural beauty. While the country has its own magnificent town of Minsk and Mir Castle as well as Brest-Hero Fortress, the real awe-inspiring beauty comes from its Bialowieza forest national park. The Belarusian Maldives is another great sight to behold and will entice you to go click happy with your camera. Aside from that, the city of Polotsk stands at the centre of all of Europe and you can get a certificate showing you've been there. That and its magnificent cathedrals are a very popular attraction. Belarus definitely does boast of a distinct identity in Eastern Europe and is well worth checking out.
Explore: Belarus Tourist Attractions
11. Bulgaria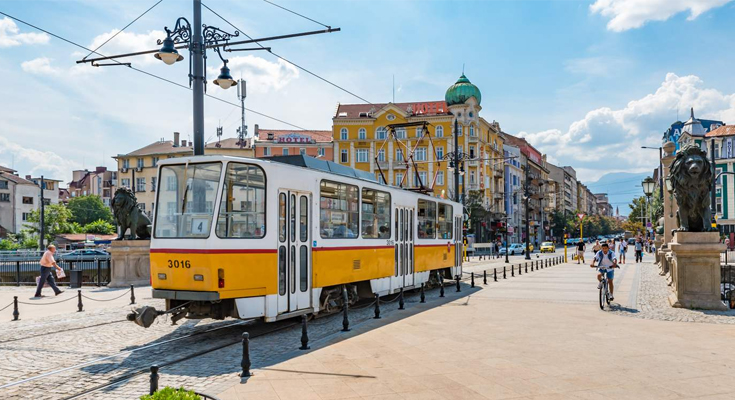 Bulgaria is a very special country in Eastern Europe which has a few amazing things to offer to tourists. Right from the time you make your way to your hotel in Sofia, you can tell that this city is not like any other. It has a vibrant arts and culture scene and ruins dating back to the earliest of local settlements. Plenty of stuff for travelers to explore. Outside of Sofia, ancient Plovdiv, beach town Sozopol, Fortress-ed Veliko Tarnovo and many other tourist attractions will give you more things to do than you can manage. No doubt, Bulgaria is a complete package for the heady traveler with unquenchable wanderlust.
Explore: Bulgaria Tourist Attractions
Where Can You Get The Best Tour Packages For One Or More Of These Countries While Avoiding The Coronavirus?
The Coronavirus is a potentially lethal medical condition if contacted. If you wanted to travel to the US or Europe this year, proceeding with your travel plans is ill-advised. You are better off letting Dook International give you a custom single or even multi-nation package tour from the countries mentioned above. Since there has been no incidence of COVID-19 in these nations, they are deemed completely safe for travelers.
Holiday Right At These Places Safe For You
Are you itching to get on the road? Avoid the Coronavirus and take Dook International's book anytime options. These choices will leave you wanting nothing and suit all budgets and all types of travelers. Whether you are traveling alone, with family or with business partners, we have the right package for your needs. Just give us a call at 011-40001000 or ask online and we will get back to you with a custom package to fit your needs perfectly. Get in touch with Dook International now!