Kyrgyzstan is a beautiful landlocked country defined by its raw beauty of nature defined by its unspoilt mountainscapes, pristine valleys, celestial lakes, rare flora and fauna and so much more. What further adds to the rich rural essence of the country are the welcoming homestays, guest houses run by the happy locals and the nomadic yurt-dwellings and, therefore, you will find it easier to see why the Kyrgyzstan attractions are unlike any other in entire Central Asia. Ranging from the never freezing Lake Issyk-Köl, the most spectacular horse treks and yurt-lodging near the Song Kol Lake to the lesser-explored gems like Altyn Arashan and Ala Archa with Bishkek at an easy escaping distance, the Places to visit in Kyrgyzstan are filled with nothing but a sense of bewilderment.

While many may choose the capital city as their base to start the Kyrgyzstan journey, others interested in history and hiking will find plenty of interesting Places to visit in Bishkek to keep themselves hooked in the city for a longer time. The city has very well reserved the essence of Kyrgyz culture and Soviet architecture and the same is well reflected in its variety of museums, priceless statues, the rows of buzzing bazaars and many other unmissable Bishkek attractions.

Unquestionably, due to favourable factors, Kyrgyzstan's tourism is dramatically growing year on year. What is stopping you from exploring the spectacular country? Whether you want to hike, camp and horse trek through the country's eye-catching scenery or discover new experiences in the uncharted areas, Kyrgyzstan has a way to steal your hearts the moment you step down on its land. Read through our compiled list of Kyrgyzstan tourist attractions and spots below and start planning your tour before the crowds amass this under-explored gem of Central Asia.

Top Tourist Places to Visit in Kyrgyzstan and Bishkek: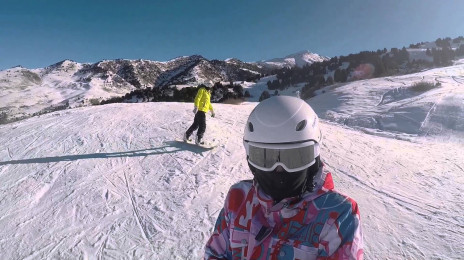 Kashka Suu Ski Resort
Kashka-suu ski resort is located 2100 meters above sea level 35 km from the capital of Kyrgyzstan - Bishkek.Fresh air stunning panorama of the the Great Kyrgyz Range and the Chuy valley great tracks and the quality of service contribute to a good winter holiday in Kyrgyzstan. There is one aerial ropeway chairlift and ropeway trackback lift. The ropeway chairlift is 1165 to 1365 m with elevation ranging from 110 to 380 m with an average speed of the cable car of about 2 m sec. Length of the ropeway trackback is 200 to 860 m with elevation ranging from 60 to 260 meters tow lift is moving at an average speed of 2.5 m sec.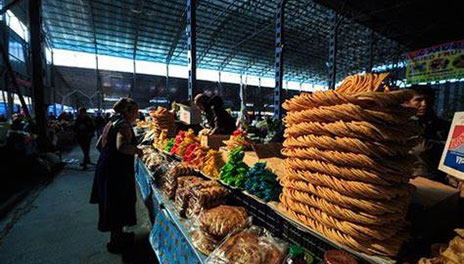 Osh Bazaar Bishkek
If you want to feel the culture of a place then visiting Bazaar over there is the easiest and appropriate way. There are many old Bazaars in the world. One of them is Osh Bazaar in Bishkek, Kyrgyzstan. Bishkek is the oldest city of Kyrgyzstan and so Osh Bazaar is oldest Bazaar of Kyrgyzstan and entire Central Asia region. It is one of the largest Bazaars in Bishkek as well. You can buy anything like food products, any household items, clothes, souvenirs, musical instruments or any other item here at Osh Bazaar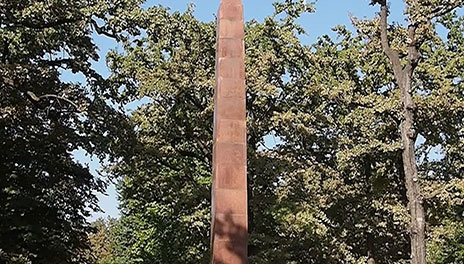 Bishkek Park
Bishkek Park is the up-market mall in Bishkek with luxury stores and fine restaurants - not as fancy as other malls in larger cities but nonetheless one of the better places to shop in Bishkek.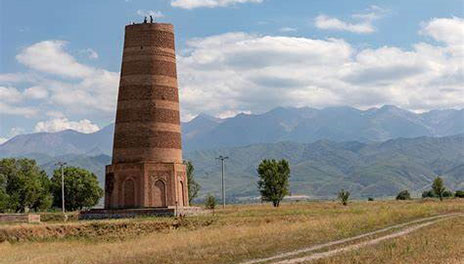 Burana Tower
The Burana Tower is a large minaret in the Chuy Valley in northern Kyrgyzstan. It is located about 80 km east of the country's capital Bishkek, near the town of Tokmok. The tower, along with grave markers has the remnants of a castle and three mausoleums. The tower was originally 45 m and a series of earthquake damaged it and now its about 25m tall.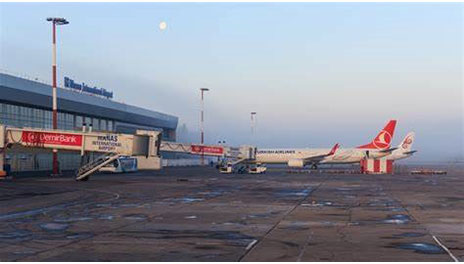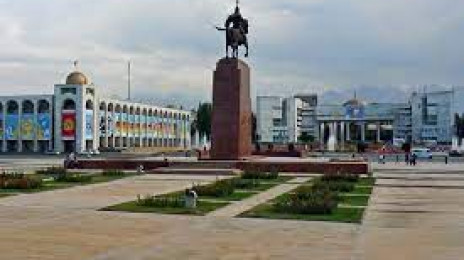 Ala-Too Square
Ala-Too Square is the central square in Bishkek Kyrgyzstan. The square was built in 1984 to celebrate the 60th anniversary of the Kirghiz Soviet Socialist Republic at which time a massive statue of Lenin was placed in the squares center. The square was known as Lenin Square until Kyrgyzstan gained its Independence from the USSR in 1991. The statue of Lenin was moved in 2003 to a smaller square in the city and a new statue called Erkindik was installed in its place. Later in 2011 it was replaced by a statue of Manas to celebrate the 20th anniversary of Kyrgyzstans independence.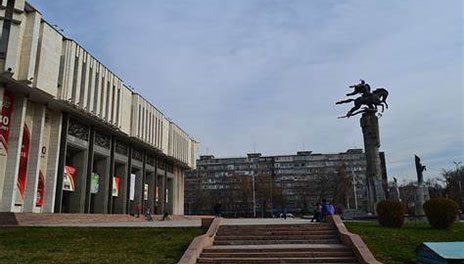 Philarmonic Hall Named Toktogul Satylganov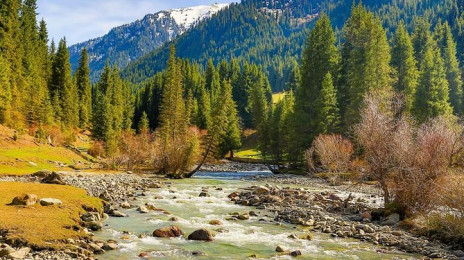 Ala Archa National Park
Ala Archa National Park is an alpine national park in the Tian Shan mountains of Kyrgyzstan and located 40 km south of Bishkek. The park, which includes the gorge of the Ala-Archa River and the mountains surrounding it, is a popular destination point for weekend picnickers, hikers, horse trekkers, skiers as well as mountain climbers looking for challenging ice, rock and mixed routes. The park is open all year round, although the most popular season is late summer and early fall. Every May 1, the Alpinada festival sees hundreds of people camp out in the valley and climb Mount Komsomolets. Visit to Ala Archa is an awesome day activity full of pristine nature and peace. The park is snow covered in winter and truly stunning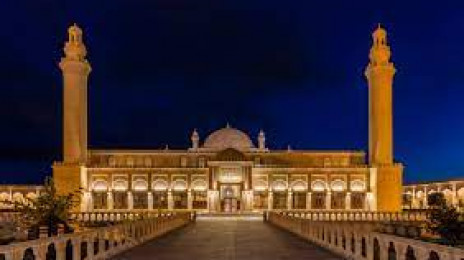 Juma Mosque
A new landmark for the Central Asian nations capital the mosque has 7500 square meters of closed space that allows 9000 people to pray at the same time. In both the open and closed spaces the mosque can accommodate 30000 people at once. Along with prayer areas the mosque has a large parking lot classrooms a conference hall for Islamic studies and a dining hall. The mosque has four minarets with a height of 68 meters each and three balconies on each minaret. Two huge chandeliers hang from the domes of the mosque that have been decorated with Ottoman handicrafts. A 37-meter-high large dome which is 23 meters in diameter on the inside and 25 meters across on the outside tops the mosque. White marble from Turkey was used in the structure as well.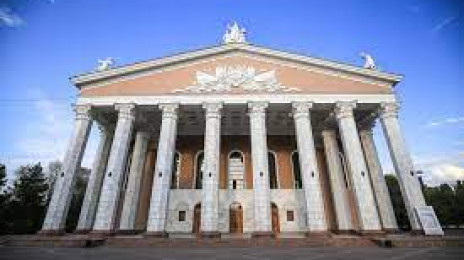 Kyrgyzstan National Drama Theater
This is the State National Academic Drama Theater.A theater or music performance is a great way to experience Bishkeks culture for yourself and to get to know Kyrgyzstan a little better.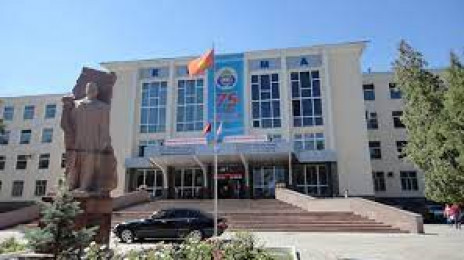 Kyrgyz State Medical Academy bishkek
The Kyrgyz State Medical Academy full name I.K. Akhunbaev Kyrgyz State Medical Academy was opened on 1 September 1939 in the city of Bishkek Kyrgyzstan with the recruitment of 200 students. The establishment of the institute was contributed to by the First Moscow Medical Institute high medical schools of Saint-Petersburg Almaty Tashkent and other medical institutions.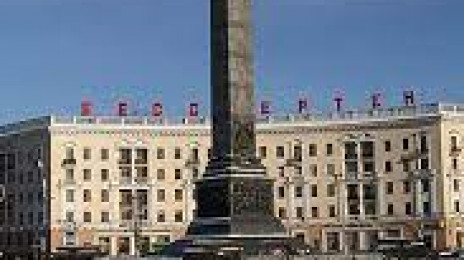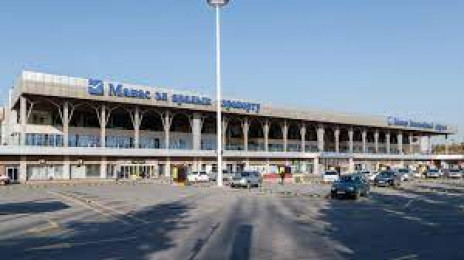 Manas International Airport
Manas International Airport is the main international airport in Kyrgyzstan located 25 kilometres north-northwest of the capital Bishkek. The airport was constructed as a replacement for the old Bishkek airport that was located to the south of the city and named after the Kyrgyz epic hero Manas at the suggestion of writer and intellectual Chinghiz Aitmatov. The first plane landed at Manas in October 1974 with Soviet Premier Alexei Kosygin on board. Aeroflot operated the airports first scheduled flight to MoscowDomodedovo on 4 May 1975.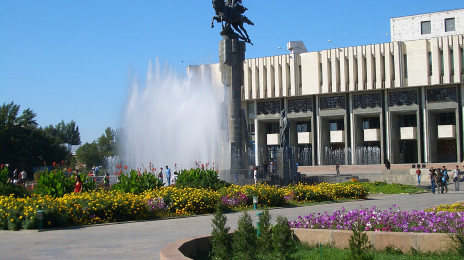 Manas Complex
Manas Complex is said to be the final resting place of Kyrgyz epic hero Manas. Manas is a quite loved hero in the history of Kyrgyzstan along with his wife and together they are said to have strong influence on Kyrgyzstan over 1000 years ago. Manas is also called Manas the Generous. Manas complex attracts visitors in quite a good number because it represents the best side of Kyrgyz architecture, lifestyle, folk style and beliefs. They also get to see famous monuments of deer horns which is the national symbol of national patroness.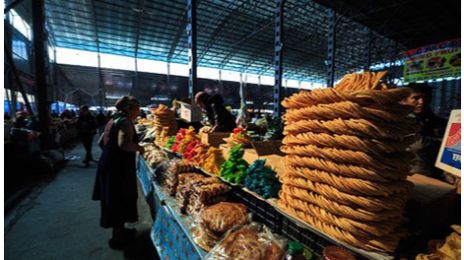 Osh Bazaar
Osh Bazaar is one of the largest bazaars in Bishkek Kyrgyzstan. It is located on the west side of town and is not far from the Western Bus Station. At Osh Bazaar one can buy food products almost any common household good clothes souvenirs and even musical instruments. Kyrgyz national clothes are sold in the national goods section called Kyyal and may be special ordere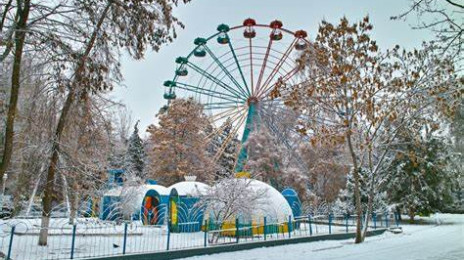 Panfilov Park Bishkek
Panfilov Park is a city memorial located near Old Square and Manas Square in Bishkek the capital of the Kyrgyz Republic. The park bears the name of Hero of the Soviet Union and the chairman of the Military Committee of the Kirghiz SSR Ivan Panfilov. The park was made in the shape of a star when it was built.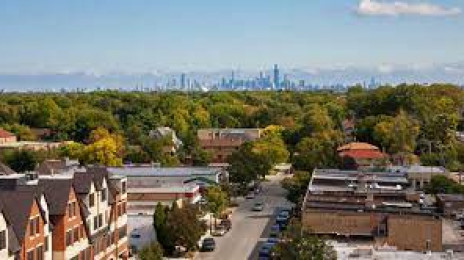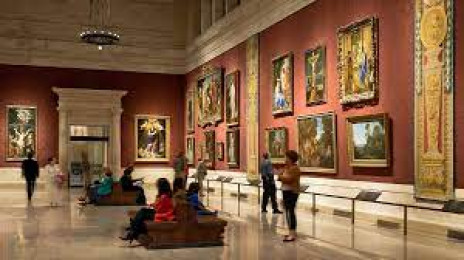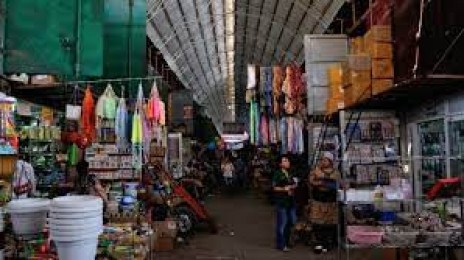 Dordoy Bazaar Bishkek
Dordoy Bazaar also spelled as Dordoi Bazaar has been crowned as Asias greatest market place. It a wholesale and retail market of consumer goods dispatched by China. The existence of the market can be dated back to the year 1992. The market is divided into different sections selling various consumer goods and commodities such as clothing furniture toys automotive supplies etc. One can also find occasional produce vendors accommodating the market.
State History Museum
The Kyrgyz State History Museum is a museum located in Bishkek Kyrgyzstan. The museum contains several exhibits about the cultural heritage of the Kyrgyz people whose sculptures and objects dating from antiquity to the end of the 20th century. It is one of the most important museums in Central Asia.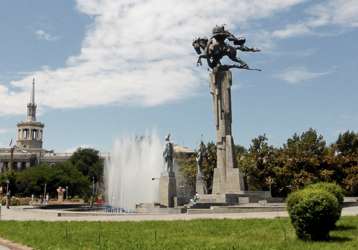 Bishkek City Tour
Bishkek, often referred to as the 'Green City' has over 20 parks and a botanical garden. A city tour takes you through some beautiful places like Ala Too Square, which is in the heart of the city and a recreational point of the locals especially during festivals; Monuments of Bishkek, Osh Bazar, Theatres and Concert Halls in Bishkek, Bishkek Park Mall, etc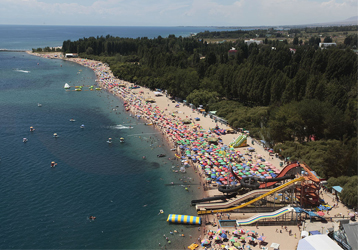 Issyk Kul Lake
Issyk Kul is a beautiful lake in the Tien Shan mountains and it happens to be the tenth largest lake and the second largest saline water lake in the world. Looking across its waters to the other side, it seems like an ocean. However, what will boggle your mind is that while you feel like you are looking out over an ocean, you can see snowcapped mountains in the background. There are numerous beach activities and water sports options at Issyk Kul. Relax on the lake side or take a refreshing walk around enjoying the serenity of the mountains or the blue tranquility of Issyk Kul waters. Issyk Kul offers a host of water activities like jet skiing, glider flight, para-sailing, water-slides, motorboat rides etc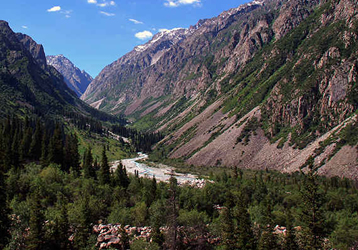 Karakol/Jeti-Oguz Gorge
Jeti-Oguz Gorge in the Issyk Kul Region, is located 28 kilometers to the south-west of the town of Karakol. Its name in the Kyrgyz language means "Seven bulls". The name is symbolic, because there is a 35 km long wall of seven huge red-brown cliffs resembling furious bulls standing together. In front of the cliffs there are flat mountain slopes, thickly overgrown with grass and pine trees. Jeti-Oguz is also famous for its hot springs with water enriched with radon and hydrogen sulfide. The water in springs is useful for the treatment of rheumatism, gastric and nervous diseases. Rising higher, you can reach Kok-Dzhayyk with wonderful views of the gorge, or the Valley of Flowers strewn with poppies. At the upper part of Jets-Oguz there are also mountain lakes and roaring waterfalls. One can stay in Karakol for a night or two and have an awesome picnic at Jeti Oguz gorge
Kashka-Suu Ski Resort
Kashka-Suu is a beautiful sight seeing spot in the Osho mountains. It is located about 35 kms from Bishkek and at an altitude of 2,100 meters. Its one of the best ski resorts in Kyrgyzstan in winters and offers a stunning view of Great Kyrgyz Range and the Chuy valley. The resort facilities include a restaurant, bar, sauna, open air cafe, two conference halls, a winter skating rink, bandstand, playground, parking for 100 cars, as well as the 1.5 kilometer chairlift that will take you to the observation deck at the height of 2200 m, as well as six ski runs of various levels of difficulty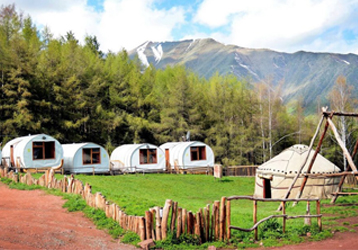 Supara
Falcon hunting and Horse riding show: The Kyrgyz have preserved rich and diverse cultural heritage for centuries. Hunting has been an ancient method of surviving the extremities of harsh climate and terrains over centuries. Witness the awesome maneuvers of hunting falcons trained by Kyrgyz nomads and watch the thrilling horse riding stunts of nomadic Kyrgyz men on their magnificent and graceful horses.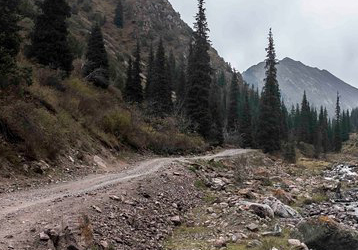 Kegety Gorge in Chuy Region
Kegety Gorge stretches for 30 km along the northern slope of the Kyrgyz Ala-Too Mountain range, 75 km from the city of Bishkek. A rough stream with many tributaries flows at the bottom of the gorge. The gorge is rich in flora and fauna. Green meadows give way to thickets of small shrubs of barberry, ash and hips, followed by spruce forest standing right on the slopes. Travelers often come here not only to enjoy the fresh mountain air, but also to collect medicinal herbs and berries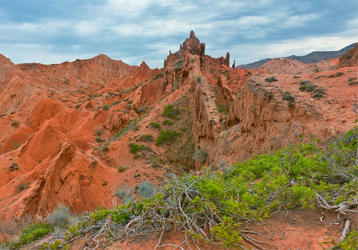 Skazka (Fairy Tale) Canyon in Issyk Kul Region
On the southern shore of Lake Issyk-Kul, about 4 km from the village of Tosor there is an unusual place - Skazka (Fairy Tale) Canyon. The canyon was named due to its bizarre rocky landscape, which for many years has been transformed by wind into fabulous sculptures and formations. Some formations in "Skazka" have been named for their similarity to well-known objects. For example, one set of ridges in the canyon is named "The Chinese Wall" due to its similarity to the Great Wall of China. You can also find what appear to be statues of a hippopotamus, snake, dragon, sleeping giant and even whole castles. Because the different rocks have amazing colors, the rocky statues not only have unusual shapes, but also magical colors. Its an irresistible place to visit around the Issyk Kul.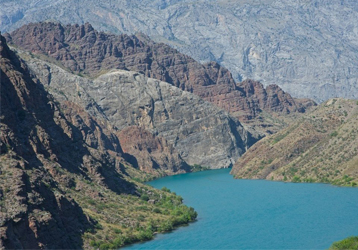 Naryn Canyon in Jalal-Abad Region
Naryn Canyon is located south to the Toktogul reservoir over Kok-Bel Pass at an altitude of 1000 meters above sea level. It bears the name of the eponymous river, which flows in this place and is the longest river in Kyrgyzstan. Travelers can enjoy the scenery of the canyon driving on the highway Bishkek-Osh. Huge river framed by rocky mountainous terrain will surprise you and will not leave indifferent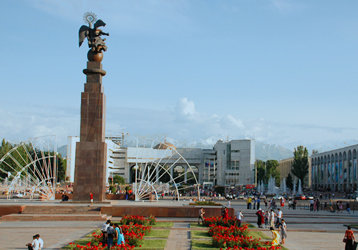 Ala Too Square
Ala too square is the central place in Bishkek, Kyrgyzstan. It is a place where you can spend time, take pictures and in the evening you can enjoy musical fountain show as well. Ala too square was built in 1984 to celebrate 60th anniversary of Kyrgyz SSR. At that point of time a huge statue of Lenin was placed in the center of the square. This statue was moved in 2003 and a new statue was placed here which was again replaced in 2011 by statue of Manas to celebrate 20th anniversary of Kyrgyzstan's independence. Ala too square offers you a great time when you are here.
Sary Chelek Biosphere Reserve
The Sary-Chelek Biosphere Reserve has the best environmental elements of Kyrgyzstan in one place, with a series of forests, meadows and lakes. Central to this large biosphere reserve which is home to more than 1,000 species of plants and 160 species of bird, is the beautiful cobalt-blue lake of Sary-Chelek. The lake is surrounded by forest that turns yellow in autumn giving the lake its Kyrgyz name that translates as 'yellow bucket'. This Biosphere reserve was established in 1959 and in 1978 it was designated as world Biosphere Reserve by UNESCO. The reserve stretches up to 60 KM and is divided into two sections known as Arkyt and Sary Chelek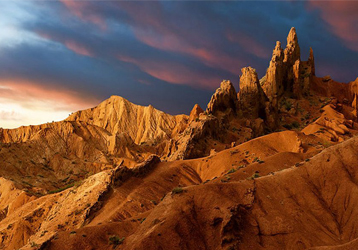 Konorchek Canyon
Konorchek canyon is one of the beautiful landscapes in Kyrgyzstan. Located 125 KM away from the capital city Bishkek, Konorchek reside in the boom gorge. Konorchek is full of red stones that you can see for miles, so you may find your walk never ending if you walk to the end of these stones. But one thing you need to be aware of and you may enjoy as well is the weather here. Summers are hot, winters are cold but without snowfalls. So choose your time to go to the canyon as per your liking and physical ability.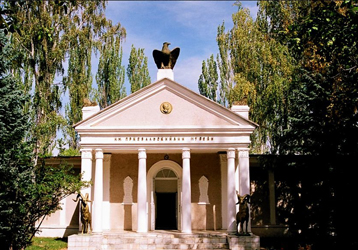 Nikolai Przhevalsky Museum
Nikolai Mikhaylovoch Przhevalsky was a Russian geographer and explorer. He explored Central and East Asia and made this part known to the western world. From 1870 to 1883 he made four journeys to Central Asia. In his name was made this Nikolai Przhevalsky museum which is 12 KM away from north of Karakol on the Mikhaylovka inlet along with his grave. The museum is right there in the site where Nikolai had built the house for himself close to the lake. The museum was completed in 1957 along with a formal park dedicated to him. The museum is a neo classical single story building. The museum shows the details of the life of the great explorer Nikolai who died on the shores of Issyk Kul lake. The museum features sketches of local people, engravings, and books with details that show expeditions of Nikolai on a base relief map of Central Asia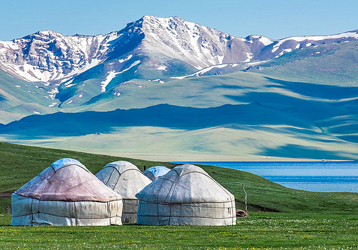 Song Kol Lake
Song Kol Lake is the second largest lake after Issyk Kul Lake in Kyrgyzstan. With fresh water Song Kol Lake sits at the height of 3016m. Another high altitude alpine lake in Kyrgyzstan, Song Kol is surrounded by 3500m peaks and yurts which belong to herders from the nearby villages. The alpine lake in the Tien Shan mountains is a perfect destination to reach to. Horse riding is one of the cool things to do in Song Kol. So it is one of the favorite destination while one is in Bishkek. But there is snow all year around Song Kol lake. So the best time to visit the lake is from July to September in the summers.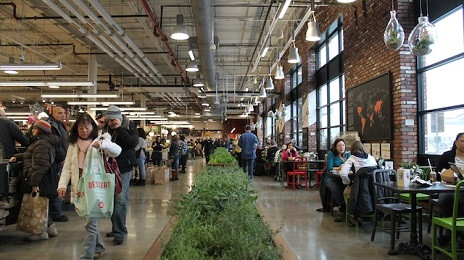 Dordoy Bazaar
The Dordoy Bazaar near Bishkek happens to be the largest public market place and shopping centre in Central Asia. Dordoy Bazaar opened up in 1992 as wholesale market across the country and since then the bazaar's popularity kept rising transforming it in the monument of raw commerce today. It stretches for more than a kilometre on the north-eastern outskirts of the Kyrgyz capital. It is one of the main entrepots for reaching Chinese consumers goods to retailers in Kyrgyzstan, Russia, and Uzbekistan. Dordoy Bazaar is big employer. Around 20,000 people make their living at the market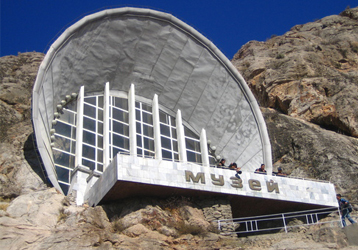 Mountain Sulaiman Too
Mountain Sulaiman Too was the first object in Kyrgyzstan which became a UNESCO World Heritage Site. It is located in the city of Osh in Kyrgyzstan and it rises to 175m above it. Since old times this place has been sacred especially for Muslims and now it is considered a place of pilgrimage thus attracts a lot of pilgrims. Sulaiman is a prophet as mentioned in Qur'an and this mountain has a shrine that supposedly marks his grave. There is a popular belief about this shrine that a woman who ascend to the shrine on top and crawl through an opening across the holy rock will give birth to a healthy child as per legend. Another reason why it is considered a major place of pilgrimage is that there is a popular belief that the Prophet Mohammed himself prayed at the top of the peak of the mountain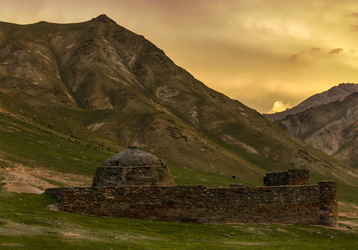 Tash Rabat
Tash Rabat is a well preserved stone caravanserai sitting at the height of 3200 meters. Tash Rabat is said to be constructed in 15th century, on the old trade route from Central Asia to China. Tash Rabat is largest stone structure of its time and is still noted for its size, building material and its layout which is example of great symmetry. This is why Tash Rabat is considered Kyrgyzstan's most remarkable monument. Today Tash Rabat is a Silk Road monument of great excellence. It is one of the most interesting sites in Central Asia. Its location is also very interesting. This centrally domed structure has 31 rooms which includes cavities in the central hall. All the rooms are dome shaped. Tash Rabat is about 520 KM from Bishkek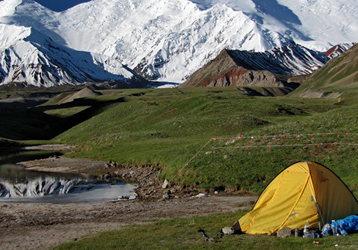 Peak Lenin
Lenin Peak also known as Ibn Sina Peak, rises to 7,134 metres in Gorno-Badakhshan on the border of Tajikistan and Kyrgyzstan, and is the second-highest point of both countries. This peak is probably one of the highest yet easiest peak to climb in the world, that's why it attracts hundreds of visitors every year. It was discovered in 1871. It was then named Mount Kaufmann after Konstantin Kaufman, the first Governor-General of Turkestan. And in 1928 it was named Lenin peak after the great leader of Soviet Union Vladimir Lenin.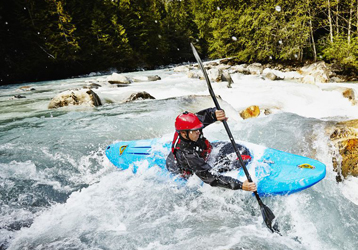 Kayaking in Kyrgyzstan
Kayaking – Kyrgyzstan surrounded by rivers and lakes, hence kayaking is much popular. In July and August glaciers melt, so the water level rises making it the best season for kayaking
Things to Do in Kyrgyzstan
Do what makes you happy