Mesmerizing Vietnam
Pkg Id

0000530

Destinations

3

Duration

9 Nights

Attractions

18

Price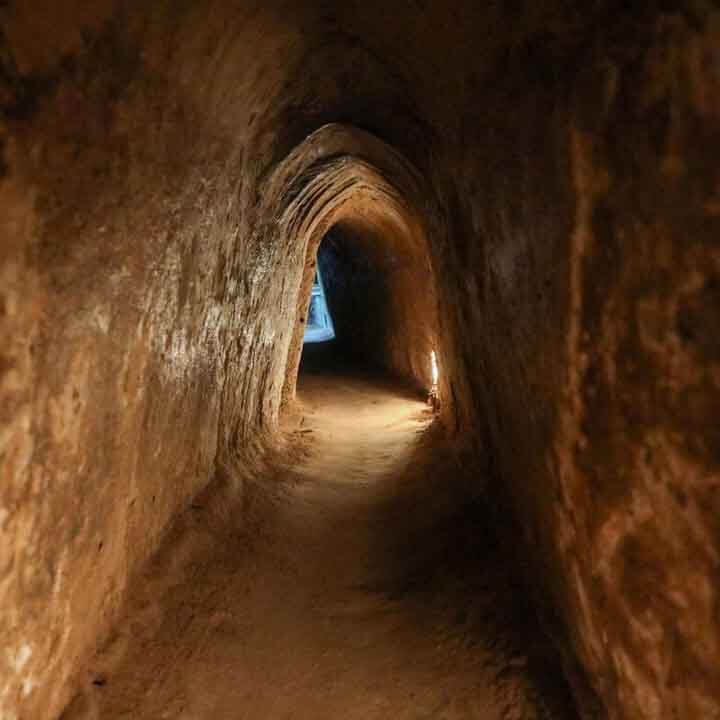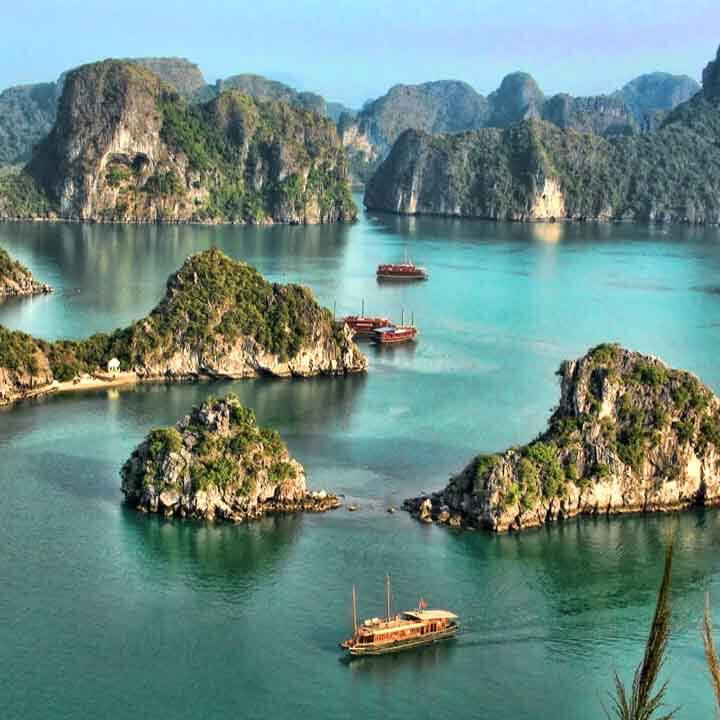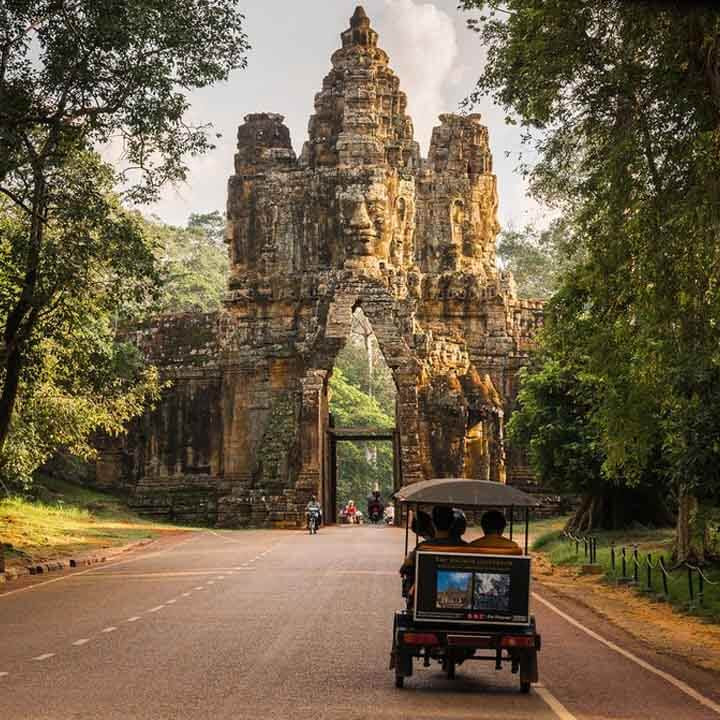 1
Hanoi Arrival- Half Day City Tour
Upon arrivalat Airport, transfer to hotel for check in (after 14:00-excluded early checkin).

Afternoon:The half day Hanoi city tour will take you to visit the Temple of Literature –the first university of Vietnam and the place dedicating to Confucian thencontinuing to visit Hoan Kiem Lake and Ngoc Son temple, walking around OldQuarter Area to see daily life of Hanoian.

Overnight in Hanoi.

2
Hanoi – Halong Bay Cruise
Breakfast at Hotel.

We departfor Ha Long Bay going through the scenic countryside. The wondrous Ha Long Bayis truly one of Vietnam's most impressive scenic sights. This exciting cruisewill provide us a fantastic view of the picturesque scenery blending with thesky and some 3,000 limestone islands rising amazingly from the clear andemerald water.

The limestone karsts formations are littered with beaches,grottoes and beautiful caves.

Today youwill enjoy lunch and dinner on boat.

Overnight on cruise.
3
Halong Bay Cruise-Hanoi - Flight to Danang
Waking upand having breakfast served onboard.
Continue cruising around the bay.
Takesampan to visit Cave and come back to the boat.
Having brunch beforedisembarking and transfer back to Ha Noi to take flight to Danang.
Uponarrival, check in hotel, free at leisure.
Overnight in Danang.
4
Bana Hills & Marble mountain full day
In themorning, departure to visit the Ba Na hills with 1487m altitude compared to sealevel. You journey up a mountain by cable car to reach the second record of theworld (the longest cable car a wired world: 5042m and an altitude differencebetween the two largest Ga 1292m). Stop in Station 2 with altitude 1.138m.

Visit: Deer Park, The Quan, wine cellar Debay, nearly 100-year-oldtree… VisitLinh Ung Pagoda where Buddha Shakyamuni is 27m high. Free to take some picturesat The Golden Bridge.

Tour guidetake you a walk to explore the natural ecological Bana. Conquering the mountain1487m high, the highest peak of Ba Na. You participate in the games at FantasyPark (About 105 games). Back to your cabin down the mountain by cable car up,we drive back to hotel in Hoian.

On the way stop to visit Marble Mountain,you'll discover the stunning natural caves, enjoy the beautiful view from thetop of the mountain, visit the mysterious pagodas and the sculpturing village.

Overnight in Danang.

5
Hoian Ancient Town - Flight to Saigon
Transfer toHoian Ancient Town Walk around the Hoian ancient city to visit the Kwan Temple,Phuc Kien Chinese Assembly Hall, Tan Ky Old House, Japanese Cover Bridge andHistoric & Cultural museum in Hoi An.

Then visit handicraft of Hoi Anworkshop before transfer to Danang Airport for flight to Saigon.

Uponarrival, check in hotel, free at leisure.

Overnight in Saigon.

6
Cu Chi Tunnel - Saigon Half day tour
This morningwe drive to Cu Chi Tunnels; the tunnel system stretched over 200km.

The networkincluded innumerable trap doors, specially constructed living areas, storagefacilities, weapons factories, field hospitals, command centers and kitchens.

After that,transfer back city for half- day tour in Sai Gon. First stop is Notre DameCatholic Cathedral, French built Post Office, the Reunification Palace, WarRemnants Museum, which primarily contains exhibits relating to the Americanphase of the Vietnam War.

Free time at leisure or shopping at Ben Thanh Market.

Overnight stay in Saigon.

7
Saigon - My Tho - Saigon - Flight to SiemReap
Transfer tooutskirt of Saigon and begins the tour on the beautiful countryside road.

Start at TouristBoat Station (My Tho), cruising on Tien (Mekong) river and seeing four islands: Dragon, Unicorn, Tortoise, Phoenix. Enjoy fresh coconut juice. Visit fishfloating market and Fish-craft village along Tien River.

Stop at Thoi SonIsland, go walking around countryside road, seeing orchards, enjoy tropicalfruits and listen to traditional music. Take a rowing boat on small canal withbeautiful scenery of country side, to visit honey-bee farm and enjoy honey-tea.

Driver back to Saigon to take flight to

SiemReap.

Uponarrival, check in hotel, free at leisure.

Overnight in SiemReap.

8
SiemReap Tour
Breakfast atthe hotel - The sightseeing tour of Angkor area we spend a full day exploringthe wondrous ancient ruins with the South Gate of Angkor Thom, which isfamous for its series of colossal human faces carved in stone, theimpressive Bayon Temple, the Royal Enclosure, Phimeanakas, the Elephant Terrace, the Terrace of the LeperKing and the largest as well as the most complete temple of Angkor Wat.
This architectural masterpiece was constructed in the 12th century and coversan area of about 210 hectares. We stroll around this massive edifice, seeingthe many galleries with Colums, libraries, pavilions, courtyards and ponds fullof water reflecting the towering temple and the jungle covered temple of Ta Prohm is an incredible sight.

There are enormous fig trees and gigantic creepers which embrace themselves inthe stone foundations of the structure giving the impression of man's creationbeing reclaimed by the powerful forces of nature.

Overnightin Siem Reap.

9
SiemReap Tour
Breakfast athotel and today we will visit the RoluosGroup.
The monuments of Rolous, which served as the capital of IndravarmanI (reigned 877-89. Preah Ko erected by Indravarman I in the late 9th centurydedicated by the King to his ancestors in 880. Bakong the largest and mostinteresting of the Roluos group temples, with his active Buddhist monasteryjust to the north of the east entrance. Lolei built on an islet in the centerof a large reservoir (now rice fields) by Yasovarman I, the founder to thefirst city at Angkor. Afternoon, drive to Choueng Kneas village, where you will take the boat to visit theway of life Cambodian poor people along with schools, restaurants, hospitalsand much more floating on the greatlake of Tonle sap.
Overnight in Siem Reap.

10
Fly Back Home
Breakfast at Hotel.

Transfer toAirport to take departure flight (check out time: 12:00 noon-Excluded latecheck out).
As per mentioned in itinerary

As per mentioned in itinerary

English speaking tour guide

As per mentioned in itinerary
Visa
Click to view Visa information
Please note that these packages are customizable, which means that you will be able to make changes to the itinerary/activity if you so desire. The final payment will be calculated as per the itinerary and inclusions reflected on the confirmatory e-mail sent to you.
Please expect to receive your vouchers 72 hours before your departure date (subject to full payment of your package cost).
Personal expenses such as laundry, telephone calls, room service, alcoholic beverages, mini bars etc., are not included.
In case your package needs to be canceled due to any natural calamity, weather conditions etc. Dook Travels shall strive to give you the maximum possible refund subject to the agreement made with our trade partners/vendors.
The passenger names in the booking form should be exactly as per passports. Dook Travels will not bear any liability for the name change fee, if incorrect names and ages have been added at the time of booking.
Please note that your package includes baggage as per airlines policy. Any addition in baggage will be charged separately.
Standard check-in time at the hotel is normally 2:00 pm and check-out is 11:00 am. An early check-in, or a late check-out is solely based on the discretion of the hotel.
In case the selected hotel is unavailable for booking, an alternate arrangement will be offered to the customer in another hotel of a similar category.
Certain hotels may ask for a security deposit during check-in, which is refundable at check-out subject to the hotel policy.This amount has to be deposited by the traveler.
Please note that Day at Leisure essentially implies that no sightseeing activities have been included for that day.
Kindly be on time for your activities, tours and transfers. Dook Travels will not be liable for missing any activity thus for any refund against it in such cases.
No refund either in part or in full will be made for any unused part of the services provided in the package.
The package price doesn't include special dinner or mandatory charges at times levied by the hotels especially during New Year and Christmas or any special occasions. Dook Travels shall try to communicate the same while booking the package. However Dook Travels may not have this information readily available all the time.
Our package price does not include GST and TCS. Applicable GST and TCS will be charged over and above the package price.
For queries regarding cancellations and refunds, please refer to our Cancellation Policy.
For any paid activity which is non-operational due to any unforeseen reason, we will process the refund & should reach the guest within 30 days refund requisition. Also, for any activity which is complementary and not charged to Dook Travels & guests, no refund will be processed.
Our package prices are on twin sharing accommodation basis thus published prices are applicable for minimum two persons and multiple of two thereon.
As per RBI guideline every foreign traveler has to provide us his PAN details. The Dollar component of package price will be taken out of your BTQ (Basic Travel Quota).
The tour cost does not include any Overseas Insurance Premium, but we strongly recommend buying Overseas Insurance Policy. The same after issuance is non refundable.
These terms are general terms for our tour packages.Any term mentioned in proposal shall be considered part of it and in case of discrepancy term mentioned in proposal shall prevail.
Disputes, if any, shall be subject to the exclusive jurisdiction of the courts in New Delhi.
Payment Policy
Payment schedule depends on destination, time of booking, inclusions, airline and hotel payment policy etc thus it is specific to your package bookining.
Payment schedule will be part of our proposal to you for the package.
If payment is not made as per the schedule provided in the first booking confirmation e-mail, Dook Travels reserves the right to cancel the booking after attempting to get in touch with you. Refunds would be as per the package cancellation policy.
Cancellation Policy
Once Booking received : INR 5000 (Per PAX) + actual Ticket cancellation + Hotel cancellation as per hotel policy+Visa fee if visa is applied.
60 – 45 Days prior to departure : 25 % of land cost + INR 5000 (Per PAX) + actual Ticket cancellation+Visa fee if visa is applied.
45 – 30 days prior to departure: 50% of land cost + INR 5000 (Per PAX) + actual Ticket cancellation+Visa fee if visa is applied.
30 – 10 days prior to departure: 75% of land cost + INR 5000 (Per PAX) + actual Ticket cancellation+Visa fee if visa is applied.
Within 10 days: Full.