Incredible journeys to Egypt with DOOK!
No matter your travel style, we have a Egypt package tailored for you
Egypt Tour Packages
Explore Egypt with DOOK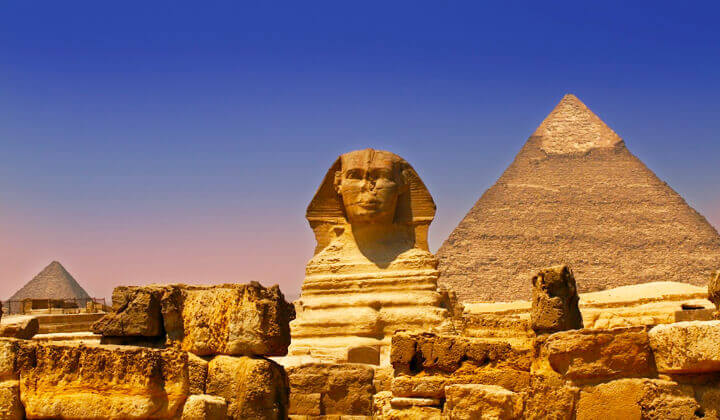 Egypt: A Country Linking Northeast Africa with the Middle East

The first time you might have read or heard about Egypt in your School with words such as Pyramids and mummies. Egypt has always been a fascinating thing in textbooks and movies. This is one of the oldest and greatest civilizations on the planet in many ways. Egypt spans the northeast corner of Africa and southwest corner of Asia. Egypt also connects Africa and Asia through a land bridge, the Isthmus of Suez. This historical country carries a wonderful cultural heritage as well. Throughout the history of Egypt, it was ruled by different empires and nations. A part of the Arabian world or Arab nations, Egypt has been covered by several writers, researchers, filmmakers, scientists, adventurer and simply travelers. Egypt saw the earliest developments of writing, agriculture, urbanization central government, and organized religion. When in Egypt with best Egypt Tours, one can explore the history, culture and lots of popular sights.

Explore Best of Egypt with Dook

Egypt is about Pyramids, the Great Pyramid of Giza, glorious beaches, mighty Nile River, great sphinx of Giza, welcoming people, cultural and historical heritage and much more. A Trip to Egypt can be much more than you expected if you explore the land's length and breadth. And to do that you just need the best Egypt Tour Package.

Explore the fascinating land of Egypt on a short tour, long tour, luxury tours, cruise tour down the Nile, historical tour, cultural tour and holiday tour with best Egypt Holiday Packages from India. Do visit Egypt where the majority of the landscape is desert and some superb places worth visiting with the best Egypt Tour Package from India.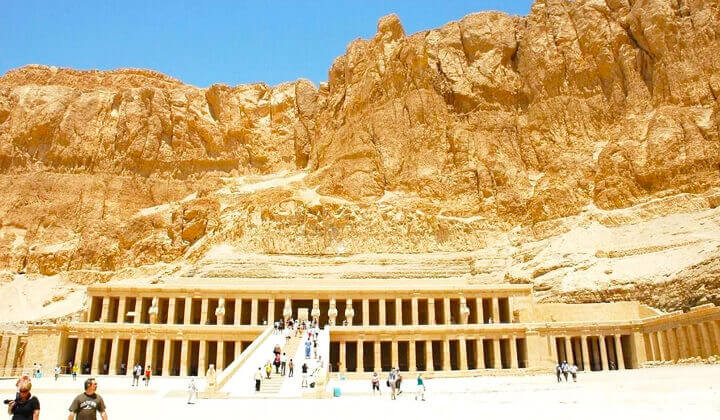 Top Tourist Cities of Egypt

Egypt is a great tourist destination with plenty of temples and tombs to visit. Historic monuments are not just all there to see but Egypt also has other attractions such as cruise ride on Nile River, Scuba diving, relaxing under the sun on many cool beaches, and silencing the hunger of an explorer within you at Luxor. Best Egypt Packages cover all major popular attractions in Egypt. Here is a list of those attractions:

1. Cairo

Cairo is the capital city of Egypt. Located on the Nile River, Cairo city has preserved its history which you can explore in Old Cairo. On a Trip to Cairo, you must visit Giza Pyramids and Saqqara Complex. Giza Pyramid is an example of supreme engineering and architecture work. Once, these pyramids were the tallest buildings in the world before the arrival of skyscrapers. Also, don't forget to visit the Egyptian Museum located in the center of the capital city.

2. Luxor

Luxor is a prominent travel destination in Egypt. Luxor means "Palaces" and it is known for incredible ancient monuments. Located in the upper part of Egypt and Nile Valley, Luxor has been the capital of the Thebes in ancient times. Luxor has incredible ancient treasures such as vast temple of Karnak, royal tombs of past, amazing deserts, museums and modern facilities such as hotels and restaurants. Luxor Trip with best Egypt Packages makes a traveler's time extremely joyful.

3. Alexandria

Second largest and a port city on the Mediterranean Sea in Egypt, Alexandria is also a super ancient city. The city was founded in 331 BC by Alexander the Great. If you are going on Egypt Tours, you must visit this city because this city was once famous for having one of the seven wonders of the ancient world and that was Pharos or Lighthouse of Alexandria, one of the highest man-made structures in the ancient world with a height of 100 m. There was also a Great library and the Necropolis, which was one of the seven wonders of the middle ages. But today very few of those remain in Alexandria. None the less, the city is a famous tourist destination for its streets, beaches and much more.

4. Sharm el-Sheikh

Sharm el-Sheikh is a resort town in Egypt along the Red Sea in the Sinai Peninsula. If you want to make the most of the best Egypt Holiday Packages, you must visit this town and relax here on the cool beaches. Sharm el-Sheikh is a cool diving destination in the world as well. A great time is guaranteed in the city where some of the top attractions include Ras Mohammed National Park, Thistlegorm Dive Site and Naama Bay.

5. Aswan

Aswan is a tourist city on the Nile River. This is a place where you can have a relaxed time after a visit to busier cities like Cairo and Luxor in Egypt. The city is so small that one can walk to the popular places in Aswan. Aswan is a historic city and once it was a gateway to Africa. You can explore some cool and popular attractions in Aswan such as Elephantine Island, Nubian Museum, famous and sacred Philae Temple and unfinished Obelisk.

6. Hurghada

Hurghada is another popular tourist attraction you must visit with the best Egypt Tour Package. Located on the Red Sea coast, Hurghada is a beach city. These cool and picturesque beaches and resorts there make Hurghada a popular summer break destination in Egypt. Watersports such as windsurfing, kitesurfing, scuba diving are quite popular here. Christmas and New Year celebration is also a good enough reason to be in Hurghada in winters.

7. Siwa Oasis

A must visit place in Egypt on Egypt Tours, Siwa Oasis a place in the heart of the western desert of Egypt. Away from urbanization, Siwa Oasis is a place with lots of natural beauty. In this part of Egypt, Berber tribes have preserved their cultural heritage and their Siwi language. You can explore that and more. In this part of the world, you can see donkey carts on the streets and mud-brick homes.

8. Dahab

Dahab is small, slow and a peaceful city on the southeastern tip of the Sinai Peninsula. Those looking for a quiet time and do nothing, are guaranteed a good idle time in this beach tourist city. And those who want to do exciting stuff can go for windsurfing, kite surfing, scuba diving, freediving, desert excursions and desert trekking and much more. When in Egypt with the best Egypt Packages, do explore this isolated place called Dahab.

9. Taba Heights

Taba Heights is yet another tourist cum resort town on the Sinai Peninsula in Egypt. Your trip to Egypt is probably incomplete without visiting Taba Heights especially if you are looking for natural beauty. It is hard not to be blown away by the beauty of this place. Village and hotels with a picturesque backdrop of untamed desert, mountains, and sea along with water sports make Taba Heights one of the coolest places in Egypt. You can buy the best Egypt packages from India to explore this beautiful place.

10. Ismailia

Ismailia is known as "The city of beauty and enchantment" in Egypt. Located on the Suez Canal, Ismailia is popular for green orchards and gardens, picturesque Temash Lake, Suez Canal, beautiful beaches, museums and, historical sites. With a look of European Style, Ismailia is a good place to spend some time in when one is on a trip to Egypt.

Other top tourist places in Egypt you should visit include following names:

11. Giza
12. Kom Ombo
13. Dakhla Oasis
14. Edfu
15. Kharga Oasis
16. Port Said
17. Mount Sinai
18. Abu Simbel
19. White Desert
20. Saqqara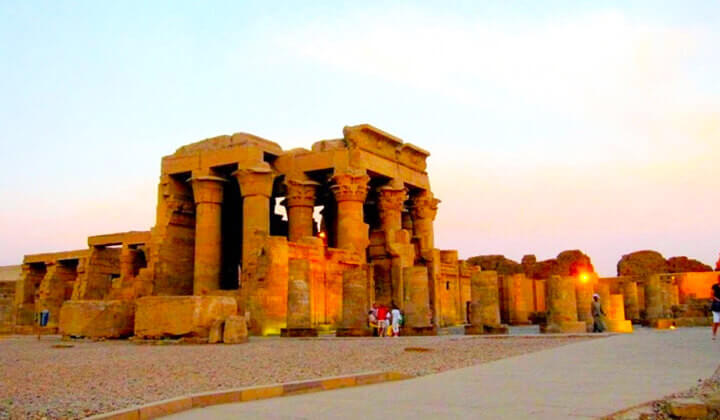 Cairo Tour Package: The City of a Thousand Minarets

Cairo is the capital city of Egypt. The city is a major tourist attraction and a part of each Egypt Tour Package. Famous for pyramids, churches, museums, Bazaar, historical and religious significance, Cairo is also a modern city. Very densely populated, Cairo is located on the Nile River. There are so many popular attractions in the city that you need at least 2-3 days to explore them in detail. And once you land there and you have read, heard or seen a bit of Egypt, you would surely like to dig deep into this amazing city of Cairo. You just need the best Cairo Holiday Packages to see the best of Cairo.

1. The Pyramids of Giza: Oldest of the Seven Wonders of the Ancient World

Your Cairo Tours must start with this magical human creation called the Pyramids of Giza. Within Giza Pyramid Complex, there are 3 mind blowing Pyramids that include the Great Pyramid of Giza (one of the 7 ancient wonders of the world), the Pyramid of Khafre and the Pyramid of Menkaure. They were built 4000 years ago and include several cemeteries, temples, and remains of worker's village. Pyramids still come on top when compared to modern architecture of Cairo. Once they were the tallest buildings and even today they are no less than wonders.

2. The Sphinx

Along with great pyramids of Giza on the Giza plateau, The Great Sphinx of Giza is yet another enigmatic symbol of Egypt of ancient time. Sphinx is a mythical creature in Egypt that has a head of a human and body of a lion. The face is believed to represent a king of 4th dynasty of ancient Egypt. On a Trip to Cairo, you must visit the Sphinx. You can explore this oldest known monumental sculpture in Egypt, the story and mystery behind the Sphinx.

3. Egyptian Museum

Egyptian Museum in Cairo is a place where you will see the most number of artifacts (more than 150,000 pieces) from ancient Egypt. Located in the center of Cairo, this is the place to get deep into the Egypt's past. If you love to touch upon the past of Cairo and Egypt in detail, do visit Egyptian Museum to know what life was like in the times of Pharaohs. Do get a professional guide though to navigate the museum properly.

4. Cairo Citadel

This is a medieval time Islamic fortress built around the ancient city to safeguard against the invaders. Cairo Citadel is located on the hills on the eastern side of the Nile River and it is also called Saladin Citadel. A must see attraction in Egypt with the best Cairo Tour Packages, Cairo Citadel's most popular attraction is the grandest building of sacred Alabaster Mosque of Muhammad Ali. There are two more mosques to visit inside the citadel.

5. Presidential Palace or Abdeen Palace

The main working place of the president of Egypt, Abdeen palace is also one of the popular attractions in downtown of Cairo. It should be on your itinerary in the best of Cairo Tour Packages. Though visitors allowed only one the lower floors of the palace, yet this beautiful palace is worth visiting as the palace has several museums that include Silver Museum, Arms Museum, the Royal family museum, historical documents museum and a Presidential Gifts Museum. This historic palace is one of the most lavish palaces in the world.

6. Old Cairo

This part of Cairo has a historical and religious significance. This is the home of Cairo's Coptic Christian community. The Coptic Orthodox church here claims to be the super ancient and world's oldest Christian denomination. On the best Cairo Tours, people must visit the old Cairo to see the Coptic churches, Coptic Museums, Amr Mosque, and navigate through narrow streets to taste the local flavor.

7. The Hanging Church of The Virgin Mary

This church in suspended form from the 4th century was built on the ruins of Roman built fortress of Babylon. This is the most famous Coptic Christian church in Cairo and is located at the heart of the Old Cairo. You enter the church via heavy iron gates and land into the courtyard which is decorated with biblical mosaics. Divided into 3 aisles the church is worth visiting for its beautiful decoration and history attached to it.

8. The Khan el Khalili Bazaar

Like an important body part, The Khan el Khalili Bazaar is also a main part of overall Cairo Tours or Egypt Tours. You must hit this local vibrant market which is said to be the oldest open air market in the entire Middle East. This historic Bazaar is famous for clothing, spices, jewelries and perfumes. Don't forget to buy souvenirs from this super popular market in Cairo.

Other Top Places to See in Cairo:

• Al Azhar Mosque
• The Coptic Museum
• Cairo Tower
• Cruise Ride on the Nile
• Saqqara
• Memphis
• Tahir Square
• Museum of Islamic Art and more.

Travel with Dook's Best Egypt Tour Packages

Egypt is a unique country on the planet and Dook's best Egypt Packages provides you best experience of this country. Egypt's pyramids have grabbed everyone's attention since childhood and thus you don't want to miss the smallest bit of it once you are on Egypt Tours. Ask for Dook's best Egypt Tour Package from India and gear yourself up for the best travel experience.
Amazing Things to Experience on Your Egypt Tour

Egypt is known for its oldest civilizations in the world. Known for its rich history and historic treasures, Egypt is more than you might imagine. With remarkable sights, extraordinary architecture, golden sand beaches, and natural therapies, Egypt is a bucket-list-worthy destination. If you are heading for an Egypt tour on your next travel, here is the list of things you can experience there.

• Explore the Pyramids of Giza
• Enjoy the cruise ride on the Nile River
• Learn about the history at the Egyptian Museum
• Unearth the capital of Egypt(Cairo)
• Chill on the Sharm EL-Sheikh beach
• Hike to Mount Sinai
• Discover the Valley of the Kings
• Visit the Mortuary Temple of Queen Hatshepsut
• Pay your visit to the Karnak Temple Complex
• Admire the striking Twin Temples at Abu Simbel
• Marvel at the white desert
• Capture a birds-eye view from the Cairo Tower
• Enjoy a Qarun Lake Boat Ride
• Stroll around the Aquarium Grotto Garden
• Tour the Papyrus Museum
• Take a tour of Luxor Temple and Museum at Night
• Go to Royal Jewelry Museum
• Catch a sunset view from Mount Sinai
• Go for a cave tour of Sanur Valley Cave

Exciting Outdoor Adventures to Try on Egypt Tour

Egypt is a place of wonders and adventures. A place where you can indulge in many outdoor adventurous activities. If you seek a thrilling vacation in Egypt, buy Egypt tour packages from Dook. We offer thrill-seeking activities that make your heart glee. If you don't know about the adventures you can indulge in Egypt, here is the list:

• Cruising
• Scuba Diving
• Hiking
• Guided Tour
• Shopping
• Camel Riding
• Cave tours
• Cycling
• Hot Air Balloon Ride
• Boating
• Jeep Safari Ride
• Trekking
• Snorkeling
• Parasailing
• Waterskiing
• Fishing Trips

Try Smacking Food at Top Restaurants in Egypt

While Egypt has many cultural, architectural, and historical delights, there is much more to this beautiful country. And that is- its food! To get a flavor of a new country, you must try its cuisines. The true essence of a country's delish cuisines and culture lies in its flavors. So, we have hand-picked a few restaurants that you must try on your Egypt tour. And the list goes here on:

• Samakmak
• Andrea Mariouteya
• Citadel View Restaurant
• Sequoia
• 1902 Restaurant
• Aswan Moon
• 1886, Winter Palace Hotel
• Moghul Rooms
• Orient 1001
• Le Pacha 1901
• Abou El Sid
• Pier 88
• Zooba
• Crimson
• 139 Pavilion
• Bombay Restaurant
• Koshary Ali Baba Restaurant
• Trianon
• Abu Ashraf
• Taj Mahal
• Stefano's Restaurant
• Greek Clubhouse
• Byblos
• Chez Gaby

These are the best restaurants in Egypt that you must try and have mouthwatering cuisines.

Take a Shopping Tour in Egypt

Shopping is something that everyone loves. It excites everyone. Almost every person loves shopping and is always looking for places to buy. Especially when you are visiting a new country, you like to shop for things to take home. You shop for gifts and other things. This indeed scales up the excitement level for shopping in a new and different country. If you are on an Egypt tour, here are the top shopping outlets you can try:

• Khan Al Khalili
• Souk Al Fustat
• Aswan Souk
• Old Market
• Souk-Al-Gamaal
• Sharia Khayamiya
• Han El Halili
• Suuq El Ataba
• Luxor Bazaar
• Tent Market
• Sharia El Souk
• Lotus Bazaar
• Cairo Festival City Mall
• Soho Square
• Caravanserai
• Souq District
• Nomad
• Attareen Antique Market
• Sami Amin
• Habiba

Experience the Vibrant Nightlife in Egypt

When we say Egypt, you would imagine the desert, pyramids, hieroglyphics, and golden sand. But never in your wildest dreams, you would assume that Egypt may have a bustling nightlife. To your surprise, Egypt is one of the party destinations in the world. The spirit of Egypt's nightlife remains zestful. If you also want to be a part of Egypt's nightlife, here are the best places that you can choose to go:

• Nile Pharaoh Dinner Cruise
• Cairo Jazz Club
• The Cellar Cairo
• The Sound and Night Show at Giza Pyramids
• Space Sharm El Sheik
• Gu Bar
• Papas Beach Club
• Little Buddha Hurghada Egypt
• The Tap Bar and Grill
• Pangaea Night Club
• Electric Bar
• Crystal Live Lounge
• Stage One
• The Club of Egypt
• U Bistro and Bar
• Amici Bar
• Echo Club
• Pub 28
• Duport Pool Club
• Riverside Cairo- By The Nile
• The Lemon Tree & Co
• Amici Bar

If you are looking for a fulfilling vacation in Egypt, check out Dook's Egypt tour packages. We offer a range of tour packages that ensure you have a great time on your vacation.

Reasons Why Egypt Visit is A Must for Everyone

Egypt is a mystical land. Thousands years before we had the science and technology of building skyscrapers, the tallest pyramids were built in Egypt. Egypt is a historic city with one of the oldest civilizations on the planet and it is equally a paradise on the planet with beautiful beaches, Nile River and deserts. Let us see some more reasons to visit Egypt:

1. Pyramids: Pyramids of Giza is a must see attraction in Egypt. All Egypt Tours from India include the great pyramid of Giza in their itinerary.

2. Nile River Cruise: You cannot miss a cruise ride on Nile River. Take a cruise from Luxor to Aswan passing through ancient temples and villages.

3. Delicious Egyptian Cuisine: Taste the fantastic Egyptian food. Kebab, baba ghannoug, kofta, dolma, shawarma are only few local dishes you can taste to experience the local flavor. You will also get international cuisine in cities like Cairo.

4. Beaches and Splash in the Red Sea: After a city tours, if you are looking for quiet and relaxed time, go to offbeat beaches along the Red Sea. On popular beaches you will have a great time at beach resorts and you can also enjoy watersports, shopping and entertainment.

Frequently Asked Questions:

Question: Is English spoken in Egypt?
Answer: Yes. English is widely spoken in commercialized cities and towns like Aswan, Cairo, and Luxor. Other than English, European languages are also commonly spoken due to the rise in tourism in Egypt.

Question: What are the adventures you can do in Egypt?
Answer: There are plenty of things that you can do in Egypt. From exploring temples, ancient monuments, and history museums to camel riding, scuba diving, and cruising, Egypt is full of things to do.

Question: What are the things to buy in Egypt?
Answer: Egypt offers you a lot of options to shop. You can buy t-shirts, souvenirs, pillowcases, colored sand bottles, woodwork, paintings, ceramic products, bowls, trays, etc. You can do round-the-clock shopping in Egypt.

Question: What is the best time for a vacation in Egypt?
Answer: The best time to travel to Egypt is from October to April. During this time, the temperature remains colder. However, the peak season is from December to January, when Egypt gets overcrowded.

Question: What are the top places to visit in Egypt?
Answer: Egypt has a plethora of places that are worth visiting. The top places are the Pyramids of Giza, Valley of Kings, Islamic Cairo, Citadel of Saladin, Aswan, Rock Temples of Abu Simbel, Egyptian Museum, White Desert, and more.