Uzbekistan Tajikistan Historical Tour 12 Days
Chronicling the past in Uzbekistan and Tajikistan
Pkg Id

0000127

Destinations

4

Duration

11 Nights

Attractions

27

Price
Mongols, Timurids, Sassanids and countless other civilizations have risen, fought and fallen on the steppes of Central Asia. Dotted with relics to the glorious yesteryears, Uzbekistan and Tajikistan is a wonder for history buffs. Discover heroic tales of past exploits on a historical tour down the memory lanes of Uzbekistan and Tajikistan.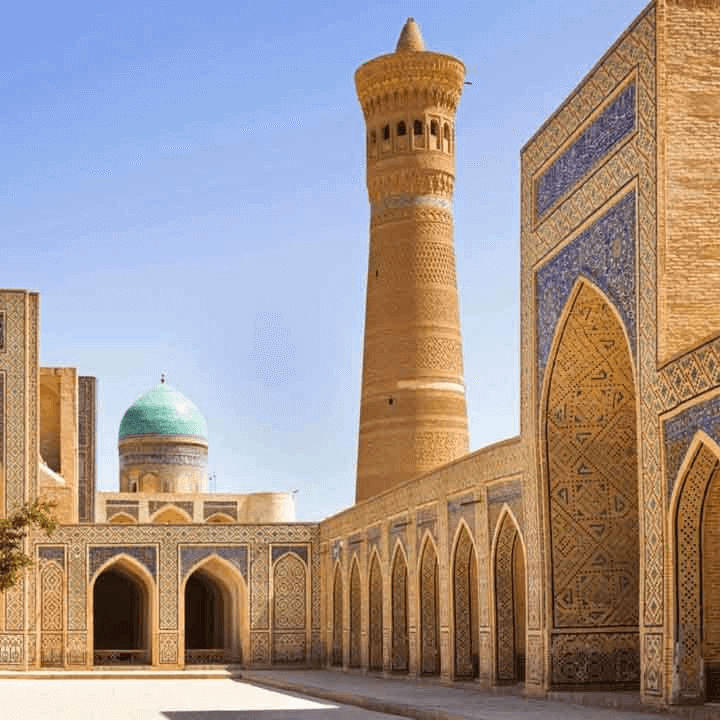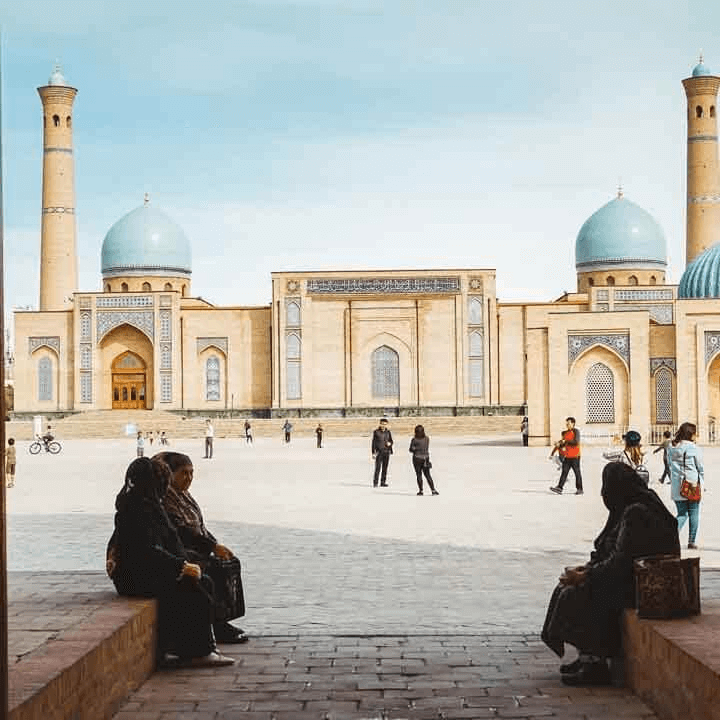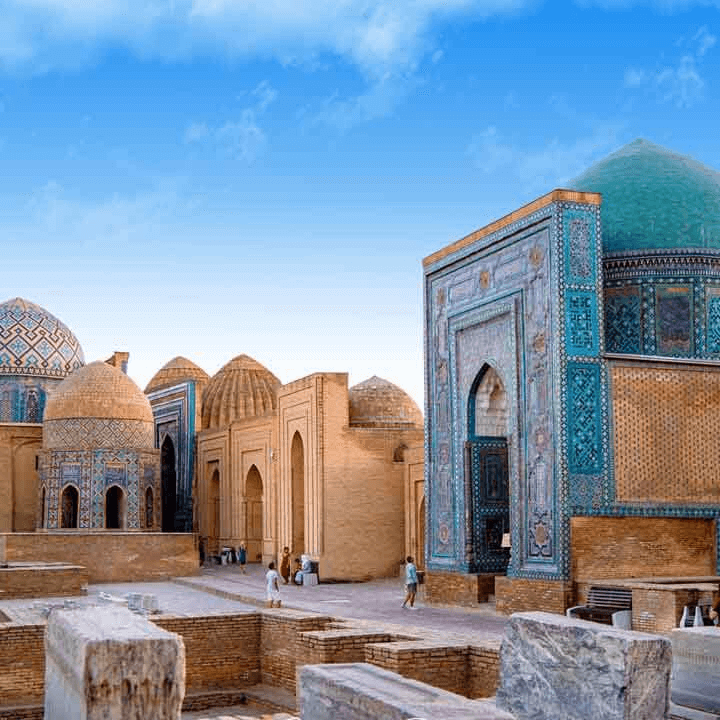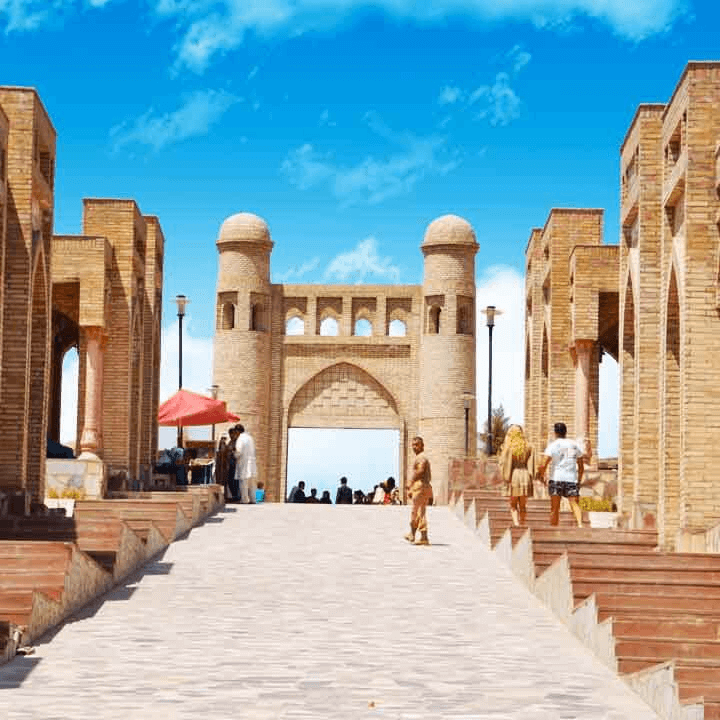 1
Arrival in Tashkent
Arrival at Tashkent International airport. Our tour escort will host you from outside airport.
Transfers to Hotel.
Check in Hotel.
Short city tour of Old Tashkent.

Visit Khasti Imam Mosque & Usmanquran Museum.
Transfers to Hotel
Free time to explore the city on your own.
Overnight at Hotel

2
Zangiota Mosque & Tashkent City Tour
Transfer to Zangi Ota Mosque after Breakfast at Hotel
Only 20 kilometres from the city center along the old road to Samarkand in the eponymous village of Tashkent region there is one of the most interesting historical and architectural monuments of XIV century - a complex of mausoleums Zangi - Ota.

It is the resting place of Sheikh AI- Hodge (Zangi-Ota), a fifth of the murid of the great Sufi Khoja Ahmad Yassavi and spiritual student of the famous mystic poet Suleiman Khaki – ata Bakyrgani.
Visit explore Tashkent city with guide: Chor-Su Bazaar. Then take a ride on Tashkent Metro to city center with Amir Temur Square, Independence Square.
Transfers to Hotel.
Free time to explore the city on your own.
Overnight at Hotel

3
Bukhara
Breakfast at Hotel.
Take a Afrosiyob train to Bukhara.

Arrival in Bukhara
Transfer to Memorial complex of the great Sufi, Saket and saint Sheikh Bahauddin Naqshbandi is near Bukhara.

According to his studying, if person works manually it gives him the right to independence in the work, actions and thoughts.
His famous statement: "Allah is in mind, and hands – in the work". There is a wishing stone – SangiMurod inside the wall of the mausoleum. Believers from different countries come here to ask for the fulfillment of wishes.
It is believed that Naqshbandi averts disaster.
Memorial complex Bahauddin Naqshbandi is rectangular courtyard where the tomb of Saint Sheikh.
The modern aivan with wooden columns is decored the central courtyard. The decoration of the ensemble is characterized of XVI century.
Dakhma with marble fence was erected by Abdulaziz Khan in 1544, and near was built the great building Khanaka.
Later here was formed a vast necropolis – tomb of Bukhara emirs. Decorated mosques Muzaffarkhan and Hakim Kushbegi are struck by its beauty, which formed the courtyard with creek around the mausoleum.

At the beginning of our century the Memorial complex Bahauddin Naqshbandi was restored. The arches in national style, blue domes, different gate and columns were built here.
One of the most beautiful of architectural ensemble of Bukhara, the complex Bahauddin Naqshbandi meets pilgrims with silence and solitude.
Transfers to Hotel
Free time to explore the city on your own.
Overnight at Hotel.

4
Bukhara City Tour
Breakfast at Hotel.
City tour in Bukhara: Visit Lyabi-Khauz Complex, Kalyan mosque and Kalyan minaret and Miri-Arab Madrasah, Ulugbek and Abdulazizkhan madrasah, Ark fortress, Samani dynasty Mausoleum, Chor-Minor Madrasah, Bolo-Khauz Mosque
Transfers to Hotel.

Free time to explore the city on your own.
Overnight at the hotel

5
Transfer to Samarkand
Breakfast at Hotel.
In the morning transfer to Samarkand (290 km, 4 h.).

En route visit the Memorial Complex of Abu Abdulloh Mukhammad ibn Ibrohim, Ibn al Mugiyraibn Bardazbeh al Juafiy Al-Bukhari.

Continue to holy place which is a few kilometers away from this complex, the burial place of Hazrat Makhdumi A'zam Dahbediy (1461-1542), a Sufi philosopher, and a descendent of Hazrat Ali.

Arrival in Samarkand

Check in to the Hotel.
Free time to explore the city on your own.
Overnight at the Hotel.

6
Samarkand Tour
Breakfast at Hotel.
In the morning visit Complex KhojaAkhrarVali, Khoja AL Mansoor al Matrudi, Bibi-Khanum mosque, Shakhi-Zinda Necropolis, where you can visit the tomb of Qusamibn Abbas, continue to Hazrat Hyzr Mosque.
In the afternoon visit magnificent Registan Square, the noblest square in Central Asia, Observatory of Ulugbek, and Siab Bazaar. End the sightseeing tour with a visit to Gur-Emir Mausoleum – the graveyard of Tamerlane and Timurids.
Transfers at Hotel
Free time to explore the city on your own.
Overnight at the hotel.

7
Transfer to Tajikistan
Breakfast at Hotel.

Arrive to the Tajik

Uzbek

Dusti-Sariosiyo, cross the border and meet your Tajik Guide and drive to Kulyab city via

the capital of Tajikistan- Dushanbe.
Have lunch and continue on the way to the south of Tajikistan , Kulyob city, which has 2700 years history and located on the way of Silk Road.
On the way have stop at Norak HPP dumb, 300 m platina, very famous as a Tajik Blue sea.
Transfers back to Hotel.
Free time to explore the city on your own.
Overnight at the Hotel in Kulyab

8
Mausoleum of Mir Sayyid Ali Hamadani
Breakfast at Hotel.

Proceed to the mausoleum of Mir Said Ali Hamadoni – The person who brought Islam to Kashmir in 13 c ad. Also to develop the area he brought there the crafts like pashmina making, jewelry making, ceramic vessels, and the famous trees of Chinars.
He was a religious leader, poet and traveler. In Tajikistan he is very famous as an Hazrati Amirjon ,

even as a respect to him the Government of Tajikistan putted his profile on the one of banknotes of the country with his poem (10 somoni).
He was born in Hamadan of Iran and graved in Kulyab city.

First part of the day you will have great opportunity to explore the Mausoleum of Mir said Ali Hamadani, because this place is pilgrimage area of locals and foreigners.
Drive back to Dushanbe – the capital of Tajikistan.
Transfers to Hotel.
Free time to explore the city on your own.
Overnight in the hotel

9
Dushanbe Sightseeing
Breakfast at Hotel.
Transfers for sightseeing in the capital of Tajikistan: Independent square, Symbol Square, Palace of Nation, and Flag Square (2nd highest flagpole in the world 165m), Rudaki Park, National Museum of Tajikistan.

After lunch visit Navruz Palace – the biggest Tea House in Central Asia, this becomes an entertainment place for the locals and guests of the country.
Transfers to Hotel.
Free time to explore the city on your own.
Overnight in the hotel

9
Varzob Gorge
Breakfast at Hotel.
Transfers to beautiful Varzob Gorge, Mountain passes and tunnels to the Tajik/Uzbek border Fotehobod/Oybek (430 km).
Beautiful and unique nature and mountains gives to the nature lover to enjoy and make lot of pictures.
Transfers to the biggest Oriental bazaar in Central Asia and complex of Sheyh Maslihatdin in ancient Khujand city – the second biggest city of country, located at the bank of famous river Sir Darya in the north of Tajikistan).
From Khujand we will drive approximately 1 hour to the border.
You will cross two borders and meet your Uzbek guide and continue your way to Tashkent (1.5 hours' drive from Uzbek border to Tashkent).
Transfers back to Hotel.
Free time to explore the city on your own.
Overnight at Hotel.

11
Sightseeing
Breakfast at Hotel.
Transfers for shopping.
Transfers to Hotel
Free time to explore the city on your own.
Overnight at Hotel

12
Departure
Breakfast at Hotel.
Transfer to airport for your onward journey

11 Nights Accommodation in Hotel

All Transfers As Per The Itinerary

English Speaking Tour Guide throughout the Tour

Airport Transfer Included

As per mentioned in itinerary
Visa
Click to view Visa information
General Terms
Please note that these packages are customizable, which means that you will be able to make changes to the itinerary/activity if you so desire. The final payment will be calculated as per the itinerary and inclusions reflected on the confirmatory e-mail sent to you.
Please expect to receive your vouchers 72 hours before your departure date (subject to full payment of your package cost).
Personal expenses such as laundry, telephone calls, room service, alcoholic beverages, mini bars etc., are not included.
In case your package needs to be canceled due to any natural calamity, weather conditions etc. Dook Travels shall strive to give you the maximum possible refund subject to the agreement made with our trade partners/vendors.
The passenger names in the booking form should be exactly as per passports. Dook Travels will not bear any liability for the name change fee, if incorrect names and ages have been added at the time of booking.
Please note that your package includes baggage as per airlines policy. Any addition in baggage will be charged separately.
Standard check-in time at the hotel is normally 2:00 pm and check-out is 11:00 am. An early check-in, or a late check-out is solely based on the discretion of the hotel.
In case the selected hotel is unavailable for booking, an alternate arrangement will be offered to the customer in another hotel of a similar category.
Certain hotels may ask for a security deposit during check-in, which is refundable at check-out subject to the hotel policy.This amount has to be deposited by the traveler.
Please note that Day at Leisure essentially implies that no sightseeing activities have been included for that day.
Kindly be on time for your activities, tours and transfers. Dook Travels will not be liable for missing any activity thus for any refund against it in such cases.
No refund either in part or in full will be made for any unused part of the services provided in the package.
The package price doesn't include special dinner or mandatory charges at times levied by the hotels especially during New Year and Christmas or any special occasions. Dook Travels shall try to communicate the same while booking the package. However Dook Travels may not have this information readily available all the time.
Our package price does not include GST and TCS. Applicable GST and TCS will be charged over and above the package price.
For queries regarding cancellations and refunds, please refer to our Cancellation Policy.
For any paid activity which is non-operational due to any unforeseen reason, we will process the refund & should reach the guest within 30 days refund requisition. Also, for any activity which is complementary and not charged to Dook Travels & guests, no refund will be processed.
Our package prices are on twin sharing accommodation basis thus published prices are applicable for minimum two persons and multiple of two thereon.
As per RBI guideline every foreign traveler has to provide us his PAN details. The Dollar component of package price will be taken out of your BTQ (Basic Travel Quota).
The tour cost does not include any Overseas Insurance Premium, but we strongly recommend buying Overseas Insurance Policy. The same after issuance is non refundable.
These terms are general terms for our tour packages.Any term mentioned in proposal shall be considered part of it and in case of discrepancy term mentioned in proposal shall prevail.
Disputes, if any, shall be subject to the exclusive jurisdiction of the courts in New Delhi.
Payment Policy
Payment schedule depends on destination, time of booking, inclusions, airline and hotel payment policy etc thus it is specific to your package bookining.
Payment schedule will be part of our proposal to you for the package.
If payment is not made as per the schedule provided in the first booking confirmation e-mail, Dook Travels reserves the right to cancel the booking after attempting to get in touch with you. Refunds would be as per the package cancellation policy.
Cancellation Policy
Once Booking received : INR 5000 (Per PAX) + actual Ticket cancellation + Hotel cancellation as per hotel policy+Visa fee if visa is applied.
60 – 45 Days prior to departure : 25 % of land cost + INR 5000 (Per PAX) + actual Ticket cancellation+Visa fee if visa is applied.
45 – 30 days prior to departure: 50% of land cost + INR 5000 (Per PAX) + actual Ticket cancellation+Visa fee if visa is applied.
30 – 10 days prior to departure: 75% of land cost + INR 5000 (Per PAX) + actual Ticket cancellation+Visa fee if visa is applied.
Within 10 days: Full.