Uzbekistan Ziyarat Tour 13 Nights
Oasis of Uzbekistan 13 Nights and 14 Days Ziyarat
Pkg Id

0000138

Destinations

4

Duration

13 Nights

Attractions

38

Price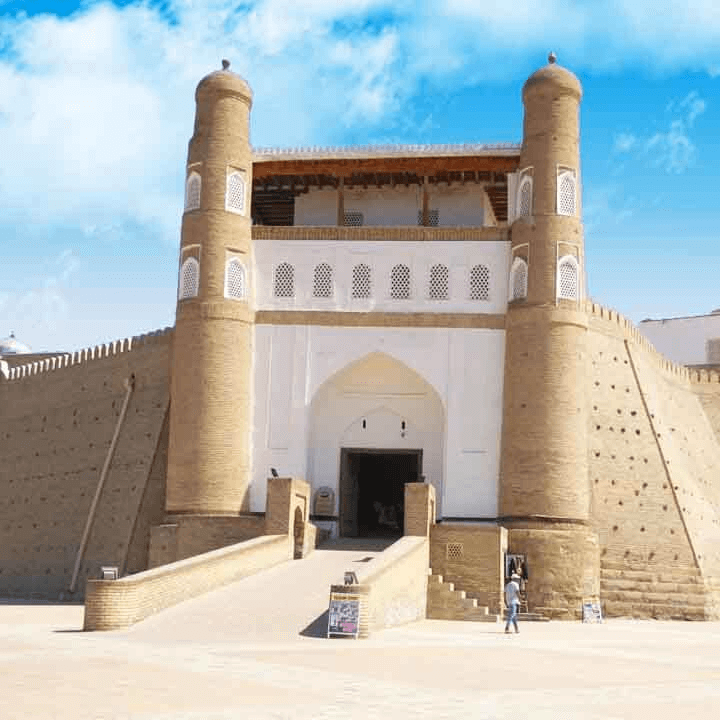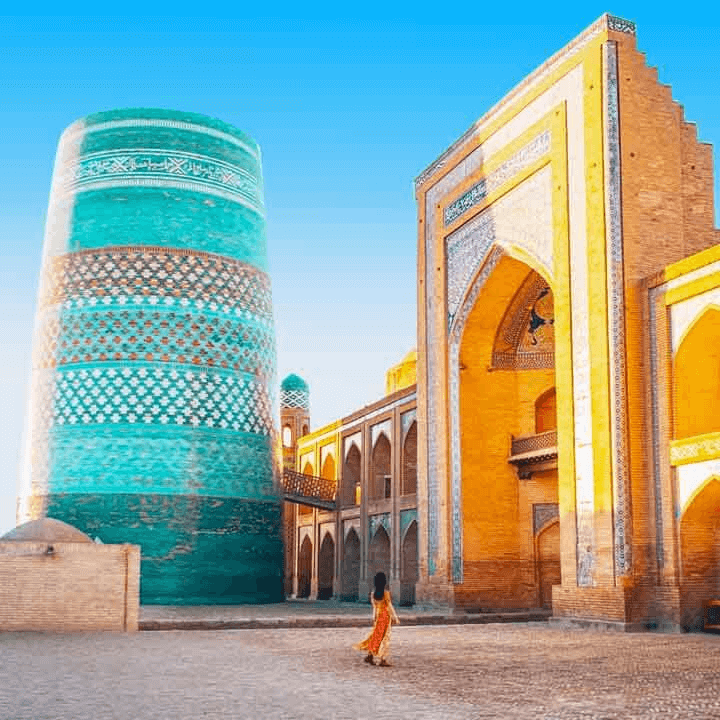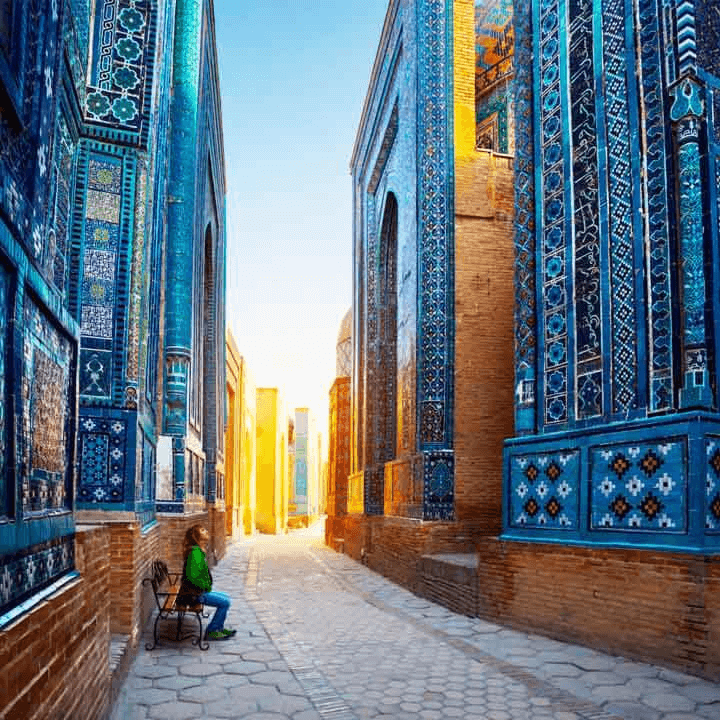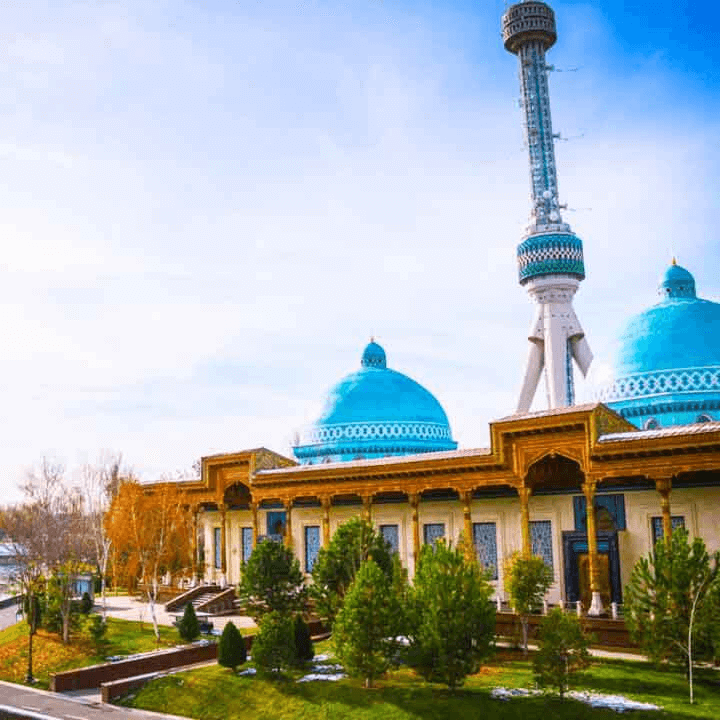 1
Tashkent
Arrival in Tashkent International airport.
Transfer to Hotel, Check-in to Hotel
Transfers for city tour along the old part of city: Architectural complex "Khazrati-Imam" incl. necropolis of imam Abu Bakr Muhammad al-Kaffal Shashi who was one of the first Muslim imams and a famous divine and poet (16th c), Barak-khan Medressa – built by Suyunidj-khan – the first ruler of the Uzbek dynasty of the Sheibanid's (16th c), Tellya Sheikh Medressa also called Khast Imom Mosque, where Osman Quran – the world's oldest is kept (19th c), Juma Mosque (15-19th cc) and bazaar Chorus.
City tour along the modern part of city:Square of the Navoi Grand Opera and Ballet Theater, Independence square – the main square of the city, Amir Timur Square, Monument of Courage(1976 y.) – the epicenter of the Tashkent earthquake of 1966 year.
Visiting of Applied Arts museum
Overnight at Tashkent
2
Tashkent-Urgench-Khiva
Breakfast at Hotel.
Check out from Hotel, Transfer to domestic airport .
Departure to Urgench by Uzbekistan Airways .
Arrival to Urgench.
Our tour escort will host you from outside airport.
Drive to Khiva 30 km.
Hotel check-in at Hotel.
Excursion over Khiva: Ichan-Kala architectural ensemble,Museum under the open sky.
Tosh-Khowli Palace (Harem) (1830-1836), Kunya-Ark Fortress (1868- 1888), Kalta-Minor Minaret (1855), Complex of Alla-Kuli Khan , Juma Mosque and Minaret , Medrese of Abdulla-Khan (1865), Mausoleum of Said Alautdin ,Medrese of Mukhamad Amin-Khan,Walls of Ichan- Kala ,Architectural complex of Ichan-Kala is a mini town and excursion is held inside of Ichan-Kala by walk.
Overnight at Hotel.
3
Khiva-Bukhara
Breakfast at Hotel.
Check out from Hotel.
Departure to Bukhara over the Kyzylkum desert.
Arrival in Bukhara .
Check in to Hotel.
Free time to explore the city on your own.
Overnight is in Bukhara
4
Bukhara
Breakfast is in the Hotel.
City tour along Bukhara: Complex "Poi Kalon" : "Kalyan Minaret" – the main symbol of sacred Bukhara that symbolized authority and power of spiritual governors.
"Kalyan Mosque"- its area of 130×80 m surpasses Bibi-Khanym mosque in Samarkand, "Miri Arab Madrassah"
Active Madrassah is one of the most esteemed spiritual Islamic universities , Taki Zargaron – the dome of jewelers , Ulugbeg Madrassah one of the 3 Madrassahs constructed by grandson of Tamerlan ,Ulugbeg ,Abdulaziz-khan Madrassah
A traditional Madrassah with 2 floors of Hudjras and a mosque on the central axis,Tim of Abdullah-Khan madrassah, atlas shops, Magoki- Attari Mosque

the most ancient mosque in Bukhara is considered a masterpiece of Bukhara architecture, Khanaka and Madrassah of Nadir Divan- Beghi.
A massive rectangular structure that was a place for the refuge and meditation of Sufis (17th c.), Kukeldash Madrassah(16th c.) one of the biggest Bukhara Madrassah, Lyabi-Hauz ensemble

the largest artificial reservoir of medieval Bukhara

is very popular among tourists.
Mausoleum of the Samanids – the most ancient brick building in Central Asia, a masterpiece of world architecture . The mausoleum of Chashma Ayub that belongs to esteemed places of trace left by saints .The legend says that once the bible prophet Job visited this place.
Museum of Imam Al Bukhari. Bolo-Houz Mosque – the only monument of medieval Bukhara (beg. of 20th c.), Ark fortress is the center of Bukhara statehood (4th c. BC), silk carpet shops and visit of Jewish quarter.
Overnight in Hotel.

5
Bukhara-Langarata
Breakfast in Hotel.
Transfer from Bukhara to Langar Ata village in the footstep of Hissar mountains.
Get invited in one of the clay-brick houses, have tea and flat bread, and while away the afternoon on the Tapchan with your new-found friends.
By desire, tourists in the village of Langar Ota can visit the White Mosque or as it is also called the Katta Mosque .
This is an active mosque that did not know the restoration, all in its original form and also guests can visit the stone tapchan with traces of "Kadamjo". Stay together with local people in the local people's house.
Overnight in Hotel.
6
Langarata-Shakhakhrisabz-Samarkand
Breakfast at Hotel.
Drive to Shakhrisabz by car approximately 70 km.
Arrival in Shakhrisabz.
Excursion along Shakhrisabz: Ak-Saray Palace , architectical complex Dorut-Tillavat Complexes

and Darus-Saodat , Gumbazi-Seyidan Makbarat, Kok-Gumbaz Mosque .
Departure to Samarkand by car through picturesque Takhtakaracha pass .

Arrival in Samarkand.
Check in to Hotel.
Overnight at Hotel.
7
Samarkand
Breakfast

in Hotel.
City tour along Samarkand: Gur Emir Mausoleum – Tamerlan's tomb that was built for Temur's grandson Muhammad-Sultan and the tombs of three other Temurids – sons of Temur – Miranshah and Shahruh and his grandson Ulugbek, Ruhabad Mausoleum external visit the legend says that under the dome there is a box with seven hairs of Prophet Muhammad , Registan Square , the major square of Samarkand: Ulugbeg Madrassah

8
Samarkand-Nurata-Yurt Camp
Breakfast at Hotel.

In the afternoon transfer to Nurata approx 200km .

Excursion over Nurata.
Visit of Namzgoh mosque, ruins of the fortress of A.Makedonsky, holy source"Chashma". Departure to Aydarkul lake warm lake in desert.
Swimming is possible.
Arrival at yurt camp located in Kyzylkum desert.
Staying for overnight in the yurt is one of unforgettable moments of the trip.
Camel riding is in desert around the yurt camp.
Overnight in Yurt.
9
Yurt Camp-Hayat Villagee
Breakfast at Hotel.
Overnight at Hotel
Departure to Hayat village located on the footsteps of Nuratau mountains and just nearby the famous Nuratau National reserve.
Walking visit the Nuratau National reserve.
Staying together with local people in the local people's house.
10
Hayat Village-Tashkent
Breakfast at Hotel.
Drive to Tashkent by car .

Arrival in Tashkent .
Check in to Hotel.
Free time to explore the city on you own.
Overnight is in Tashkent.
11
Tashkent-Ugam-Chatkal ReserveE
Breakfast is the hotel.
Transfer to South-Western Tian-Shan, Charvak – Chimgan mountain area.

Trekking to the gorge of small river Ishakkupriksaj. Climbing Charvak mountain From it's top you can see one of the best panoramas of the Charvak water basin and ridges of South - Western Tjan - Shanj .
Overnight at Hotel.
12
Chimgan Mountanies
Breakfast at Hotel.
Trekking under Small Chimgan summit.
Trekking onto northwest slopes of mountain in small river's Gulkamsaj gorge.
Trekking through Gulkamsky canyon – one of the most beautiful places in nearby mountains.
Overnight at Hotel.
13
Chimgan Mountaies-Tashkent
Breakfast at Hotel.
Trekking to the crest of Kyzyldzhar to Archaly pass. Climbing Akshurang mountain (1960m). Descent on a crest of Kungurbuka in a small river Galvasaj valley.
Meeting with the driver. Evening drive to Tashkent.
Arrival and accommodation in a Hotel.
Overnight is in Tashkent.
14
Tashkent- onwards
Breakfast is the Hotel.
Check out the Hotel .
Visa
Click to view Visa information
General Terms
Please note that these packages are customizable, which means that you will be able to make changes to the itinerary/activity if you so desire. The final payment will be calculated as per the itinerary and inclusions reflected on the confirmatory e-mail sent to you.
Please expect to receive your vouchers 72 hours before your departure date (subject to full payment of your package cost).
Personal expenses such as laundry, telephone calls, room service, alcoholic beverages, mini bars etc., are not included.
In case your package needs to be canceled due to any natural calamity, weather conditions etc. Dook Travels shall strive to give you the maximum possible refund subject to the agreement made with our trade partners/vendors.
The passenger names in the booking form should be exactly as per passports. Dook Travels will not bear any liability for the name change fee, if incorrect names and ages have been added at the time of booking.
Please note that your package includes baggage as per airlines policy. Any addition in baggage will be charged separately.
Standard check-in time at the hotel is normally 2:00 pm and check-out is 11:00 am. An early check-in, or a late check-out is solely based on the discretion of the hotel.
In case the selected hotel is unavailable for booking, an alternate arrangement will be offered to the customer in another hotel of a similar category.
Certain hotels may ask for a security deposit during check-in, which is refundable at check-out subject to the hotel policy.This amount has to be deposited by the traveler.
Please note that Day at Leisure essentially implies that no sightseeing activities have been included for that day.
Kindly be on time for your activities, tours and transfers. Dook Travels will not be liable for missing any activity thus for any refund against it in such cases.
No refund either in part or in full will be made for any unused part of the services provided in the package.
The package price doesn't include special dinner or mandatory charges at times levied by the hotels especially during New Year and Christmas or any special occasions. Dook Travels shall try to communicate the same while booking the package. However Dook Travels may not have this information readily available all the time.
Our package price does not include GST and TCS. Applicable GST and TCS will be charged over and above the package price.
For queries regarding cancellations and refunds, please refer to our Cancellation Policy.
For any paid activity which is non-operational due to any unforeseen reason, we will process the refund & should reach the guest within 30 days refund requisition. Also, for any activity which is complementary and not charged to Dook Travels & guests, no refund will be processed.
Our package prices are on twin sharing accommodation basis thus published prices are applicable for minimum two persons and multiple of two thereon.
As per RBI guideline every foreign traveler has to provide us his PAN details. The Dollar component of package price will be taken out of your BTQ (Basic Travel Quota).
The tour cost does not include any Overseas Insurance Premium, but we strongly recommend buying Overseas Insurance Policy. The same after issuance is non refundable.
These terms are general terms for our tour packages.Any term mentioned in proposal shall be considered part of it and in case of discrepancy term mentioned in proposal shall prevail.
Disputes, if any, shall be subject to the exclusive jurisdiction of the courts in New Delhi.
Payment Policy
Payment schedule depends on destination, time of booking, inclusions, airline and hotel payment policy etc thus it is specific to your package bookining.
Payment schedule will be part of our proposal to you for the package.
If payment is not made as per the schedule provided in the first booking confirmation e-mail, Dook Travels reserves the right to cancel the booking after attempting to get in touch with you. Refunds would be as per the package cancellation policy.
Cancellation Policy
Once Booking received : INR 5000 (Per PAX) + actual Ticket cancellation + Hotel cancellation as per hotel policy+Visa fee if visa is applied.
60 – 45 Days prior to departure : 25 % of land cost + INR 5000 (Per PAX) + actual Ticket cancellation+Visa fee if visa is applied.
45 – 30 days prior to departure: 50% of land cost + INR 5000 (Per PAX) + actual Ticket cancellation+Visa fee if visa is applied.
30 – 10 days prior to departure: 75% of land cost + INR 5000 (Per PAX) + actual Ticket cancellation+Visa fee if visa is applied.
Within 10 days: Full.