Joyous Experience of Hot Air Balloon in Cappadocia Turkey
Cappadocia is Turkey's most surreal holiday destination. The otherworldly landscapes of this place capture the hearts of tourists. It is one of the most doted places in Turkey. Every year, tourists come from every part of the world to see the unique volcanic rock formations and experience the hot air balloon in Cappadocia.
The hot air ballooning adventure is popular among every traveler in Turkey. It offers some spectacular views of the valleys from a thousand feet above. As hot air ballooning generally takes place in the early morning, you can witness the magical sunrise from the flight. It will be one of the best moments of your life out there.

To know more about hot air balloon rides, continue reading this post. You will get many insights on the balloon ride in Cappadocia, Turkey.
Hot Air Balloon Cappadocia - A Brief Walkthrough
Hot Air Balloon is a wholesome experience to get on while on your vacation in Turkey. Cappadocia's air balloon ride is one of the bucket list adventures that everyone wants to take. The balloon ride in Cappadocia is one of the most famous around the globe. Tourists get on this adventure to grab the enchanting views of the unique rock formations of this place.
The fascinating landscapes and perfect weather conditions all year round make the hot air balloon ride more adventuring. You won't find a sky full of hot air balloons anywhere else. The sky looks magical. Over 150 balloons fly simultaneously with you. It seems like a balloon festival in Cappadocia.
Best Time to Indulge in Hot Air Balloon Ride
The thing about the Cappadocia balloon ride is that you can experience this adventure any time of the year. It is because the weather here is soothing all year round. However, considering the extreme and unexpected weather conditions, the best time is from April to November. During this time, flights are less likely to get canceled. Therefore, you will manage to add one more thrill to your list of best experiences.
The weather makes the hot air balloon ride more joyous and fun. Cappadocia offers some picturesque landscapes to capture in the heart and the cameras.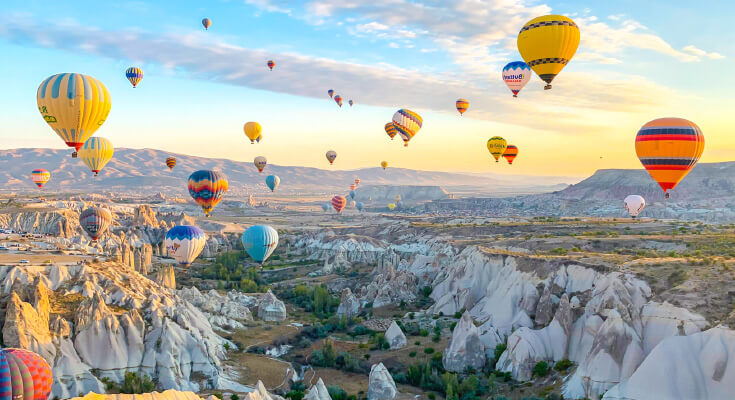 5 Things to Know Before You Head to Balloon Ride in Turkey
Cappadocia is a well-known destination in Turkey, famous for offering panoramic views of the whole valley from thousand feet above. The floating air balloons in the sky give a glimpse of a fairy vacation. If you are planning to take on this wonderful adventure in Cappadocia, then here are the following things that you should know before moving ahead:
1. Book the Ride in Advance
It's always a good idea to book your balloon flight in advance. This way, you can book the flight according to your plan and at your preferable time. Some tourists like to reserve the morning flight to witness the mesmerizing sunrise. On the other hand, some book hot air balloons for the evening so that they can enjoy the sunset.
If you book in advance, you will get rid of the last-minute hustle. Your ride may move to the next day in case of bad weather conditions. In such a case, you will get your money back.
2. Hot Air Balloon Can Reach 3000 Feet Above Ground
If you are afraid of heights, you should know that the flight will be thousands of feet above the ground in the Cappadocia balloon ride. The balloon flight can even get fast, depending on the speed of the wind.
Although you may be petrified of heights, you will still get the most phenomenal experience of your life. The one who flies the balloon looks after the smooth take-off and safe landing so that you can enjoy the ride with no fear.
3. Don't Forget to Use the Camera Strap
While enjoying the view, we know that you may want to capture the moment in your cams. But what if your camera falls and ruins your moment of joy? You don't want that for sure, right? So, to avoid this trouble happening, you should use a camera strap. In this way, you can relish the moment and also capture it. Your hands will be free, and you won't drop your camera from such an insane height.
4. Be Prepared for Unexpected Weather Conditions
Before booking your hot air balloon flight, you must check the weather conditions. In case of rainy or stormy weather, your ride may get canceled. Similarly, if you are ballooning during the peak cold months, you should keep extra jackets or woolen. This way, you can avoid the cold waves up in the sky. However, you may take an extra layer up there even in summer because the weather there may get chilly.
5. Follow the Instructions Vigilantly
When you reach the take-off zone for the Cappadocia balloon ride, the pilot and crew will instruct you about the necessary safety precautions. You must be attentive to listen to all the advice carefully and follow them throughout your ride. They will tell you about the dos and don'ts of your flight. If any question pops up in your mind, you should ask them.
Also, the crew and the pilot are perfectly trained. They have taken all the necessary training, passed numerous flights, and done medical checks. Moreover, they have years of experience in flying hot air balloons.
Types of Hot Air Balloon Rides That You Can Book in Cappadocia
A balloon ride in Turkey is an experience of a lifetime. It is one of the must-have adventures on your Turkey vacation. You will be going to witness the never ending landscapes from the sky and will even wonder if the scenes are real or imaginary. Moreover, the best thing about balloon flights is that you can choose whether to experience it alone or with a bunch of people.
There are different types of hot air balloon rides that you can book. These balloon rides have different prices according to the facilities and duration of the flight. Let's see the types of rides you can choose to get on:
1. Standard Hot Air Balloon Ride
The standard hot air balloon ride is the best way to experience the heavenly experience at affordable rates. The flight duration of this balloon ride is approximately one hour, and it carries almost 18-24 people. Once you are floating in the sky, you will be astonished to witness the unparalleled views throughout your flight. You will hover over the cave villages and arresting fairy chimney formations.
2. Deluxe Hot Air Balloon Ride
In the deluxe hot air balloon flight, you will witness panoramic sites of Cappadocia with a much smaller group. Also, the duration of the ride will be for 1.5 hours. That means you will enjoy the vistas for a longer period. Throughout the ride, you will explore the spectacular sights of the valley and gather the moments to cherish them forever.
Cappadocia hot air balloon price varies according to the type of flight you choose to take. You may get to pay some extra penny for the deluxe balloon ride.
3. Private Hot Air Balloon Ride
If you are on a honeymoon in Turkey, a private hot air balloon ride is one of the best ways to make it an unforgettable experience. You can book a private balloon flight for your partner and plan a surprise for them to make it extra special. In this type of balloon flight, you get the chance to set up the duration of the ride. You can set the time between half an hour to two hours to create an exhilarating ballooning experience.
Most tourists book this private hot air balloon for anniversaries, purposing, birthday celebrations, and honeymoons.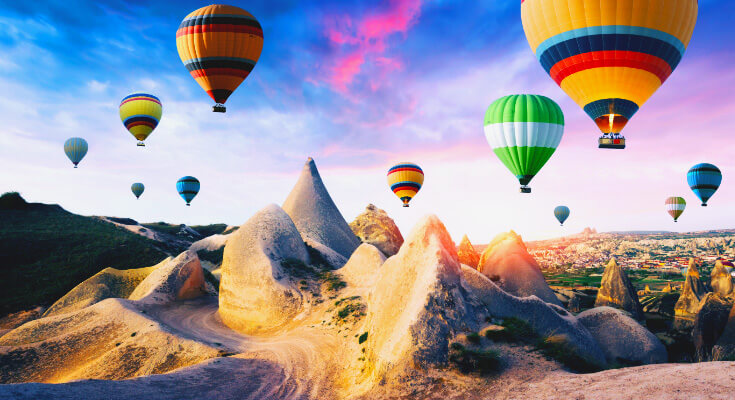 Duration of Turkey Hot Air Balloon Rides
The duration of hot air balloon rides depends on the kind of flight you have booked. For example, a standard balloon flight lasts for one hour, while a deluxe ride may go on for up to 90 minutes. Also, each company has its own time duration for different balloon rides. The full-length hot air balloon flight completes in 3 to 4 hours, including the pick-up and landing time.
The time you will stay in the balloon will be worth every adventure you have ever had. From the panoramic sites of Cappadocia to heavenly cloud vistas, the air ride will be a sheer affair.
Timings of Hot Air Balloon in Cappadocia
Hot air balloon flights generally take off early in the morning. If you love sunrises, you should witness the enthralling side of nature through a balloon ride. Most hot air balloon rides fly every day in the morning through all seasons. The wind conditions in the morning are best for air rides. Therefore, almost every balloon flight takes off early morning, between 5:00-5:30 am. Besides, the timings also depend on the season.
Also, you don't need to think about reaching the take-off spot by yourself because tour companies arrange the pick-ups. You only need to be ready to get on the magical adventure.
Top Hot Air Balloon Viewing Spots in Cappadocia
You will never get rid of enrapturing experience of the Cappadocia Turkey hot air balloon ride from your heart. Besides that, your mere presence at this place will make you witness one of the best landscapes of your life. If you are fascinated by the phenomenal images of hot air balloons rising above you, now it is your turn to click many of them.
Well, there are many locations to enjoy the best hot air balloon view in Cappadocia. Some of them are mentioned below:
• Goreme Valley - Goreme is one of the best spots in Turkey for viewing floating hot air balloons. Here the balloon flies exceptionally close to you. Goreme hill has a breathtaking view where you can see balloon flight launching and taking off, which makes it an ideal spot for clicking stunning pictures.
• Rose Valley - The Rose valley viewpoint is another location for watching hot air balloons in Cappadocia. This place will give you a clear glimpse of the sunset. Can you imagine hot air balloons flying across a pretty sunset? What an incredible view it will be! You shouldn't miss this place.
• Love Valley - Love valley is one of the most beautiful locations for viewing hot air balloons in Cappadocia. If you want to enjoy the surreal view in peace, head straight to Love valley because only a few people visit this place. Therefore, it is a perfect place to embrace the dreamlike moment.
• Red Valley - Red Valley is known for its phenomenal sky views during sunrise and sunset. The hot air balloons that take off from Goreme valley fly over the Red valley offering majestic cityscapes. No wonder your visit to Red valley will be full of floating hot air balloons filling the sky with gorgeous views. Also, you will get some Insta-worthy photographs.
Turkey Hot Air Balloon Prices
Turkey hot air balloon price depends on the kind of flight you may want to enjoy. It also depends on the number of people flying with you. There are different types of flights whose costs vary. Private flights are one of the most costly hot air balloon types. The reason for their high price is, of course, the special experience they offer.
Also, the rates of the balloon rides are based on the companies. Every hot air balloon company has different pricing according to their services. Mostly the prices of air balloon ride somewhat cost between $150 - $300 per person.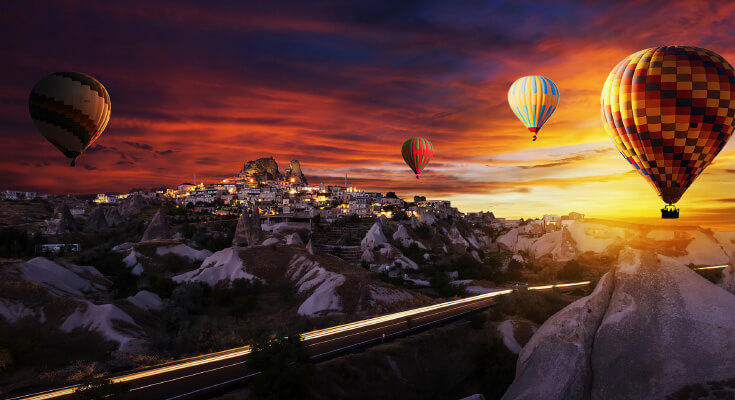 Book Turkey Hot Air Balloon Rides with Dook International
We hope this post has instilled some exciting thoughts about the hot air balloon experience in Turkey. Not just hot air ballooning, you can also experience lots of other things on your Turkey vacation. If you want to relish the joy of spending some time off in Turkey, you should opt for our personalized tour packages.
You can plan your next trip to Turkey with us at pocket-friendly prices. We have various Turkey Tour Packages that you can select as per your travel style. Dook International also includes hot air balloon rides in customize holiday package. Isn't it sound exciting? So, what are you waiting for? Book your trip with DOOK at budget-friendly prices.
Explore: Best Honeymoon Destinations in Turkey
Get to Know: Best Indian Restaurants in Istanbul