8 Best Places To Visit in Japan
Explore the diversification of life on this island country of East Asia. Japan is quickly becoming one of the top travel destinations in the world. People are lured by their fascinating traditions, skyscrapers lit with neon lights, quirky pop culture, and not to forget their mouth-watering cuisine.
Japan boasts several remarkable areas of natural beauty, many of them labelled as a UNESCO World Heritage Site. There are 21 World Heritage Sites in Japan, including Himeji Castle, Historic Monuments of Ancient Kyoto, and Nara. Popular foreigner attractions include Tokyo and Hiroshima, Mount Fuji, ski resorts such as Mount Moiwa in Sapporo, Hokkaido, and drawing advantage of Japan's hotel and hot spring network.
Japan is a warm, welcoming, and endlessly amusing travel destination with something for everyone. Here's a peek at some exhilarating places of Japan.
Top Japan Tourist Spots & Attractions
1. Tokyo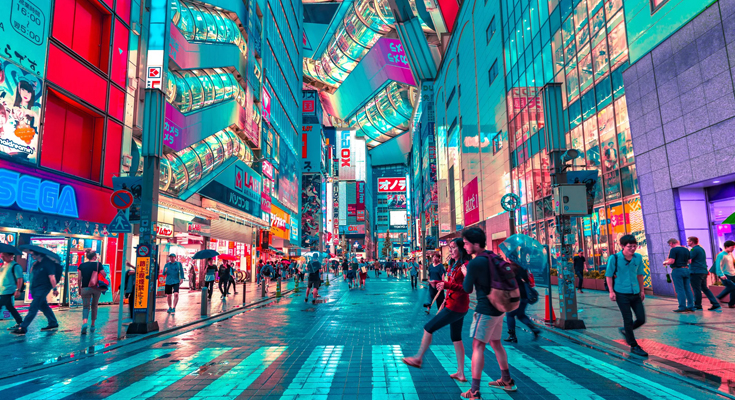 Japan's active capital, Tokyo, may look futuristic, but it bears a historical core. Marked by creative ultramodern and traditional designs, the capital brews the finest of both worlds. The most famous, Meiji Shrine, and Sensoji Temple, is one of the oldest. The opulent Meiji Shinto Shrine is known for its towering gate and neighbouring woodlands. The Imperial Palace amid extensive public gardens is the emperor's primary residence, which stands above a still moat in Kokyo Gaien National Garden. Another popular place about 100 kilometres southwest of Tokyo is Mt. Fuji, an active volcano. A pilgrimage spot for centuries, it's regarded as one of Japan's 3 sacred mountains, and summit hikes continue to be a popular activity. Tokyo is a city of parks, from the vast Shinjuku Gyoen National Garden to the lushly forested Yoyogi Park. From viewing spring cherry blooms in historic gardens to the fish market at Tsukiji. Tokyo is a place like no other!
2. Kyoto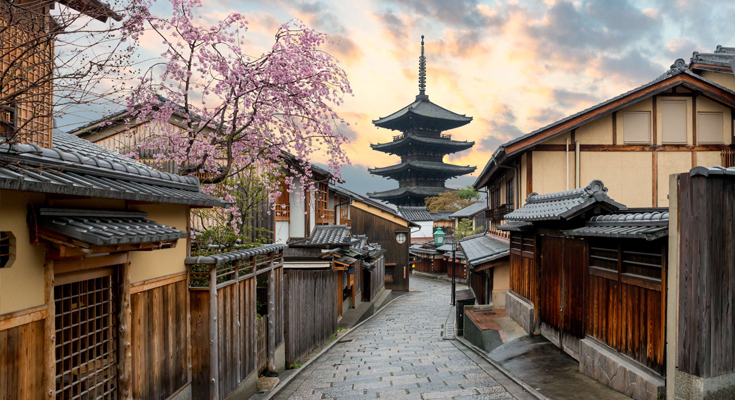 Kyoto is a city on the island of Honshu. It has served as the capital of Japan for over 1000 years, home to various Zen gardens, cobbled alleys, Kyoto is Japan's sacred and cultural legacy. It encapsulates major historical spots, home to over two thousand Buddhist temples, royal palaces, Shinto shrines, and conventional wooden houses. The golden pavilion of the Buddhist Kinkakuji temple is a marvel at castle architecture with intriguing building elements like secret chambers and intricate sliding gates. There's also the Kiyomizu temple, which is adorned with blooming cherry trees in spring and glorious maples in autumn. In Kyoto, it's all about formal rituals such as kaiseki dining, sophisticated multi-course of delicious dishes, and geisha, female artists usually found in the Gion district. Home to a profusion of cool bars, relaxing cafeterias, and world-class restaurants, the city again has some marvellous palaces and villas for visitors to gaze upon.
3. Nara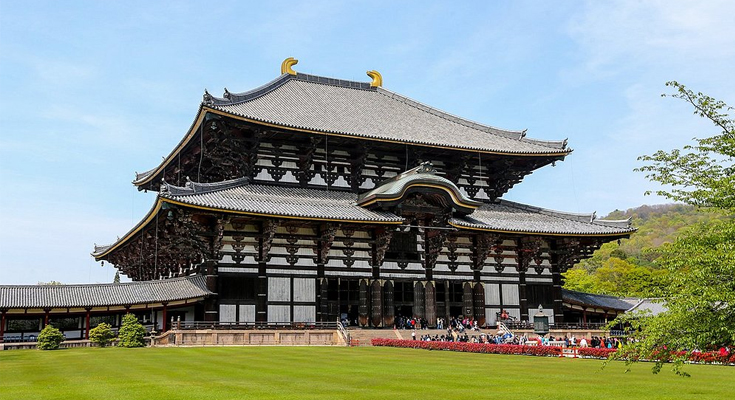 The first permanent capital of Japan, Nara, was formerly known as Heijo. Nara is recognized as the birthplace of Japanese civilization, less than an hour from Kyoto, this place wonderfully showcases the finest of Japanese craft and awe-inspiring architecture with a plethora of important historic sights, many temples, and shrines for visitors to explore. The city's highlight is the enormous figure of Buddha, placed in the Todai-Ji temple. Most of its central attractions can be found in the exquisite, lush Nara Park, also home to the city's multitude of tame deer that wander about asking visitors for a snack. Here you'll notice the multi-storey pagodas of Kofuku-Ji and magnificent stone lanterns of Kasuga Taisha, and a couple of lovingly tended Japanese gardens. Nara has some excellent museums for visitors to check out, as well as the elegant ancient trade district of Naramachi. With so much history, art, and architecture on show, the erstwhile capital is certainly not to be missed out on.
4. Osaka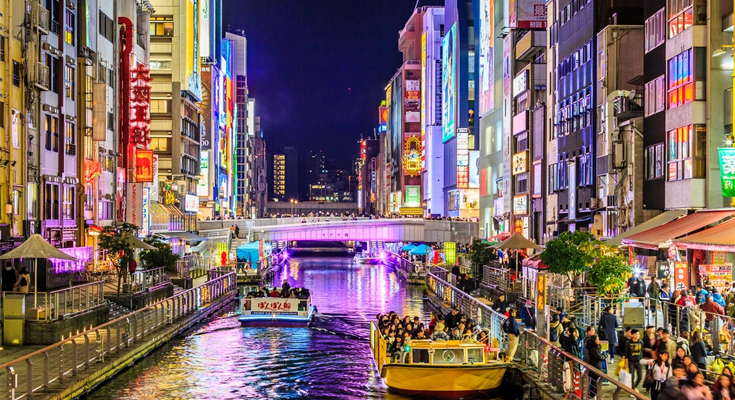 Osaka is the third-largest city of Japan and has been the major economic nerve centre of the country. Osaka is famed for its exotic culinary culture, you can dine in fine restaurants or pick up from a vast assortment of street food. The Neon lit Dotonbori region is the focus of nightlife which exhibits plenty of bars, restaurants, and entertainment options. Shinsaibashi is known as the shopping street studded with endless departmental stores, boutiques, and malls. Although most people visit Osaka for its nightlife and thriving delicacies, it also possesses some impressive historic sights and monuments worth checking out. Osaka has two of Japan's oldest temples, the Shintennoji temple and Sumiyoshi-Taisha, and the majestic 16th century Osaka Castle.
5. Sapporo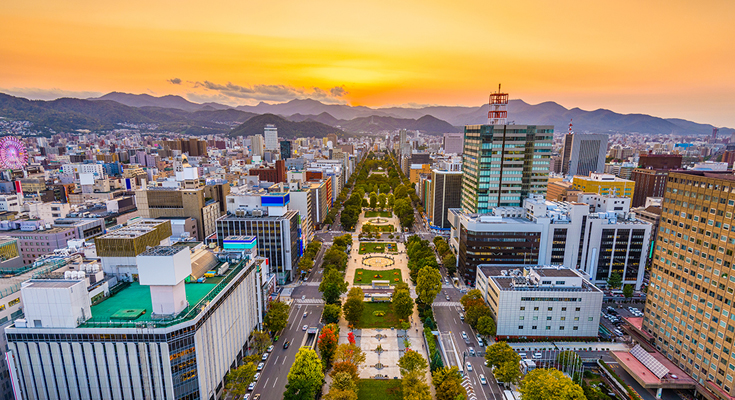 The metropolis of the island of Hokkaido, Sapporo is a chilled out place that offers intriguing places to explore and fun activities for visitors. It's a hub of cultural activities that hosts interesting events and many famous festivals throughout the year. You can access several points of interest such as the Sapporo TV Tower, and the city's famous aerial tramway, an easy stroll away. The ropeway will get you to the summit's upper post, from where you can appreciate the incredible view over the city, an absolute treat at night. The highlight of the year is undoubtedly the very popular Snow Festival at Mount Moiwa. The famous Mt. Moiwa Ski Resort is a prominent winter destination. While most people see Sapporo as a halt point on their course to the island's enchanted mountains and hot springs, the city itself possesses ample to keep guests entertained for a while–with exotic restaurants, vast shopping plazas, and lively nightlife.
6. Hiroshima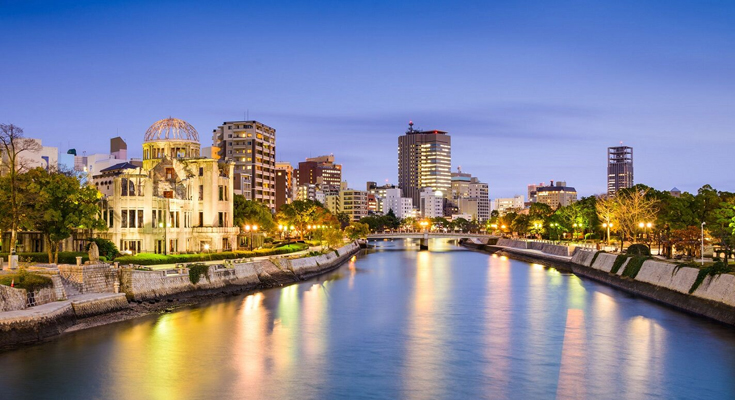 Hiroshima is situated on Honshu Island and is considerably newer than many Japanese cities. Less than 500-year-old, Hiroshima's past is well known for the nuclear bombing, which smashed the city on 6th August 1945. Although 60 percent of the city was razed in the attack, it has been remarkably restored now and is thriving with life. Millions of people each year visit this place to pay their regards at Hiroshima Peace Memorial Park (Hiroshima Heiwa Kinen Kōen) which lies at the epicentre of the atomic burst. The city comprises several noteworthy monuments, memorials, and museums linking to the facts of that catastrophic period. Besides the gardens with their vibrant cherry blossoms, the park features Peace Memorial Museum with its many exhibits dealing with world peace, Memorial Cenotaph, Flame of Peace, and Atom Bomb Dome, wrecks of an administrative building that remained at the centre of the blast. Hiroshima also serves as a gateway to some splendid adjacent islands including the famous Miyajima, the shrine island.
7. The Shrine Island, Miyajima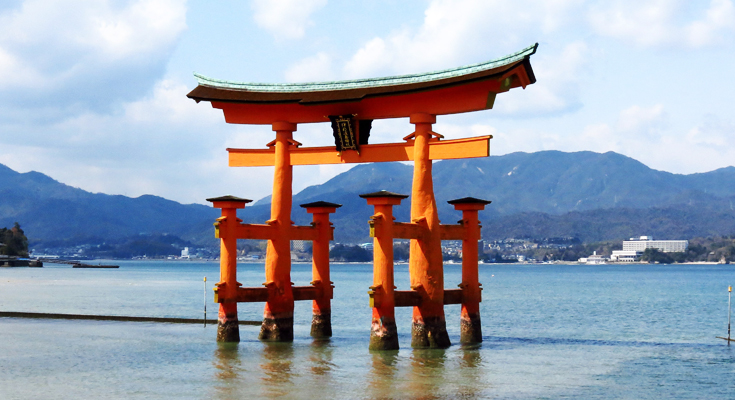 A short ferry boat ride away from the mainland of Hiroshima is the island of Miyajima. Famously identified as Japan's Shrine Island, it is one of the most attractive tourist destinations in the country. Miyajima is a popular tag for the island of Itsukushima, which lies in the northwest of Hiroshima Bay, enveloped by the Seto Inland Sea. Besides owning one of the noted 'Three Views of Japan', it is also home to some stunning landscape and many temples and shrines. Miyajima is best perceived as the home of the Itsukushima Shrine, a Shinto temple devoted to the Princess daughters of the wind, god Susanoo. Dated from the eighth century, most of the shrine's buildings rise out of the waters of a small bay supported only by pillars. The effect at high tide looks stunning, making the structures-including the glorious Great Floating Gate (O-Torii)-appear as if they're floating on water. Linked by walkways and bridges, it's an enchanted place to explore, in particular its larger halls such as the exquisite Honden (Main Hall), the Offerings Hall (Heiden), the Prayer Hall (Haiden), and the Hall of a Thousand Mats (Senjokaku). Another noticeable event is the shrine's stage where visitors are entertained with traditional dances and musical performances. Also worth exploring are the island's exquisite grounds and patios, home to wild deer, and many bird colonies.
8. Fukuoka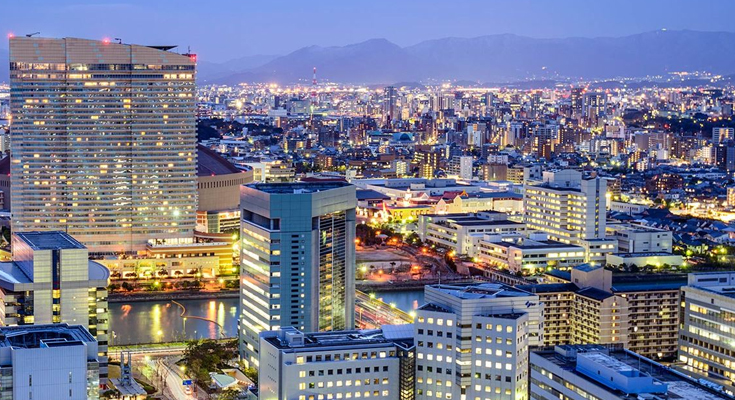 The largest city in Kyushu, Fukuoka used to be two cities before the distant areas joined to establish the city we have today. One of the few existing examples of the once prolific and majestic hilltop homes preferred by Shoguns and city kings, Fukuoka Castle (Fukuoka-jō) is one highlight of a tour to Fukuoka. A magnificent castle that encloses an area of some 47,000 square meters, is one of its kind. This grand complex is just amusing, from its magnitude to its location overlooking the Naka River. Fukuoka is also appropriately known for its many events and festivals, in specific the Hakata Gion Yamakasa, an outstanding two-week long, 700-year-old celebration held each July that attracts millions of visitors from across the country to its colourful ceremonies, and its traditional races and costumes. The city has its modern appeals too, including Canal City Hakata, a-city-within-the-city complete with a canal passing through the complex along with fine stores, hotels, diners, and a theatre. A welcoming place, what Fukuoka lacks in terms of actual sights, it makes up for in its charisma and enjoyable atmosphere. With a couple of good museums, some monumental architecture, delicious cuisine, and a chance to see their famous baseball squad in action, Fukuoka is well worth a tour for all that it offers.

Explore: Top-Rated Japan Tourist Attractions

Book Package: Japan Tour Packages