Explore Nizami Street, Baku
Every old city in the world has a popular street. These streets have been a gathering point for people for hundreds of years and continue to be so. They became popular for a variety of reasons but one common thing among them is that they attract visitors from all over the world. Fifth Avenue street in Manhattan is a fashion paradise, Champs- Élysées street in Paris is famous its historical presence in the city and Andriyivskyy Descent street in Kyiv is famous for its historical landmarks and monuments. Nizami Street is one such popular street in Baku, Azerbaijan. Why Nizami Street is popular? What is so special about this place that makes it a popular tourist attraction also? Let us find out together.
Nizami Street in Brief
Baku, the capital city of Azerbaijan is famous for several sightseeing places such as Flame Towers, Old city or inner city of Baku, Baku Boulevard, Shrivanshahs Palace, Bibi Heybat Mosque, National Museum of History, Fountain Square, Maiden Tower and Nizami Street and more. Everyone who comes to Baku does come to Nizami Street, Baku.
It is appropriate to say that Nizami Street is the place in Baku you have to go to. Also known as Targoviy Street, Nizami Street is a place where everyone comes for a reason or no reason at all. This is a bustling shopping street in the center of Baku city. Nizami Street is full of local and international shopping places, local and international food points, cafes, bars, restaurants, souvenir shops and lots of buzzes. You are guaranteed to have a great time on Nizami Street, Baku.
Point of Attractions on Nizami Street
Nizami Street has lots of interesting things to offer to travelers. Whether you are looking for a relaxed time or you want to actively explore things in detail, you can do it both on Nizami Street. This historic street has earned a reputation among foreign tourists as well for various reasons. Let us see those reasons.
1. It is A Place for Shopaholics for Locals and Foreigners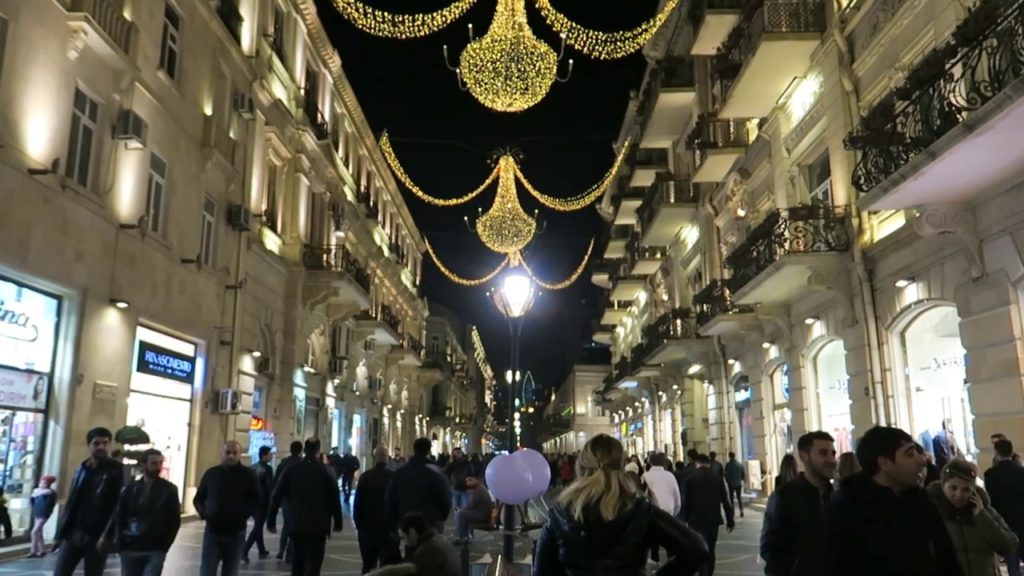 Nizami Street is a large shopping street in Baku. The street has been named after famous 12th-century Persian romantic epic poet Nizami Ganjavi. His works and heritage were widely appreciated in Azerbaijan. Located in downtown Baku, the street is a must-visit place for all kinds of shopping. Whatever you are looking for, you will get it here. There are small shops, souvenir stores and supermarkets selling everything you may wish to buy. Clothing, electronics, gifts, souvenirs, you name it and it is all available. Walk down the street and stop at shops, bargain hard when you choose to buy something to take back home. You can buy local stuff and branded items from fancy and glamorous brand shops on the street.
2. Architecture is Worth Appreciating
Old-time architectures are worth seeing because they take you to a different era. The architecture of Nizami Street is superb. Buildings on the street are quite intriguing as well. Many travelers get fascinated by the architecture of buildings on Nizami Street, Baku. You can see various styles of architecture used in the construction of these buildings here. This is because the construction on Nizami Street took place during the late 19th century to early 20th century, the 1950s to 1970s and in recent times. Most of the buildings constructed here were made during the first phase. They represent neo-gothic, baroque and neoclassicism styles. Most modern buildings have been made in "neo-modern" styles. These architecture styles named here are different, artistic and beautiful to watch. You need to see it to believe it.
3. See the Famous Houses
Not just neo-gothic, baroque and neoclassicism but "Neo-Moorish" also dominates at Nizami Street. In this style, elements of national architecture have been used in the construction of buildings. You can witness what it is and how it looks at famous houses at Nizami Street. Some such buildings include names like Caspian –Black Sea Oil and Trade Society, The building of Central Universal Magazine, The building of "Nargiz Shopping Center" and the building of the central library under the President Administration of Azerbaijan.
4. Fountain Square - A Popular Tourist Attraction is a Part of Nizami Street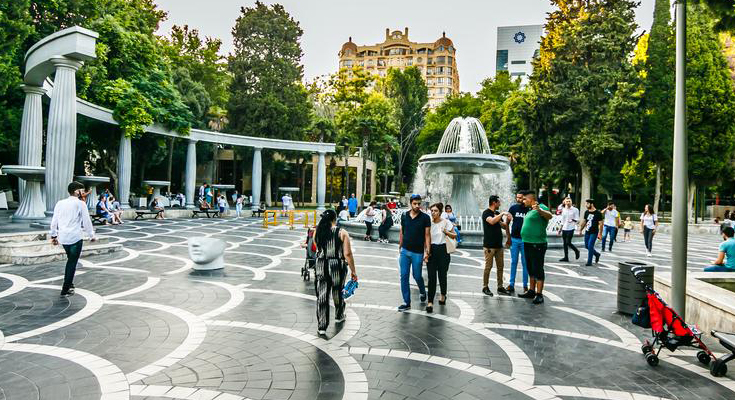 Fountain Square is a public square in downtown Baku. Locals and foreigners gather here for a good time with friends and family. Fountain Square starts from Istiglaliyyat Street and stretches through Nizami Street. This means Fountain Square is a part of Nizami Street. There are several fountains throughout the square that looks beautiful during the day and even more at night. Many public festivals such as Christmas and Novruz, shows and celebrations take place at fountain square. Apart from these, there are interesting statues on Fountain Square that catches the attention of the visitors.
5. Nizami Street Looks Best at Night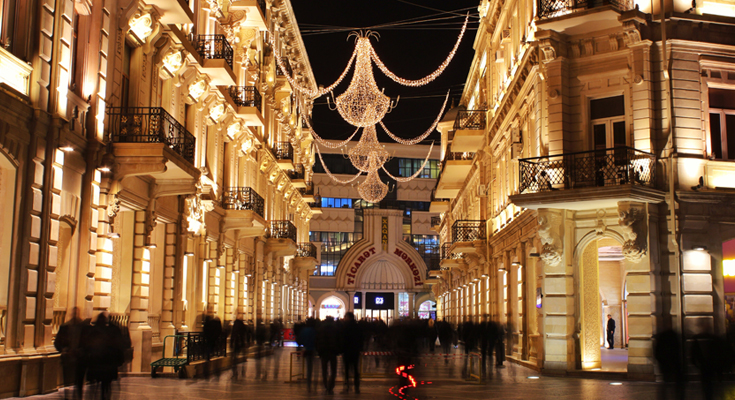 Nizami Street is at its best when the sun sets and street lights are on. The street looks much brighter at night than it looks in the daytime. Each building's appeal increases multifold with city lights on. But one thing that is the most special about Nizami Street at night is the connecting chandeliers. These chandeliers connect buildings and when you see them from a distance they simply create a spectacular view of the city lights.
6. Eat at Local/International Cuisine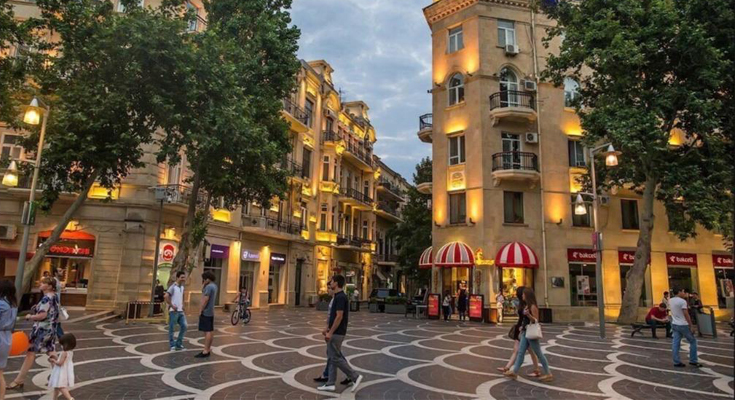 No matter where you go, food is always on your mind. When you are on Nizami Street, you would love to spend some time at a good food joint and restaurant also. So, you would be delighted to know that there are many fast food joints, coffee houses, cafes and local/international cuisine restaurants available in Nizami Street. You can find traditional, Asian and European cuisine here. International brands such as Mc Donald, KFC and Entrée are also present on Nizami Street. Shaurma N1, Double Coffee, Masa café, East Town, Dushbara Restaurant and Passage are some cool places to relax and eat. Within a walking distance, there are cool pubs also.
7. Walking Down Niamzi Street is a Good Experience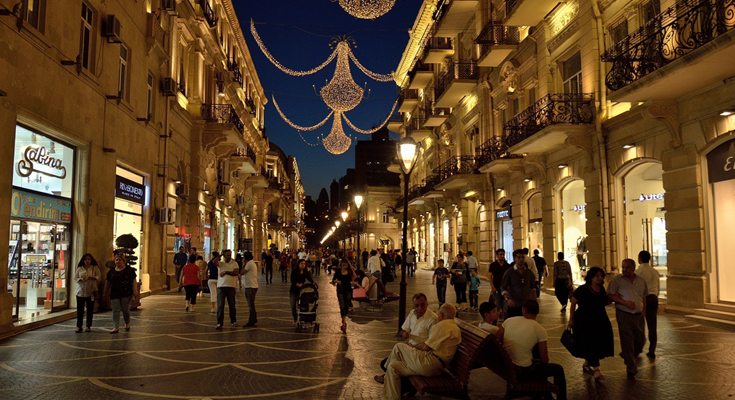 If you are in Baku, you will invariably pass from Nizami Street. You can see the locals gathering here throughout the day and evening. The street is abuzz all the time, especially on weekends. Shopping is the most attractive point of the street but you can also simply walk the street that runs through the Baku's downtown from west to east. Walking down this 3.5 KM Street is a good experience for everyone. You can also simply sit on a bench and see the buzz around. You can catch nearby metro easily if you want to move to other places in Baku from Nizami Street, Baku.
8. Sightseeing around Nizami Street
Baku is a historic city. There are plenty of popular historic sightseeing points in Baku. Some of them are near Nizami Street as well. So, if you wish to visit them when you happen to be on Nizami Street, you can surely do this. Some of such sites include names like Gosha Gala Tower, Monument to Zardabi, Old City of Baku, Monument Natavan, Monument to lovers and cats, Maiden Tower, Flame Tower, and Palace of Shirvanshahs.
Nizami Street, Baku is clearly one of the most attractive places in the city. On your Azerbaijan Tour, you cannot miss shopping on Nizami Street or simply being there.
Know More: Top Attractions in Baku
Explore Like A Local: Best Things to Do in Baku