Baku city is a popular travel destination in Azerbaijan. One knows that Baku is a historical city and with time it has been modernized to the highest standard in the world as well. Flame towers in Baku alone attract thousands of foreign travelers. But as you know that Baku is a historical city, so in this article we will talk about one of the Azerbaijan Tourist Places known as Bibi Heybat Mosque. This is a super old mosque in Baku. Though the new building was made in 1990s but it is a recreation of the mosque built in 13th century. Let us know more About Bibi Heybat Mosque.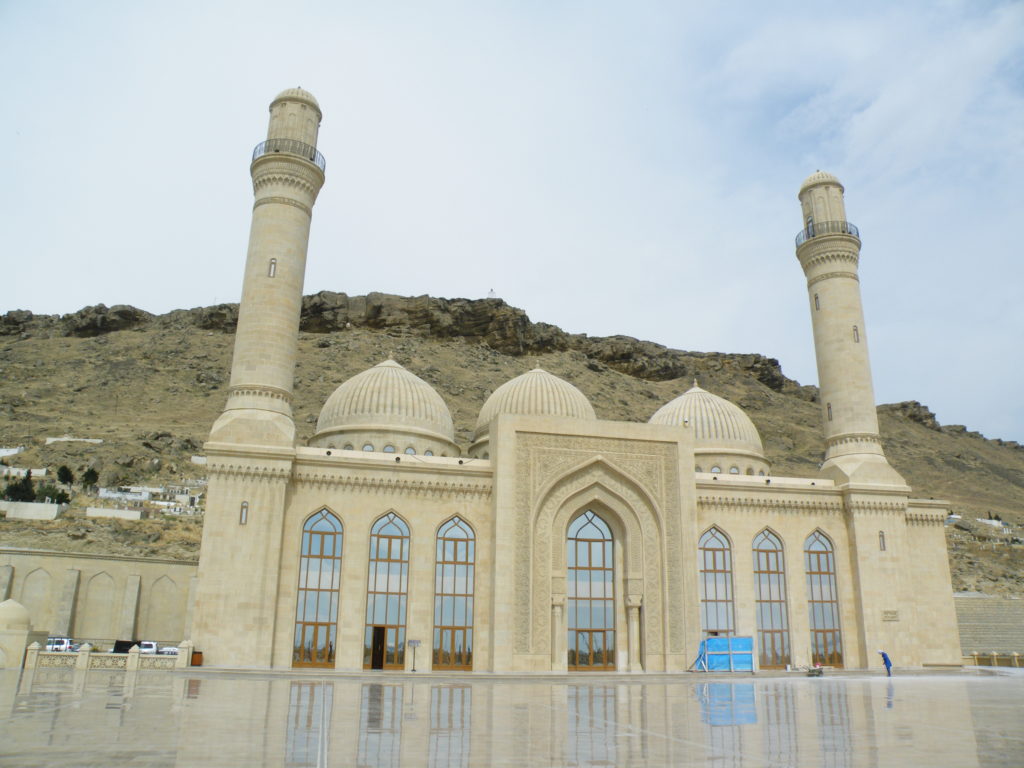 Bibi-Heybat Mosque is a historical Mosque in Baku, Azerbaijan. It is also known as Mosque of Fatima locally. This is one of the prominent Islamic architecture in the country. Today it is considered as spiritual place for Muslims. The current structure of the mosque was built in 1990s which is a recreation of the mosque with the same name which was built in 13th century. It was first built in 13th century by Shrivanshah Farrukhzad II Ibn Ahsitan II which was completely destroyed by the Bolsheviks in 1936. Today Bibi Heybat mosque is not only known as a spiritual center for the Muslims of the region but it is also quite famous monuments as a representative of Islamic Architecture in Azerbaijan.
Writings on the south wall of the mosque suggest to the historians that mosque's construction ended in 13th century. This mosque has been mentioned by a famous French writer Alexandre Dumas in his book 'The World' when he visited the mosque in 1840, as a place of worship for infertile women who come here on foot, worship and within a year they gain the ability to give birth. The mosque has been mentioned by other locals and European explorers and travelers in their work as well.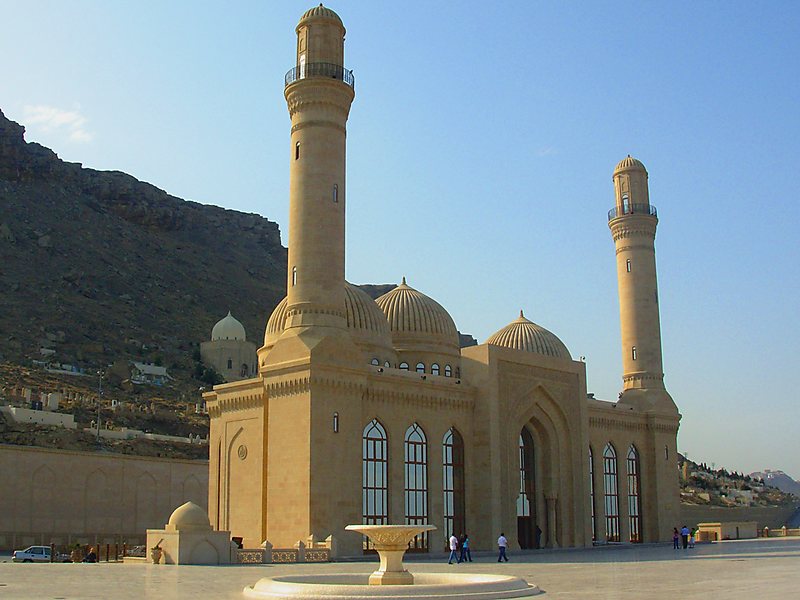 Going in the recent history of the mosque, it was blown up in 1934 by Soviet as a part of their anti religious campaign. But in 1994 when Azerbaijan got independence, there was an order by then president of Azerbaijan to construct the new building for Bibi Heybat Mosque at the same place where it was destroyed. Based on the photographs that were taken before the explosion of the mosque the mosque's layout and size were restored in 1980. Modern architecture of the mosque is a classic example of Shirvan architectural school. In the present state, the Bibi Heybat mosque has three domes, which have kept the traditional corrugated galvanised iron shape of the old mosque and two minarets. The domes are decorated beautifully with the green and turquoise mirrors, which are bordered with gilded inscriptions from Quran. There are separate praying rooms for men and women. For men praying room is located on the south side of the complex, while for women - on the north side. There is the mausoleum between these praying rooms.
So, you can see that Bibi Heybat Mosque has a great history attached to it and it keeps quite an important place in Azerbaijan. This is the reason why it was rebuilt years later after it was blown away in 1934. Today the mosque is both a religious place as well as a tourist attraction as a representative of great Islamic architecture. On your Azerbaijan Travel Package when you happen to be in Baku, you should give a visit to the mosque to know more about it.