15 Most Gorgeous Cave Hotels in Cappadocia
Cappadocia is the mysterious gem of Turkey. It's like treasure lying between the volcanic rock formations offering never ending vistas. Undoubtedly, it is Turkey's most beautiful vacation spot, which is known for its otherworldly landscapes. The hot balloon ride is not enough to bathe into the beauty of this place. There are many beautiful cave hotels in Cappadocia that will let you immerse in an unparallel and unforgettable holiday experience.
These hotels have formed out of unique rock formations and caves where you can have an incredible time. Do you want to explore the hidden beauty underneath? You must skim through this list of 15 elegant cave hotels in Cappadocia. You can visit these hotels anytime to witness the touch of luxury.
15 Best Cave Hotels in Cappadocia
The fairy landscapes of Cappadocia have become home to stunning and exotic cave hotels that house all the tourists looking for an out-of-the-world experience. Some beautiful hotels have formed in these unique caves. We have curated a list of some of the best cave hotels that you must visit on your Cappadocia vacation:
1. The Charming Cave Hotel
The Charming cave hotel is one of the top cave hotels in Cappadocia that offers the coziest experience. This place adds extra charm to your vacation with a lavish ambiance, impeccable hospitality, and superb furnishings. It is not just luxurious but also affordable. The rooms of this hotel have stone walls because of its rock formations.
It has traditional Turkish decor with dim lighting and a warm atmosphere. If you are on a honeymoon, the charming cave hotel will be a perfect place to spend a day or two. It is an ideal getaway for couples and family vacationers.
2. Carus Cappadocia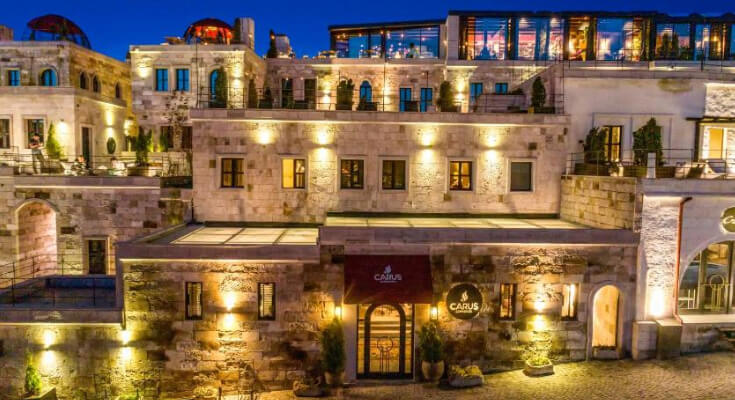 Carus Cappadocia cave hotel is the most glitzy hotel in the area. This cave hotel provides every amenity, including a sauna, indoor pool, lavish air-conditioned rooms, a stunning bar, and incredible views. If you are searching for a glamorous stay in Cappadocia, you can end your search with the Carus cave hotel.
Here you can choose between cave rooms with gorgeous ceilings and deluxe hotel rooms full of natural light. It is the most comfortable hotel in Cappadocia. The rooms of Carus have flat TVs and beds made with high-end linens. Everything about this place is beautiful and majestic.
3. Local Cave House Hotel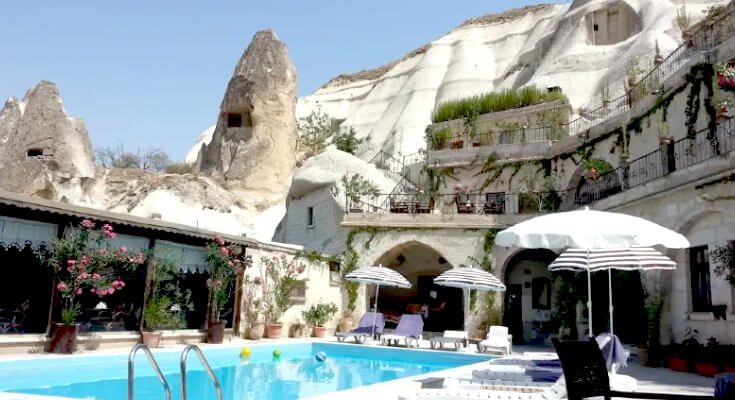 If you are looking for a budget-friendly stay with a pool, the Local cave house hotel is a place for you. It is one of the top-rated hotels in Goreme Town that offers exceptional services. Besides the big pool and affordability, the second best thing is the location. The seven beautiful fairy chimneys surround the Local cave hotel, making it an incredible place to stay.
Every room in this place offers views of the pool and the valley. Besides, each room has a spacious balcony, a seating area, and a comfortable bed. You can even move to higher terraces to witness hot-air balloon views from the Local cave hotel.
4. Museum Hotel Cappadocia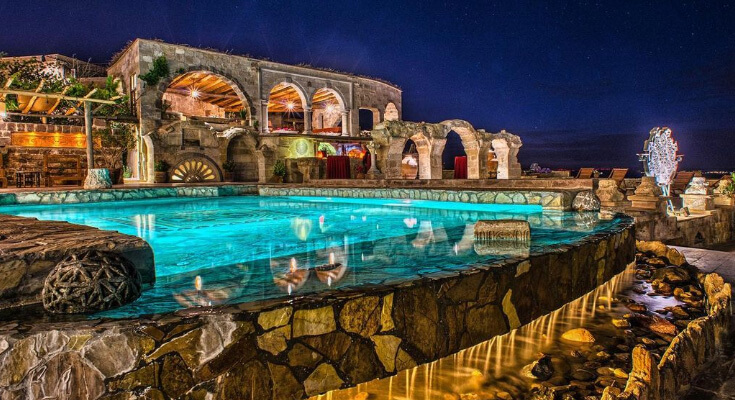 Museum Hotel is one of the best cave hotels in Cappadocia, which sets in a unique area of Uchisar. The hotel offers picturesque views of the valley and hot air balloons. In addition to incredible views, the Museum hotel has luxurious rooms decorated with authentic antiques. Some of the bedrooms even have wine taps.
Undoubtedly, this hotel is a little more expensive than others, but the expense is worth it because many believe it to be the best hotel. The terrace is the tourist's favorite spot to sip a glass of wine while taking beautiful glimpses of the valley.
5. Anatolian Houses Cave Hotel & Spa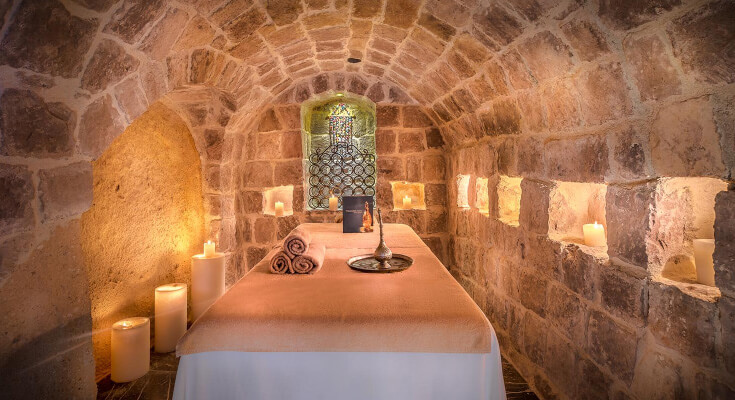 Anatolian Houses cave hotel settles inside eight actual fairy chimneys in Cappadocia. It gives you the most authentic cave hotel experience that one could get. The outdoor and indoor pool in Anatolian houses resembles ancient Roman bathhouse. Guests can pamper themselves during their stay, as the Anatolian cave hotel also has a spa.
During specific hours, the guests can enjoy complimentary white or red wine. The traditional artifacts and artwork of this place are impeccable. The hospitality of Anatolian is on point, rooms are spacy, and beds are comfortable. Also, how can you say no to sunrise balloon views? It is just a few walks away from here.
6. Lunar Cappadocia Hotel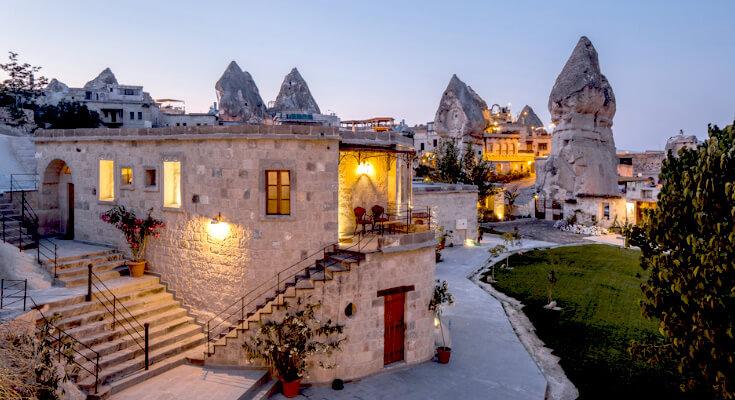 Lunar Cappadocia caves hotel is one of the top-notch cave stays with everything you might need. From a bar to a manicured garden to a beautiful terrace to luxurious rooms, it is every vacationer's personal choice. The ideal spot in Lunar Hotel is its terrace, which is covered with large pillows so that you can enjoy the views of the hot air balloon.
They offer pleasant activities like cycling, skiing in winter, and hiking, not just a delicious buffet. This place is away from all the hustle and bustle as it is settled on the hill. The beds have stone pillars, and the walls of the rooms are adorned with stone furniture.
7. Yunak Evleri Cave Hotel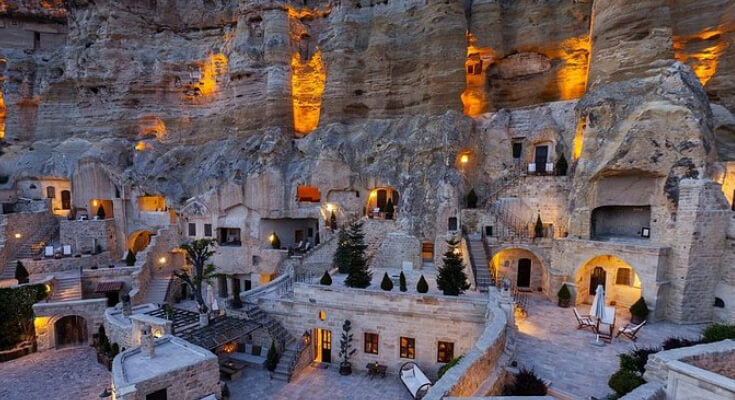 Yunak Evleri is the top Cappadocia cave hotel that offers a panoramic view from the stone cliff. This hotel has a rich history that dates back to the fifth century. It also has 19th century-Greek mansion adjacent to Yunak. Marble bathrooms and Handcrafted furnishings are some of the great touches you can expect on this property. Also, don't forget to swim in the pool. You can also spend some private time on the patio or balcony.
If you are on a honeymoon in Turkey, book a stay at Yunak Evleri for a personal touch to your fantasyland. With history, elegance, and hospitality at your fingertips, this place is too wonderful to handle.
8. Traveller's Cave Pension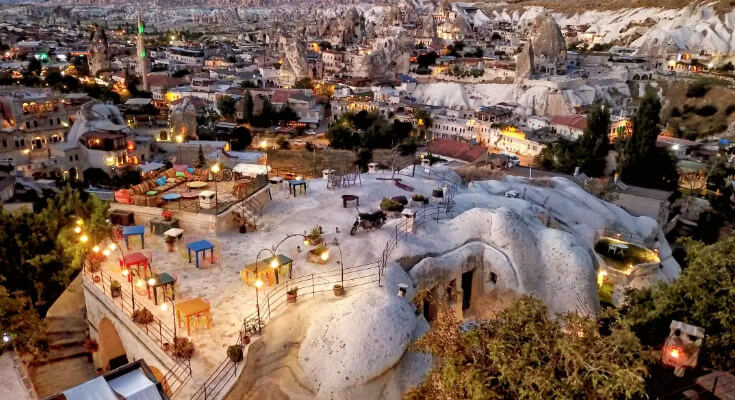 Traveller's cave hotel is located on the hill and offers an unbelievable view of Goreme town, resting beautifully. When you step outside your room, you will feel like you have teleported to a new world. You will get everything in one lovely place, from welcoming staff to cozy & spacious rooms. The next appealing thing is the complimentary hot tub, where you can relish the pleasure of warm bathing.
It's value for money if you are looking for a simple yet quaint holiday in Cappadocia. The terrace views of fairy chimneys will convince you to stay a little longer.
9. Phocas Cave Suites
Phocas Cave Suites is one of the top cave hotels in Cappadocia, located in Cavusin village. It will be just two miles from the Goreme town center and its Open-air Museum. The terrace of this hotel will make you experience the vast vistas of Cappadocia's beautiful landscapes.
Phocas offers rooms equipped with luxury amenities and a golden atmosphere. You will enjoy a luscious breakfast and end your day with the best-in-class wine. If you are looking for a budget-friendly stay in a cave hotel, Phocas cave must be on your list.
10. Artemis Cave Suites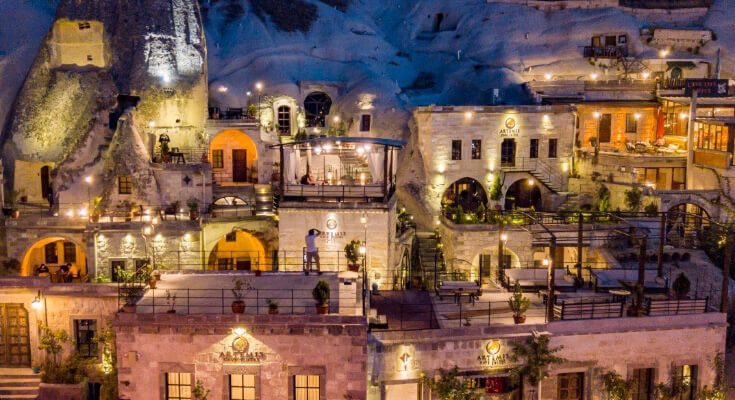 Artemis Cave Suites and Spa is a lavish cave hotel that offers an otherworldly experience. It settles on the topmost point of Goreme town. The unparalleled views of the valleys and sunsets from the terrace of Artemis allow you to take the best shots of your life.
It is not as luxurious as others, but it undeniably gives you sheer joy to be here. You can sit outside, swim in the pool, go sightseeing and do local tours. This place is worth every penny that you spend on your trip here.
11. Sultan Cave Suites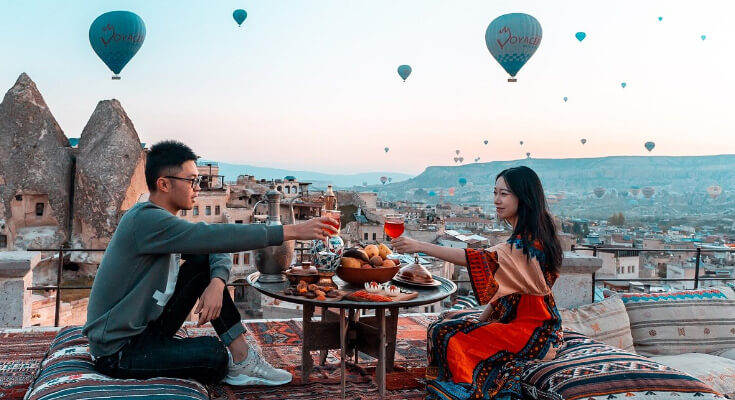 Have you ever fantasized about the images of couples or travelers posing with tons of hot balloons, colorful skyscapes, vibrant cushions, and delicious breakfasts? Well, you must have. You must be glad to know that such a place exists. Sultan Cave Suites is notably known for its Instagram-worthy terrace with delectable breakfast.
The staff of this hotel sets up the terrace every morning for guests to spend quality time and take endless pictures. Besides the picturesque vistas, the hotel has suite rooms of different sizes- from junior suites to sultan suites. If you are hunting a truly majestic holiday in Cappadocia, end your search with Sultan Cave Suites.
12. Kayakapi Premium Caves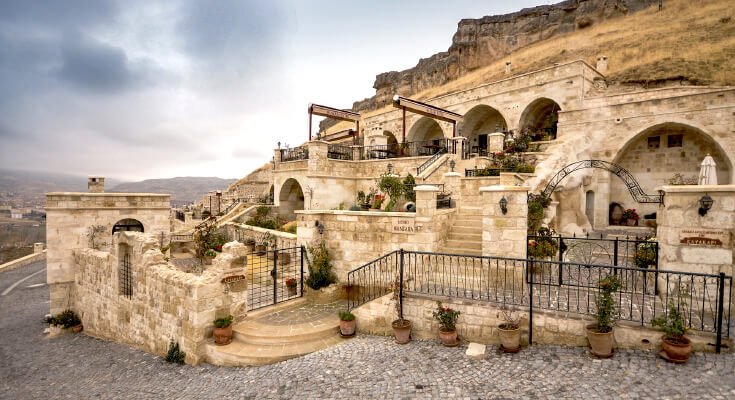 Kayakapi Premium is one of the ideal luxury vacation spots in Cappadocia. Here, you will stay in primitive rooms carved from landscape rocks. You can choose the type of room you want to stay in, from a premium room to a villa with a private pool. It has a scent of luxury.
The purpose of Kayakapi Premium caves is to turn your idea of an ideal vacation into a reality. You may even get a pool in the room. It is perfect for honeymooners who seek privacy, luxury, and tranquility. If you are on your honeymoon, this cave hotel is an impeccable place to stay.
13. Kale Konak Cappadocia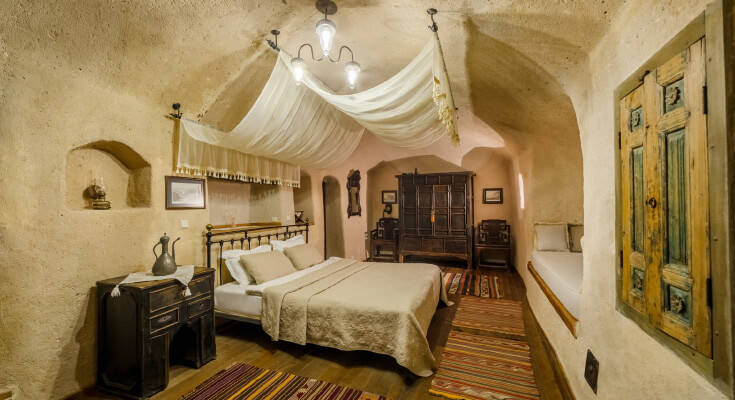 Kale Konak cave hotel is nestled next to Uchisar Castle, making a unique stay that would never disappoint its guests. You will get awe-striking views of Cappadocia and Argeus Mountain from the castle. All the rooms of Kale Konak have antique furnishing and romantic fireplace.
After a tiring day, you can relish the on-site hammam and have a delicious dinner at Kale Konak's restaurant. If you are traveling with your pet, you should not be worried about who will take them in because Kale Konak is a pet-friendly cave hotel. From an excellent location to a lovable atmosphere, this place is a splendid stay.
14. Asuwari Suites Cappadocia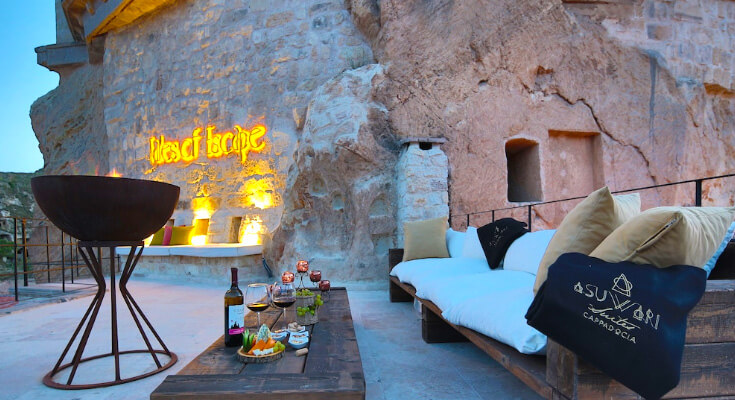 Asuwari Suites is one of the best cave hotels in Cappadocia. From stone walls to rich fabrics to pops of color, it gives all the luxury vibes you can ever get. It offers marvelous vistas of fairy chimneys. The rooms here are large and glamorous. It feels like a movie. Your soul will relax over the soft bed every night, and the decor will add a classic touch to your holiday.
The staff of Asuwari Suites is warm and welcoming. They will make you feel at home. You will get a delicious breakfast in the morning that includes fruit, meats, eggs, and cheeses. You can witness some of the best hot air balloon views from your private balcony.
15. Tulip Cave Suites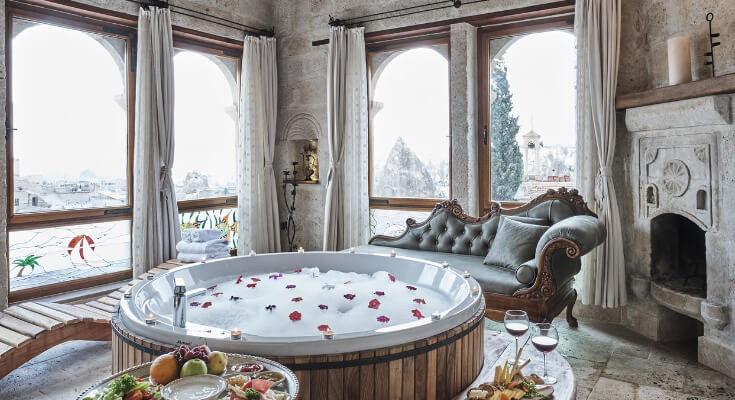 Tulip Cave Suites is another excellent cave hotel in Cappadocia, Turkey. Tourists describe it as a perfect and convenient hotel featuring in-room amenities. Unlike other cave hotels, you will get a comfortable stay here with all the amenities at your comfort. It gives you panoramic views of the city and a homely vibe. You will be surrounded by generous people who will take care of your needs.
If you are searching for Instagram portrays, the terrace will live up to your expectation with jaw-dropping views. Tulip Cave Suites will definitely stand on your expectations of staying in one of the best cave hotels in Cappadocia.
Book Turkey Tour Packages with Dook International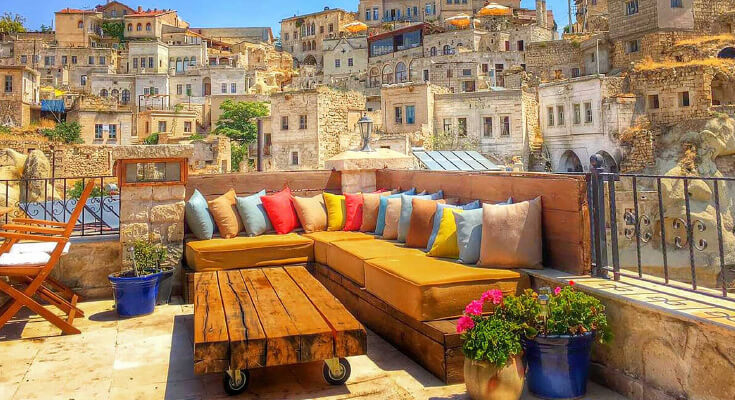 Who doesn't want to spend a few nights in the Cappadocia caves hotel? We all do. So, why haven't you booked a flight to Cappadocia yet? If you are still in the trip planning phase, you can check out our Turkey tour packages. We have various packages like Istanbul and Cappadocia tour, Exotic Turkey Honeymoon Tour, Vibrant Turkey, and more. You say what you want, and we will personalize your experience.
Whether you are a solo traveler, honeymooner, or planning a tour with friends & family, Turkey will leave you awe-struck with its unforgettable experience. Book Turkey holiday package with us, and you can relish the best time of your life.
Explore: Best Cafes in Turkey
Read More: Reasons to Visit Turkey