Everything You Should Know About the Majestic Bosphorus Cruise in Istanbul!
Bosphorus is a natural strait located in northwestern Turkey. It is a significant waterway between the two continents- Asia and Europe. The quiet waters of Bosphorus tempt you to get aboard and take a memorable vacation memory home. Cruising in the Bosphorus strait is like beholding the past and present of Turkey. On a Bosphorus dinner cruise, you will not only relish the beautiful night, flavorful food, and night show but also watch the evolution of Turkey.
As you move along with the cruise, you will see the ancient monuments, mansions, and newer buildings, passing by in front of you. Watching these monuments will give you panoramic vistas and a whole different perspective. You can experience all of it on your Bosphorus boat tour. Don't be surprised! Just skim through this post to know everything about cruise rides.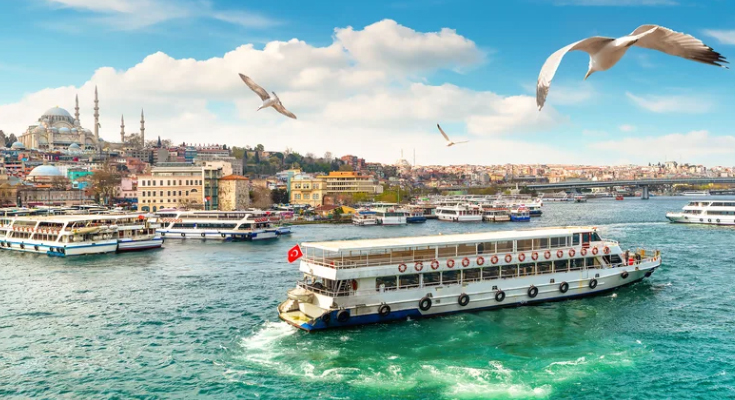 Bosphorus Boat Tour - Timings
Bosphorus dinner cruise timings depend on the kind of cruise ride you choose. If you want to cruise all day, it generally starts early morning. You can take the 10:00 am tour for a full day. The lunch cruise takes place around 12:20 pm, and the dinner cruise starts at 08:30 pm. If you are in Turkey, you must go cruising. It is a wholesome experience for a life that no one should miss.
Bosphorus Boat Tour - Prices
Bosphorus cruise price varies according to the duration, type of ship, and other related traits. There are numerous companies offering cruise tours with different timings and multifold features. You only need to choose the best boat tour that provides a quality experience.
Let's look at the prices of the most popular Bosphorus boat tour:
• Sunset Cruise - Bosphorus sunset cruise is a 2.5 hours ride where you will witness the historical buildings covered with the beaming orange shadow of sunset. The price of a sunset cruise is € 40 per person.
• Dinner Cruise with Turkish Night Show - The dinner cruise lasts for a 3.5 hour and offers delicious food. You also get to enjoy the gleaming Turkish night show. You get it for € 35/ € 45 (including unlimited alcoholic drinks).
• Black Sea Lunch Cruise - There are two options for the Black Sea cruise, a 9 hour ride and a 4.5-hour afternoon ride with lunch. The Black Sea Bosphorus cruise price is € 45 (half-day) and € 75 (full-day).
Types of Night Shows on Cruise Rides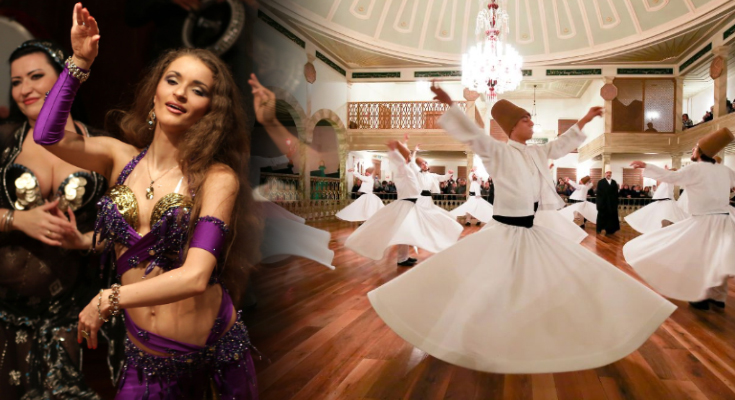 Imagine floating on the water under the beautiful clear sky filled with stars, eating delicious food, and enjoying live Turkish entertainment. What a joyful ride it would be! Hours of leisure and amusement will be fun-filled. Here are some types of entertainment usually proposed on the Bosphorus cruise tour:
• Belly Dance Show - Various Turkish belly dancers perform for the tourist audience on the cruise. They dance to different bytes and impress people with their pleasing rhythms. The tourist finds the Turkish belly dance show the most entertaining as it captivates everyone's attention.
• Turkish Folk Dance - Another entertaining part of the Dinner cruise is the Folk dance. This conventional Turkish folk dance show is the highlight of the cruise tour. In this show, people dance to numerous Turkish folk songs, which include Caucasian Dance, Turkish Gypsy, or Turkish Sword Dance.
• Live DJ Performance - When the dinner is about to end, the DJ takes the front seat and entertains the tourist. Turkish pop music holds a different place in everyone's heart as people groove to the beats. Belly dancers join the show and encourage guests to show some moves.
• Whirling Dervishes - The one show that leaves a long-lasting mark on everyone's memory is the Whirling Dervishes Show. It takes people to a magical world. Who doesn't love Sufi music? Barely anyone! If you want to witness a night full of soothing music, you must get on the cruise ride.
Dinner Options on Bosphorus Ships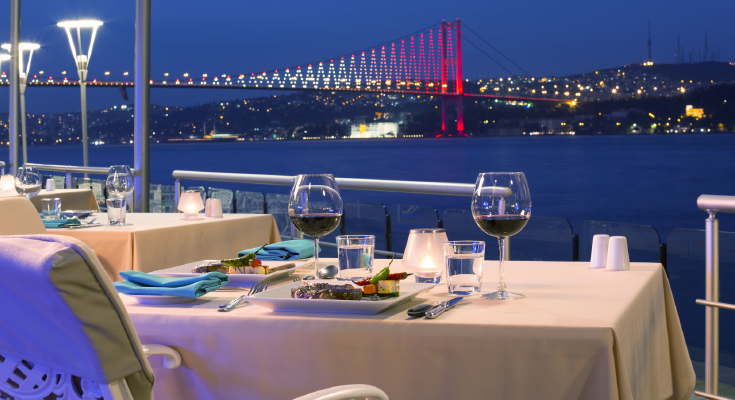 Dinner is the highlight of the Bosphorus boat ride. Tourists enjoy the tour while having mouth-watering food on their plates. Without food, the trip seems incomplete. There are a variety of dinner options available on the Bosphorus cruise. We have curated a list of all the dining options you can leverage on your tour:
• Main Course - Snacks and salad are good. But a hardcore foodie loves the buffet. If you like to eat fish, chicken, meatballs, vegetarian, seafood, etc., you can have it all on your plate while relishing the beautiful night. A guest can choose the menu from a wide variety of delectable dishes.
• Dessert - Desert is the heart of every dinner. How can someone miss a wholesome dessert after dinner? On your Bosphorus cruise tour, you will get tasty Turkish desserts and fresh fruits.
• Alcoholic & Soft Beverages - You can have a variety of alcoholic beverages on your dinner cruise tour. From local to international brands, you will get alcohol of your favorite kind. Not just alcohol but soft drinks also get served on the cruise. Everyone can enjoy unlimited beverages with never-ending starry landscapes.
• Meze - Meze is a Turkish cuisine that is very popular among the Turkish people. It is a small dish similar to tapas. This dish is often served with fish and raki as cold or hot starters.
Types of Dinner Cruise Ships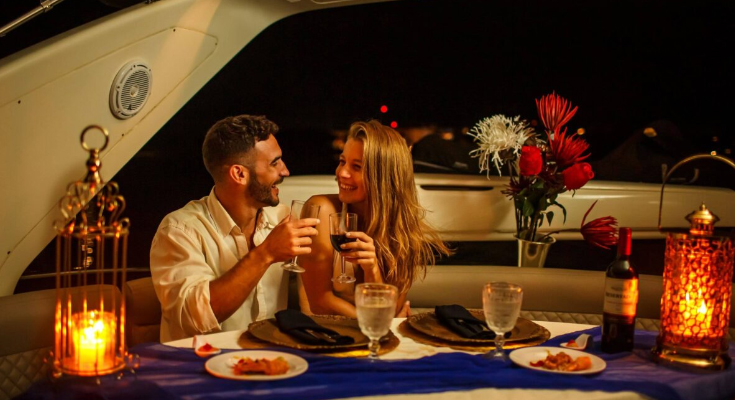 The Bosphorus boat ride is the highlight of the Turkey vacation. It is not odd to witness so many shipping companies out there. You can avail of the services of any of those cruise companies. Everyone offers the best and most luxurious dinner cruising experience. They all specialize in providing elite services to different groups of tourists.
Let's look at the type of Dinner Cruise Bosphorus where you can live the best days of your life:
• Luxurious Boat
A luxurious boat is a giant ship that can house almost 400 people. The ambiance of this cruise can lift your mood, and it feels like you are attending a wedding on the boat. From delicious dinner to lively music, this ship can make you fall in love with the cruising experience. The most incredible thing about luxurious cruises is that they are primarily tailored according to their guest's wishes.
• Private Yacht
The private yacht Bosphorus dinner cruise is by far the most popular and loved by all the tourists. Almost every guest wants to embark on a Bosphorus yacht experience. You can book a private cruise for your partner, family, or friends to spend quality time alone. If you are on a honeymoon, it is the best way to surprise your other half and relish unforgettable moments.
On this tour, you can eat delectable dishes, watch the city's popular attractions, and have unlimited entertainment. Undoubtedly, this would be the most exceptional experience of your life.
Things to Watch on a Bosphorus Tour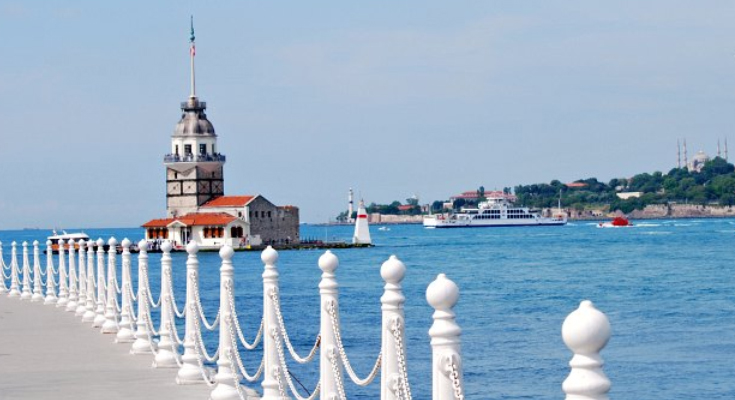 Istanbul is a beautiful city, even from the sea. Taking a Bosphorus dinner cruise should be on your bucket list adventures. The cruise will take you on a magical trip around the Bosphorus, offering breathtaking vistas of the surroundings. On this trip, you will get a chance to take priceless photographs to keep them forever close to your heart.
Here are the unmatched landmarks of the city that you will devour from every corner of the sea:
1. Bosphorus and Fatih Sultan Mehmet Bridges
Istanbul stands between the two continents - Asia & Europe. The bridges that link these two continents are Bosphorus and Fatih Sultan Mehmet. These bridges are the source of city transportation. For tourists, it is the most beautiful attraction in the city. At night, these bridges offer a magical view with light shows.
2. Rumeli Fortress
Rumeli Fortress is another captivating attraction for tourists on a cruise. It is another marvelous landmark of the city. The fortress was erected by the orders of Fatih Sultan Mehmet. You can easily take a broad view of this highlighted Rumeli castle from your cruise. Rumeli serves as a facility, including a few cafes and restaurants boasting the European side.
3. Dolmabahce Palace
Another magnificent attraction is the royal Dolmabahce Palace. It is a stunning symbolic attraction in Istanbul, representing the Ottoman Empire's 19th-century architecture. The exteriors of this palace are as glorious as its interiors, decorated with golden ceilings, crystal chandeliers, and marble columns.
While cruising along the Bosphorus strait, you can admire the spectacular beauty and magnificent silhouette of this Dolmabahce Palace.
4. Anatolian Fortress
Anatolian Fortress is the neighbor of Rumeli, located on the Anatolian side of the Bosphorus. It has built by the orders of Sultan Bayezid. With its ancient look, Anatolian Fortress is another mesmerizing landmark of Istanbul. On your dinner cruise tour, you can capture all the beautiful views hailing from this fortress.
5. Maiden's Tower
Maiden's Tower, also known as Leander's Tower, is another incredible attraction of the medieval Byzantine period. It is a tall tower built on a small islet across the coast of Uskudar. Maiden's Tower is one of the main landmark attractions of the city that stands gracefully in the sea. It is also one of the most romantic spots around the world. There are many romantic folk stories related to this place.
Every year, many wedding celebrations, engagements, proposals, etc., happen here. You can take photographs of this magical tower while relishing the night on your private cruise with your loved one.
Things to Know Before Booking a Bosphorus Dinner Cruise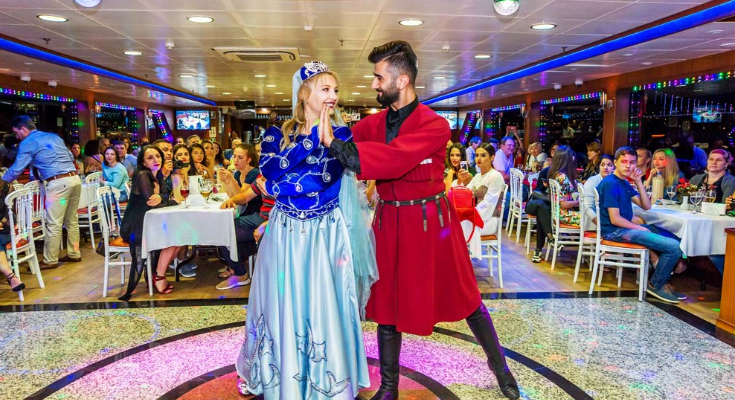 Before heading for Bosphorus cruising, you must know the following things. It will help you to plan and pack accordingly for your trip. Let's skim through all the points below:
• The cruise rides in Bosphorus are extremely popular among tourists. So, there are high chances of the tour getting booked quickly, and you may not get a ticket. Therefore, make bookings as early as possible.
• Every guest will get a pick-up service for a dinner cruise. So, you will need to leave the hotel early because the pick-up location may get crowded during the rush hour. During the pick-up time, it is the rush hour in the city. Everyone will be running for the transport. We advise you to take a public vehicle instead of a pick-up cab.
• Don't go for a cheap dinner cruise because they usually have hidden extras. If you want to book an in-expensive ride, you need to be extra careful and check what has included in the package.
• You will get a photographer on the cruise who will charge an amount per photo. This way, you don't have to worry about who will take your pictures.
• Smoking is prohibited inside the cruise. So, we advise you to don't bring your cigarettes with you.
Book Bosphorus Dinner Boat with Dook International
Turkey is known for its magical vistas, Bosphorus dinner cruise is nothing less than that. It is the best way to discover the hidden beauty of Turkey from the blue heaven. You can witness the dramatic landscapes unfolding beautifully in front of you. If you plan a vacation in Turkey, don't forget to add the Bosphorus tour to your itinerary.
We can help you plan your Turkey tour more appropriately than anyone. Our handpicked travel packages are customized and offer a convenient holiday experience. With Dook International, you can simply personalize your vacation. We have everything you want. Don't wait and grab the best Turkey deals.
Get to Know About: Best Honeymoon Destinations in Turkey
Explore Cafes: Best Cafes in Turkey
Enjoy Food: Best Indian Restaurants in Turkey