7 Best Places to Visit in Georgia
Georgia is one those hidden gems in Europe that few people know about. But those who have been there remember it as one of the most picturesque places in the world. There are some sights, sounds and sensations in Georgia that cannot be found anywhere else. Naturally, you will find the more seasoned traveller in Europe definitely has a Georgia stamp on his passport. If not, they have it on their bucketlist.
Covering the countless tourist attractions and tourism hotspots in Georgia is not really possible in one post. Still, If you like to this of yourself as a traveller who thrives on beauty and out-of-the-way places, then Georgia might be the perfect place for you this year. And we are here to help you plan the ideal Georgian escape! So, let's look at our list of 7 essential places in Georgia you must visit:
7 Places to See in Georgia for Every Footloose Traveller
1. Walk with the Ancestors in Ushguli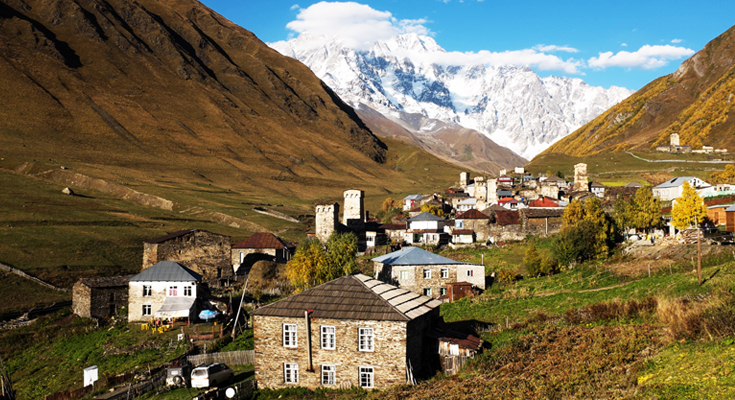 If you are a fan of history and like to indulge in unique spots, Ushguli is a must-visit for you in Georgia. This is essentially a collection of huts and other dwelling that trace back far into the history of the country. Indeed, they are the most prominent tourist attraction in the entire Svetani mountain range.
Now, that the basic layout is out of the way, image standing amidst huts and small houses with rustic but strong roofs. Imagine the centuries of time that the place has existed, think of the lives of the people who lived there and what they striven for. This is what makes Ushguli such a perfect spot for those who prefer to travel to broaden their horizons of the human experience.
Around the picturesque huts stand the imposing and eerie peaks of the Svetani mountain range. If you've got the right eyes, then you can almost imagine villagers standing on peaks. The sights are best beheld from any one of the many imposing watchtowers. They stand tall and solemn overlooking the dwellings as they have done for centuries. This truly is one of the most quietly inspiring places in all of Europe.
2. Vault it in Vardzia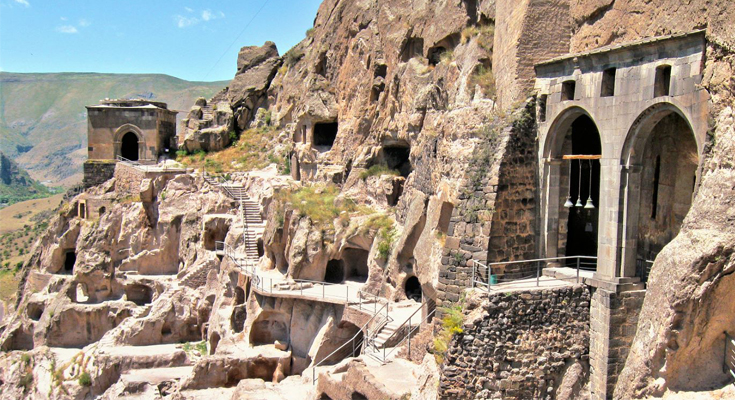 Are you a fan of old rock-cut monuments and archaeological marvels? Vardzia is what you want to visit in Georgia! This ancient site was home to a very prominent monastery. What's more important is that it was established in the time of King Tamar who was, wait for it - a woman! Yep, one of the very few female kings in the world's history established a monastery here. Tell that to your history buff buddies and see them light up!
On the other hand, an unfortunate earthquake sometime in the past pretty much decimated the cave monastery. Now, it remains a popular haunt for history lovers and sightseeing tourists. Still, when you step inside one of its many vaults you can almost feel the old monastic acolytes reading their scriptures under candlelight. You can feel their faith reverb among the walls still. Or at least among the souveniers you are likely to find in neighbouring towns.
3. History is Made in Mtskheta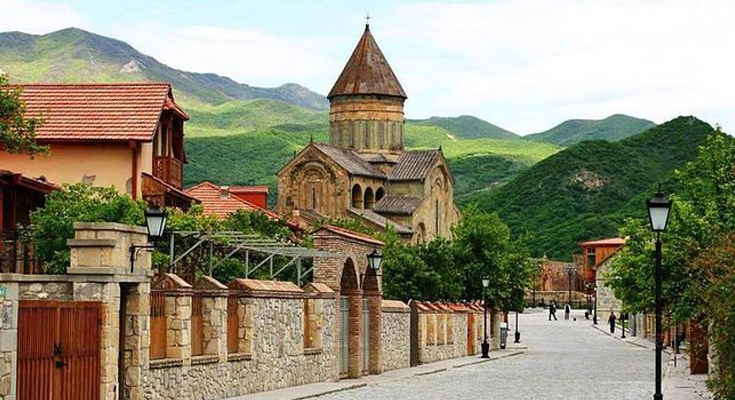 Had your fill of the wild and wonderful? The city of Mtskheta has the perfect change in scenery for you. It has long served as the spiritual capital of the country. This city holds three of the most important and historical churches in all of Georgia. These are Svetitskhoveli, Jvari and Samtavro Monastery and all of these offer a unique insight into the nation's cultural past. If religion is important for you, even as a casual observer, these three sites are a must-see.
Okay, now let's take a trip down Mtskheta's history! Did you know that Georgia was converted to Christianity by a woman? That's right! Saint Nino, a legendary nun was the first to promote and preach Christianity in what would become Georgia. Her influence was pivotal in converting the kingdom in 330 AD. She now stands as inspiration for the many female monuments found all over Georgia.
Take a few steps further, you can find traces of Georgia's earliest human settlements. These are 4000 odd years old! Now that's a number which takes time to absorb. And it'll take you even more time to absorb these marvelously well-preserved archaeological sights. They certainly merit a place in your travel photo book. With all these spots to take in with all your senses, it's no wonder Mtskhta is among our top places to visit in Georgia.
4. Get a Little Tipsy on Kakheti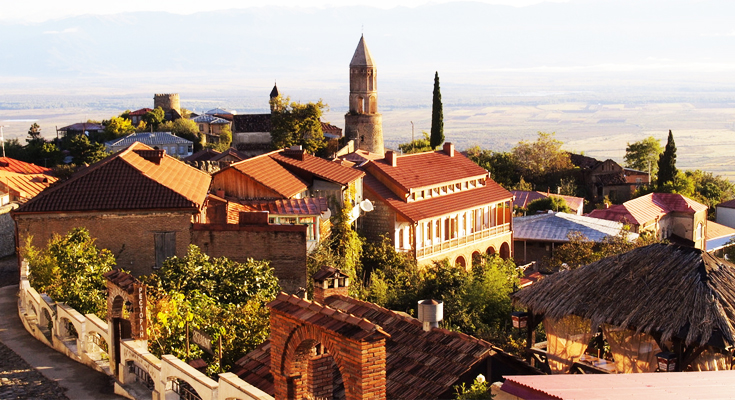 We've been telling you about all the heady places in Georgia you must visit. Now, let us tell you about a place where you can actually indulge a little guilty intoxication! Kakheti is home to Georgia's own (and widely celebrated) wine industry. Almost every other house in Kakheti ferments and sells its own wines. Now that's a wine tasting you cannot miss!
Kakheti is a marvelous place. Not only does it offer Georgia's best wines but also some unique sights exclusive to the region. You can saunter through its beautiful locales, villages, towns and pastoral panorama. The wine the sights and all the other things can really take you away. Even if you don't like a little grape escape, you are sure to love this region of Georgia. Don't fumble your camera and drop it!
5. Go Faster in Gudauri
How would you like to go rushing down the coolest (literally!) new winter sports spot in the Greater Caucuses Mountains? If this sounds like your slice of adventure, then Gudauri is where you must go! Skiing is the most popular sport obviously and you can find yourself among quite a crowd. Aside from that, you can also find great restaurants, hangouts and other public spots there. Travelling solo? No problem! Just lodge in one of the many hotels in town and take your bit from the newest and most exciting destination in the mountain range!
If that's not enough for you, then you can also consider going airborne! For the bravehearts, daredevils and adventure junkies, paragliding and heli-skiing are the right for experience for you. And it pays off simply by the unique sights you can see from above. Be sure to check with your pilot or check your harness before you go or bird's eye photography. This alone secures Gudauri a spot in our list of top 10 places to visit in Georgia.
6. B is for Beaches in Batumi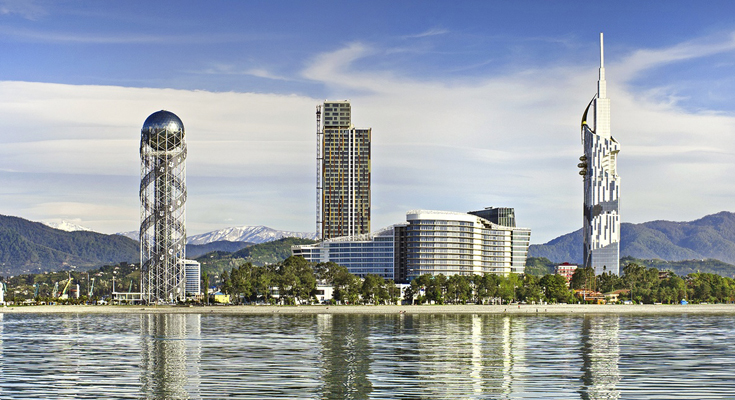 So, we talked about a chill spot in Georgia above. Now, let's talk about something warm and relaxing. That's right, we are going to talk about the best beach city in Georgia - Batumi Beaches are a blast! Everyone knows that. It doesn't matter if you got the body or not. Just getting a feel of the waves and the warm sand under your feet is reason enough to venture there.
Famously described as Singapore mixed with US' Atlantic City, this town has it all! Warm sunny beaches, modern architectural marvels, botanical gardens and much more. One important note - when you go Batumi, don't be surprised if the beaches have a decidedly pebbly and darker shorefront! Don't spoil it! Just go there and be amazed!
That's the ticket for the day! Now for any nightowls and partylovers reading this, you may want to get that flash party shirt in your luggage. Batumi is home to many nightclubs and hangouts which throb with nightlife and a rapid pulse. If you want to party-hardy and burn off the morning hangover under warm sunshine, Batumi is your destination! Thank us later for putting it on our list of best places to visit in Georgia.
7. Hike it Up in Mestia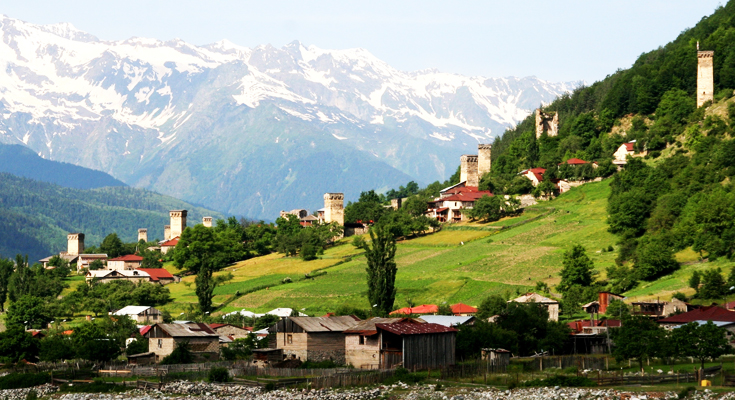 Hikers heaven in Georgia is Mestia. This quaint little town has some of the best hiking trails in the country. It is the perfect getaway from the cityscapes in Georgia and tucked neatly among the Svaneti mountains. This gives it a particularly charming allure that you will not find anywhere else.
Aside from that, you can also explore a very diverse cultural history of the Caucuses in Mestia. The town is filled with evidence of great empires and legendary hordes from Mongols to Persians to Ottomans. And when you have had your fill of that, you can go explore the Caucuses in ways only Georgia can offer! So, naturally, Mestia belongs firmly in our list of the 7 top places to visit in Mestia.
Explore More: Attractions in Georgia
How Can You Book the Most Ideal Trip to Georgia in 2020?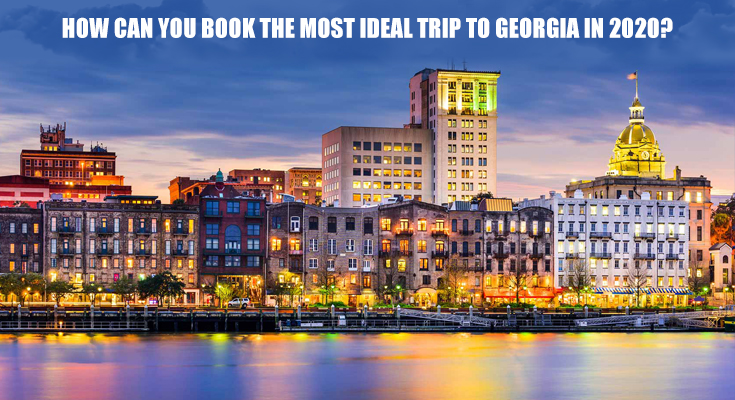 Dook International is a premier destination management company operating in Georgia and all other nations in Eastern Europe. We offer an assortment of preformed as well as customizable tour packages. Whether you want to have a quick trip to a handful of destination or an extended stay in Georgia, we are the best people to get in touch with. You can also get great discounts and exclusive offers found nowhere else. Choose your Georgian adventure from the top international travel business in the market! Contact Dook International now!
Read More: 15 Reasons To Visit Georgia