Tashkent - Unwind the Timeless Magic of Uzbekistan
Tashkent is the wondrous city of Uzbekistan that drizzle Islamic architecture, vast landscapes, delicious food, venturesome adventures, and gleaming markets everywhere you go. This modern metropolis is one of the largest cities in Central Asia. It has been a business and cultural center of Tashkent. Being the capital of Uzbekistan, Tashkent stands as a witness to the nation's rich cultural heritage and future possibilities.

Be it a cultural Kaleidoscope, Tashkent flavors, tranquil retreats, unforgettable adventures, and historical sites, Tashkent has it all. If you want to embark on this fulfilled voyage, you must know many things about this city. To help you explore Tashkent City, we have curated a wholesome travel guide with everything you need to know. Let's skim through each point one by one.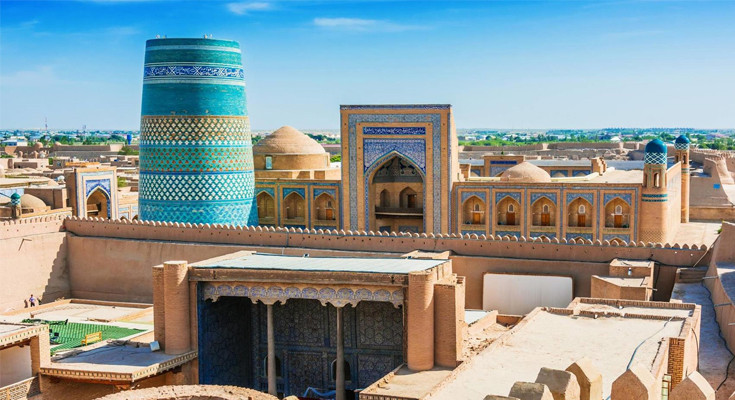 History of Tashkent, Uzbekistan

The history of Tashkent dates back thousands of years. Steeped in rich & diverse history, Tashkent boasts archeological founds that date back to the 2nd millennium BCE. The name of Tashkent City is believed to be derived from the Persian words "Tash" (Stone) and "Kent" (City). During the Timurid dynasty, the city flourished as a center of trade & commerce, and art.

Today, the city blends its history and modern development in such a way that it captivates the heart of everyone as they come. It depicts the architectural styles from the traditional Islamic period and the Soviet era. Every corner of Tashkent offers a glimpse into the past.

Top-Rated Tashkent Attractions to Explore

Tashkent is the most visited city in Uzbekistan, which has so many incredible attractions. This laid-back city gives a feel of Central Asian charm. From ancient museums to beautiful parks to medieval churches & mosques, there are plenty of tourist attractions to unwind in Tashkent.

1. Amir Timur Square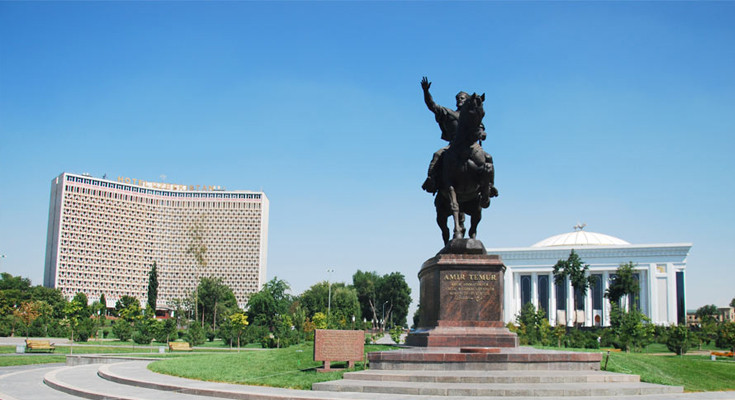 Amir Timur Square is one of the most captivating Tashkent attractions in Uzbekistan. The square has the statue of Amir Timur on his horse. He is the most famous national hero of Uzbekistan. Apart from this, Amir Timur Square is one of the most serene places to explore and take a stroll.

2. Museum of Applied Arts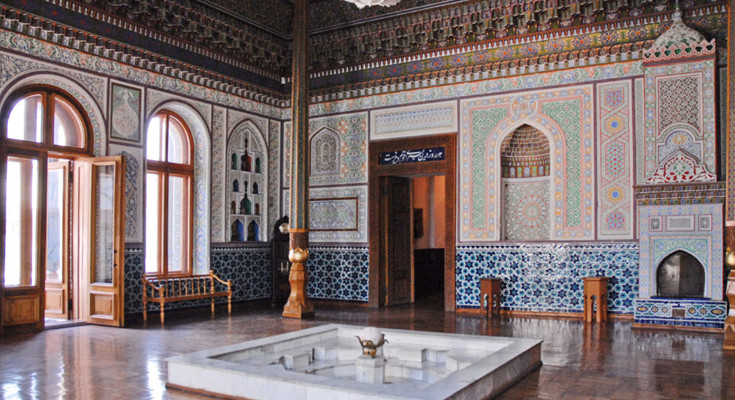 The Museum of Applied Arts is one of the renowned museums in Uzbekistan. It is among the popular Tashkent attractions, offering a diverse collection of handicrafts. You can find countless rugs, pottery, paintings, dresses, and household items.

3. Tashkent Metro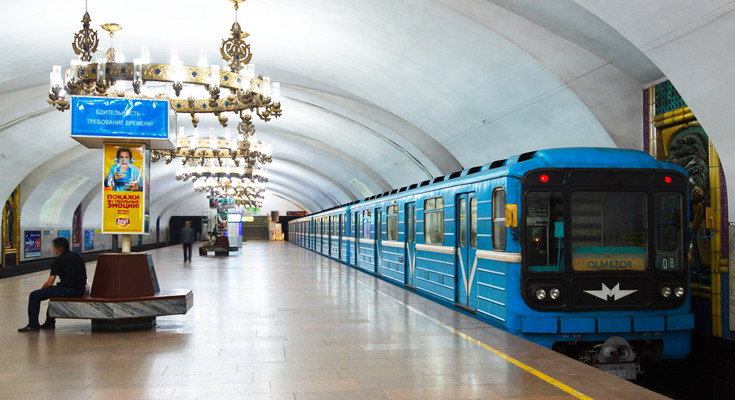 Tashkent Metro is the most convenient and popular transport in Uzbekistan. It has gathered worldwide attention for its intricate murals and ornate lamp fixtures that reflect Soviet and Uzbek history. The architecture of this underground Tashkent metro station is breathtaking.

4. Kukeldash Madrasah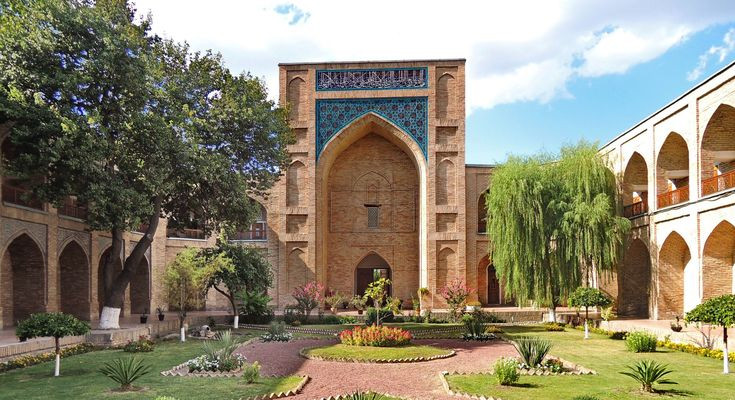 Kukeldash Madrasah is one of the oldest Tashkent attractions. It stands as an incredible architectural gem in Uzbekistan. Built-in the 16th century, this historic landmark epitomizes Central Asian craftsmanship. This madrasah has served as a hub of spirituality and education.

5. State Museum of History of Uzbekistan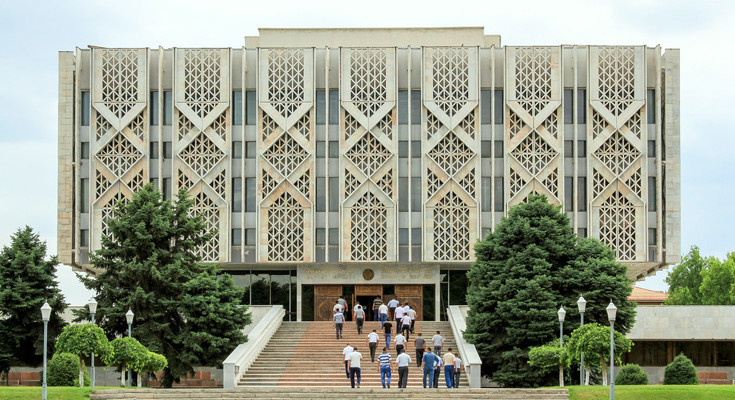 The State Museum of History of Uzbekistan is the most captivating museum in Tashkent. Constructed in 1876, the museum preserves and displays artifacts belonging to ancient times. These intricate textiles, ceramics, and manuscripts offer a glimpse into Uzbekistan's past.

6. Chimgan Mountains & Charvak Lake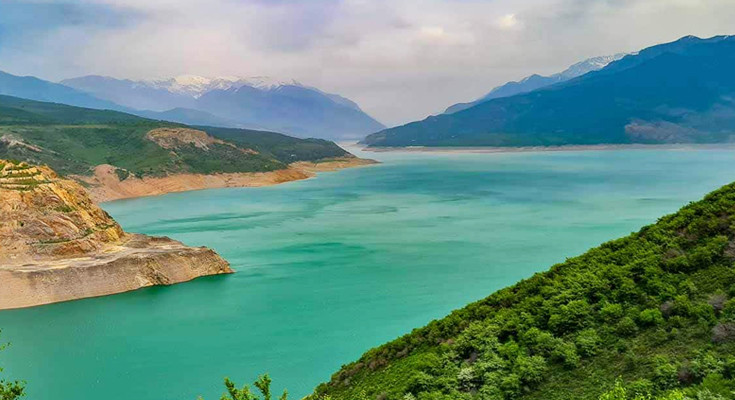 Chimgan Mountains & Charvak Lake are one of the most attractive Tashkent attractions. You can escape city life and adventure into the nearby Chimgan Mountains. The calming nature will let you unwind and heal your soul in the lapse of the natural landscape.

7. Chorsu Bazaar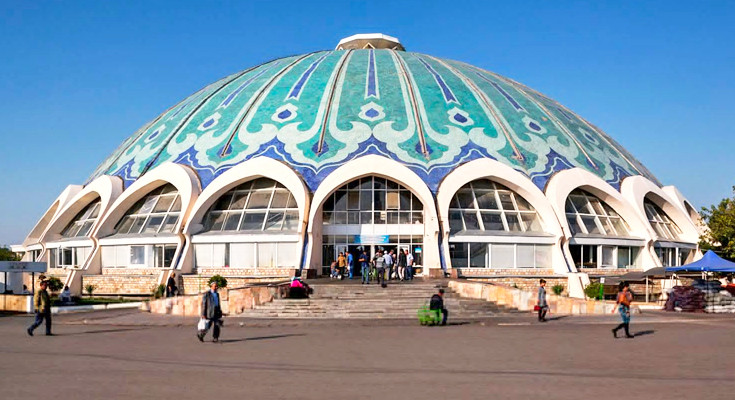 Chorsu Bazaar is known for its vibrant and bustling hub of trade and commerce. Located in the heart of Tashkent, Chorsu Bazaar offers a wide variety of colorful produce, hand-crafted products, flavorful spices, and local delicacies. The bazaar invites you to immerse yourself in a lively atmosphere and experience the local life of Uzbekistan.

8. Tashkent TV Tower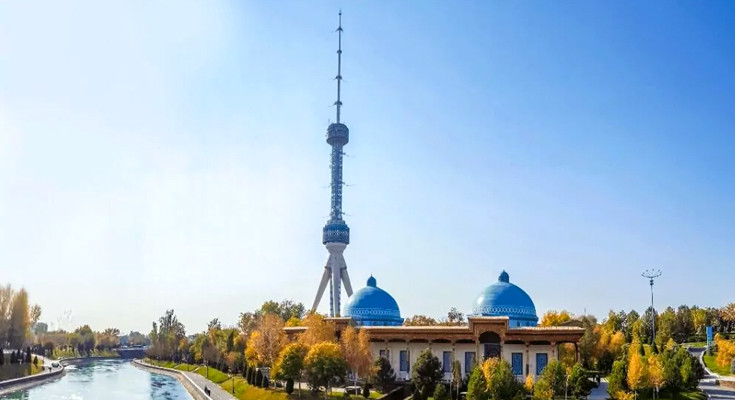 Tashkent TV Tower symbolizes modernity and graces the skyline of Uzbekistan. With a soaring height of 375 meters, the Tashkent Tower ranks among the tallest structures in the world. Offering panoramic landscapes, Tashkent Tower attracts the attention of many tourists.

Explore More: Top Attractions in Tashkent

Must-Try Things to Do in Tashkent, Uzbekistan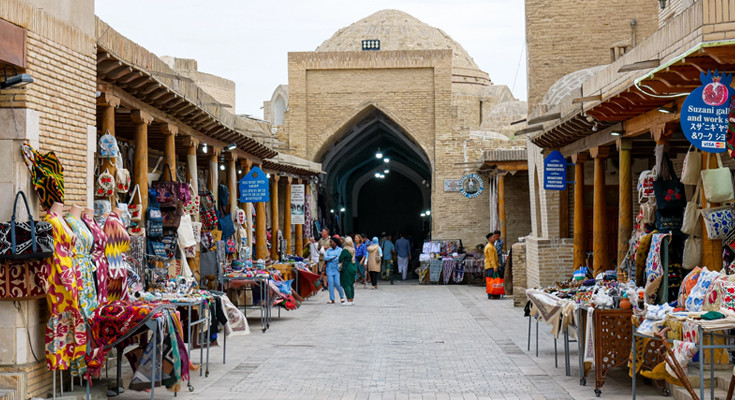 Tashkent, a culturally vibrant and attractive city, is renowned for many things. The city seamlessly blends old-world charm and contemporary energy, offering visitors many things to do. From admiring ornate architecture to art galleries, there are many things to do in Tashkent. Here is the list of things you can enjoy in Tashkent:

1. Take a Ride in Tashkent Metro

If you are in Tashkent, you should take a metro ride. Tashkent has some of the most incredible metro stations in the world that you must witness.

2. Stroll Around the Chorsu Bazaar

Chorsu Bazaar is one of the most iconic highlights of Tashkent, where you can buy anything. Even if you don't want to buy anything, it's a great place for a casual walk, people-watching, and witnessing culture.

3. Watch a Show at the Navoi Theatre

Visiting Navoi Theatre is one of the best things to do in Tashkent. It is a perfect place to watch a ballet show in Tashkent.

4. Adore the Minor Mosque

Minor Mosque is one of the most stunning attractions in Tashkent. Fondly known as the Snow Mosque, Minor attracts many visitors. The timeless beauty of this mosque binds everyone.

5. Shop for Books in the Book Bazaar

If you are a book lover, you will feel happy and cheerful visiting Book Bazaar. You can check out old books and magazines here. This bazaar has many small bookstalls that create an aesthetic ambiance for book lovers.

Popular Cuisines to Try in Tashkent, Uzbekistan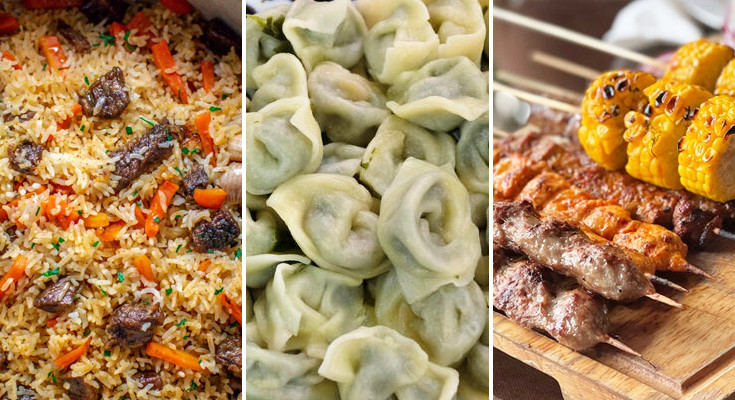 Most people love to indulge in good food during their vacation. But not many people know that Uzbekistan offers enticing dishes with tantalizing flavors. You will find Uzbek food in every nook and corner of Tashkent that capture your attention with its soulful smell. If you are wondering what to eat in Tashkent, here are the top dishes that you must try:

1. Plov- Plov is the most beloved dish in Uzbekistan. It satiates hunger in just minutes. It consists of rice, meat, onions, carrots, and flavorful spices. You can find this dish on every menu at every restaurant.

2. Manti- Manti is Tashkent's most loved snack, made with a mixture of onion and meat. This dumpling-like dish mesmerizes everyone's craving. Served with yogurt and sumac, Manti makes every palate happy.

3. Laghman- Lagman is of two kinds- soup and fried noodles. These two are famous among locals as well as tourists. The main ingredients of Laghman are carrots, bell pepper, potatoes, tomatoes, garlic, noodles, etc.

4. Samsa- Samsa is one of the famous dishes in Uzbekistan. It is a type of stuffed pastry that is filled with different ingredients like lamb, potato, pumpkin, etc.

5. Shashlik- Shashlik is a popular street food that you can find anywhere in Uzbekistan. It is skewered meat which is marinated with spices, giving it a delicious flavor.

Fascinating Things to Buy in Tashkent City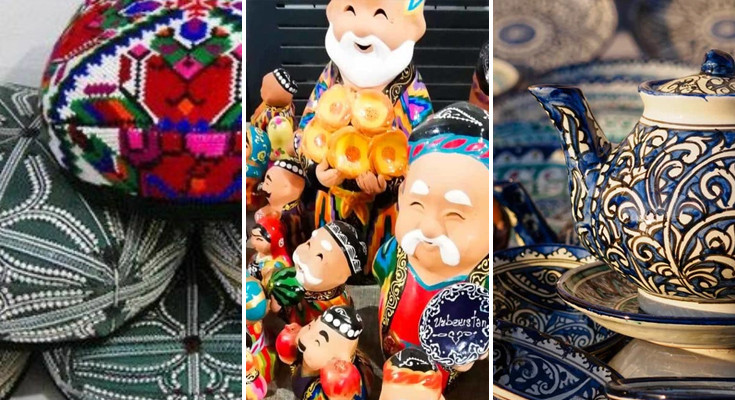 Uzbekistan's culture and traditions can be seen in its items and other hand-crafted things. If you want to take a memory of your vacation home, you can buy different things. Here is a list of unique and charming items that are rare and stand out in the market:

1. Doppa

Doppa is one of the most charming items to buy in Uzbekistan. It is a traditional cap that most locals wear in the country. You can find Doppa at every shop in Tashkent.

2. Paintings

Paintings are another thing that you can buy in Uzbekistan. These paintings depict different landmarks and scenes from Uzbekistan's cities. It is a perfect gift to take home for your loved ones.

3. Suzani Work Items

Suzani is an embroidered tribal cloth. It is adorned with different styles of embroidery. You can buy these decorated clothes as a memory of Uzbekistan's rich artistic history.

4. Blue Crockery

Blue Crockery is a famous souvenir in Uzbekistan that you can find everywhere, from restaurants to home. The blue and white crockeries are very pretty and have incredible art over them.

5. Uzbek Dolls

Uzbek Dolls are also one of the most popular souvenirs to buy in Tashkent, Uzbekistan. These traditional dolls are made of fabric that makes them light-weighted.

Best Time to Visit Tashkent

Tashkent remains pleasant throughout the year, attracting visitors all year round. However, the ideal time to visit Tashkent City is during spring and autumn, i.e., April to June and September to October. It is the best time to indulge in outdoor activities like explorations and sightseeing. The city covers in vibrant colors during spring, creating a perfect backdrop for your travel photographs. Further, you can enjoy all the historical sites, attend cultural events, and eat roadside cuisines in Tashkent during autumn.

Tips to Note Down Before Visiting Tashkent

Tashkent offers a fulfilling vacation that you will not want to return home. But to enjoy it fully, you must know some tips before landing in Tashkent. Here are the tips that you should remember before heading for Tashkent:

1. Locals of Tashkent follow their culture and customs religiously. So, always be mindful of your conduct and respect their traditions.
2. Although Uzbek is officially used in Tashkent, Russian is also widely spoken in most parts of the city.
3. The people of Uzbekistan are very sensible about their clothing. Always remember to wear appropriate clothes while visiting religious places.
4. The best way to transport throughout the city is the Tashkent metro. It is the most convenient way to travel in and out of Tashkent city.
5. Don't forget to offer tips as it is the custom in Tashkent.
6. Before planning a trip, check the weather conditions in Tashkent so you can go during the best time.

Want to Enjoy a Great Vacation in Tashkent?

Tashkent is the ultimate destination for every kind of experience. We hope that our Tashkent travel guide has helped you to gain a great insight into what you can do, experience, eat, buy, or see in Tashkent. If you plan a trip to Tashkent, look no further than Dook International for incredible tour packages. We have exciting Tashkent Tour Packages that are affordable and customizable. You can personalize your travel experience as per your travel preferences and relish a great time. Dook takes care of your whole trip and provides you with thorough assistance every step of the way. Put your shoes on and get your stuff ready because you are going on a wholesome vacation.

Read More About Tashkent:

Best Restaurants in Tashkent Uzbekistan

Must-Try Uzbekistan Food

Popular Uzbekistan Cities to Explore