Best Gorilla Trekking in Uganda & Rwanda
One of the most spectacular and unique experiences for trekkers is coming face to face with mountain gorillas in the jungle, but it's vital to prepare where to go, when to go, and what to bring before you go for your mountain gorilla trekking trip.
Only Rwanda, Uganda, and the DR Congo are home to mountain gorillas. As a result, they are able to trek in four of the national parks in these three nations: Volcanoes National Park in Rwanda, Virunga National Park in the Democratic Republic of the Congo, Bwindi Impenetrable National Park in Uganda, and Mgahinga Gorilla National Park (Uganda). You must gather enough knowledge to make an informed decision about whether to hike gorillas in Rwanda, Uganda, or the DR Congo.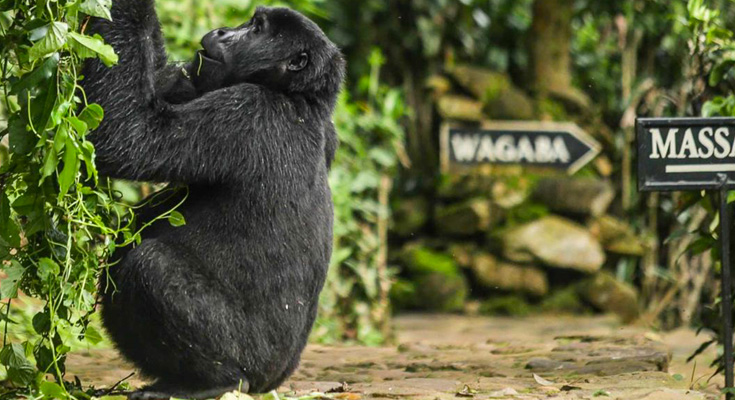 Why Visit Wild Mountain Gorillas?
Even though there are now about 1,000 mountain gorillas left in the wild, they are still in grave danger since they cannot live in captivity.
The only opportunity to observe these interesting animals going about their daily routines and intricate relationships is by trekking into their native forest settings. A deep, humbling, and never-to-be-forgotten privilege is witnessing a mother care for her infant with tenderness or encountering a 200 kg silverback who hovers over his troop with an enigmatic stare.
This naturally prompts the perplexing question of where in Africa is the ideal place to observe mountain gorillas. But don't worry, we have a lot of first-hand experience going gorilla trekking in the wilds of Africa. We've put up a few concise, helpful recommendations for you regarding the greatest gorilla trekking destinations in Africa.
Uganda Mountain Gorilla Encounters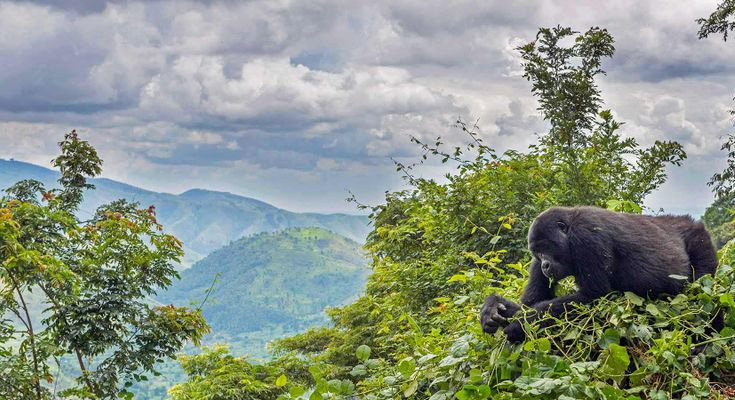 In Uganda, Bwindi Impenetrable National Park and Mount Mgahinga Gorilla National Park are the primary destinations for gorilla trekking. Along with Volcanoes and Virunga National Parks, Mgahinga is a part of the Virunga Massif, although it only has one habituated gorilla family, while the other groups are in Bwindi Forest.
About 400 mountain gorillas, or half of the remaining population of this endangered species, are found in Uganda. There are 17 gorilla groups to hike, including 2 in Mgahinga National Park and 15 in Bwindi National Park.
Gorilla Uganda - A Step Way Ahead
The price of a single gorilla trekking Uganda permit is about $600 per day, which is far less expensive than in Rwanda. According to this comparison, the price of the gorilla permit typically influences a visitor's choice of where to start a gorilla trek, leading them to choose Uganda as their destination. In contrast to Rwanda, it is harder and farther to get to gorillas in Uganda.
The distance between Entebbe International Airport and Bwindi Forest National Park makes travel difficult and time-consuming, especially if you do not have a layover in another National Park. Bwindi is a 9 to 10-hour journey from Entebbe or Kampala; if you don't like lengthy drives, you can fly to the park on a regular trip. However, the majority of tourists who wish to experience Gorilla Trekking in Uganda typically fly into Kigali and then take a shorter 4-hour drive to Bwindi.
Mountain Gorilla Experiences in Uganda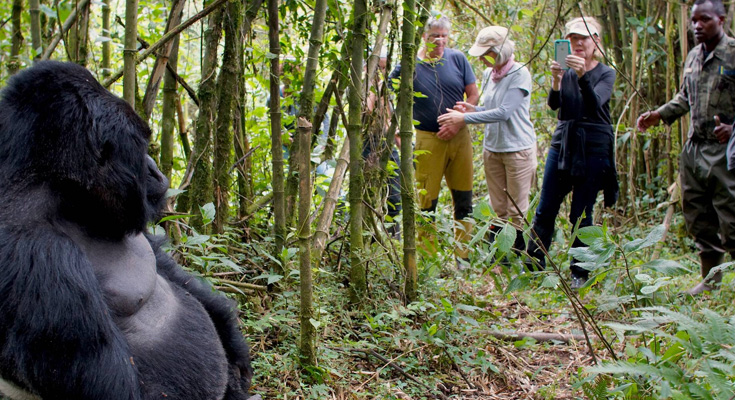 Uganda, a landlocked nation in East Africa, is incredibly rich in natural beauty, ecological diversity, and wildlife. Landscapes range from the remote Bwindi Impenetrable National Park, the world-famous mountain gorilla habitat and sanctuary, to the snow-capped Rwenzori "Mountains of the Moon," the vastness of Lake Victoria, and enormous swathes of savannah.
Among the remarkable 345 mammal species found in Uganda are African elephants, mountain gorillas, chimps, lions, hippos, and Cape buffalo. It also boasts 86 amphibian species, 142 reptile species, and no less than 501 fish species. It includes a staggering 1,242 species of butterflies, and an astounding 1,020 species of birds!
The flag of Uganda features the beautiful crested crane, which serves as the country's national symbol. The capital and largest city of the nation, Kampala, with a population of more than 42 million.
Gorilla Trekking in Uganda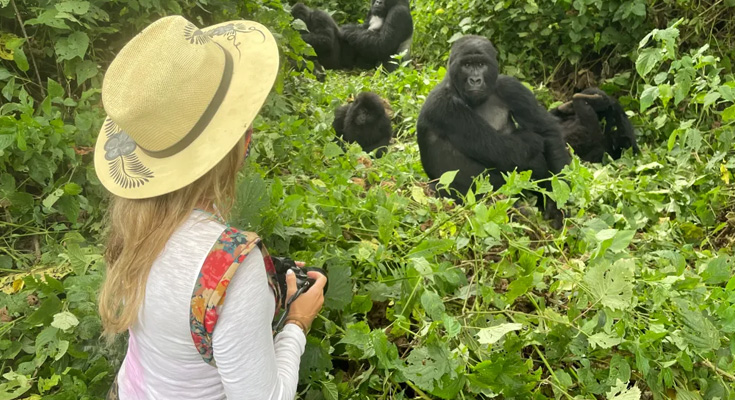 The lush and unspoiled slopes of the Virunga Mountains in Uganda are the ideal habitat for mountain gorillas, making it one of the few places in the world to see them.
If you're on a tight budget, traveling to Uganda to view gorillas makes the most sense because the cost of a gorilla permit there is substantially lower ($700 compared to $1,500 in Rwanda).
To fully meet your interests, Uganda offers a wide variety of flexible vacation itineraries as well as intriguing combinations of itineraries. Also keep in mind that lodging and other expenditures are lower from March through May and from September through December during the two "wet" seasons. You will still have a wonderful vacation even if you choose to travel during these months - it will just be a little more muddier.
Other Activities to Enjoy During Gorilla Trekking in Uganda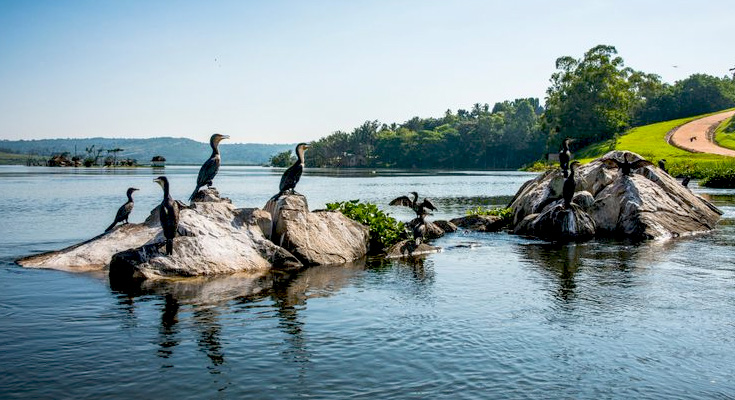 Apart from the stunning mountain gorillas, Uganda has a lot to offer tourists! Consider going to the sizable Ziwa rhino reserve to see the critically endangered rhinos. Visit Queen Elizabeth National Park to witness some of the park's 96 species of mammals, such as elephants, lions, hippos, buffalos, warthogs, and crocodiles, or go canoeing on Lake Bunyonyi. Even one of their renowned tree-climbing lions-yes, they have them-may be seen climbing a tree!
Both a trip to the Lake Katwe salt pans and a boat safari on the hippo-rich Kazinga Channel are unusual experiences. Entebbe, which is located beside Lake Victoria, might be of interest to you. While you're there, make sure to stop by the Ngamba Island Chimpanzee Sanctuary and the wonderful Uganda Wildlife Conservation Education Center.
And if you enjoy water sports, Lake Victoria will delight you; among the activities available are canoeing, kayaking, swimming, boat trips, and fishing.
Don't pass up the chance to tour the exciting city of Kampala or go on a hike to the breathtaking Sipi Falls on the peaks of Mount Elgon. You could even go abseiling here if you're feeling particularly daring!
If so, you might also want to go to Jinja, a small city known for being Uganda's adventure capital, where you can go tubing, mountain biking, quad biking, horseback riding, and bungee jumping.
Without visiting Murchison Falls, one of Uganda's earliest national parks, where you can be sure to witness a tower of Rothschild's giraffes, your trip won't be complete. Both hiking in the well-known Ruwenzori mountains and zip lining in Mabira Forest are extremely magical experiences.
Finally, you must not miss the chance to cross the equator, view the renowned chimpanzees in Kibale Forest, or visit the Sempaya hot springs in Semuliki National Park. The Park also has a well-known wetland, where cleverly built boardwalks ensure that your feet stay dry. Its spectacular monkey population includes mangabeys, red-tailed monkeys, and black-and-white colobus monkeys.
Explore: Top Attractions in Uganda
Book: Uganda Tour Packages
Gorilla Trekking Rwanda Encounters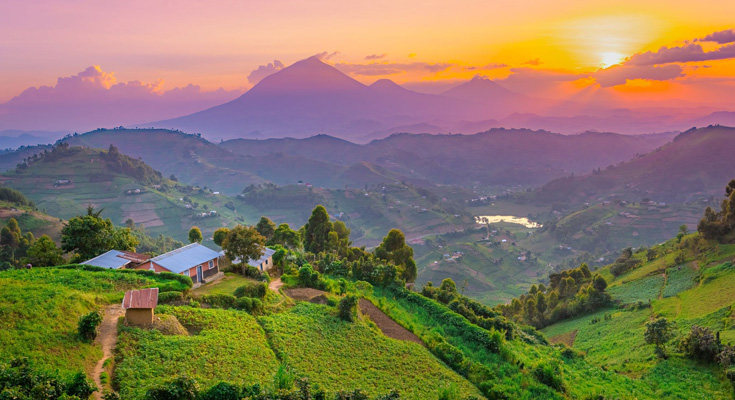 The Republic of Rwanda is a small, heavily populated, and landlocked nation in the Great Rift Valley of Central Africa. The majority of it is located above 900 meters, or 3,000 feet, of sea level and is located only a few degrees south of the equator. It boasts a ton of lakes and is very hilly, earning it the moniker "The country of a thousand hills". It features two dry seasons and two rainy seasons a year due to its subtropical environment. Over 12.6 million people, mostly young, live in Rwanda. They are Hutu, Tutsi, and Twa, a pygmy tribe who live in the bush and have a long history. Kigali is the capital and largest city of Rwanda. Kinyarwanda is widely spoken there, along with English and French.
Rwanda is one of the world's few nations with a majority of women in parliament, along with Bolivia and Cuba. This could explain why Rwanda has firmly put its volatile past behind it and is now dedicated to peace and reconciliation.
Gorilla Trekking in Rwanda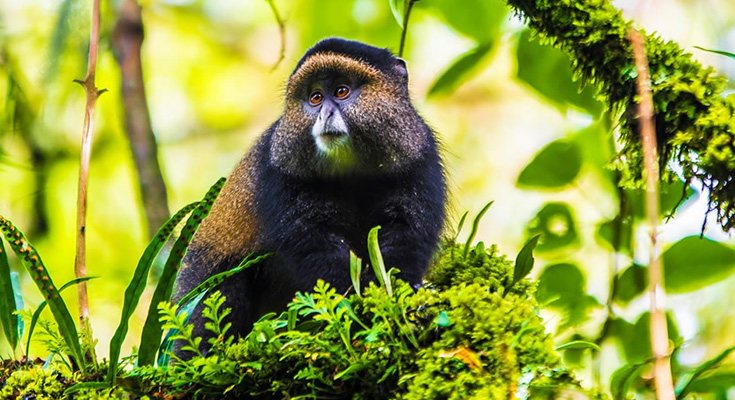 The most well-known location for gorilla trekking is certainly Rwanda. It provides visitors the best primate hiking with its imposing mountains and lush hills. It is also the well-known site where Dian Fossey carried out her groundbreaking research that popularized gorillas and sparked attempts to conserve them.
Rwanda is home to chimpanzees, Sykes and Golden monkeys, an incredible variety of mammals, birds, insects, reptiles, and amphibians, as well as more than half of the world's endangered mountain gorilla population.
Gorilla Trekking Safaris
The main focus for Gorilla trekking safaris is Volcanoes National Park, a 160 sq km section of the larger Virunga Conservation region. It is the most accessible gorilla watching experience in the world because it is only a 2-hour drive from Kigali International Airport. Visitors can see several habituated gorilla families in the Park, ranging in size.
The families, which include females, infants, children of varying ages, and other silverbacks, are headed by a dominant silverback. The dynamics of a family and its make-up are regularly susceptible to change as the silverbacks compete for dominance and family members pass away or migrate away.
Ever Wondered What You Can Expect On Gorilla Safari in Uganda?
In Rwanda, there are a total of 80 gorilla permits available each day, and visitor groups typically have eight persons. Visitors can witness some of the following gorilla families, though they should be aware that they are dynamic -
● The Bwenge team is well-known. This is the group that was depicted in the film Gorillas in the Mist, in which Sigourney Weaver so brilliantly portrayed Dian Fossey. The group was named for its dominant silverback at the time, Bwenge (which means wisdom).
● The Kwitonda ethnic group immigrated from the DRC. It moves a lot, making it challenging to follow. The Titus family is named for the deceased Titus, a member of the first gorilla group that Dian Fossey investigated and who was born into it. Titus was raised by unrelated male gorillas after the group was tragically annihilated by poachers.
● Dian Fossey conducted research on the Susa A group between 1967 and 1985. In the middle of the 2000s, it was very big and split into two groups.
● The Susa B group or the Karisimbi. Due to their residence on the higher slopes of Mt. Karisimbi, the highest Virunga mountain, this group is the most difficult to monitor.
● The group of Amahoro. The Kinyarwanda term for tranquillity inspired the family's name, which reflects their reputation for calmness.
● Due to their residence on the gentle slopes between Mts. Gahinga and Sabyinyo, the Sabyinyo group is the most straightforward to track. Guhonda, a 220 kg silverback who was 50 years old in 2021, is a famous member of the tribe. He's been missing for some time.
● The Agashya tribe took its name from the silverback Agashya who deposed Nyakarima, the group's first dominant silverback.
Other Activities to Enjoy in Gorilla Safari Uganda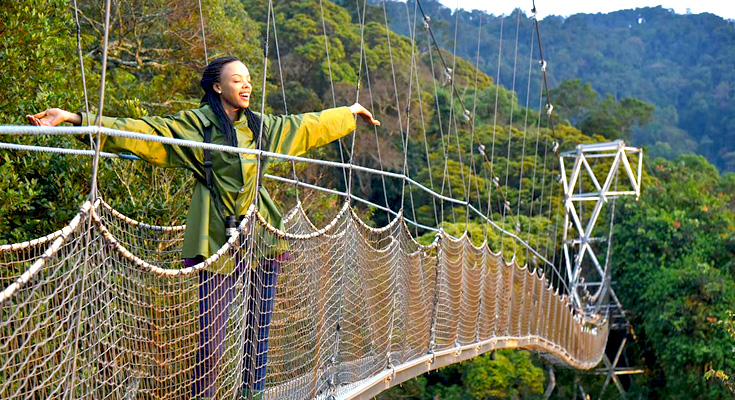 Although it is obviously at the top of most people's bucket lists, don't worry - Gorilla trekking safaris isn't the only thing to do in Rwanda. For one of Central Africa's largest protected wetlands, the Big Five, and a variety of other plentiful animals, nature lovers must visit Akagera National Park.
Another must-see for nature enthusiasts is Nyungwe Forest, with its stunning biodiversity of 75 species of mammals, 322 kinds of birds, and an astounding 1,068 types of plants. Visitors can engage with habituated chimpanzees that are housed in the Park. Don't miss out on taking one of its 15 fantastic hiking trails or experiencing its mind-blowing canopy walk.
The Ethnographic Museum in Rwanda offers a wide range of exhibits for culture enthusiasts to peruse. Its collection of expertly woven baskets, traditional attire, spears, farming implements, and musical instruments from bygone eras will take you to pre-colonial periods. Learning about Rwandan culture is made easy by visiting the Gorilla Guardians' Village.
Don't forget to visit Kigali as well! There are many local fashion and retail stores there. Amazing local artists' works are on display at the Rwanda Art Museum and the Inema Arts Centre. Alternatively, you can simply savor a cup of real Rwandan coffee or a delectable lunch at one of Kigali's many eateries.
Book Africa Tour Packages with Dook International
Africa will not disappoint whether you are a first-time tourist, a seasoned traveler, or a fan of African safaris - as Dook International got you covered. A safari in Africa will take you on an once-in-a-lifetime tour through several exotic jungles and wild creatures. Africa is a distinctive vacation destination due to its fusion of sophisticated urban centers and old African traditions. African adventures will provide you with a wealth of diversity in its purest form because it is the second-largest continent in the globe. You must undoubtedly travel to Africa - and our package won't disappoint you at all.
Know More: Best Places to Visit in Africa
Explore: Best Trekking in Africa