Day Tours, Seville 4 Nights Program
Pkg Id

0000343

Destinations

3

Duration

4 Nights

Attractions

5

Price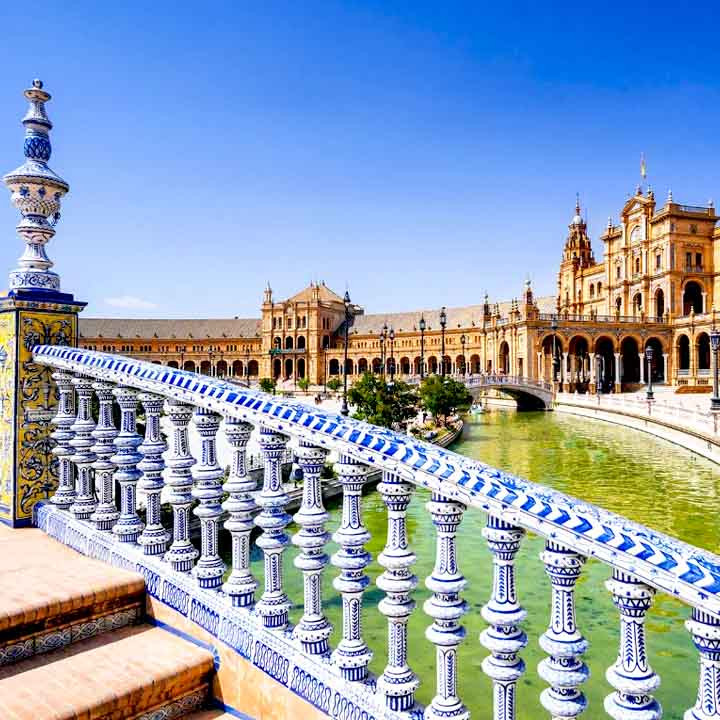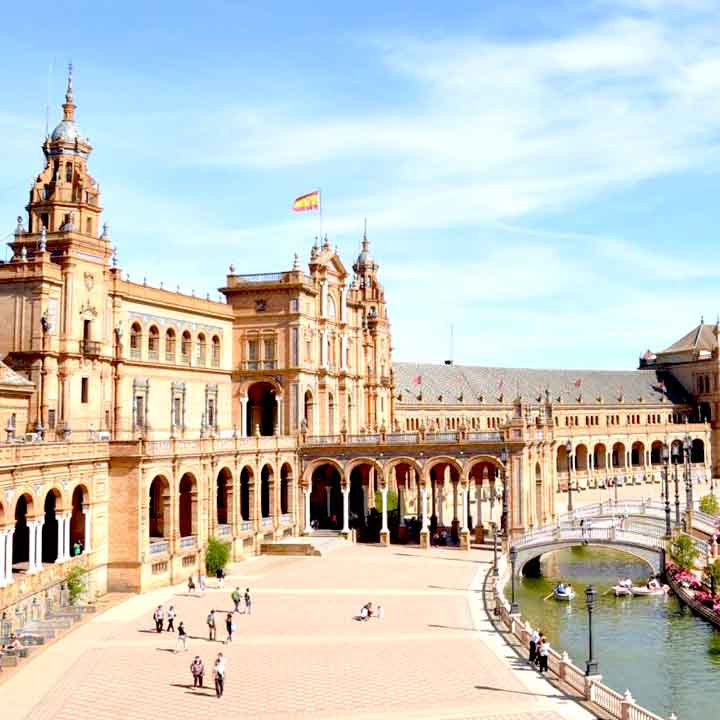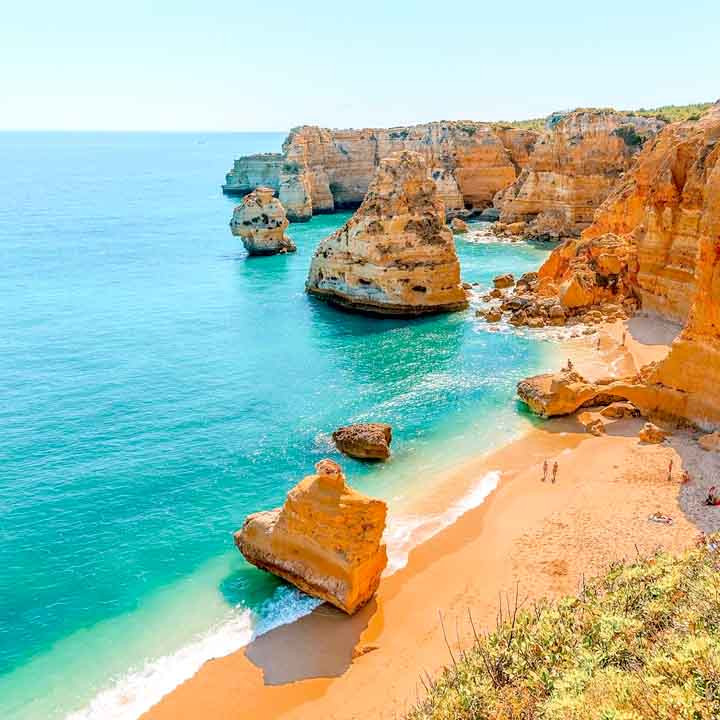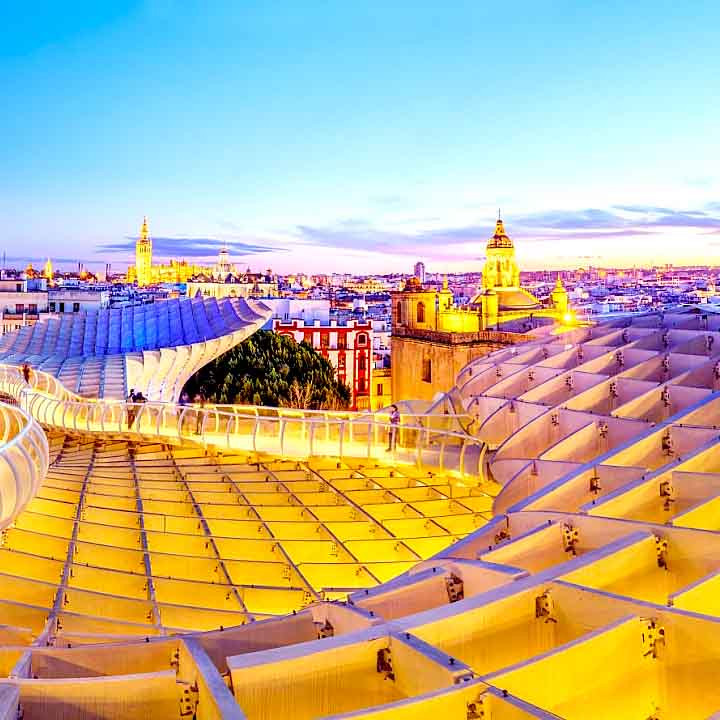 1
Arrival
Arrive at Seville International Airport.
Our Airport representative will meet & greet you.
Pick – up from Airport and transfer to the hotel in Seville.
Check-In to the Hotel.
Evening you will picked up from the hotel for Pura Esencia Flamenco Shows in Tirana Tablaos and Flamenco Shows: No matter the time of year you can be sure that there will be flamenco shows happening across the city on any evening.
If you're staying near the Cathedral then Tablao El Arenal would be a good option, with two performances a night (each lasting 90 minutes) and a choice of tapas or full dinner. People visiting Seville in spring or autumn can catch the Peñas de Guardia, a series of shows organized for local or up-and-coming flamenco talent. A tablao is a good way to watch a show, with live musicians and either a bar or restaurant service.
Back to hotel and overnight stay.

2
Seville– Italica
Breakfast at the hotel.
After breakfast leave Seville to see the Italica: which is a birthplace of Roman Emperor's.
Italica: Italica north of modern-day Santiponce, 9 km northwest of Seville in southern Spain, was an Italic settlement founded by the Roman general Scipio in the province of Hispania Baetica. It was the birthplace of Roman Emperors Trajan, Hadrian, and Theodosius (possibly).Italica is the birthplace of two Roman emperors and the best-preserved Roman ruins in Spain. The giant Colosseum could hold nearly 25,000 people during its heyday but now lies in ruins. Here are some sites that you hear of often. Grand, great buildings that stand the test of time and some that seem to just sneak under the radar for years and years. It is a place that so many have no idea exists unless they are die-hard Game of Thrones fans, of course. (In Season 7, Daenerys meets Cersei in the dragon pit of King's landing right here. Season 8 was also filmed here).
Later drive back to Seville and spend rest of your day at the great place called The Santa Cruz district. Santa Cruz District: All the most popular monuments are located in the Santa Cruz district, the historic heart of Seville. It's therefore also the most touristic place! You can stroll in the pedestrian streets, have a coffee or a lunch in one of the many bars and restaurants and shop for souvenirs in one of the numerous shops. It's a very pleasant place to walk around, with its typical patios, whitewashed houses and pretty little squares.
Don't miss the Plaza Patio de Banderas for a beautiful view of the cathedral!
Back to hotel and overnight stay.
3
Seville – Cordoba
Breakfast at the hotel.
Post breakfast, you will go on a full day tour to Cordoba. Explore the architectural and cultural treasures of Cordoba on a fascinating full-day tour from Seville. Wander the narrow alleyways of the Jewish Quarter and admire the Moorish magnificence of the architecture. Immerse yourself in the religious resplendence of the UNESCO World Heritage-listed Mosque-Cathedral of Cordoba and see one of Spain's few existing synagogues. Delve deeper into the Islamic heritage of the city with an interesting guide and enjoy a stress-free sojourn with a priority access pass.
Mosque-Cathedral of Cordoba: The Mosque–Cathedral of Córdoba, officially known by its ecclesiastical name, the Cathedral of Our Lady of the Assumption, is the cathedral of the Roman Catholic Diocese of Córdoba dedicated to the Assumption of Mary and located in the Spanish region of Andalusia.The Great Mosque of Cordoba represents a unique artistic achievement due to its size and the sheer boldness of the height of its ceilings. It is an irreplaceable testimony of the Caliphate of Cordoba and it is the most emblematic monument of Islamic religious architecture.
Alcazar Fortress of Don Pedro: This Alcazar or Moorish fortress is situated to the west of the walled town on the highest point of Carmona. Peter I had it restored in the 13th century, and it became one of his favorite palaces. The Catholic Monarchs erected the circular tower and embellished the royal quarters.This whole complex is accessed by a large double pointed horseshoe arch that still preserves remains of geometric paintings on the intrados of the same.The Lisbon earthquake of 1755 affected him greatly and since then the ruin has been progressive.
Back to Seville and overnight stay.
4
Seville – Cadiz
Breakfast at the hotel.
While preparing your visit to Seville and your trip to Andalusia, you might not have thought about going to Cadiz. The city is often forgotten in favor of Seville's more famous neighbors such as Cordoba and Granada. However, the city really deserves a day trip, as it's only about 1h30 by car from Seville. Here are the best places to visit in Cadiz.
Cádiz Cathedral- Cádiz Cathedral is a Roman Catholic Church in Cádiz, southern Spain, and the seat of the Diocese of Cadiz y Ceuta. It was built between 1722 and 1838. The cathedral was declared Bien de Interés Cultural in 1931. The Plaza de la Cathedral houses both the Cathedral and the Baroque Santiago church, built in 1635. There are some very beautiful Baroque images. The church is crowned with a dome of golden tiles which gives it an imposing appearance.
The Plaza de San Juan de Dios- The importance of the new cathedral means that Cádiz doesn't exactly have a 'main' square as such, but it is hard to look past the Plaza de San Juan de Dios when it comes to a major meeting point in this social city. The commercial center of the city since way back in the 16th century, the square opens out onto the harbor and the Atlantic and is home to a fascinating collection of buildings, among them the City Hall and a church that takes the same name as the square, that being the Church of San Juan de Dios. There is also a Burger King, if you're after a weird juxtaposition of the old and new.
The Roman Theatre- In Andalusia, the cradle of great artists, art is one of the most illustrious aspects. This is one of the reasons why, since time immemorial, there has been evidence of places in the city of Cadiz destined for the performance of plays. The Roman Theatre of Cadiz was built around 70 BC when Lucius Cornelius Balbo, a friend and adviser to Julius Caesar, decided with his nephew Balbo to extend the urban perimeter of Gades. This is why it is also known as Theatrum Balbi (Balbo Theatre). In this new neighborhood an amphitheater and a theatre were built, the latter being discovered in 1980 under the current El Pópulo district. The building was abandoned at the end of the 3rd century AD and was looted from the following century onwards, although until medieval times the remains of its powerful structure were used as warehouses, stables and dwellings. Another of its functions was to serve as a base for the Islamic fortress, mentioned in sources of the time as the "Castle of the Theatre", and later reconstructed by Alfonso X "the Wise" after the conquest of the city.
Tavira Tower - Watch tower from the eighteenth century, situated in the down town and the highest point of the city, turned today into a focal point of cultural interest. The tower has two exhibition halls, the Camera Obscura and the terrace from which you can enjoy wonderful views of CádizIts Cámara Obscura was the first one installed in Spain.
Back to Seville and overnight stay
5
Fly Back
Breakfast at the Hotel.
Time say "Good bye to Seville "post breakfast you will be picked up for your final transfer to Seville International Airport for your flight back to home with sweet memories.

As per mentioned in itinerary

As per mentioned in itinerary

English speaking tour guide

As per mentioned in itinerary
Visa
Click to view Visa information
General Terms
Please note that these packages are customizable, which means that you will be able to make changes to the itinerary/activity if you so desire. The final payment will be calculated as per the itinerary and inclusions reflected on the confirmatory e-mail sent to you.
Please expect to receive your vouchers 72 hours before your departure date (subject to full payment of your package cost).
Personal expenses such as laundry, telephone calls, room service, alcoholic beverages, mini bars etc., are not included.
In case your package needs to be canceled due to any natural calamity, weather conditions etc. Dook Travels shall strive to give you the maximum possible refund subject to the agreement made with our trade partners/vendors.
The passenger names in the booking form should be exactly as per passports. Dook Travels will not bear any liability for the name change fee, if incorrect names and ages have been added at the time of booking.
Please note that your package includes baggage as per airlines policy. Any addition in baggage will be charged separately.
Standard check-in time at the hotel is normally 2:00 pm and check-out is 11:00 am. An early check-in, or a late check-out is solely based on the discretion of the hotel.
In case the selected hotel is unavailable for booking, an alternate arrangement will be offered to the customer in another hotel of a similar category.
Certain hotels may ask for a security deposit during check-in, which is refundable at check-out subject to the hotel policy.This amount has to be deposited by the traveler.
Please note that Day at Leisure essentially implies that no sightseeing activities have been included for that day.
Kindly be on time for your activities, tours and transfers. Dook Travels will not be liable for missing any activity thus for any refund against it in such cases.
No refund either in part or in full will be made for any unused part of the services provided in the package.
The package price doesn't include special dinner or mandatory charges at times levied by the hotels especially during New Year and Christmas or any special occasions. Dook Travels shall try to communicate the same while booking the package. However Dook Travels may not have this information readily available all the time.
Our package price does not include GST and TCS. Applicable GST and TCS will be charged over and above the package price.
For queries regarding cancellations and refunds, please refer to our Cancellation Policy.
For any paid activity which is non-operational due to any unforeseen reason, we will process the refund & should reach the guest within 30 days refund requisition. Also, for any activity which is complementary and not charged to Dook Travels & guests, no refund will be processed.
Our package prices are on twin sharing accommodation basis thus published prices are applicable for minimum two persons and multiple of two thereon.
As per RBI guideline every foreign traveler has to provide us his PAN details. The Dollar component of package price will be taken out of your BTQ (Basic Travel Quota).
The tour cost does not include any Overseas Insurance Premium, but we strongly recommend buying Overseas Insurance Policy. The same after issuance is non refundable.
These terms are general terms for our tour packages.Any term mentioned in proposal shall be considered part of it and in case of discrepancy term mentioned in proposal shall prevail.
Disputes, if any, shall be subject to the exclusive jurisdiction of the courts in New Delhi.
Payment Policy
Payment schedule depends on destination, time of booking, inclusions, airline and hotel payment policy etc thus it is specific to your package bookining.
Payment schedule will be part of our proposal to you for the package.
If payment is not made as per the schedule provided in the first booking confirmation e-mail, Dook Travels reserves the right to cancel the booking after attempting to get in touch with you. Refunds would be as per the package cancellation policy.
Cancellation Policy
Once Booking received : INR 5000 (Per PAX) + actual Ticket cancellation + Hotel cancellation as per hotel policy+Visa fee if visa is applied.
60 – 45 Days prior to departure : 25 % of land cost + INR 5000 (Per PAX) + actual Ticket cancellation+Visa fee if visa is applied.
45 – 30 days prior to departure: 50% of land cost + INR 5000 (Per PAX) + actual Ticket cancellation+Visa fee if visa is applied.
30 – 10 days prior to departure: 75% of land cost + INR 5000 (Per PAX) + actual Ticket cancellation+Visa fee if visa is applied.
Within 10 days: Full.