Spain Grandeur 4 Nights Tour
Pkg Id

0000338

Destinations

1

Duration

4 Nights

Attractions

7

Price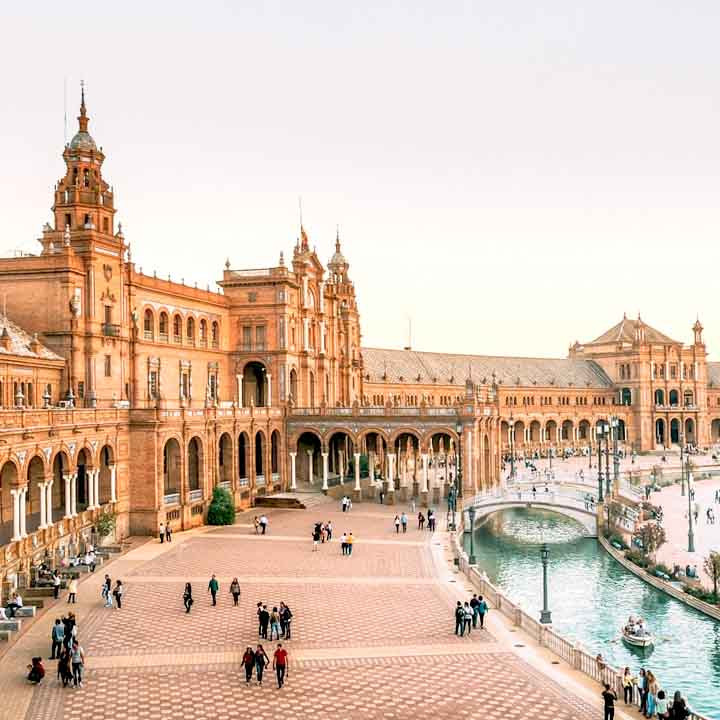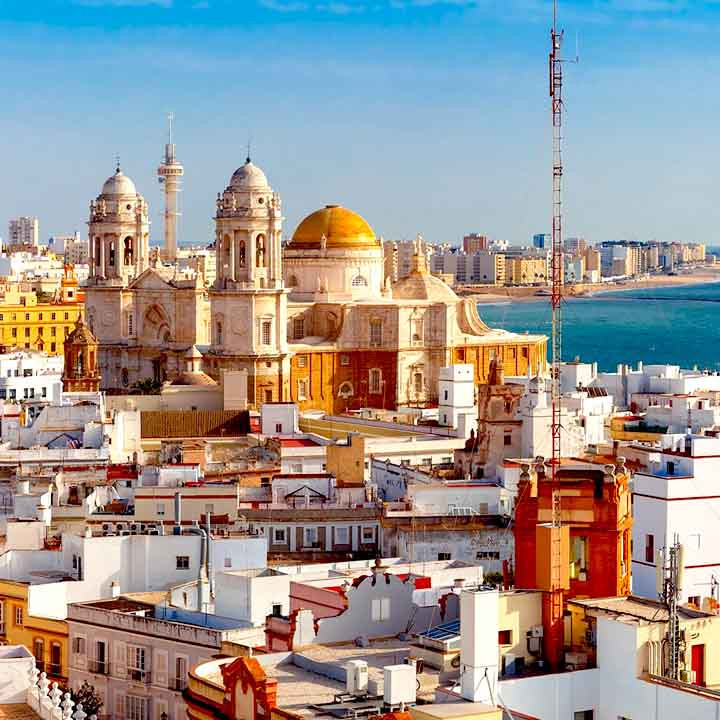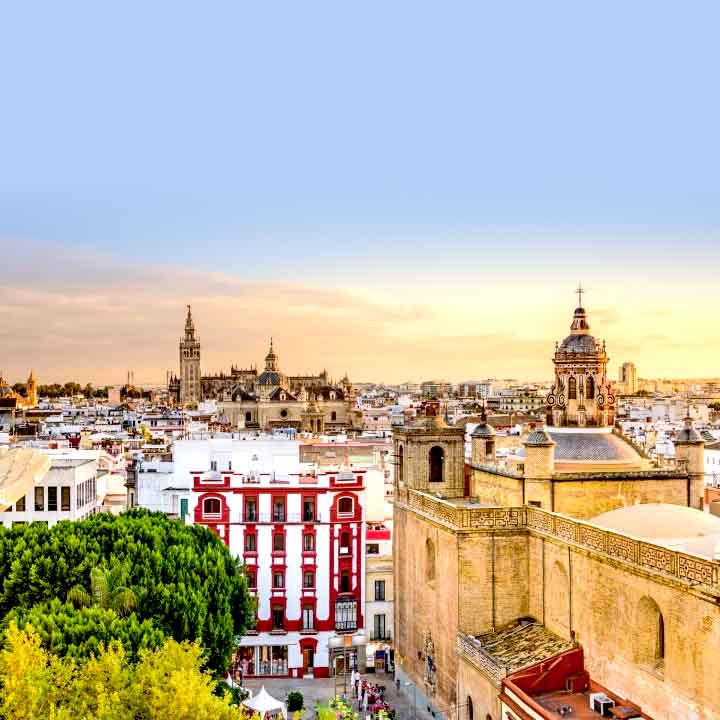 1
Arrival– Seville
Arrive at Seville International Airport.
Our Airport representative will meet & greet you.
Pick – up from Airport and transfer to the hotel in Seville.
Check-In to the hotel.
Evening you will picked up from the hotel for Pura Esencia Flamenco Shows in Tirana Tablaos and Flamenco Shows: No matter the time of year you can be sure that there will be flamenco shows happening across the city on any evening. A tablao is a good way to watch a show, with live musicians and either a bar or restaurant service. If you're staying near the Cathedral then Tablao El Arenal would be a good option, with two performances a night (each lasting 90 minutes) and a choice of tapas or full dinner.
People visiting Seville in spring or autumn can catch the Peñas de Guardia, a series of shows organized for local or up-and-coming flamenco talent.

Back to hotel and overnight stay.

2
Seville
Breakfast at the hotel.
After breakfast today it's time to visit the main hot spots of Seville. Seville Cathedral: This enormous structure is like a little world on its own, and you will lose hours staring in awe at the beautiful architectural flourishes, relics and historical curios. With 80 different chapels it's the largest cathedral in the world by volume and is a World Heritage site. There are also hints of the mosque that once stood on this spot, especially in the Court of the Orange trees on the north side, where Muslims once performed ablutions. The big photo opportunity inside is definitely the tomb of Christopher Columbus, but there's something spectacular at almost every turn.
La Giralda : An enduring emblem for Seville, the Giralda is the bell-tower right next-door to the Cathedral. It has Moorish origins, being the minaret for the former mosque. What's unusual about the tower is that 34 ramps lead to the top instead of a stairway. This was so that Muezzin who led the call to prayer could ride his horse up the tower instead of walking. To break up the monotony of the climb there are regular archaeological exhibits on the way up. And at the top the view is even better than you could hope for.
Evening visit Real Alcazar: This is a marvelous UNESCO-listed palace complex that is still in use by the Spanish royal family: their chambers, state rooms and halls are on the upper level and can be viewed if you pay a little extra. Nearly all of the complex is in the Mudéjar style (Moorish-inspired architecture for non-Islamic buildings) and was developed by Pedro the Cruel during the 14th-century.There are small glimpses of the original Almohad palace on the Patio del Yeso, for instance.
On a visit you'll walkfrom courtyard to beautiful courtyard, look up at carved coffered ceilings andsurround yourself in the lush greenery of the sprawling gardens. Fine views of thegrounds can be had from the elevated Grutesco Gallery.
Back to hotel andovernight stay.
3
Seville
Breakfast at the hotel.
Today post breakfast takea break and you will be picked up from the hotel by 12 PM for your half daytour in Seville. Maria Lusia Park and It's Botanical Garden: The largest green space in centralSeville originally belonged to the nearby San Telmo Palace, dating to the1500s.In the late-19th centurythe grounds were donated to the city by Infanta Luisa Fernanda and took theirpresent shape after a remodel in 1911. Maria Luisa is one of those parks with apleasant surprise down every path, whether it's an ornamental pond, pavilion,sculpture or tiled fountain.The park's broad avenueshave twin-rows of tall palm trees, while the body of the park, woven withlittle trails, is a large botanical garden with unusual species from around theworld.
Plaza de España: This colossal monument was built for theIbero-American Exposition in 1929 and stands within the Maria Luisa Park. It's a semi-circularplaza edged by a canal and overlooked by a large, curved palace. The palacecontains many of the city's administrative buildings, but the reason to visitis to walk beneath the gallery. You'll see busts ofimportant national figures but also little installations for every province inSpain. Using typical Sevillianazulejos (painted tiles) these displays showcase details like the local foodand famous monuments in each part of the country. It's like a quaintgeography lesson and will hold your attention for a good few minutes.
Triana Neighborhood:On the left bankof the Guadalquivir, opposite the old city is the Triana neighborhood. This is an earth part ofthe city, credited for many of the things people associate with Sevillianculture, like painted ceramics and flamenco. The main way in is via the IsabelBridge close to the bullfighting arena, here you can halt and see 250 years oldbullfighting arena and moving in the said direction will make you arrive at thePlaza de Altozano, which has a much-photographed statue of a flamenco dancer, a"monument to the flamenco art". Check out the area's Moorish revival andbaroque architecture and pop into one of the many tile and ceramics shops forauthentic azulejos tiles and take a scenic boat ride.
Backto hotel and overnight stay.
4
Seville (Full Day Museum Tour)
Breakfast at the hotel.
Post breakfast, you willgo on a full day tour of Museums. These are famous and must visit sites on yourtravel to Seville. Archaeological Museum: Thisattraction is part of ensemble built for the Ibero-American Exposition,collecting the most important artefacts from the archaeological sites aroundthe Seville Province. The most exciting findsare from the Bronze Age: For example, dating to the 8th century BC is Treasureof El Carambola. This hoard belonged toeither the local Tartessos Culture that lived on the banks of the GuadalquivirRiver, or to the Phoenicians. It's a hoard of 21 piecesof gold jewellery, and after replicas had been on display for many years theoriginal items were installed in 2012.
Museum of Arts and Traditions: Also part of the Exposition is thissurprisingly diverting museum covering Seville's traditional industries,households and customs. Here you'll see everydayitems from throughout Seville's history, including ceramics from the16th-century and large displays of swords and knives forged in the city. One section leads youthrough the various workshops relating to Seville's historic trades, such as tile-making,metalwork, lacework and barrel-making for the local sherry (fino).
Museum of Fine Arts: Walking around the older parts of thecity, the buildings that don't look Moorish have a highly ornate baroque style. This is because the 17th and 18th centuries werea time of great wealth for Seville, which gave rise to a whole culturalmovement. At the Museo de Bellas Artes you can see the painting and sculpturefrom the Sevillian School. Much of the work here is religious and comesfrom monasteries and convents around the city that were closed down in the19th-century and brought here.The building is also fabulous, with a series ofpeaceful courtyards.
Backto hotel and overnight stay.
5
Fly Back
Breakfast at the hotel.
Time say "Good bye to SEVILLE" post breakfast you will be picked up for your final transfer to Seville International Airport for your flight back to home with sweet memories.
As per mentioned in itinerary

As per mentioned in itinerary

English speaking tour guide

As per mentioned in itinerary
Visa
Click to view Visa information
General Terms
Please note that these packages are customizable, which means that you will be able to make changes to the itinerary/activity if you so desire. The final payment will be calculated as per the itinerary and inclusions reflected on the confirmatory e-mail sent to you.
Please expect to receive your vouchers 72 hours before your departure date (subject to full payment of your package cost).
Personal expenses such as laundry, telephone calls, room service, alcoholic beverages, mini bars etc., are not included.
In case your package needs to be canceled due to any natural calamity, weather conditions etc. Dook Travels shall strive to give you the maximum possible refund subject to the agreement made with our trade partners/vendors.
The passenger names in the booking form should be exactly as per passports. Dook Travels will not bear any liability for the name change fee, if incorrect names and ages have been added at the time of booking.
Please note that your package includes baggage as per airlines policy. Any addition in baggage will be charged separately.
Standard check-in time at the hotel is normally 2:00 pm and check-out is 11:00 am. An early check-in, or a late check-out is solely based on the discretion of the hotel.
In case the selected hotel is unavailable for booking, an alternate arrangement will be offered to the customer in another hotel of a similar category.
Certain hotels may ask for a security deposit during check-in, which is refundable at check-out subject to the hotel policy.This amount has to be deposited by the traveler.
Please note that Day at Leisure essentially implies that no sightseeing activities have been included for that day.
Kindly be on time for your activities, tours and transfers. Dook Travels will not be liable for missing any activity thus for any refund against it in such cases.
No refund either in part or in full will be made for any unused part of the services provided in the package.
The package price doesn't include special dinner or mandatory charges at times levied by the hotels especially during New Year and Christmas or any special occasions. Dook Travels shall try to communicate the same while booking the package. However Dook Travels may not have this information readily available all the time.
Our package price does not include GST and TCS. Applicable GST and TCS will be charged over and above the package price.
For queries regarding cancellations and refunds, please refer to our Cancellation Policy.
For any paid activity which is non-operational due to any unforeseen reason, we will process the refund & should reach the guest within 30 days refund requisition. Also, for any activity which is complementary and not charged to Dook Travels & guests, no refund will be processed.
Our package prices are on twin sharing accommodation basis thus published prices are applicable for minimum two persons and multiple of two thereon.
As per RBI guideline every foreign traveler has to provide us his PAN details. The Dollar component of package price will be taken out of your BTQ (Basic Travel Quota).
The tour cost does not include any Overseas Insurance Premium, but we strongly recommend buying Overseas Insurance Policy. The same after issuance is non refundable.
These terms are general terms for our tour packages.Any term mentioned in proposal shall be considered part of it and in case of discrepancy term mentioned in proposal shall prevail.
Disputes, if any, shall be subject to the exclusive jurisdiction of the courts in New Delhi.
Payment Policy
Payment schedule depends on destination, time of booking, inclusions, airline and hotel payment policy etc thus it is specific to your package bookining.
Payment schedule will be part of our proposal to you for the package.
If payment is not made as per the schedule provided in the first booking confirmation e-mail, Dook Travels reserves the right to cancel the booking after attempting to get in touch with you. Refunds would be as per the package cancellation policy.
Cancellation Policy
Once Booking received : INR 5000 (Per PAX) + actual Ticket cancellation + Hotel cancellation as per hotel policy+Visa fee if visa is applied.
60 – 45 Days prior to departure : 25 % of land cost + INR 5000 (Per PAX) + actual Ticket cancellation+Visa fee if visa is applied.
45 – 30 days prior to departure: 50% of land cost + INR 5000 (Per PAX) + actual Ticket cancellation+Visa fee if visa is applied.
30 – 10 days prior to departure: 75% of land cost + INR 5000 (Per PAX) + actual Ticket cancellation+Visa fee if visa is applied.
Within 10 days: Full.