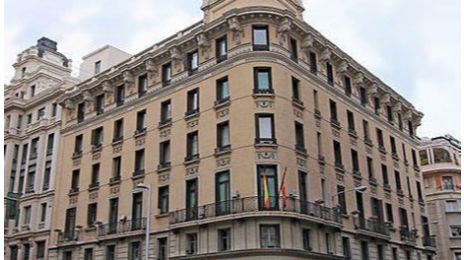 MADRID - GRAN VIA
The Gran Va street is an urban esplanade in central Madrid Spain. It leads from Calle de Alcal close to Plaza de Cibeles to Plaza de Espaa
Templo de Debod
The Temple of Debod is an ancient Egyptian temple that was dismantled and rebuilt in Madrid Spain.
San Jernimo el Real
San Jernimo el Real is a Roman Catholic church from the early 16th-century in central Madrid. The church which has undergone numerous remodelings and restorations over the centuries is the remaining structure of the Hieronymite monastery that once stood beside the royal palace of Buen Retiro of which a portion now serves as the Prado museum. Its proximity to the royal palace
Casa de las Conchas
The Casa de las Conchas is a historical building in Salamanca central Spain. It currently houses a public library. It was built from 1493 to 1517 by Rodrigo Arias de Maldonado a knight of the Order of Santiago de Compostela and a professor in the University of Salamanca. Its most peculiar feature is the faade mixing late Gothic and Plateresque style decorated with more than 300 shells sy
Church of San Nicolas of Madrid
Officially confirmed as the oldest church in the city San Nicols still retains a slightly renovated 12th-century Mudjar bell tower built by Muslims under Christian rule though the rest of the church was reconstructed 3 centuries later. The tiny interior contains paintings by Pedro de Mena and sculptures by Nicols Busi.