Exploring The Egyptian Gardens Of Eden!
From visiting a wonder of the ancient world, to swimming with dolphins, this is the ultimate Egyptian experience
Pkg Id

0000256

Destinations

7

Duration

13 Nights

Attractions

6

Price
Get awed by the imposing pyramids of Egypt, a wonder of the ancient world, get lost in the narrow streets of Cairo and discover the ruins underneath the waters of Alexandria. Wander around the temples of Luxor, camp out in the desert underneath the stars and swim with dolphins in the waters around Hurghada. The ultimate Egyptian experience awaits you. Explore the unexplored side of Egypt with Dook!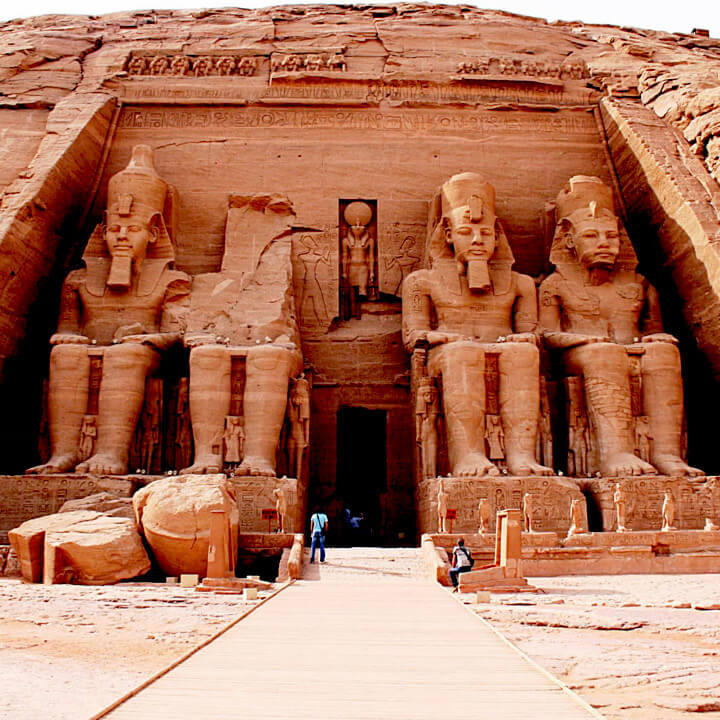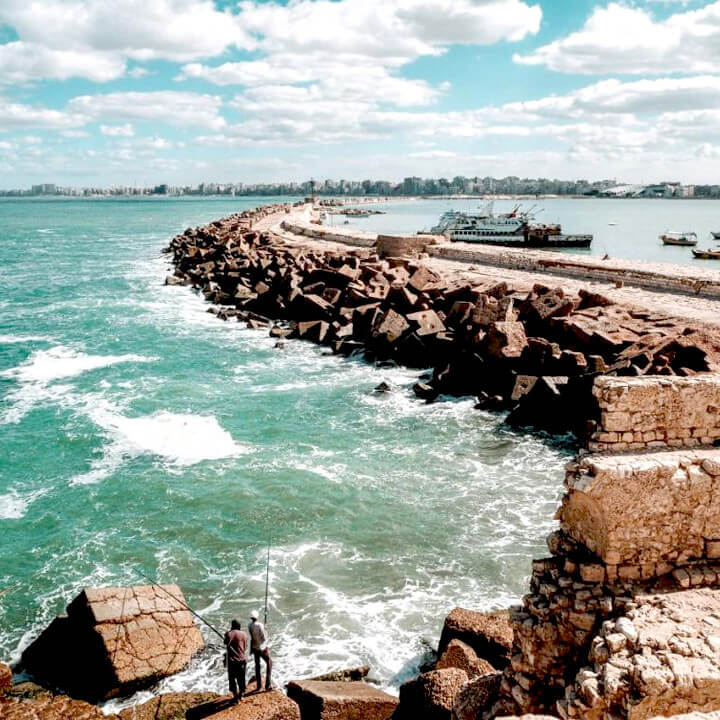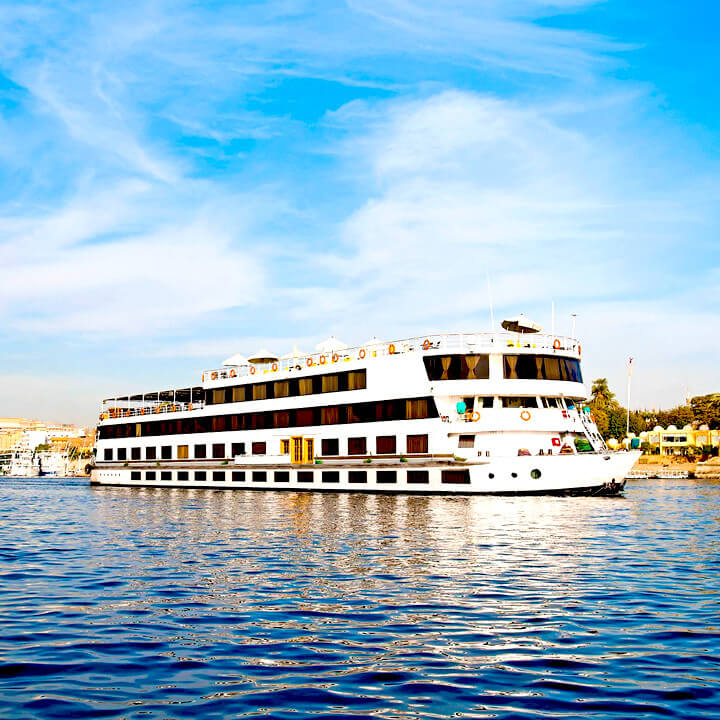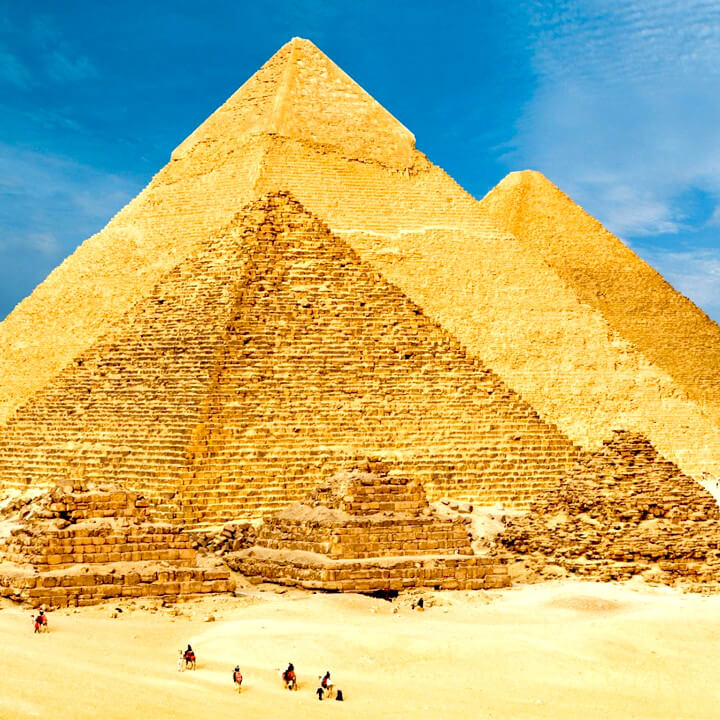 1
Cairo : Arrival
Welcome to the mystical land of Egypt! On your arrival at Cairo Airport, you will be met and greeted by a representative of the travel agent, for assistance with airport customs and other formalities.

On leaving the airport, you will be dropped off at the hotel.

Check in and relax, and visit

Mokatam hills

enjoy the remainder of the day at leisure, before spending a night of utter comfort in the hotel.

2
Explore Cairo
Breakfast at Hotel.
It is time to leave for an action packed day of sightseeing.
Cover Attractions such as- Egyptian Museum, Tahir Square
Have Lunch on your own and later-on visit- Cairo Citadel

& Islamic Cairo (Explore beautiful mosques within )

Enjoy your evening on your own
Return back to hotel and overnight stay at Hotel
3
Trip to Giza Pyramids
Breakfast at Hotel.
A Trip to Egypt could never be completed without using the Pyramids, the most famous ones are located in Giza and it's those you want to see.
It only takes 20 Minutes to get there from the City Center.
Visit Memphis and Saqqara and see the step Pyramids of Djoser and Mastaba of Mereruka
Return back to Cairo after Giza and Later-on explore Cairo - visit The Museum of Islamic Art or the Nilometer.
Return back to Hotel and Overnight stay at Hotel.
4
Day Trip to Alexnadria
Breakfast at Hotel.
Travel for the Day trip to Alexandria - It is a Mythical Place.
Visit to Museums and enjoy your day at Alexandria.
Return back to Hotel and Overnight stay at Hotel.
5
Travel to Aswan and start the Nile Cruise
Breakfast at Hotel
Take the Sleeper train from Cairo to Aswan on the Evening.
Reached to Aswan - Board the Cruise
Enjoy day at Cruise.
6
Abu Simbel
Breakfast at Hotel.
Visit the Temple- Most Ironic UNESCO temple World heritage (komombo Temple).
Later on sail to Edfu.
Overnight stay at Edfu and enjoy evening day ta Leisure.
7
Edfu and Luxor Temple
Breakfast at Cruise.
Visit Edfu Temple- The Temple of Kom Ombo.
Enjoy your day at Lesiure.
8
West Bank
Early Morning Breakfast.
Visit- The Valley of Kings, The Colossi of Memmon, The Queen Hatsheput Temple,
Board overnight Cruise to Luxur
Enjoy your remaining day at Cruise.
9
Swim with Dolphins in Hurghada
Breakfast at Cruise
Later-on visit to see Dozens of Dolphin Playing in the Water and Swimming along side on your boat.If the Weather allows you can even jump in and play with them.
Small Buffet Lunch is also served on Board, and if you are interested in driving, the crew will can organize a professor instructor for a trial lesson.
Return back to Cruise and transfer back to Hotel.
10
Hurghada - Diving trip
Breakfast at Hotel.
Spend a day out on the water learning to scuba dive on a 8-hour experience in Hurghada.
After Pick-up, you will be taken out on a boat to your first diving spot.
Once First dive ends, enjoy an onboard lunch.
Then move on for next dive, Later on in evening you will be returned to Shore.
Rest day at Lesiure.
11
Fly to Cairo and visit the El Fayoum and Wadi El Hitan
Have Breakfast and Fly back to Cairo and will take you to Bhariya Oasis.
Check-in at Hotel, have your lunch and travel to Black desert and the Natural hot springs in the valley of El Haize before driving to the quartz crystals at Crystal Mountain.
Later-on explore the winter desert national park, the most well-known desert destination in Egypt.
Arrive at White desert by sunset and our Bedouin staff will arrange dinner and desert caping.
12
Overnight in Wadi El- Hitan
Enjoy your breakfast at Desert at Bahariya Oasis.
Drive back to Wadi El Hitan from Bahariya.
Visit the Fossil and Climate, change museum,
Enjoy your lunch,watch the sunset in the desert then enjoy BBQ Dinner and watch the stars like and Arabian night.
13
Discover El Fayoum and Drive back to Cairo
Pick up from Wadi Hitan National park and transfer by air conditioned car to EL Fayoum oasis.
Visit the Magical lake,wadi El Rayan,oarum lake and Drive back to Cario.
14
Fly Back
Breakfast at Hotel
Drive back to Airport and fly back to your next destination.
As per mentioned in itinerary

As per mentioned in itinerary

English speaking tour guide

As per mentioned in itinerary
Visa
Click to view Visa information
General Terms
Please note that these packages are customizable, which means that you will be able to make changes to the itinerary/activity if you so desire. The final payment will be calculated as per the itinerary and inclusions reflected on the confirmatory e-mail sent to you.
Please expect to receive your vouchers 72 hours before your departure date (subject to full payment of your package cost).
Personal expenses such as laundry, telephone calls, room service, alcoholic beverages, mini bars etc., are not included.
In case your package needs to be canceled due to any natural calamity, weather conditions etc. Dook Travels shall strive to give you the maximum possible refund subject to the agreement made with our trade partners/vendors.
The passenger names in the booking form should be exactly as per passports. Dook Travels will not bear any liability for the name change fee, if incorrect names and ages have been added at the time of booking.
Please note that your package includes baggage as per airlines policy. Any addition in baggage will be charged separately.
Standard check-in time at the hotel is normally 2:00 pm and check-out is 11:00 am. An early check-in, or a late check-out is solely based on the discretion of the hotel.
In case the selected hotel is unavailable for booking, an alternate arrangement will be offered to the customer in another hotel of a similar category.
Certain hotels may ask for a security deposit during check-in, which is refundable at check-out subject to the hotel policy.This amount has to be deposited by the traveler.
Please note that Day at Leisure essentially implies that no sightseeing activities have been included for that day.
Kindly be on time for your activities, tours and transfers. Dook Travels will not be liable for missing any activity thus for any refund against it in such cases.
No refund either in part or in full will be made for any unused part of the services provided in the package.
The package price doesn't include special dinner or mandatory charges at times levied by the hotels especially during New Year and Christmas or any special occasions. Dook Travels shall try to communicate the same while booking the package. However Dook Travels may not have this information readily available all the time.
Our package price does not include GST and TCS. Applicable GST and TCS will be charged over and above the package price.
For queries regarding cancellations and refunds, please refer to our Cancellation Policy.
For any paid activity which is non-operational due to any unforeseen reason, we will process the refund & should reach the guest within 30 days refund requisition. Also, for any activity which is complementary and not charged to Dook Travels & guests, no refund will be processed.
Our package prices are on twin sharing accommodation basis thus published prices are applicable for minimum two persons and multiple of two thereon.
As per RBI guideline every foreign traveler has to provide us his PAN details. The Dollar component of package price will be taken out of your BTQ (Basic Travel Quota).
The tour cost does not include any Overseas Insurance Premium, but we strongly recommend buying Overseas Insurance Policy. The same after issuance is non refundable.
These terms are general terms for our tour packages.Any term mentioned in proposal shall be considered part of it and in case of discrepancy term mentioned in proposal shall prevail.
Disputes, if any, shall be subject to the exclusive jurisdiction of the courts in New Delhi.
Payment Policy
Payment schedule depends on destination, time of booking, inclusions, airline and hotel payment policy etc thus it is specific to your package bookining.
Payment schedule will be part of our proposal to you for the package.
If payment is not made as per the schedule provided in the first booking confirmation e-mail, Dook Travels reserves the right to cancel the booking after attempting to get in touch with you. Refunds would be as per the package cancellation policy.
Cancellation Policy
Once Booking received : INR 5000 (Per PAX) + actual Ticket cancellation + Hotel cancellation as per hotel policy+Visa fee if visa is applied.
60 – 45 Days prior to departure : 25 % of land cost + INR 5000 (Per PAX) + actual Ticket cancellation+Visa fee if visa is applied.
45 – 30 days prior to departure: 50% of land cost + INR 5000 (Per PAX) + actual Ticket cancellation+Visa fee if visa is applied.
30 – 10 days prior to departure: 75% of land cost + INR 5000 (Per PAX) + actual Ticket cancellation+Visa fee if visa is applied.
Within 10 days: Full.