10 Best Shopping Malls and Centers in Baku
Baku is the capital city of Azerbaijan and the central destination for shopping. There are many colourful and local markets in Baku where you can buy authentic goods. One of the most popular markets for shopping in Baku is the Green market, price in this market is much lower and it's easier to haggle around. There are local markets, malls, outlets and boutiques in many areas of the city. There are also many shopping complex and malls which sells exclusive items. The local markets are full of flea markets and stalls selling local items, snacks, clothes etc. Two of Baku's famous bazaars include Yasil and Taza Bazaar; there are also many others of which you will find it hard to get there without the help of a local. Many people do not speak English in the far off region, so it's best to always have a guide and local around you while you are shopping in Azerbaijan.
Read More: About Baku
Top Centers and Market Places for Shopping in Baku
1. Park Bulvar Mall
The multi storied shopping mall is located on downtown Baku Boulevard, Azerbaijan. It is just 5 minutes away from Sahil metro station of Baku. The building consists of six floors with two underground floors. It has over 99 stores, 6 movie hall theaters, 3D cinema, planetarium, luxury shops, photo studio, supermarket, restaurants, and cafes.
2. Nizami Street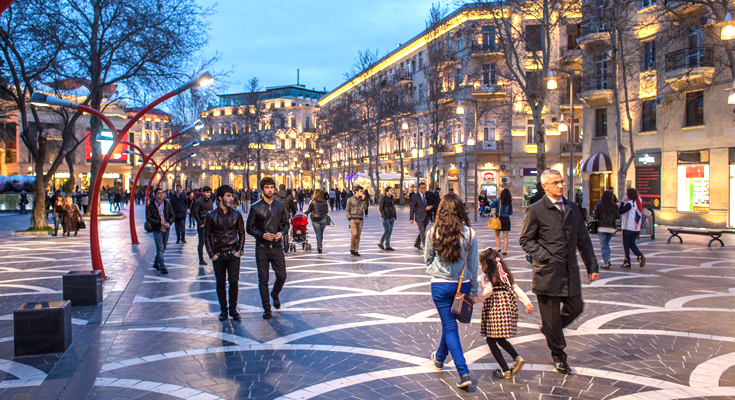 It is located in the centre of the capital city, Baku. It has a large pedestrian and shopping street in Baku. The place is rich with a variety of shops including stores, small outlets and supermarkets. It's a top spot for Baku Shopping Centers with high end-shops. It is also well known for its stylish and expensive cafes and restaurants. There are floors where you can find almost anything you imagine to shop.
3. Ganjlik Mall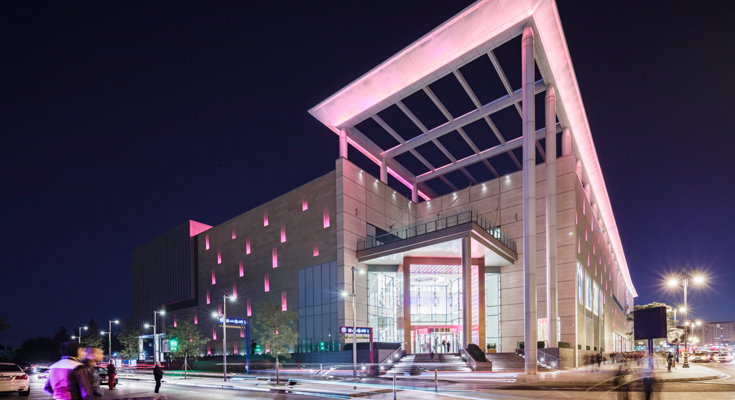 This is one of the largest malls in the city of Baku, and one of Baku Shopping Malls which is designed to appeal to a wide range of shoppers. It is built in a dramatic four-storey central atrium which has direct access from the metro and bus station. The mall is a leisure destination made with sandstone cladding, innovative lightings and includes a multiplex cinema, cafes, shops, entertainment centre and many others.
4. Port Baku Mall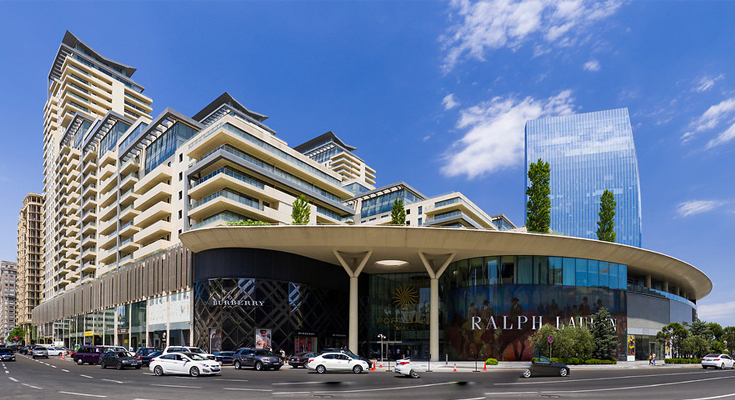 Port Baku Mall is another large mall shopping in Baku, with a total area of 32,000 sq.m. The mall is a centre of trends and has many branded stores such as Ralph Lauren, Chole, Givenchy, Stella McCartney, Tory Burch, Emilio Pucci and many others. You can also enjoy the delights of many cafes and restaurants where there service and food is exclusive.
5. 28 Mall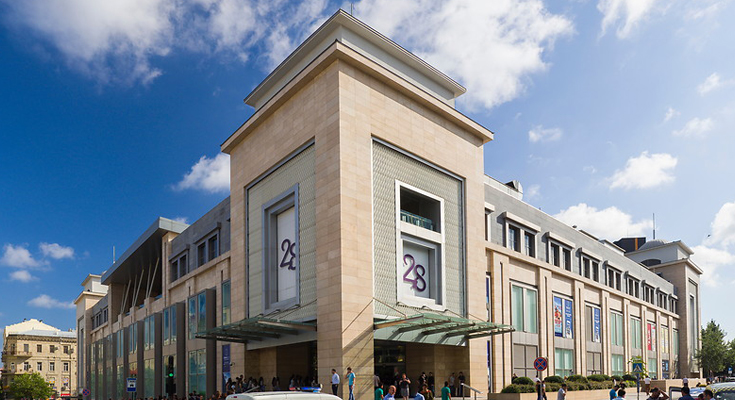 Shopping in Baku is exciting by the 28 Mall, which has an area of 25,000 sq.m. The mall is named after a nearby station named '28 May". It is located in the colourful districts of the city and comprises of 5 floors. The mall includes 70 international and local brands, with over 16 coffee shops, the entertainment zone and 350 car space parking.
6. Metro Park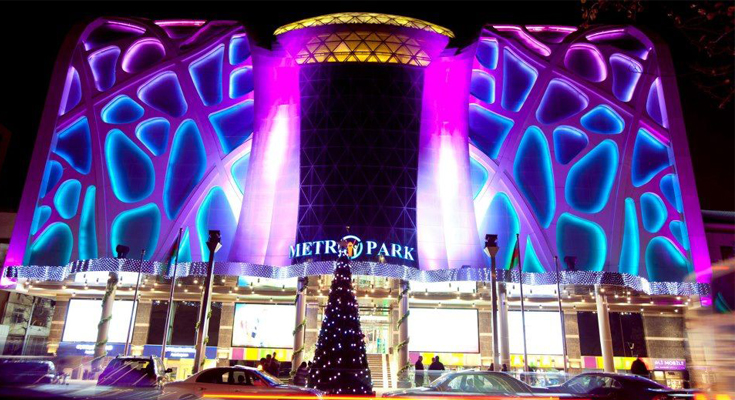 Metro Park Mall is located just opposite Narimanov metro station with different kinds of attractions and shopping stores. It has more than 60 stores of a shop where you can find Bata, Colin's, UCB, captain Silver, Mango, Penti and many others. Apart from clothes, you will find a large number of cosmetics, electronics and accessories stores with a number of cafes, restaurants etc.
7. Sadarak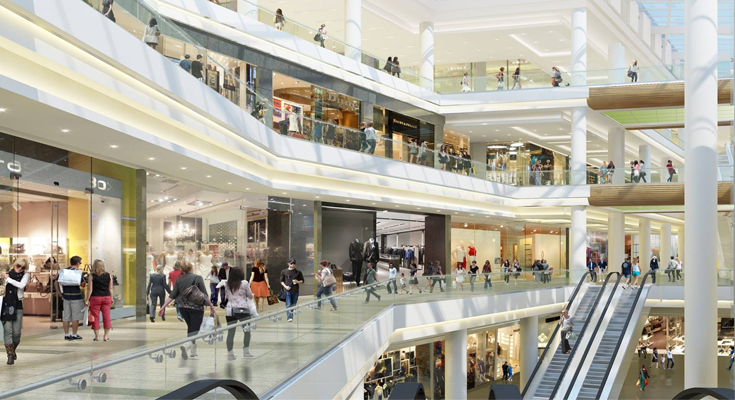 The Sardak Bazaar is big and you will find almost any items you like over here. It's a huge indoor market with high-quality items at a low price. In the market, you will find items imported from many countries, whether its clothes, makeup, jewellery, souvenirs, perfumes, home items or even food items such as fruits and vegetables etc.
8. Teze Bazaar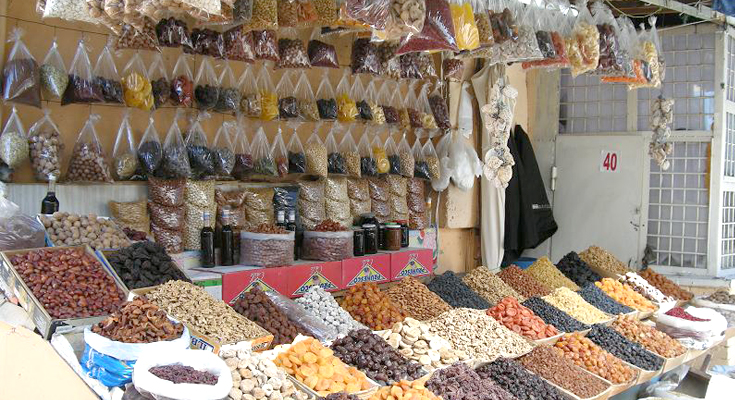 This is one of the oldest markets in Azerbaijan and located in the centre of Baku. Its 80 years of age and best known for its quality fresh food ranging from seafood, spices, dairy products, berries, vegetables, cheese, meat as well as the delicious black caviar. The market also has the number of shops selling local items where you can buy souvenirs, ceramics, pottery, carpets and silk scarves.
9. Green Market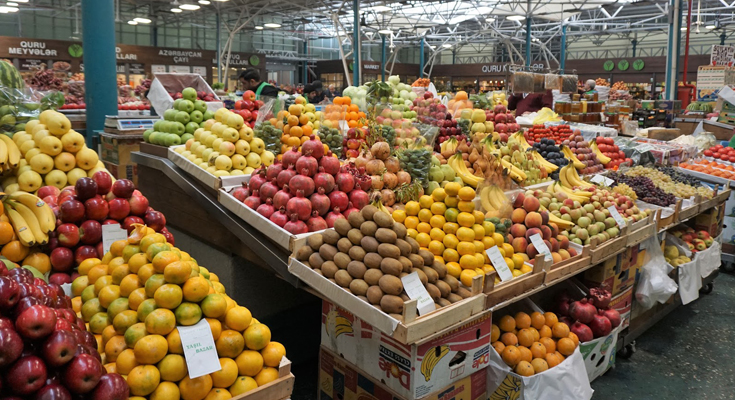 The Green Market is the most famous and popular local Markets in Baku where you can find the best fruits and vegetables, dairy products, meat and other local popular delicacies. The prices of the products in this market is low than any other supermarkets in Baku. You can also haggle for the price you think fit the items.
10. Baku Corner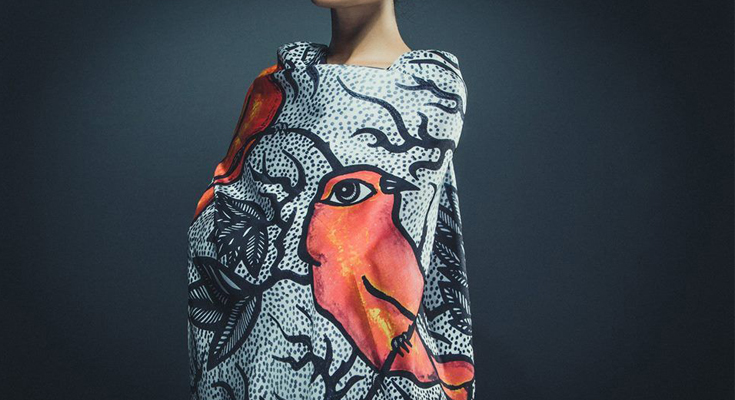 It offers a wide collection of products made by local and foreign artisans. It is made to help and promote the work by artisan women of Azerbaijan by promoting the local headscarf worn by women of this country called Keagayi which is woven from fine and soft silk.
Read More About Baku:
Attractions: Top Places to Visit in Baku
Tours: Baku Tours