Mezhyhirya Residence - A Luxurious Place beyond Your Imagination
Some places are too interesting to be ignored in a country or a city. Ukraine has several places that attract visitors. If you miss them on your tour to Ukraine, you feel like returning with an incomplete tour. This happens more so when you had read, heard and saw a lot about those places before.
Ukraine is located in Eastern Europe bordering the Black Sea, between Poland and Russia. In recent times Ukraine has emerged as a favorite travel destination on the crossroad between Central and Asian Europe. Ukraine offers multiple sightseeing options in popular cities like Kiev and Lviv. Apart from that Ukraine is also famous for skiing, hiking, fishing, and hunting. Loaded with mountain ranges, Ukraine sees a fair amount of visitors every year. Having said about Ukraine and it's attractions a bit, what we are going to do is to explore a sightseeing place in Ukraine. This is Mezhyhirya Residence in Kiev, the capital city of Ukraine. This is a unique sightseeing place. Let us see how.
Mezhyhirya Residence, Kiev
You would have read about certain rulers in some countries building giant palaces for their living. When these rulers fled or died and their palaces were opened to common people, they could experience a different world altogether. There is one such place in Kiev also and this is Mezhyhirya Residence.
The Mezhyhirya Residence is a lavish estate in Kiev. This is the place where the former prime minister and then the President of Ukraine Viktor Yanukovych lived from 2002 to February 2014. Viktor Yanukovych is an interesting character in the recent history of Ukraine. He is a politician who was elected as a president of Ukraine in 2010 but currently, he happens to be in exile in Russia and a wanted man by Ukraine on the charge of high treason. He fled Ukraine on 21st February 2014. Why did he flee? He fled because a violent revolution took place in the month of February on the streets of Kiev that resulted in the ousting of the elected president of that time. He left Ukraine and left his private estate behind which is now a tourist destination in Ukraine. After the ousting of Viktor Yanukovych, common people of Ukraine could see the giant estate or a private residence inside out.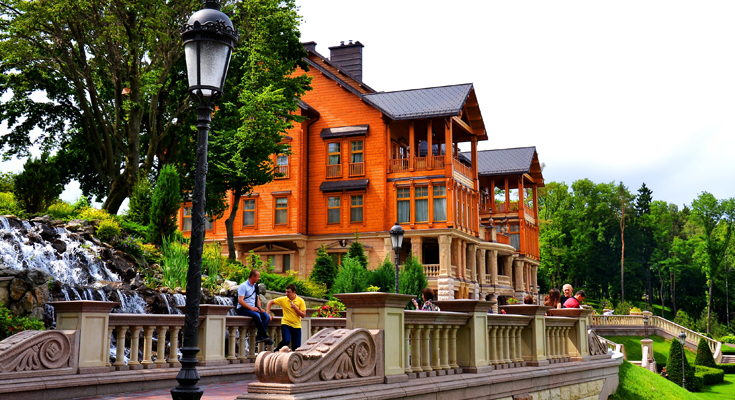 Mezhyhirya Residence - A Brief History
Today what is an estate was once a monastery till 1923 when it was closed. After that, it was used as a state government residence from 1935 onwards for a long period. In 2007 it was privatized but in 2014 Mezhuhirya was again under the state ownership.
Since 2014 when President Viktor Yanukovych had to flee Ukraine, the estate was transformed into Mezhyhirya Residence Museum. Mezhyhirya Residence was opened to thousands of Ukrainian who could come and visit this luxurious palace and park there for free.
Why Go to Mezhyhirya Residence
Today Mezhyhirya Residence which was once a private estate stands as a tourist attraction only 12 miles outside of Kiev. This is a monument today where visitors go to experience an extremely luxurious place. This is a lavish mansion spread over 350 acres of land. The estate is located on the banks of Dnieper River - the longest river of Ukraine and one of the longest rivers in Europe in Novi Petrivist village. Apart from visiting the museum, you can also spend some time in this beautiful village called Novi Petrivist in Vyshhorod Raion district.
Mezhyhirya Residence - A grand mansion is truly grand. You can understand this by knowing what all there is inside this luxurious estate. Well, there is a
• Yacht pier, • An underground shooting range, • An equestrian club, • A tennis court, • Hunting grounds • Recreation center with bowling and quite a few recreational facilities.
If that is not all enough to excite you then there is also an automobile museum inside the estate. In this museum, some of the favorite cars of Yanukovych which are exotic ones are kept there. Then there is
• A nine-hole golf course, • An ostrich farm, • A zoo with its kangaroos, emus, and peacocks, • Horse stables • A dog kennel, • Many fountains, • Lakes made by men, • A helicopter • A helicopter landing pad with hanger and more.
The list is not yet complete because there is a small church as well. So, you can easily understand that Mezhyhirya Residence is going to take ample time for you to explore all this and more.
There are Special Things to See inside the Residence
The residence was built in way that has almost everything one can imagine. So, you can go and see 3 special things of Mezhyhirya Residence Musuem on your Kiev Tour.
1. "Honka" Clubhouse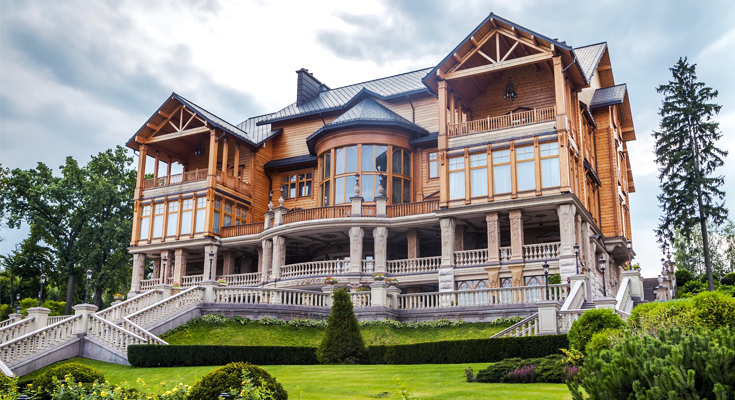 There is a lavish clubhouse named after a Finnish company "Honka" who built this clubhouse inside the residence. When you see an aerial view image of the clubhouse on your mobile screen, it looks stunning and spectacular. It looks more stunning and spectacular in real when you actually see it from your naked eyes.
However, you need to pay an extra $ 10 in addition to the $ 10 entrance fee to the residence to visit this extravagant clubhouse.
The 5 story clubhouse has a special piano, personalized brandy, an antique book that is believed to be the first book printed in Ukraine, vases made of seashells, Golden chandeliers, Barrel Organ, vintage car, motorcycles, paintings and Private 3D Cinema room and more.
2. A Replica of Spanish Galleon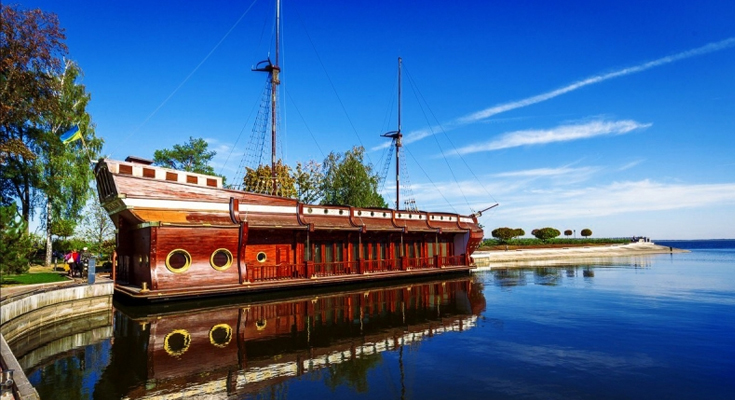 A barge was brought to the estate and positioned in the inner riverside harbor named 'Palace of the water'. A reception house was based on this barge for Viktor Yanukovych as per Ukrayinkska Pravda - A popular Ukrainian newspaper. There is a restaurant onboard, a gazebo, a guesthouse and a huge sculpture of a horse. You can see a personal office, a grand hall for the reception, dining hall with bottles of wine on the tables and other stuff made for the then-president of Ukraine. Don't forget to stare at 3 whopping costly (Ukrayinksa Pravda estimated the price of one chandelier worth $ 97,000) chandeliers in the niche of the ceiling of the main hall.
3. Books of Ukranian Literature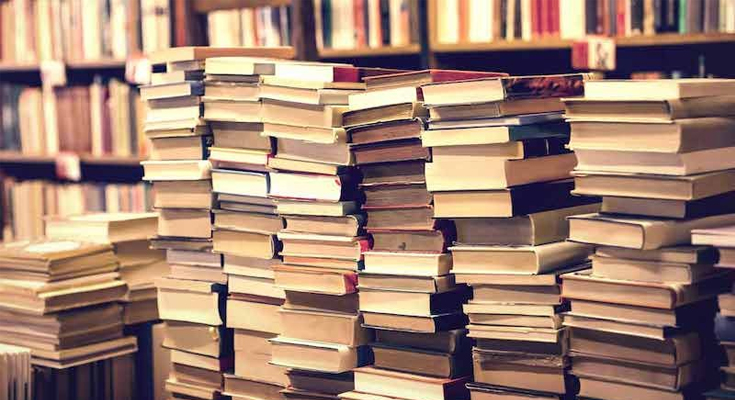 Yes, there is said to be a treasure of ancient Ukrainian books taking you to the history of literature in Ukraine. As per the newspaper agency Ukrayinksa Pravda's journalist, there is allegedly the first-ever printed book in Ukraine is also kept here. So, if you want to dive into these books for some time you can do that or at least have a glance at them.
Since mid-November of 2014, once a private residence has been transformed into a museum and so it is also called Mezhyhirya Residence Museum. Anyone by paying an entrance fee can go to the museum today and witness how lavish a private estate can be. If you only imagined how lavishly kings or emperors in old times built their palaces to live super luxurious lives then you can see a modern-day replica of that at Mezhyhirya Residence in Kiev.
Explore More: Attractions in Ukraine
Book Package: Ukraine Tour Package