Mariinsky Theater - The Best Center for Opera and Ballet Shows in St. Petersburg
Ballet and Opera entered Russia during the 18th century. Ballet is a dance performance that originated during the Italian Renaissance in the 15th century. Since then Ballet became a popular art form across the world. However, Russian ballet earned more reputation than other countries. Before 1689, ballet in Russia did not exist but once Russia was opened to the west, along with all other good things, art forms such as opera and ballet from the west also entered Russia. Initially, the ballet was not introduced in Russia as a form of entertainment but slowly Ballet started happening in theaters in Russia and became a form of entertainment to the common people. In the early 19th century, the theaters in Russia were opened to all and anyone who could afford a ticket could come and watch ballet and other art forms.
An opera is a form of theater where the music leads the play. Singers participate in opera but opera is different from musical theater. Opera also came to Russia from the west but slowly became a part of Russian culture. There are several opera theaters in Russia and some of them are world-famous. Here we will explore Mariinsky Theater in St. Petersburg, Russia which happens to be a world-class opera and Ballet Theater and also a popular tourist attraction.
Mariinsky Theater - A Brief History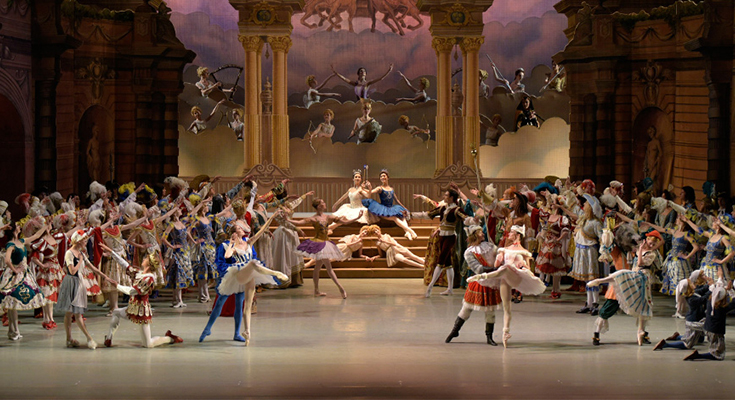 Mariinsky Theater is one of the early day's theaters in Russia. This historic theater was opened in 1860 in St. Petersburg, Russia. Mariinsky was created as a theater cum circus. Both theatrical and circus shows were held at Mariinsky Theater, St. Petersburg. The theater was named after tsar's wife and Empress Maria Alexandrovna. But since 1860 the name of the theater changed several times that reflects the political situations of those times in Russia. First, it was named Imperial Mariinsky Theater up to 1920, and then it was named 'State Academic Theater of Opera and Ballet' between 1920 and 1924. Again the name of the theater was changed to 'Leningrad State Academic Theater of opera and ballet' up to 1935. From 1935 to 1992 the name of the theater was 'Kirov State Academic Theater of opera and ballet' and from 1992 to now, the name of the theater is 'State Academic Mariinsky Theater'. Today the building is popular as Mariinsky Theater.
As Mariinsky Theater, Russia saw changes to its name several times, similarly, the theater has gone under reconstructions several times as well. The result of those reconstructions is that today are 3 buildings that include Mariinsky Theater, Mariinsky Concert Hall and the Mariinsky Theater second stage. All 3 look amazingly beautiful and have opera, ballet, music concerts, drama, and other performances and shows. This is the reason why Mariinsky is a popular tourist attraction in St. Petersburg Russia.
Famous Artists who Worked at Mariinsky Theater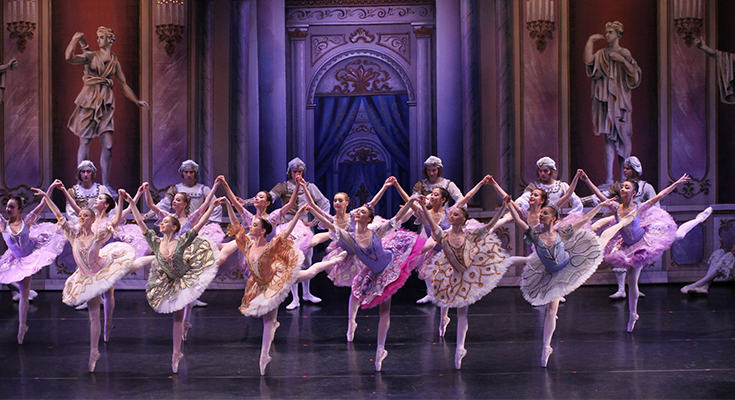 Mariinsky Theater is more famous because of some of the great artists who worked here. The theater has presented the world with a plethora of great artists. The list starts with Marius Petipa – a genius and master of ballet who spent some of his best years at Mariinsky. Another great artist who served here was Osip Petrov - the outstanding operatic bass-baritone of great range and founding father of the Russian operatic performing school. The list is long. However, some names that must be mentioned include Anna Pavlova – A true ballet legend, Mikhail Fokin – a great dancer and choreographer, Fyodor Chaliapin, Ivan Yershov, Medea and Nikolai Figner – all great singers worked and presented their true talent and skill to the world at Mariinsky Theater, St. Petersburg.
Why Should You Visit The Mariinsky Theater Now?
Historically, Mariinsky evolved as a great center of opera and ballet performances played by some great artists over the centuries. But in modern times also the theatre happens to be the first ranked theater (after Bolshoi in Moscow) in entire Russia. So, here are some compelling reasons why you should visit the Mariinsky Theater.
1. Mariinsky is Not Just a Theater, It is a Brand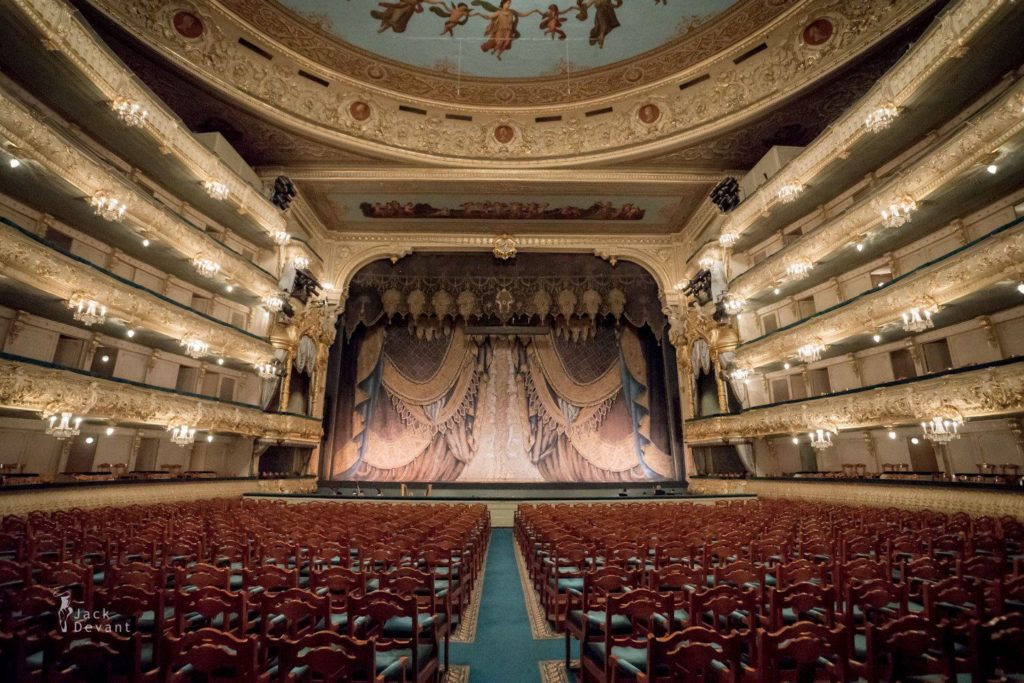 You have an obvious reason to go to Mariinsky for great ballet, opera, and musical performances. But what keeps Mariinsky on top of the mind of visitors is the brand value of it. If you want to feel to be among the aristocrats of St. Petersburg, then you must be at Mariinsky. No one comes from a royal family but just looking at their clothes you will feel they all come from a premiere background. At Mariinsky along with aristocrat locals, you can experience the high octane beats of the city's ballet within the walls of the theater.
2. The Green and White Building is a Treat to Watch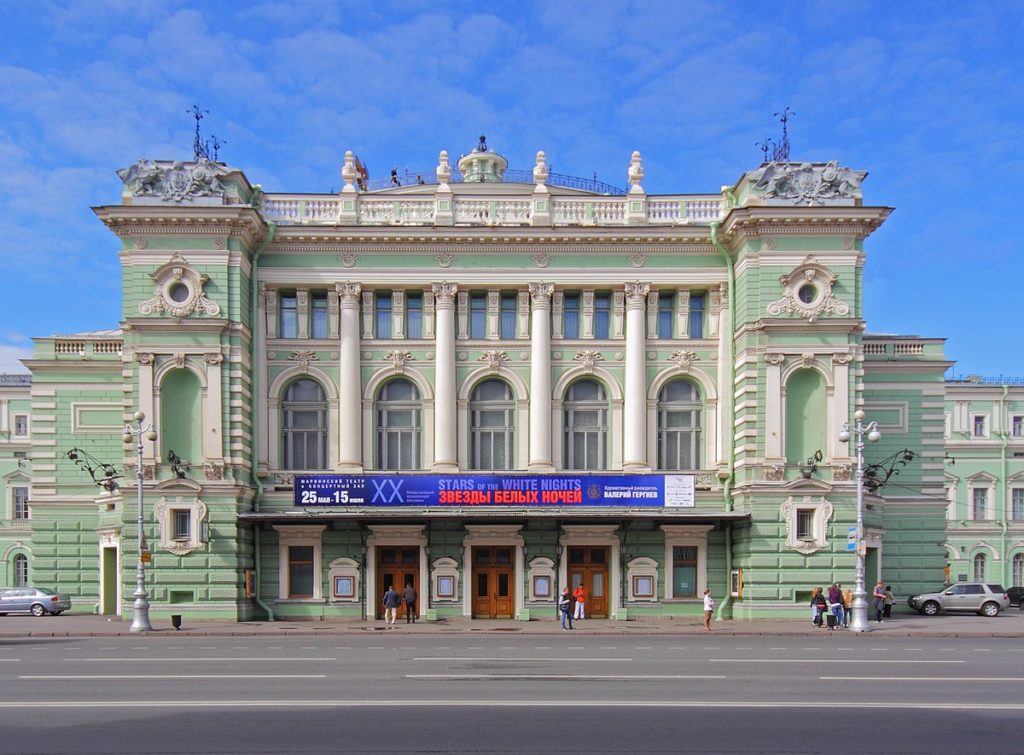 Not just the performances at Mariinsky Theater but the building of the main theatre itself is a treat to watch. If you want to witness the world's best ballet and opera stage then you can see one of those at Mariinsky. Interiors of the theater also give you the feeling of a royal palace where you are watching a performance like an emperor.
3. Mariinsky Concert Hall - A Unique Attraction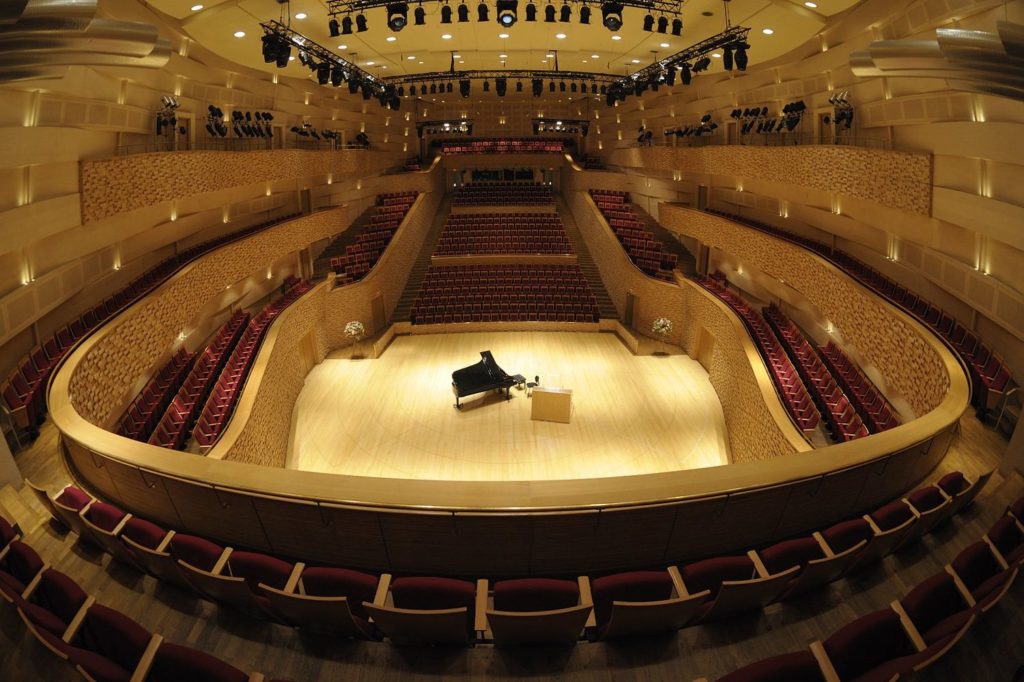 One of the 3 buildings of Mariinsky, Mariinsky Concert hall is a unique attraction center. This is a brilliant piece of design work. The hall has been specially constructed for music performances. The concert hall is said to be one of the halls in the world that has the best acoustics. This cradle shaped concert hall is a result of a fire that ravaged the workshops in the building in 2003 that destroyed almost entire costumes and sets being stored there. After this incident, the thought of building this concert hall on the site of old workshops came forward. In 2007 the Mariinsky Concert Hall was opened to the common public. Now, you can come here and see opera and ballet performances. But that is not all. You can listen to not just local orchestra and solo artists but you can also hear great performances by highly acclaimed orchestra groups from outside Russia.
4. Mariinsky Second Stage - A Newly Built Complex
Mariinsky Theater's second stage is the third building and the latest one of the lot. This is a beautiful multistory complex that was built in 2013. The building has been created for special theatrical requirements and sophisticated performances that require lots of equipment, technical tricks, and other things. This second stage of Mariinsky Theater, St. Petersburg is said to be too modern for this time, too ambitious and too restrained. The theater has 2000 seats and it provides facilities to more than 2500 staff members. This ultra-modern theatre made of metal and glasses is filled with ultra-modern facilities, giant rooms for doing rehearsals and makeups by the artists and the most comfortable sitting arrangements for the viewers. Mariinsky's second stage is the best place to enjoy a great opera and ballet show in St. Petersburg, Russia.
5. Three Venues - Once in a Lifetime Experience
Mariinsky Theater of Ballet consisting of 3 buildings is a great tourist attraction for the visitors. They are 3 buildings with 3 addresses but they are close to each other. When you are booking your show you must check whether your show will be played in Mariinsky Theater, the Mariinsky Concert Hall or the Mariinsky Theater second stage. These 3 beautifully designed and ultra-modern buildings offering great opera and ballet performances are attracting millions of visitors every year. You must go there too for a great time when you are in St. Petersburg on a Russia Tour.
Explore More: Attractions in Russia