Holy Trinity Russian Orthodox Cathedral
We have seen how Kyrgyzstan is full of landscapes offering a great time to the travellers. Kyrgyzstan is land for adventure lovers and Karakol is one of the major tourist destinations in Kyrgyzstan. One who loves skiing, trekking and hiking can start from Karakol. Karakol Ski base is one of the most famous Skiing places in entire Central Asia. Mountaineering in the high range of Tien Shan Mountain is a superb experience. We saw Nikolai Przhevalsky museum also in Karakol which is another tourist attraction in Karakol. In this article we will explore yet another place from Karakol which is a tourist attraction on Karakol, Kyrgyzstan. This is Holy Trinity Russian orthodox cathedral. This cathedral should be in your list of places to visit in Kyrgyzstan when you are on a Kyrgyzstan travel package or Bishkek Travel Package. Why we are saying this? Well, let us see.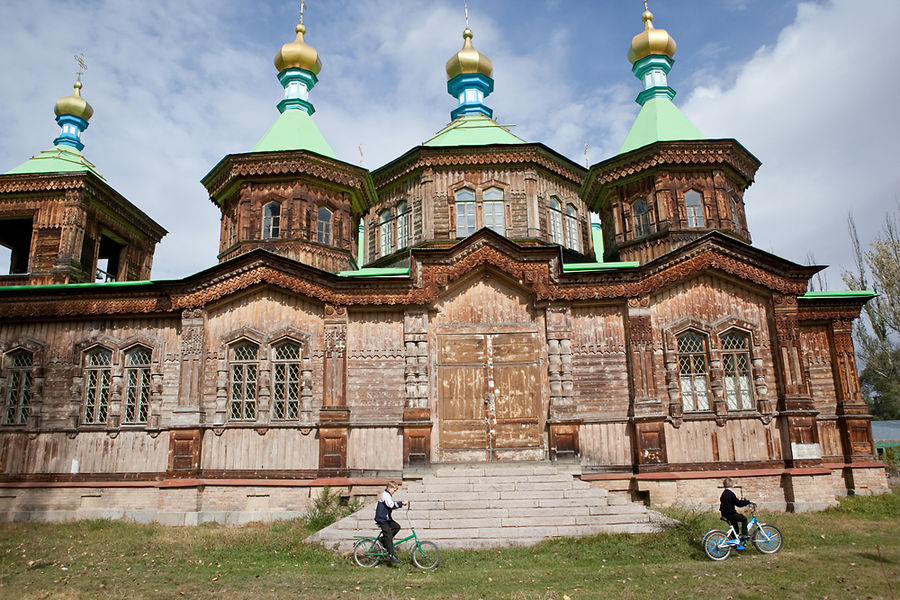 Russian Orthodox Cathedral was built of stoner in 1872, more than a century ago. It was then destroyed in 1890 by an earthquake and the current cathedral that you see was built of woods on a brick base. After destruction by earthquake it took six years to complete the Orthodox cathedral and thus it was finally completed in 1895. So, the Holy Trinity Russian Orthodox is quite an old master piece which also saw brutal deaths of monks here when they rose against Russia in early 1900. After the revolution in 1917 the cathedral was a place for education which had schools, ladies gym and institution for higher education. There was a sports hall, a theater, a dance hall and also a cola store. It served like this until in 1991 when Soviet Union collapsed and Kyrgyzstan got independence, then local authorities handed over the building back to the church. This is how historical part of Holy Trinity Russian Orthodox Cathedral went through.
The cathedral is located right in the center of Karakol. You can see the facade of church decorated with carvings and there is the bell tower located at the top of the church. You can also see traditional glided domes here of orthodox churches. Though the ancient churches had six pillars and this Holy Trinity Russian Orthodox church was built on the same principle but the church has only four pillars. You can also see the miraculous icon of the Mother of God which was created more than 110 years ago in Athens and you can also see the relics of the martyrs kept by the church. After renovation in 1980s the church opened for believers and for tourists as well. Today the church is quite a popular tourist attraction in Kyrgyzstan. One of the top church among 40 churches in Kyrgyzstan, you will find this church a great example of architecture and its fascinating history stands even today as witness to the commitment and dedication shown by the community of the faithful. This means that cathedral is not just for believers but is quite a delight for onlookers as well. You should visit the church as this represents the history of great old time and people.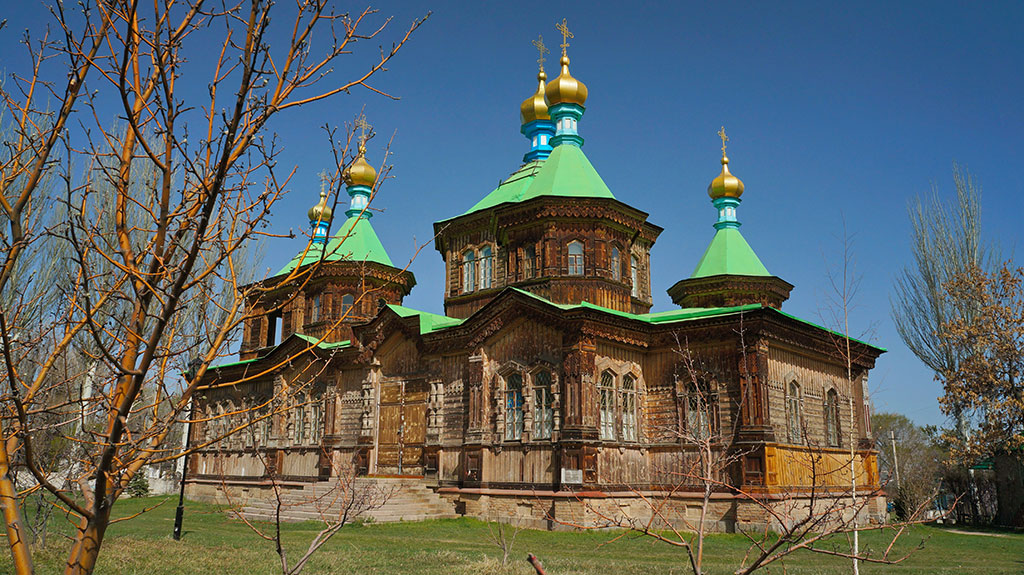 In Karakol you have plenty to see and experience. Issyk Kul Lake can be put on top. Skiing in the Karakol ski base can be another great experience. Canyon of fairy tale is yet another fascinating place to see. Among historical places you have Nikolai przhevalskey museum and Holy Trinity Russian Orthodox Cathedral. Given the fact that Karakol is not far from Bishkek, you can definitely enjoy these sites in Karakol before or after Bishkek. When you take Kyrgyzstan travel package or Bishkek travel package, go to Karakol region and enjoy multiple sights which includes Holy Trinity Russian Orthodox Cathedral.
Explore Kyrgyzstan Tour Packages with Dook International, check our Kyrgyzstan holiday packages as below –
Bishkek 3 Nights and 4 Days
Bishkek 4 Nights and 5 Days
Bishkek 5 Nights and 6 Days
Bishkek winter 3 Nights and 4 Days
Bishkek Winter 4 Nights and 5 Days
Bishkek Winter 5 Nights and 4 Days