Fashion in Uzbekistan - A Mix of Tradition and Modern Form
Fashion is something that changes as quickly as does time. Since humans made clothes they kept experimenting with dresses, accessories and much more with time to look better or new or for multiple other reasons. The best part is that each part on the planet had distinct dresses and way of wearing them. Some parts may have some similarities still everything about clothes was not common. Then people might not have called it fashion or something like this but as they went beyond just the need of clothes to cover the body, they would have started experimenting with their looks with clothes and accessories. Anyway we are not here to discuss the origin of fashion. We will see the fashion in current time. Fashion of which country? Well we will see a bit about Fashion in Uzbekistan. As today everything is becoming global and local at the same time, so is fashion. Let us see what is in fashion in Uzbekistan?
There was of course an old silk road with an image of caravan of camels on a dusty desert tracks. But that seems far too old now. If you go to visit any Central Asian country and Uzbekistan for that matter you will find new Uzbekistan and new Silk Road has emerged. The new Uzbekistan is diving into most contemporary fashion of the world. Uzbekistan, being one of the largest producer and exporter of cotton has an edge when it comes to making quality fabrics. Uzbekistan has seen too many emperors as nomadic invaders leaving their culture behind which made Uzbekistan a unique melting pot of cultures.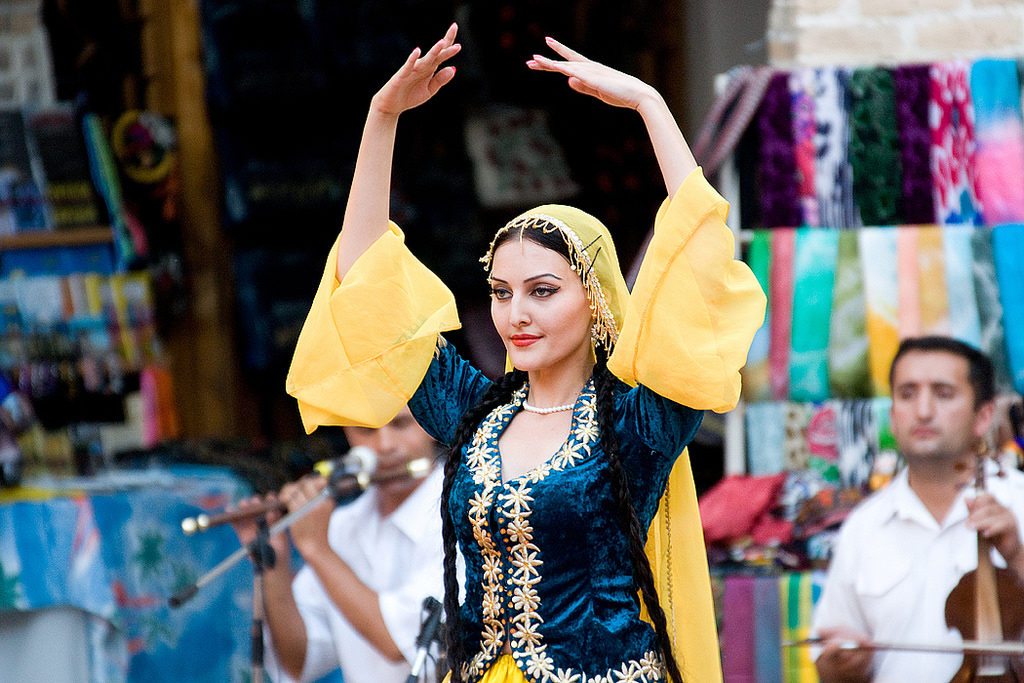 The fact that international textile practise has outdone almost all the local fashion in the world at a large scale is not necessarily true in case of Uzbekistan. The silk of Uzbekistan is widely popular in the world. We can see some of the most original and visually dramatic examples of Central Asian silk in the national textiles of Uzbekistan. One of these is a fabric embroidered with silk threads, called Suzani and another called Ikat, which is woven with hand-spun silk yarn. Every Suzani which means "embroidery" has a story to tell. They say that each Suzani often called a song on the material. In the modern time Gulnara Karimova took the century old textile tradition of Uzbekistan to another level by bringing style and enabling the emergence of young and bold designers. She at the top of her career brought 'Guli' luxury brand of fashion and accessories and rubbed shoulders with international celebrity at top catwalk shows. Unfortunately she had to pay the price of being daughter of president's eldest daughter and she was house arrested on the suspicion of corruption. But that has not stopped the fashion to grow in Uzbekistan. Other fleet of young fashion designers like Saida Amir are making it big in Uzbekistan.
Saida Amir who has graduated in design from London takes inspiration from century old tradition of Uzbekistan textile and put her own touch and twist of 21st century into them. Contemporary clothes made from traditional material is in trend in Uzbekistan. Decorative Suzani style embroidery in many designer's style has been used in New York, London, Milan and Paris. Just as the Silk Road was once a pathway for cultural exchange, today in the melting pot cities of London and New York these traditional textiles are taking on a contemporary resonance. So Uzbekistan which has its own culture of Silk and traditional textile has offered the new age designers to use the great quality fabric with their new imagination of 21st century to host their designs at the International level fashion events.
What about common people fashion in Uzbekistan? Since 90s women living in the urban cities of Uzbekistan have moved to urban suits, trousers and Jeans leaving old clothing for big occasions. People wearing modern clothes made of traditional fabric has become norm among common people as well in Uzbekistan. Young or old both love to wear modern day clothes. Among tourists though, traditional Uzbek Skullcaps, chapans (national robes), ethno - bags enjoy huge popularity.
Explore Uzbekistan Tour Packages with Dook International, check our Uzbekistan holiday packages as below –