FAM Tours to Azerbaijan for Travel Agents by Dook Travels
About Azerbaijan
Azerbaijan is a country in South Caucasus region of Eurasia. Located at the crossroads of Eastern Europe and Western Asia, Azerbaijan is popularly known as "Land of Fire". By all means, Azerbaijan is today a great travel destination and this is proved by the fact that number of foreign travelers visiting Azerbaijan is growing every year and the number crossed record high of more than 2,691,000 foreign visitors in 2017 alone. Azerbaijan has developing economy, good state infrastructure, popular sightseeing places, several resort area, popular mountain tourism and cool night life. Baku is the capital city of Azerbaijan and a historic city.
You can start your Azerbaijan trip from Baku, the most beautiful place in the country. Baku is popular for its old town and modern city center, flame towers, Icheri Sheher, architecture of Islamic styles from medieval period, Baku Boulevard, Gobustan National Park, Palace of Shaki Khans and more. Apart from Baku, don't forget to visit other places of attractions in Azerbaijan which include Absheron National Park, Astara, The Caspian Sea, Agh Goi National Park, Sheki, Gabala, Quba, Goyazan Mountain, Goygol Lake and more. There is now direct flight from Delhi to Baku on Azerbaijan Airlines as well making your travel super easy and comfortable.
Read More: About Azerbaijan
[caption id="attachment_3401" align="aligncenter" width="735"]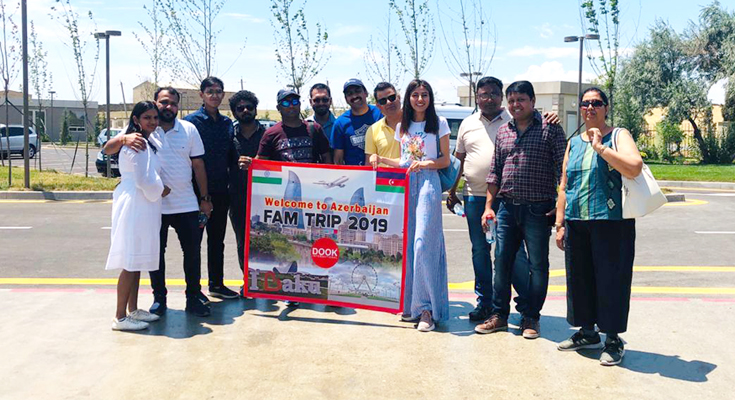 A Fam Trip to Azerbaijan Organized by Dook Travels
[/caption]
FAM Tours and Its Benefits
FAM Tours or Familiarization Tours are great way to expose a beautiful travel destination such as Azerbaijan to travel agents and their guests sometime organized by tour operators such as Dook Travels. FAM Trips are organized for travel agents to gain understanding of a travel destination in detail so that they can further sell the tour package to their clients because now they also know selling points of that particular destination. When travel agents see the place, facilities there, experience hotel stay, sightseeing points, taste the local food, enjoy a cruise ride, hike a mountain and do other stuff themselves, this becomes easier for them to make their clients understand what they can expect in a destination.
There are following benefits of FAM Tours:
1. The firsthand experience of a destination allows travel agents to deeply gather the pros and cons of that place. 2. Now, they are better equipped to suggest and plan a holiday trip for their clients. 3. FAM tours also establish greater relationship between various travel agents and one big tour operator or Travel Company. 4. Such tours raise the salability of the travel packages that travel agents are expected to sell offered by tour operator.
FAM tours are win-win situation for travel agents and travel company.
Beginning of FAM Tour to Baku, Azerbaijan by Your Own Dook Travels
Last month and this month your own Dook Travels organized FAM Tour to Baku, Azerbaijan. 1st Baku FAM tour's 33 participants left on 26th June from Delhi for a 2 Nights and 3 Days early check in and 2nd Baku FAM Tour from 3rd July for 2 Nights & 3 Days with Early Check in for 45 participants.
[caption id="attachment_3404" align="aligncenter" width="735"]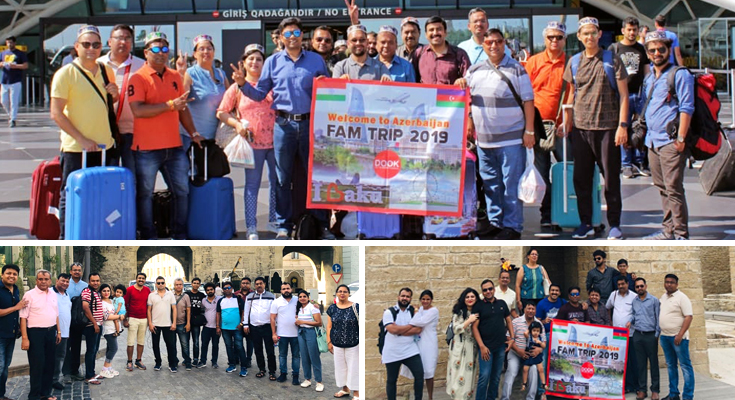 1st FAM Tour to Baku Organized by Dook Travels for 33 Travel Agents on 26th June 2019
[/caption]
Baku, Azerbaijan FAM Tour's highlights were following:
• Organized FAM tour through 1st DIRECT FLIGHT AZAL (Azerbaijan Airlines) to Baku, Azerbaijan. • Arranged comfortable stay for participants. • Indian Travel Agents Conference with Indian Ambassador at Indian Embassy in Baku, Azerbaijan. • Discussion about the Future of Tourism and relations between the two countries. • Arranged several training session for Travel Agents. • Open discussions with travel agents. • Problems handling and several other topics about the destination, clients' interest and care. • Arranged several hotels visit. • Popular Sights Visit and more.
[caption id="attachment_3406" align="aligncenter" width="735"]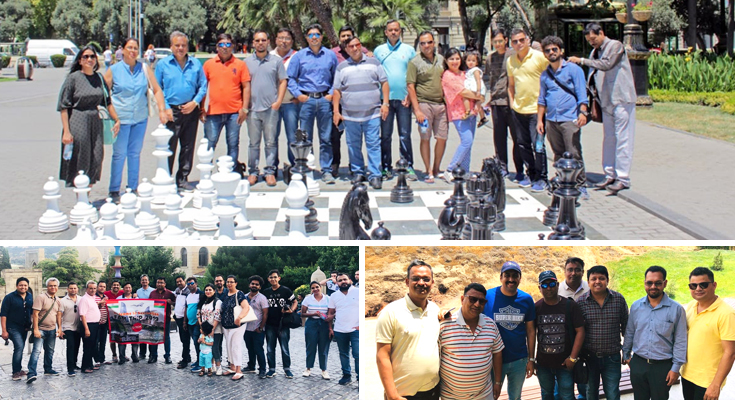 Different Sights Visit by Travel Agents during 1st Baku FAM Tour Organized by Dook Travels
[/caption]
There is great news that now there is direct flight to Baku from Delhi on Azerbaijan Airlines. This is quite in the favor of all the Indian travelers planning to go for a vacation or a trip to Baku from now on. Dook Travels organized its first 2 FAM tours via direct flights to Baku from Delhi only. Dook Travels looks forward to arrange more such FAM tours in this and coming months with fixed departures about which we keep everyone posted on all social media platforms as well.
[caption id="attachment_3402" align="aligncenter" width="735"]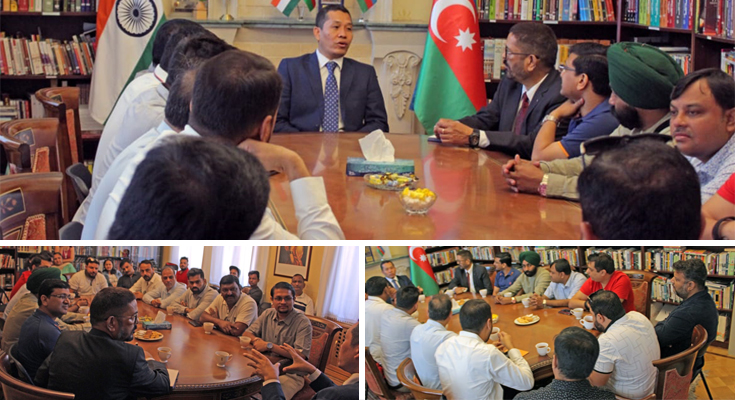 Indian Travel Agents Delegation at a Conference at Indian Embassy in Baku, Azerbaijan on 5th July 2019 during 2nd Baku FAM Tour Organized by Dook Travels for 45 Travel Agents

[/caption]
Dook Travels: A Leading Tour Operator
Dook Travels is a leading inbound and outbound tour operator headquartered in Delhi. We started our journey in 2011 and since then we have come a long way with prominent presence in CIS and India. Over the years your favorite travel company, Dook Travels has successfully arranged holiday trips to several destinations in CIS and European countries such as Azerbaijan, Russia, Uzbekistan, Kazakhstan, Armenia, Georgia, Ukraine, Tajikistan, Turkmenistan, Bulgaria, Serbia, Finland, Turkey, Romania, Belarus, Moldova and more. Our dedicated channel partners and happy customers speak the volume of our success.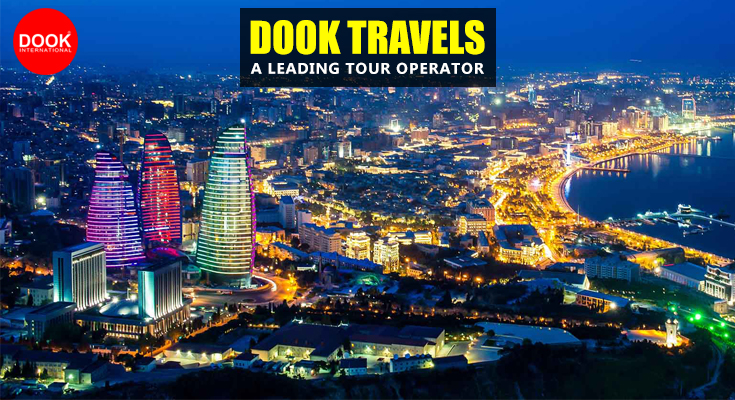 We have taken several initiatives for our customers and channel partners. Recent one in the list is the FAM Tour to Baku for travel agents. The objective of these FAM Tours to Baku is to introduce this amazing travel destination to our travel agents so that they get familiarized with the destination well and communicate the same with customers. We offer best travel packages and design them in such a way that each traveler is left with a lifetime memory and experience at the end of their trip.
Why Choose Dook for Best Azerbaijan Tour Experience
Azerbaijan is still an unexplored destination. Only in recent years travelers from across the world have started exploring Azerbaijan. The country is quite affordable and now there is direct flight from Delhi to Baku, the capital city of Azerbaijan as well. But that is not all why you should visit Azerbaijan; there is everything in Azerbaijan one may wish for. Azerbaijan has a city called Baku which is modern and historic at the same time. Flame towers are the attraction point of modern Baku and old town and monuments there represent history of Baku. Adventure lovers can go hiking in Caucasus Mountain and resorts along the Caspian Sea are for a relaxed time.
Know More: Top Attractions in Azerbaijan
Now, why choose Dook for best Azerbaijan Trip? Well, whatever you are looking for in your travel package is already there in Azerbaijan Packages offered by Dook Travels. We offer fixed departures, visa support, transfers, travel guides, best hotels and comfortable stays, popular and off beat sightseeing, regular and customized itineraries. But more than these services we offer you best price and before and after travel experience that sets us apart from the competition. You will enjoy an Azerbaijan trip for sure and if you travel with Dook Travels, you will choose us every time you plan an Azerbaijan tour in future.
Book Package Now! Azerbaijan Tour Package