Ever visited a place that's pleasantly tropical, exotic, refreshing, cultural, steeped in traditions yet ultra-modern? Thailand is truly that place to be. Considered a top vacation spot for many globetrotters around the world, Thailand is packed with too much awesomeness to glue onto the 'must-do' list. The country is the heart of Southeast Asia and the most visited in the region. Through its ever-tempting Thai smile, even the name of Thailand continues to appeal to millions of visitors from across the world as it is one particular chunk of Southeast Asia that truly has it all! From the exciting energy of Bangkok and the thriving nightlife of Pattaya to soothing Thailand Tourist Attractions like Koh Samui and Krabi, from appetizing street food and markets of Phuket to glittering temples dotting across all the cities, you are sure to get spoilt for choices. Find a part of this exotic and exciting world that satiates your wanderlust and be ready to be awed by the magnificence of these Thailand tourist places, always ready to be explored.

Over the years, Thailand has seen a consistent surge in the number of travellers and there has been no stop to the growing numbers. Thanks to Thailand's glittering capital Bangkok which is speeding with modern times and is certainly living up to its reputation of being the top travel hotspot in Southeast Asia. The places to visit in Bangkok are visually beautiful, colossal and impressive while each one of them creates a perfect balance between the ancient and contemporary preferences. Bangkok's glittering temples, colourful floating markets and interesting night markets, scrumptious Thai street food and a refreshingly modern vibe come together as a blissful package. Still wondering why exactly travellers from all over the world flock here? Read ahead to find out the Top Bangkok Tourist Attractions!

To help you figure out where to go and what to do, we have picked the best places to visit in Thailand and things to do in Bangkok. We guarantee that each one of the mentioned Thailand attractions is absolutely unique and soul-satisfying.

Top Places to Visit in Thailand and Bangkok: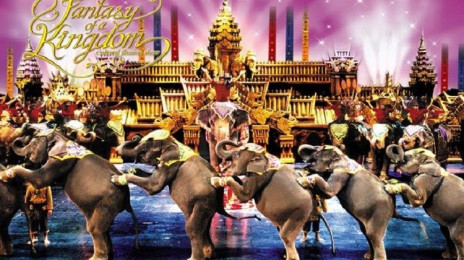 Phuket FantaSea
Phuket FantaSea is a Thai nighttime cultural theme park located on the island of Phuket in the south of the country. The park covers an area of 60 acres and includes a Thai culture theatrical show a theme buffet restaurant and a shopping street. The park was created at a cost of over THB 3500 million and was opened to the public on 20 December 1998.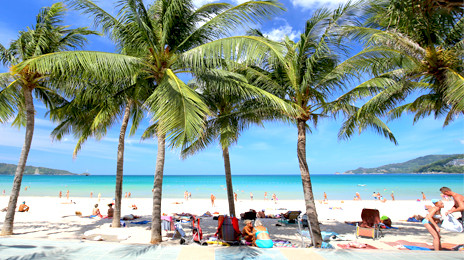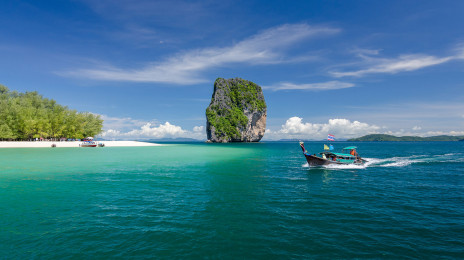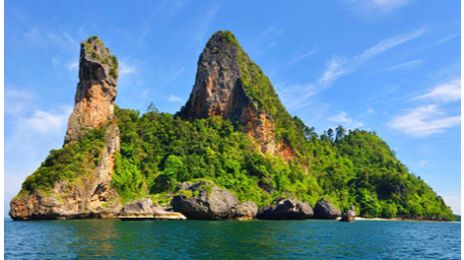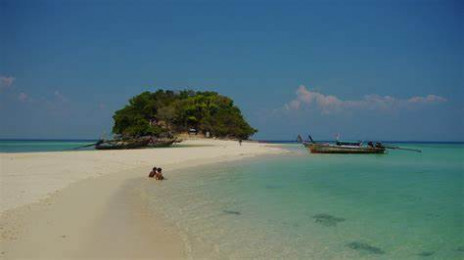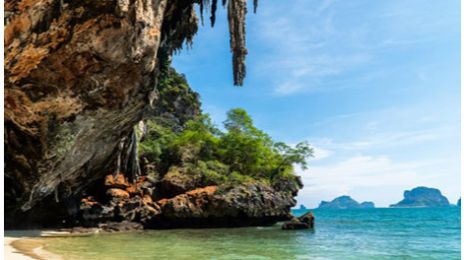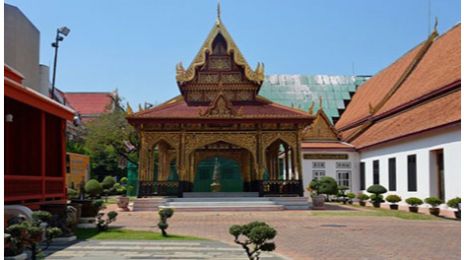 Bangkok National Museum
The Bangkok National Museum is the main branch museum of the National Museums in Thailand and also one of the largest museums in Southeast Asia. It features exhibits of Thai art and history. It occupies the former palace of the vice king set between Thammasat University and the National Theater facing Sanam Luang.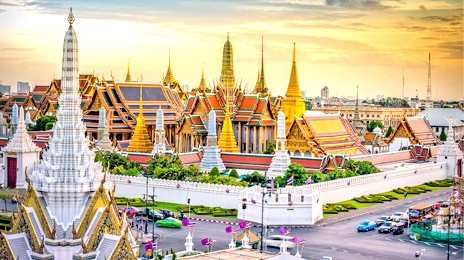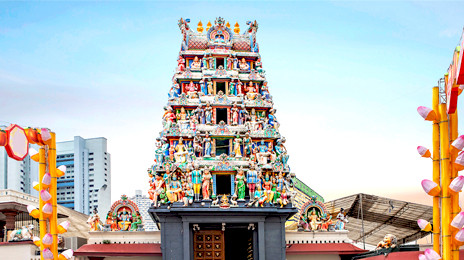 Mariamman Temple Bangkok
Mariamman Temple also known as Maha Uma Devi Temple in Si Lom known as Wat Khaek Silom Khaek being a term albeit one increasingly perceived as offensive used for people of Indian origin is a South Indian architecture style Hindu temple in Bangkok Thailand. It was built in 1879 by Vaithi Padayatchi a Tamil Hindu immigrant.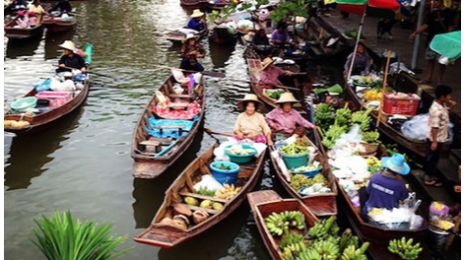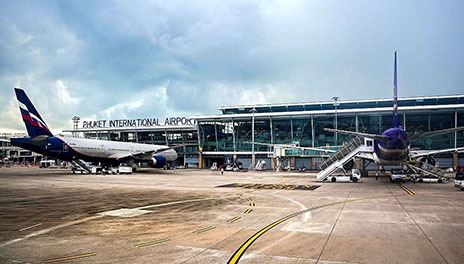 Phuket International Airport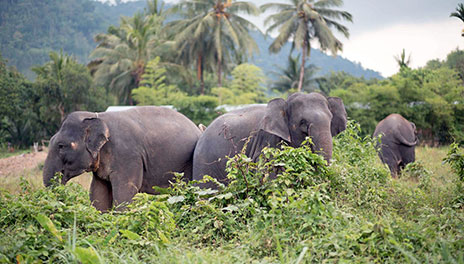 Phang Nga Elephant Park
The Phang Nga Elephant Park is a small family-run park. Our family has cared for elephants for over 150 years and we opened the park in 2015 so that we could keep our elephants in a caring and stress-free environment and give our visitors an extraordinary and life-enhancing experience. We are dedicated to providing our elephants with the highest quality of life possible and our stro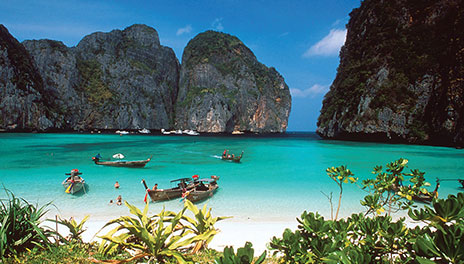 Ko Phi Phi Don
Ko Phi Phi Don is the largest of the islands in the Ko Phi Phi archipelago in Thailand. Phi Phi Don is 9.73 km 8 kilometres in length and 3.5 kilometres wide. Part of the islands are administratively part of Ao Nang in Krabi Province. It is the only island in the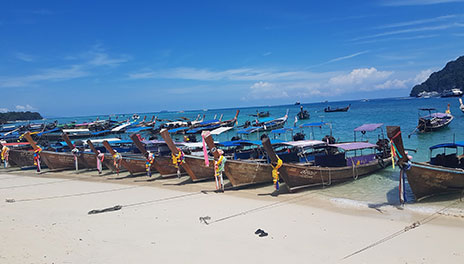 Phi Phi Island Boat Tours
Discover Phi Phi with a Private Boat Tour. Enjoy the day Island Hopping with our custom-built trips designed exclusively for your group. Use our interactive map of Phi Phi Island to quickly learn about each stop so you can See and Do More We tailor the day to your needs and are happy to accommodate special requests. Want to avoid the crowds Snorkel with reef sharks Explore hidd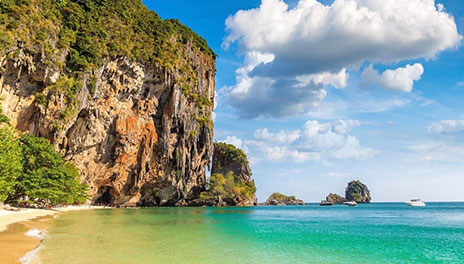 Ao Nang Beach
Aonang Beach Home is located 10 metres from Ao Nang Beach. It offers modern air-conditioned rooms with free Wi-Fi and a private balcony. Guests can organise sightseeing trips at the tour desk or indulge in massage treatments. The property is a 15-minute drive to Tiger Cave Temple and a 30-minute drive to Krabi Airport. Krabi Bus Terminal is a 40-minute drive away. Rooms at Aona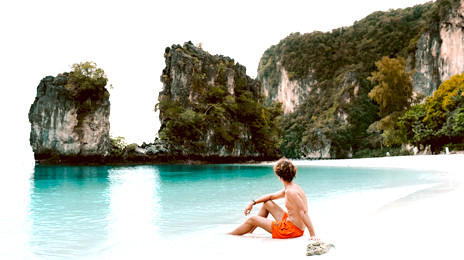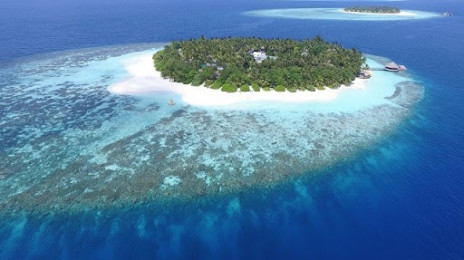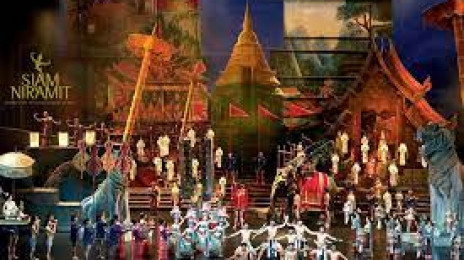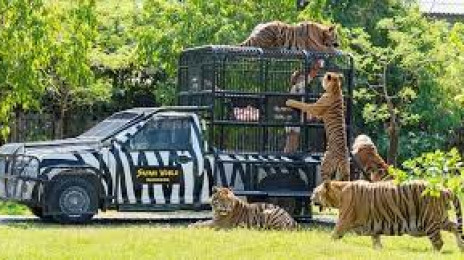 Safari World
On the outskirts of Bangkok Safari World offers a drive-through range for seeing by car or one of the parks coaches. Animal shows including a marine park orangutan boxing and a cowboy stunt display are held daily.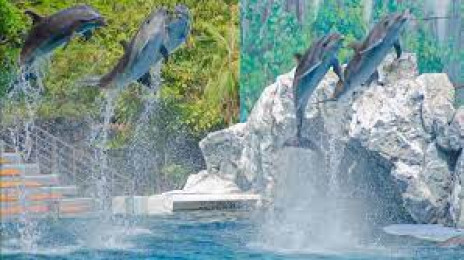 Mu Koh Angthong National Marine Park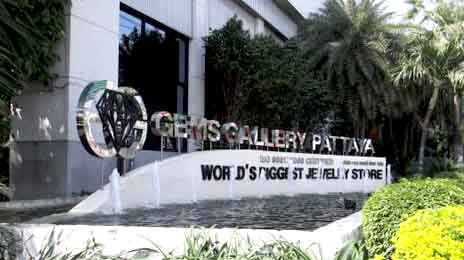 Gems Gallery Pattaya
Gems Gallery Pattaya is an affiliate to the GEMS GALLERY Group of companies one of the top local jeweler with expertise in the jewelry industry since 1987.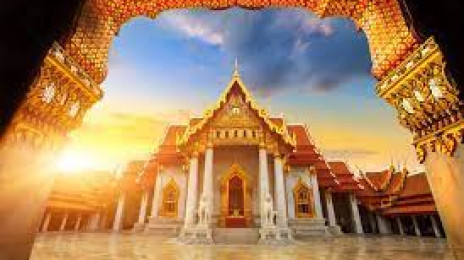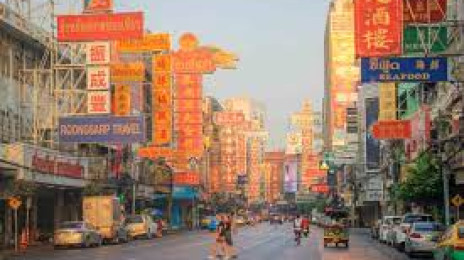 Chinatown - Bangkok
This is the oldest district in Bangkok since Chinese merchants moved to this area in the early 1780s when the city was founded.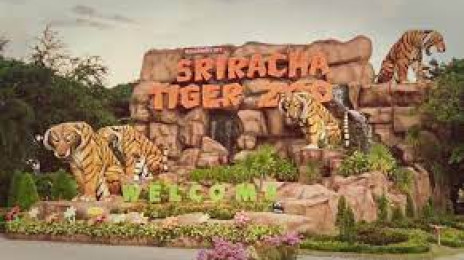 Sriracha Tiger Zoo
The Sriracha Tiger Zoo is a zoo in Sri Racha a city on the outskirts of Pattaya a seaside city in Chonburi Province Thailand. It is about 97 km from Bangkok. The zoo claims a population of 200 tigers and around 10000 crocodiles the largest such populations in the world. Admission in 2009 was THB350 for foreigners and THB120 for Thais.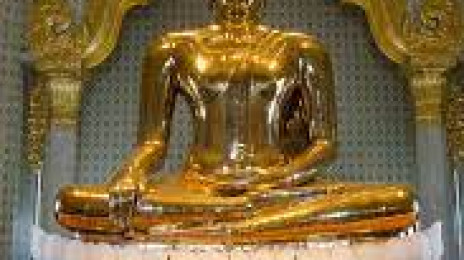 Golden Buddha
The Golden Buddha officially titled Phra Phuttha Maha Suwanna Patimakon commonly known in Thai as Phra Sukhothai Traimit is a gold Maravijaya Attitude seated Buddharupa statue with a weight of 5.5 tonnes. It is located in the temple of Wat Traimit Bangkok Thailand. At one point in its history the statue was covered with a layer of stucco and coloured glass to conceal it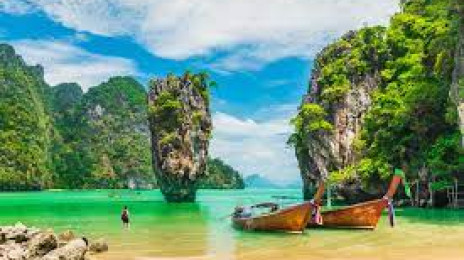 Phang Nga Bay
Phang Nga Bay is a 400 km bay in the Strait of Malacca between the island of Phuket and the mainland of the Kra Isthmus of southern Thailand. Since 1981 an extensive section of the bay has been protected as the Ao Phang Nga National Park. The park is in Phang Nga Province at 0817N 09836E.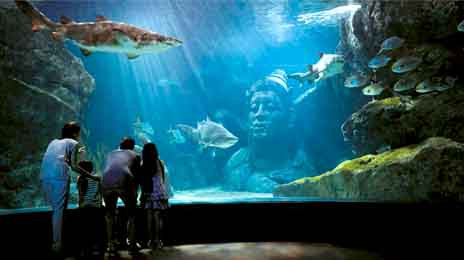 Siam Ocean World
Sea Life Bangkok Ocean World is an aquarium in Bangkok Thailand the largest in South East Asia. It covers approximately 10000 square meters with hundreds of different species on display in exhibits totalling about 5000000 liters.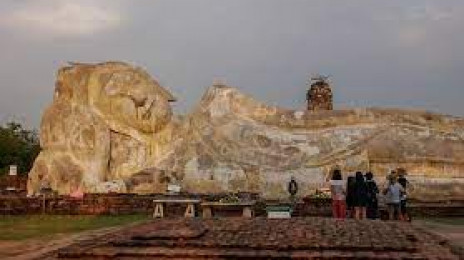 Temple of the Reclining Buddha (Wat Lokayasutharam)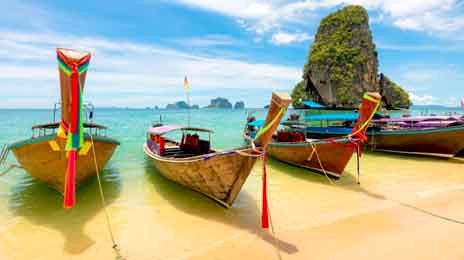 Ko Phi Phi Le
Ko Phi Phi Le or Ko Phi Phi Leh is an island of the Phi Phi Archipelago in the Strait of Malacca.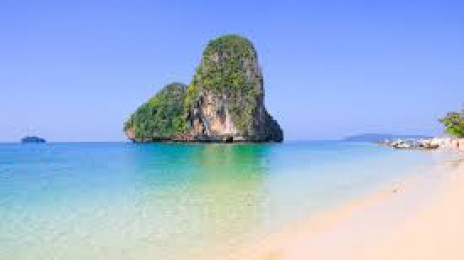 Ao Phra Nang
With an exotic climate a fantastic climbing site and a nearby beach Ao Phra Nang is a magnet for visitors to Thailand.
Big Buddha Temple (Wat Phra Yai)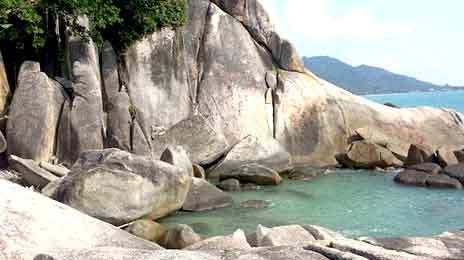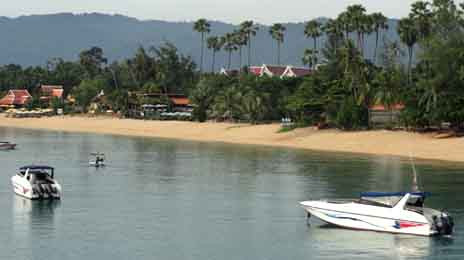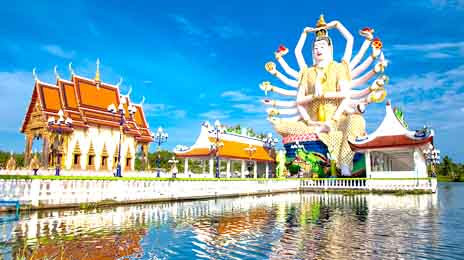 Wat Plai Laem
Wat Plai Laem is a wat on the resort island of Ko Samui Thailand. Like the nearby Wat Phra Yai or Big Buddha Temple it is a modern Buddhist temple. The temples design incorporates elements of Chinese and Thai traditions and was in part designed by distinguished Thai artist Jarit Phumdonming. Its main statue which is in Chinese style is not of Gautama Buddha. It is a form of t
Namuang Safari Park
We are the first & the biggest elephant camps in Koh Samui Thailand. In our park Koh Samui highest waterfall -- Namuang Waterfall II just right inside our park we have accessable path to Namuang Waterfall I too We offering wonderful 4x4 island sightseeing program to visit the most famous attraction on the island interesting activities as ala carte menu as ATV riding or ATV rid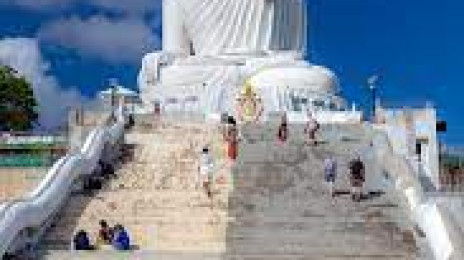 Big Buddha Phuket
Phuket Big Buddha or The Great Buddha of Phuket is a seated Maravija Buddha statue in Phuket Thailand. The official name is Phra Phutta Ming Mongkol Eknakiri shortened to Ming Mongkol Buddha. Sitting atop Nakkerd Hill near Chalong construction began in 2004. Expansion of the base was ongoing as of 2015. By 2017 80 percent of the project had been completed. It is the third-tallest statue in Thailand behind only the Great Buddha of Thailand and Luangpho Yai.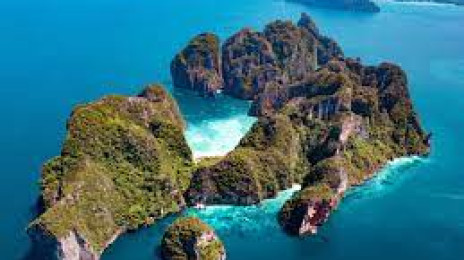 Maya Bay
The world famous Maya Bay location of the film The Beach starring Leonardo Dicaprio located in Phi Phi Ley with white sandy beach surrounded by gigantic limestone cliffs and coral reefs.
Things to Do in Thailand
Do what makes you happy