Fun Filled Thailand
Pkg Id

0000299

Destinations

3

Duration

8 Nights

Attractions

7

Price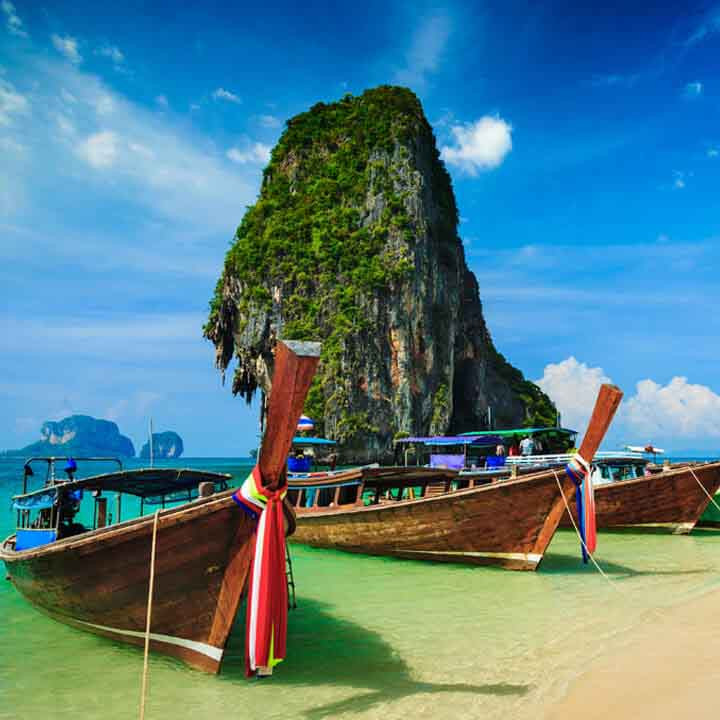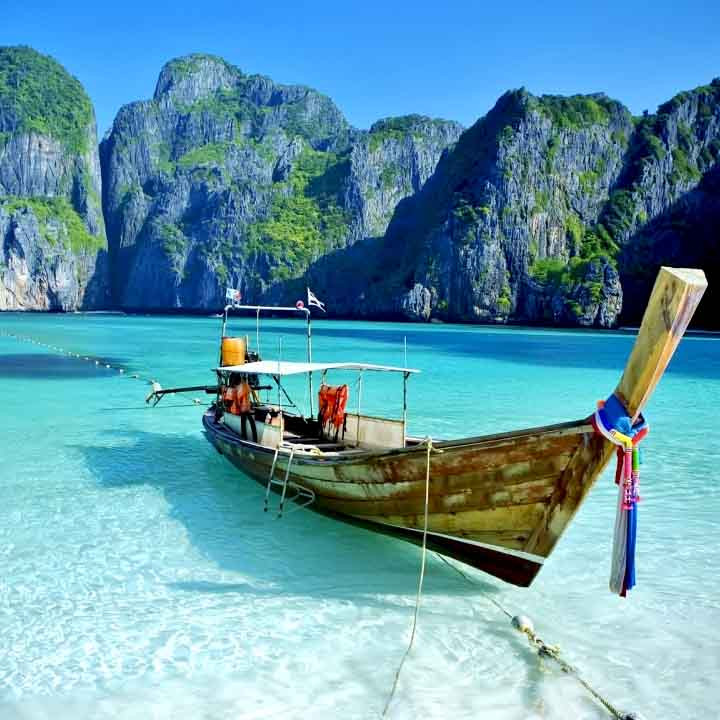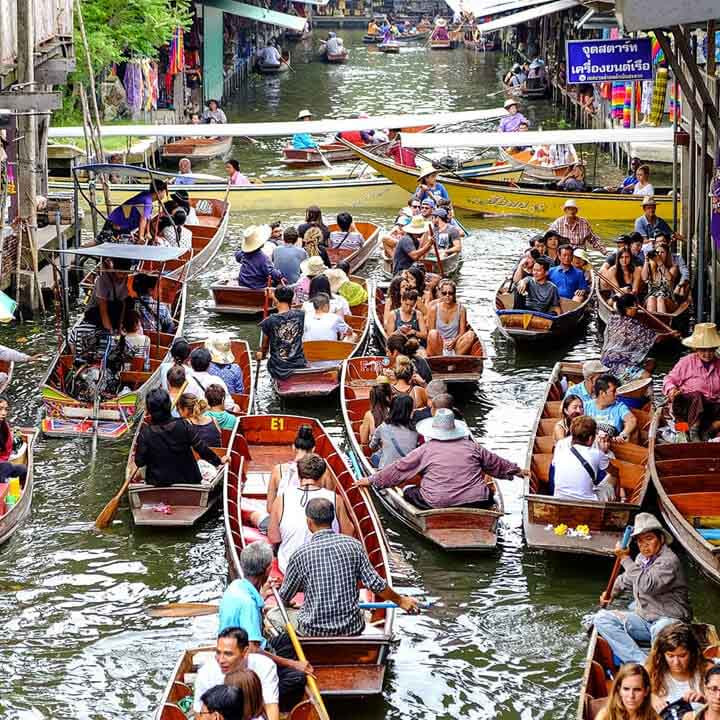 1
Arrival-Pattaya
Arrive at Suvarnabhumi International Airport.
Our Airport representative will meet & greet you.
Pick– up from Airport and transfer to the hotel in Pattaya.
Enroute Visit Gems Gallery which is a truly spectacular jewellery store which incorporates a totally new service in the form of 'Theme Park-Dark Ride' - a dramatic Light & Sound presentation of the glittering world of gems.
Check-In and overnight at the hotel.
2
Pattaya
Breakfast at the Hotel.
Today leave from the hotel for Coral Island tour.
Coral Island: locally known as Koh Hae, this beautiful getaway is famous for its impressive coral reef and has two main beaches, namely Long Beach and Banana Beach. At both beaches there are lots of water sport activities such as, banana boats, canoes and snorkeling.
You can also enjoy Paragliding, Underwater Sea Walk and many other water activities.
Beach has open beach lounge and restaurants to serve you with your Glass of wine and snacks.
Back to Pattaya pier and transfer back to hotel for rest as Alcazar show awaits you to visit in the evening.
Pick – up from hotel for Alcazar Show: The Alcazar show is a combination of dazzling clothing, superb acts, energetic performances which brings you dances from different countries around the world. Certainly, a fact that makes the show become unique is that all the beautiful female performers are actually ladyboys.
Back to hotel and overnight stay.

3
Pattaya – Bangkok
Breakfast at the Hotel.
Post breakfast check-out from the hotel and get transferred to Bangkok.
Arrive and check-in to your Hotel.
Get freshens up as driver will come to pick you up from lobby for your evening entertainment, Siam Niramit Show: Siam Niramit is a spectacular show in Bangkok that brilliantly captures Thailand's 7 centuries in a 90-minute production. With its rich history that reads like an epic novel, Thailand is undoubtedly one of the most intriguing Asian nations, replete with over 700 years of captivating culture, customs and traditions.
Siam Niramit compound houses the Ratchada Theatre, a miniature Thai village, Sawasdee Restaurant and a souvenir shop all under one roof. It's decked out in contemporary Thai style, with small salas (gazebos) and sculptures of Kinnaree, a mythical winged creature prevalent in many Thai fables. Here you can also feed the elephants, listen to a ranad (Thai xylophone) band and take pictures with characters from the show.
Back to hotel and overnight stay.

4
Bangkok
Breakfast at the hotel.
Today leave from hotel for your full day tour of Safari World & Marine Park.
Safari World: Safari Park is the largest section of the park. It is a 50 minutes drive-thru through an eight kilometer park replicating a Savannah habitat. The safari park houses large herds of Asian and African ungulates and a very large free flying waterbirds sanctuary. The main drive thru area houses large herds of herbivores, with up to 100 individuals of a single species. There is a large herd of Masai giraffe with more than 200 individuals. Other animals include herds of Grant's zebra, Black wildebeest, Impala, White rhinoceros, Nyala, Sitatunga, Ankole cattle, Cape buffalo, Gemsbok, Hippopotamus and Ostrich and many Carnivores animals like African lions, Bengal tiger, Asian black bear and American black bear.
Marine Park: Marine Park is the main park where various animal displays from all over the world are showcased. The main attractions of Safari World are located in Marine Park. Seven shows take place daily at different times, Dolphin show, Spy War show, Orangutan boxing show, Bird Show, Cowboy stunt show, Elephant show and Sea lion show. Other attractions at the Marine Park included Jungle cruise and Safari terrace, where visitors could feed hundreds of giraffes with bananas and leaves and many other incredible activities.
Back to hotel and overnight stay.

5
Bangkok
Breakfast at the hotel.
Today, you will be picked up from the hotel lobby for your Bangkok City tour.
Visit Golden Buddha: The Golden Buddha, officially titled Phra Phuttha Maha Suwanna Patimakon, commonly known in Thai as Phra Sukhothai Traimit, is a gold Maravijaya Attitude seated Buddharupa statue, with a weight of 5.5 tonnes. It is located in the temple of Wat Traimit, Bangkok, Thailand.
Visit Reclining Buddha: A reclining Buddha is an image that represents Buddha lying down and is a major iconographic theme in Buddhist art. It represents the historical Buddha during his last illness, about to enter the parinirvana. He is lying on his right side, his head resting on a cushion or relying on his right elbow, supporting his head with his hand. After the Buddha's death, his followers decide to build a statue of him lying down.
Evening it's time to enjoy your food on sail along with drinks and live entertainment on board. Chaophraya Sea Princess: The Luxury Cruises on the Chaophraya River, the Amazing Experience where you will be dazzled in Thai Exquisite, Architecture ​absorbed with Thai Cultural and History from the past to present standing elegant just before the river.​ Let The Chaophraya Cruise be the one for your Memorable Cruise.
Back to hotel and overnight stay.

6
Bangkok-Krabi
Breakfast at the hotel.
Check-out from hotel, shopping tour at Pratunam market.
Later you will be transferred to the airport for your flight to Krabi.
Arrive in Krabi International Airport.
Our Airport representative will meet & greet you, Later you will be picked – up from Airport and transfer to the Hotel.
Overnight stay at the hotel.
7
Krabi
Breakfast at the hotel.
Visit Krabi's most sought after beach, Railay Beach just south of Ao nang beach, around a rocky Headland is Railay beach. This small peninsula that counts 4 beaches enjoys a unique location accessible only by the boats. Here you will find gorgeous white sand beaches, soaring limestone cliffs, beautiful viewpoints, caves, clear waters and even a lagoon hidden inside the cliffs – all within walking distance.
Second half climb up the 1237 steps to the tiger cave temple which is also known as Wat Tham Sua is one of the unforgettable experiences you will have in Krabi.
Overnight stay at Hotel.
8
Krabi
Morning Breakfast at the Hotel.
Pick-up from hotel for full day tour to Phi Phi Island.
Phi Phi Island: After being used as the film location for the movie 'The Beach' The Phi Phi islands shot to fame and the tourists have never stopped coming, you can get there by speedboat which takes about forty five minutes from Krabi mainland. There are two islands, Phi Phi Don and Phi Phi Leh, Phi Phi Don is inhabited and is the one where all the tourists flock. Known for its turquoise water and stunning beaches the island really is a tropical paradise.
Arrive at Phi Phi Island, Where you can relax on the sand, go for a Swim and explore the beautiful surroundings of spectacular hills and mountains or go for water sports activities.
Back to hotel and overnight stay.
9
Fly Back
Breakfast at the hotel.
Check-out from the hotel.
Drive to Krabi International airport and board your flight to home.

As per mentioned in itinerary

As per mentioned in itinerary

English speaking Tour Guide

Transfers on Private basis

As per mentioned in itinerary
Visa
Click to view Visa information
General Terms
Please note that these packages are customizable, which means that you will be able to make changes to the itinerary/activity if you so desire. The final payment will be calculated as per the itinerary and inclusions reflected on the confirmatory e-mail sent to you.
Please expect to receive your vouchers 72 hours before your departure date (subject to full payment of your package cost).
Personal expenses such as laundry, telephone calls, room service, alcoholic beverages, mini bars etc., are not included.
In case your package needs to be canceled due to any natural calamity, weather conditions etc. Dook Travels shall strive to give you the maximum possible refund subject to the agreement made with our trade partners/vendors.
The passenger names in the booking form should be exactly as per passports. Dook Travels will not bear any liability for the name change fee, if incorrect names and ages have been added at the time of booking.
Please note that your package includes baggage as per airlines policy. Any addition in baggage will be charged separately.
Standard check-in time at the hotel is normally 2:00 pm and check-out is 11:00 am. An early check-in, or a late check-out is solely based on the discretion of the hotel.
In case the selected hotel is unavailable for booking, an alternate arrangement will be offered to the customer in another hotel of a similar category.
Certain hotels may ask for a security deposit during check-in, which is refundable at check-out subject to the hotel policy.This amount has to be deposited by the traveler.
Please note that Day at Leisure essentially implies that no sightseeing activities have been included for that day.
Kindly be on time for your activities, tours and transfers. Dook Travels will not be liable for missing any activity thus for any refund against it in such cases.
No refund either in part or in full will be made for any unused part of the services provided in the package.
The package price doesn't include special dinner or mandatory charges at times levied by the hotels especially during New Year and Christmas or any special occasions. Dook Travels shall try to communicate the same while booking the package. However Dook Travels may not have this information readily available all the time.
Our package price does not include GST and TCS. Applicable GST and TCS will be charged over and above the package price.
For queries regarding cancellations and refunds, please refer to our Cancellation Policy.
For any paid activity which is non-operational due to any unforeseen reason, we will process the refund & should reach the guest within 30 days refund requisition. Also, for any activity which is complementary and not charged to Dook Travels & guests, no refund will be processed.
Our package prices are on twin sharing accommodation basis thus published prices are applicable for minimum two persons and multiple of two thereon.
As per RBI guideline every foreign traveler has to provide us his PAN details. The Dollar component of package price will be taken out of your BTQ (Basic Travel Quota).
The tour cost does not include any Overseas Insurance Premium, but we strongly recommend buying Overseas Insurance Policy. The same after issuance is non refundable.
These terms are general terms for our tour packages.Any term mentioned in proposal shall be considered part of it and in case of discrepancy term mentioned in proposal shall prevail.
Disputes, if any, shall be subject to the exclusive jurisdiction of the courts in New Delhi.
Payment Policy
Payment schedule depends on destination, time of booking, inclusions, airline and hotel payment policy etc thus it is specific to your package bookining.
Payment schedule will be part of our proposal to you for the package.
If payment is not made as per the schedule provided in the first booking confirmation e-mail, Dook Travels reserves the right to cancel the booking after attempting to get in touch with you. Refunds would be as per the package cancellation policy.
Cancellation Policy
Once Booking received : INR 5000 (Per PAX) + actual Ticket cancellation + Hotel cancellation as per hotel policy+Visa fee if visa is applied.
60 – 45 Days prior to departure : 25 % of land cost + INR 5000 (Per PAX) + actual Ticket cancellation+Visa fee if visa is applied.
45 – 30 days prior to departure: 50% of land cost + INR 5000 (Per PAX) + actual Ticket cancellation+Visa fee if visa is applied.
30 – 10 days prior to departure: 75% of land cost + INR 5000 (Per PAX) + actual Ticket cancellation+Visa fee if visa is applied.
Within 10 days: Full.