Unrivalled Koh Samui An Island Of Thailand
Pkg Id

0000304

Destinations

2

Duration

6 Nights

Attractions

3

Price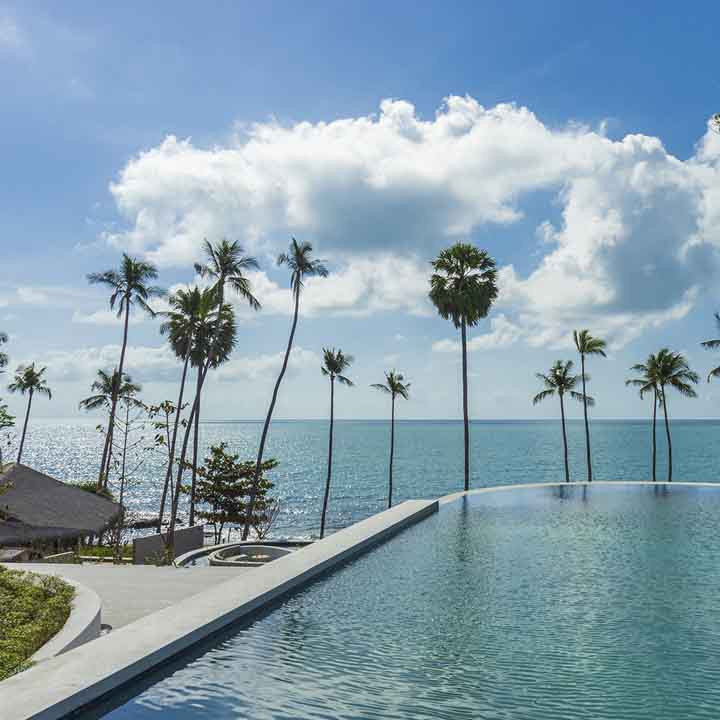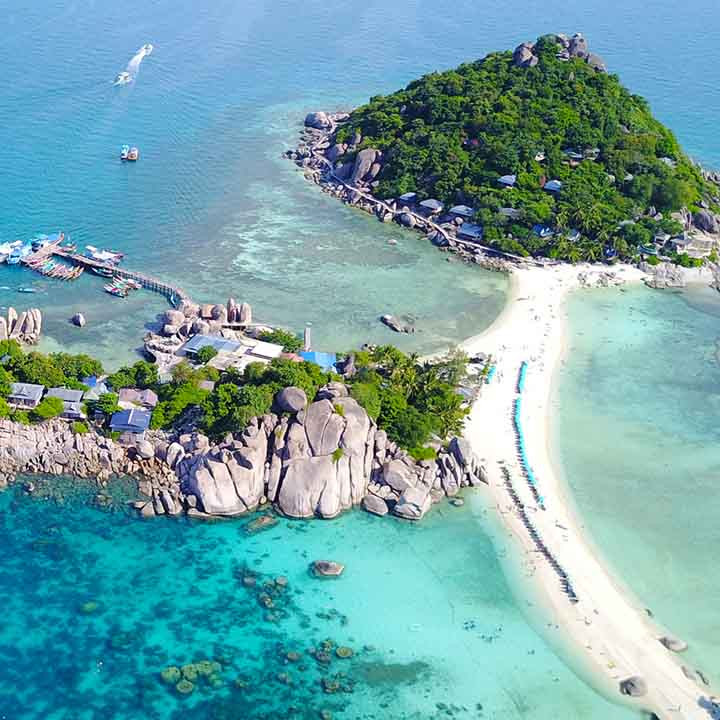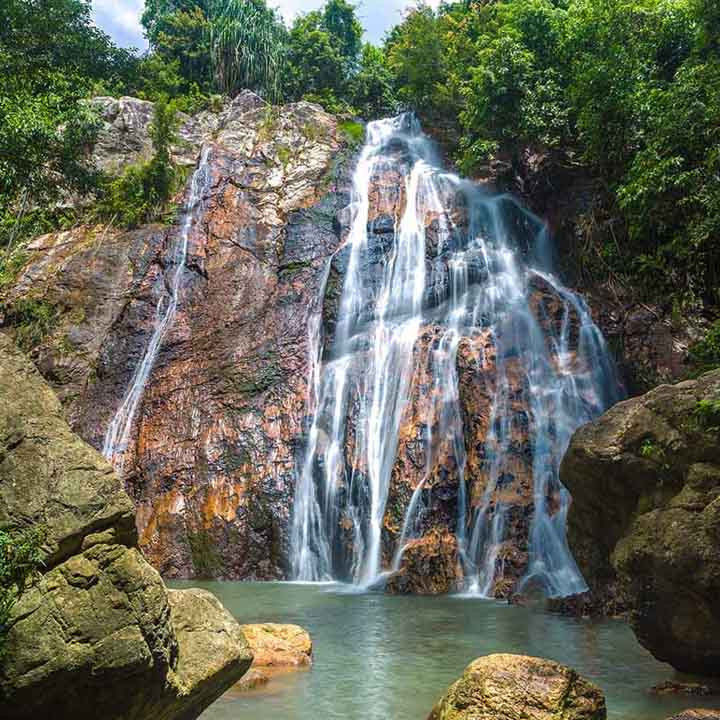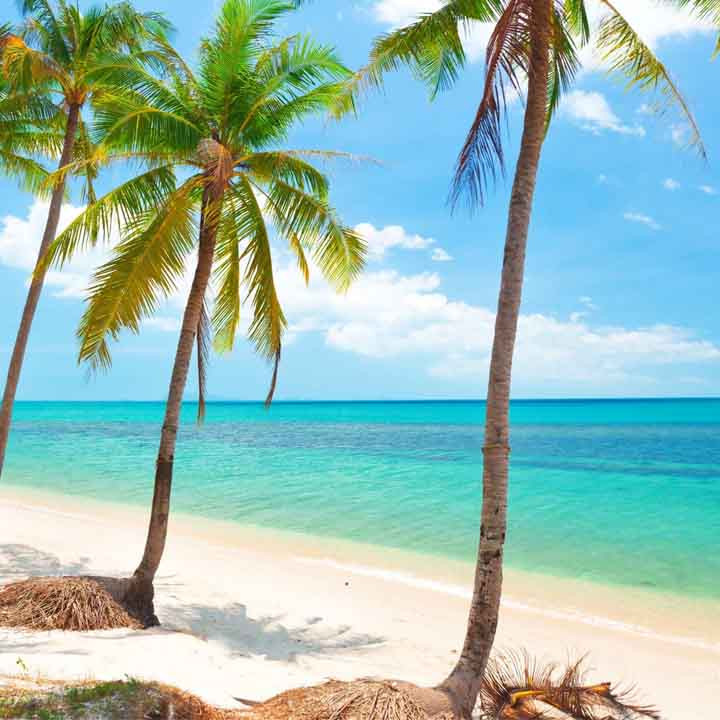 1
Koh Samui
Arrive in Samui International Airport in Koh Samui Island, Ko Samui, Thailand's second largest island and lies in the Gulf of Thailand off the east coast of the Kra Isthmus. It's known for its palm-fringed beaches, coconut groves and dense, mountainous rainforest, plus luxury resorts and posh spas.
Our Airport representative will meet & greet you at the airport.
Pick-up from the Airport and drive to your luxurious resort.
Check-in to the resort.
Rest of the day at leisure to explore close by market or places at your own.
Overnight at the hotel.

2
Koh Samui – Koh Tao
Breakfast at the hotel.
After breakfast leave for your full day excursion to Koh Tao, do remember to grab your scuba diving gear before you head to Koh Tao for an amazing experience in Koh Samui. Boasting of perfectly white sand beaches and vibrant coral reefs, Koh Tao will make your day splendid. Moreover, there are many exciting activities to do here which will leave you craving for more.
The place is a paradise for nature lovers and is a great destination for divers, adventurers and travellers alike. It is filled with a picturesque landscape and offers a pleasant visit whether you wish to have an adventurous getaway or want to have a rejuvenating holiday by the beach.
Back to hotel and overnight stay.
3
Koh Samui – Angthong Marine National Park
Breakfast at the hotel.
After spending full day on Koh Tao, today it's time to explore the second important excursion on KOH SAMUI ISLAND, Angthong Marine National Park which falls in "Gulf Of Thailand"
It is also known as a group of 40 islands, this place is famous for its limestone monoliths, thick green jungles, pristine white beaches, gurgling waterfalls and a treasure of lakes and coves.
One of the most exciting things to do in Koh Samui for adventure lovers, visiting Angthong Marine National Park offers a wide array of activities like snorkeling, hiking, sea kayaking, diving etc. With a perfectly carved landscape, Angthong Marine National Park should not be missed when you are holidaying in Koh Samui.
Back to hotel and overnight stay

4
Koh Samui
Breakfast at the Hotel.
After spending two days in exploring adventurous places, today it's time to enjoy soft and smooth tour close to your accommodation.
Pick-up from the hotel for the tour of "Big Buddha Shrine" "Wat Plai Laem" & "Hin Ta and Hin Yai Rocks.
Big Buddha Shrine: Enjoy a surreal visit to the Big Buddha temple when you are in Koh Samui. Also called Wat Phra Yai, this statue was built in 1972 and boasts of being one of the major attractions of Koh Samui. Depicting the time when Buddha was journeying towards the path of enlightenment by successfully overcoming temptations and dangers thrust upon him by the devil figure Mara. One should visit here to bask in the spectacular surroundings that comprise of beaches and the beautiful island of Koh Pha Ngan.
Wat Plai Laem: One of the most fascinating attractions of Koh Samui is Wat Plai Laem where you can see the huge image of Guanyin, the Chinese Goddess of Mercy and Compassion who has 18 arms. The temple is built in Thai-Chinese style and captivates the tourists with its interesting architecture.
The temple offers an interesting insight into beliefs and customs of Thai culture along with helping you appreciate the feeling of tranquility. Some of the striking features of Wat Plai Laem are a large white laughing Buddha statue, attractively carved teak entry doors, and an ornate ubosot (ceremonial hall) set on an island in the lake.
Hin Ta and Hin Yai Rocks: Marvel at some picturesque sights of nature by visiting the Hin Ta and Hin Yai rocks on your vacation in Koh Samui. These fascinating rock formations depicting the shape of male and female genitals will make you wonder and take your breath away at every sight There is also a white sand beach nearby where you can have a refreshing getaway with your friends. The picture-perfect setting of this place is good for photographers who can catch some interesting shots here.
Back to hotel and overnight stay.

5
Koh Samui
Breakfast at the hotel.
Today spend your day exploring local sightseeing in Koh Samui.
Namuang Waterfall: Witness the breathtaking beauty of Koh Samui by seeing the Namuang Waterfall when you are there on a holiday. It is a set of two cascades and popularly called Purple Falls because of the purple shade it makes when it strikes the rocks. One of the most scenic waterfalls in Koh Samui, this place is a must visit if you are a nature lover and like to enjoy relaxed picnics with your loved ones. In the midst of lush green surroundings, this place is a perfect getaway if you want to get away from the hustle and bustle of life.
Buddha Garden: Tucked away in the beautiful hills of Koh Samui, Secret Buddha Garden is one of the best places to visit in Koh Samui. Also famous as Magic Garden and Heaven's Garden, this place offers some of the most glorious views of Koh Samui. It is renowned for having a collection of statue and located amidst the breathtaking lush green jungles.
One can look forward to bask in serenity here with the waterfall and streams passing through the jungles and having a wonderful tour of the gardens. The place is full of surprises with the statues having their own different stories to tell.
Mummy Monk at Wat Khunaram: If you are interested in unusual things to do in Koh Samui, visiting Mummy Monk at Wat Khunaram should definitely be on your list. If offers a stunning glimpse of Buddhist and Thai culture where you can see on display the dead body of monk Luong Pordaeng.
Kept in a glass casket, the sight of the mummified body maybe a disturbing sight for many, however, it is a great way to appreciate the culture of Koh Samui.
Dine Today at Tree Tops Restaurant: Brace yourself for one of the most outstanding culinary experiences of your life by dining at the Tree Tops Restaurant in Chaweng. It is known to please your taste buds with delightful dishes prepared in French and Mediterranean cuisine. The menu here is brilliantly crafted and promises to offer you a meal that you will cherish forever.
The unique tree house experience is totally worthy of your money where you can wine and dine with your better half to spend some romantic moments on your holiday in Koh Samui.
Back to hotel and overnight stay.

6
Koh Samui
Breakfast at the Hotel.
Today, the day will at leisure to rest and relax back in your luxurious resort.
Evening you will have an option to choose 1 out of 2 spectacular excursions, A Cabaret Show performed by Lady boys OR a Full Moon, Half Moon or Black Moon Party.
Lady Boys Cabaret Shows: Enjoy a wonderful night in Koh Samui by seeing the Lady boys cabaret shows in Koh Samui. One of the major attractions of Thai society which is quite open to the third sex, this activity will let you enjoy an evening full of entertainment. These performances are brilliantly choreographed on popular songs and put up with amazing costumes and make up for the audience.
The shows are full of glitter and glamour and are sure to light up your day with these spectacular performances which put up a mix of good humor, Thai culture and Western pop culture. Full Moon, Half Moon or Black Moon Party: If you are party freak, full moon, half moon and black moon party will leave you with your adrenaline rushing. The festival is known for its amazing vibes and organized in the middle of a jungle where you can unleash the party animal inside you. Music lovers here can look forward to a night of thumping beats of their favorite music playing till the sun comes up.
The atmosphere at these parties is very enthralling and a must visit for all the psy-trance lovers to plan a vacation to Koh Samui and enjoy its nightlife.
Back to hotel and overnight stay.

7
Fly Back
Breakfast at the hotel.
Check-out from the hotel and transfer to the airport.
Fly back with wonderful memories.

As per mentioned in itinerary

As per mentioned in itinerary

English speaking tour guide

As per mentioned in itinerary
Visa
Click to view Visa information
General Terms
Please note that these packages are customizable, which means that you will be able to make changes to the itinerary/activity if you so desire. The final payment will be calculated as per the itinerary and inclusions reflected on the confirmatory e-mail sent to you.
Please expect to receive your vouchers 72 hours before your departure date (subject to full payment of your package cost).
Personal expenses such as laundry, telephone calls, room service, alcoholic beverages, mini bars etc., are not included.
In case your package needs to be canceled due to any natural calamity, weather conditions etc. Dook Travels shall strive to give you the maximum possible refund subject to the agreement made with our trade partners/vendors.
The passenger names in the booking form should be exactly as per passports. Dook Travels will not bear any liability for the name change fee, if incorrect names and ages have been added at the time of booking.
Please note that your package includes baggage as per airlines policy. Any addition in baggage will be charged separately.
Standard check-in time at the hotel is normally 2:00 pm and check-out is 11:00 am. An early check-in, or a late check-out is solely based on the discretion of the hotel.
In case the selected hotel is unavailable for booking, an alternate arrangement will be offered to the customer in another hotel of a similar category.
Certain hotels may ask for a security deposit during check-in, which is refundable at check-out subject to the hotel policy.This amount has to be deposited by the traveler.
Please note that Day at Leisure essentially implies that no sightseeing activities have been included for that day.
Kindly be on time for your activities, tours and transfers. Dook Travels will not be liable for missing any activity thus for any refund against it in such cases.
No refund either in part or in full will be made for any unused part of the services provided in the package.
The package price doesn't include special dinner or mandatory charges at times levied by the hotels especially during New Year and Christmas or any special occasions. Dook Travels shall try to communicate the same while booking the package. However Dook Travels may not have this information readily available all the time.
Our package price does not include GST and TCS. Applicable GST and TCS will be charged over and above the package price.
For queries regarding cancellations and refunds, please refer to our Cancellation Policy.
For any paid activity which is non-operational due to any unforeseen reason, we will process the refund & should reach the guest within 30 days refund requisition. Also, for any activity which is complementary and not charged to Dook Travels & guests, no refund will be processed.
Our package prices are on twin sharing accommodation basis thus published prices are applicable for minimum two persons and multiple of two thereon.
As per RBI guideline every foreign traveler has to provide us his PAN details. The Dollar component of package price will be taken out of your BTQ (Basic Travel Quota).
The tour cost does not include any Overseas Insurance Premium, but we strongly recommend buying Overseas Insurance Policy. The same after issuance is non refundable.
These terms are general terms for our tour packages.Any term mentioned in proposal shall be considered part of it and in case of discrepancy term mentioned in proposal shall prevail.
Disputes, if any, shall be subject to the exclusive jurisdiction of the courts in New Delhi.
Payment Policy
Payment schedule depends on destination, time of booking, inclusions, airline and hotel payment policy etc thus it is specific to your package bookining.
Payment schedule will be part of our proposal to you for the package.
If payment is not made as per the schedule provided in the first booking confirmation e-mail, Dook Travels reserves the right to cancel the booking after attempting to get in touch with you. Refunds would be as per the package cancellation policy.
Cancellation Policy
Once Booking received : INR 5000 (Per PAX) + actual Ticket cancellation + Hotel cancellation as per hotel policy+Visa fee if visa is applied.
60 – 45 Days prior to departure : 25 % of land cost + INR 5000 (Per PAX) + actual Ticket cancellation+Visa fee if visa is applied.
45 – 30 days prior to departure: 50% of land cost + INR 5000 (Per PAX) + actual Ticket cancellation+Visa fee if visa is applied.
30 – 10 days prior to departure: 75% of land cost + INR 5000 (Per PAX) + actual Ticket cancellation+Visa fee if visa is applied.
Within 10 days: Full.