Bali Group Tour With Tanah Lot Ex. Delhi
Pkg Id

1000135

Destinations

1

Duration

6 Nights

Attractions

4

From

Delhi

Ending At

Bali

Price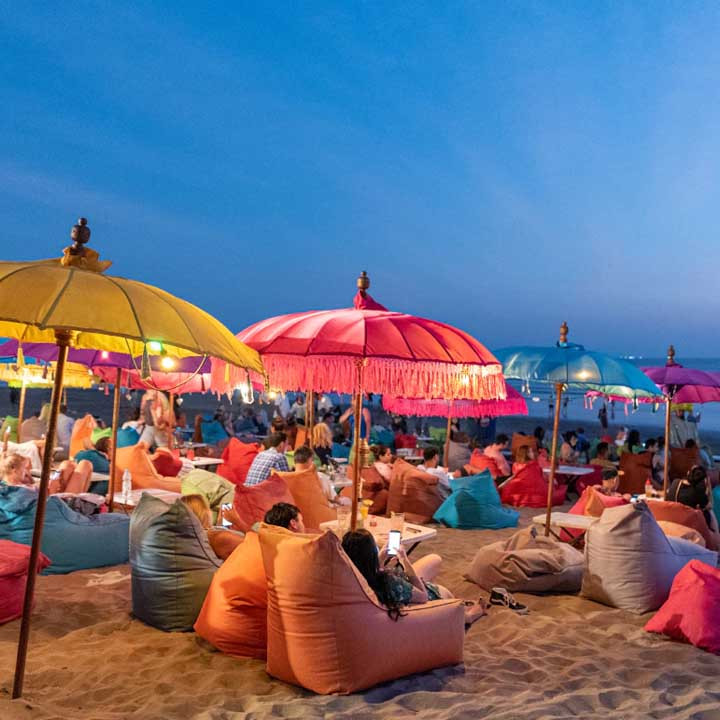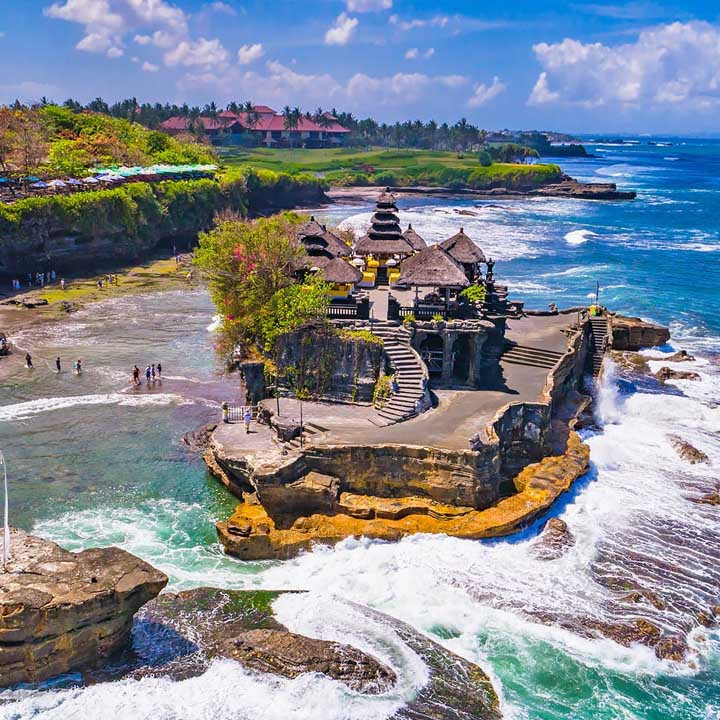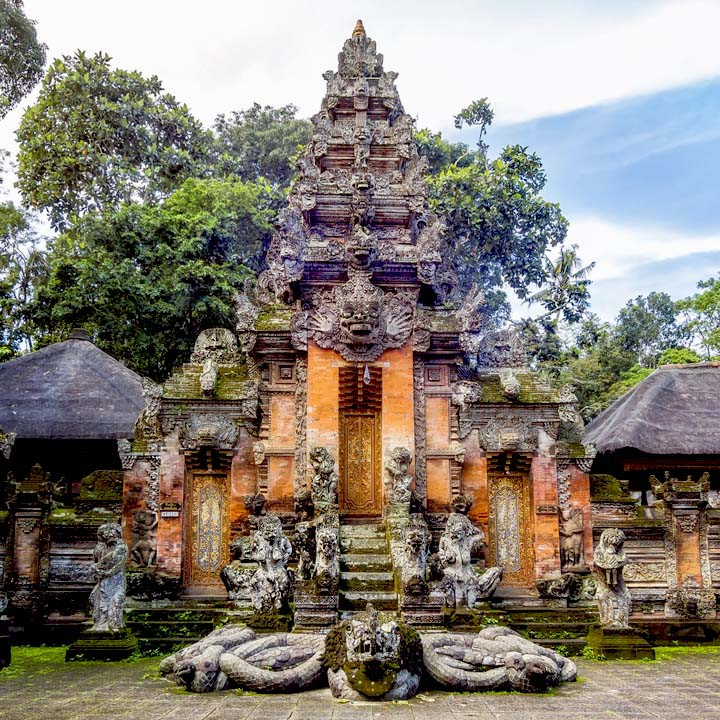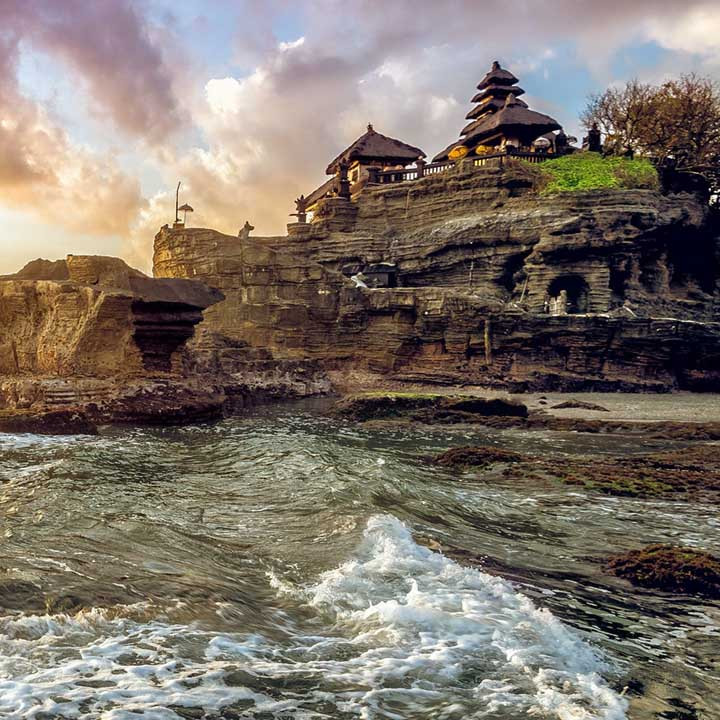 1
Welcome to Bali
Welcome to Bali !! Arrive at Bali airport.
Our representative will welcome you with flower garland at the airport.
Transfer from Airport to Hotel.
Check in at the Hotel.
Rest of the day is at leisure.
Overnight stay at your hotel in Kuta.
2
Full Day Ubud Village & Kintamani Tour
After breakfast, start your trip today to see natural wonders.
Visit Batik Factory- Here you can Watch local women sitting outside doing batik and weaving on a loom.
Then continue to visit Celuk & Mas Village.
Celuk and Mas are the popular places in Ubud where one can witness the artisans in work. Celuk is well known for its silver wares and there are numerous shops which sell them. The shops have a huge collection of silverware with very beautiful creations. Mas is a nice little town in Ubud which has numerous shops that sell wood works made by the local artisans. Then Head down to Kintamani which is a village located at the western edge of Mount Batur. Mount Batur is an active volcano which sits at 1717 meters above sea level. Offering spectacular views of the surroundings including the lush greens of Kintamani Valley and scintillating waters of Batur Lake, Mount Batur has become a popular hotspot for hiking among tourists and locals alike.
After Kintamani continue to visit Coffee plantation to see the process of Coffee Luwak and you also can Taste various of Indonesian Coffee. Kopi Luwak, also known as civet coffee, is a coffee that consists of partially digested coffee cherries, which have been eaten and defecated by the Asian palm civet
Continue to visit Ubud Art Market, which is a great place to find beautiful silk scarves, lightweight shirts, statues, kites, handmade woven bags, baskets or hats and many other hand-crafted goods.
Last visit will be Tegenungan Waterfall. Here you'll enjoy the impressively green valley panorama with the cascading water as a centerpiece.– Back to hotel
Overnight stay at your hotel in Kuta.
3
Full Day Bedugul & Tanah Lot Tour
After breakfast, Tour starts with visiting Ulun Danu Beratan Temple. The temple is one of Bali's most visited tourist destinations and a beautiful historic and cultural wonder located on Lake Bratan in Bedugul. It is one of nine "Kahyangan Jagat Temple" which are surrounding Bali Island, that makes it become one of the most important Temple for the Balinese, especially for Hindu. These temple often being used by the Hindu in Bali or Hindu from another province in Indonesia to pray to the Almighty God on its manifestation as "Tri Murti" (Brahma, Visnu, and Shiva) for the fertility of soil, human wealth, and the preservation of the universe.
Than continue to visit Candikuning art market. Candi Kuning Market is one of two main markets in Bali's Bedugul area of central Bali. The fresh market has rows of stalls selling local farm produce, such as flowers and a wide range of tropical fruits like mangosteen, bananas, tangerines and strawberries. You can also find some souvenir shops selling kitsch arts and crafts at rather affordable prices. It's a nice place to enjoy a local market scene and test your bargaining skills.
After Bedugul your visit will be to see the magnificent sunset over the floating temple at Tanah Lot.
Tanah Lot Temple is one of Bali's most important landmarks, which is famed for its unique offshore setting and sunset backdrops. An ancient Hindu shrine perched on top of an outcrop amidst constantly crashing waves; Tanah Lot Temple is simply among Bali's not-to-be-missed icons.
Overnight stay at your hotel in Kuta.
4
Day at Leisure
Breakfast at Hotel.
Today full day at leisure.
You can choose to enjoy the island on your own.
You may choose to spend time at the Kuta Beach or book an optional tour.
5
Watersport & Uluwatu Temple
Breakfast at the hotel 09:00 Pick up for Water sport activities .01x Banana Boat, 01x Jet Ski, 01x Flying Fish are complimentary (other activities on personal account )
Later visit Uluwatu Temple - Pick up to visit Uluwatu Temple, or Pura Luhur Uluwatu, one of six key temples believed to be Bali's spiritual pillars, is renowned for its magnificent location, perched on top of a steep cliff approximately 70 meters above sea level.
Later you are dropped at your accommodation in Seminyak.
Over night stay in Seminyak.
6
Day at Leisure
Breakfast at Hotel.
Today full day at leisure.
You can choose to enjoy the island on your own.
You may choose to spend time at the Kuta Beach or book an optional tour.
Return to Hotel and Overnight stay at Hotel.
7
Fly Back Home
Breakfast in Hotel.
Check out from the Hotel.
Transfer from Hotel to Airport.
Visa
Click to view Visa information
Please note that these packages are customizable, which means that you will be able to make changes to the itinerary/activity if you so desire. The final payment will be calculated as per the itinerary and inclusions reflected on the confirmatory e-mail sent to you.
Please expect to receive your vouchers 72 hours before your departure date (subject to full payment of your package cost).
Personal expenses such as laundry, telephone calls, room service, alcoholic beverages, mini bars etc., are not included.
In case your package needs to be canceled due to any natural calamity, weather conditions etc. Dook Travels shall strive to give you the maximum possible refund subject to the agreement made with our trade partners/vendors.
The passenger names in the booking form should be exactly as per passports. Dook Travels will not bear any liability for the name change fee, if incorrect names and ages have been added at the time of booking.
Please note that your package includes baggage as per airlines policy. Any addition in baggage will be charged separately.
Standard check-in time at the hotel is normally 2:00 pm and check-out is 11:00 am. An early check-in, or a late check-out is solely based on the discretion of the hotel.
In case the selected hotel is unavailable for booking, an alternate arrangement will be offered to the customer in another hotel of a similar category.
Certain hotels may ask for a security deposit during check-in, which is refundable at check-out subject to the hotel policy.This amount has to be deposited by the traveler.
Please note that Day at Leisure essentially implies that no sightseeing activities have been included for that day.
Kindly be on time for your activities, tours and transfers. Dook Travels will not be liable for missing any activity thus for any refund against it in such cases.
No refund either in part or in full will be made for any unused part of the services provided in the package.
The package price doesn't include special dinner or mandatory charges at times levied by the hotels especially during New Year and Christmas or any special occasions. Dook Travels shall try to communicate the same while booking the package. However Dook Travels may not have this information readily available all the time.
Our package price does not include GST and TCS. Applicable GST and TCS will be charged over and above the package price.
For queries regarding cancellations and refunds, please refer to our Cancellation Policy.
For any paid activity which is non-operational due to any unforeseen reason, we will process the refund & should reach the guest within 30 days refund requisition. Also, for any activity which is complementary and not charged to Dook Travels & guests, no refund will be processed.
Our package prices are on twin sharing accommodation basis thus published prices are applicable for minimum two persons and multiple of two thereon.
As per RBI guideline every foreign traveler has to provide us his PAN details. The Dollar component of package price will be taken out of your BTQ (Basic Travel Quota).
The tour cost does not include any Overseas Insurance Premium, but we strongly recommend buying Overseas Insurance Policy. The same after issuance is non refundable.
These terms are general terms for our tour packages. Any term mentioned in proposal shall be considered part of it and in case of discrepancy term mentioned in proposal shall prevail.
Disputes, if any, shall be subject to the exclusive jurisdiction of the courts in New Delhi.
Dook will try to operate each group tour on best effort basis. In case Dook is not able to operate the group for insufficient no. of passengers, Dook will refund 100% money to travelers. Except for this Dook will not have any other liability
Payment Policy
Payment schedule depends on destination, time of booking, inclusions, airline and hotel payment policy etc thus it is specific to your package bookining.
Payment schedule will be part of our proposal to you for the package.
If payment is not made as per the schedule provided in the first booking confirmation e-mail, Dook Travels reserves the right to cancel the booking after attempting to get in touch with you. Refunds would be as per the package cancellation policy.
Cancellation Policy
Once Booking received : INR 5000 (Per PAX) + actual Ticket cancellation + Hotel cancellation as per hotel policy+Visa fee if visa is applied.
60 – 45 Days prior to departure : 25 % of land cost + INR 5000 (Per PAX) + actual Ticket cancellation+Visa fee if visa is applied.
45 – 30 days prior to departure: 50% of land cost + INR 5000 (Per PAX) + actual Ticket cancellation+Visa fee if visa is applied.
30 – 10 days prior to departure: 75% of land cost + INR 5000 (Per PAX) + actual Ticket cancellation+Visa fee if visa is applied.
Within 10 days: Full.