Imperial Russia
Experience Russia's most historic cities
Pkg Id

0000982

Destinations

2

Duration

6 Nights

Attractions

16

Price

Per person on twin sharing

(Exclusive of Taxes)
Stroll along the chic Arbat Street for a romantic evening and take a metro ride in one of the most beautiful and extensive metro systems in the world. Ride a high-speed Saspan and cruise along the waterways of the transcontinental city of St Petersburg, the Venice of the North. Catch the Neva bridges opening up at night from the promenade and fall in love in the gardens of the Peterhof Palace.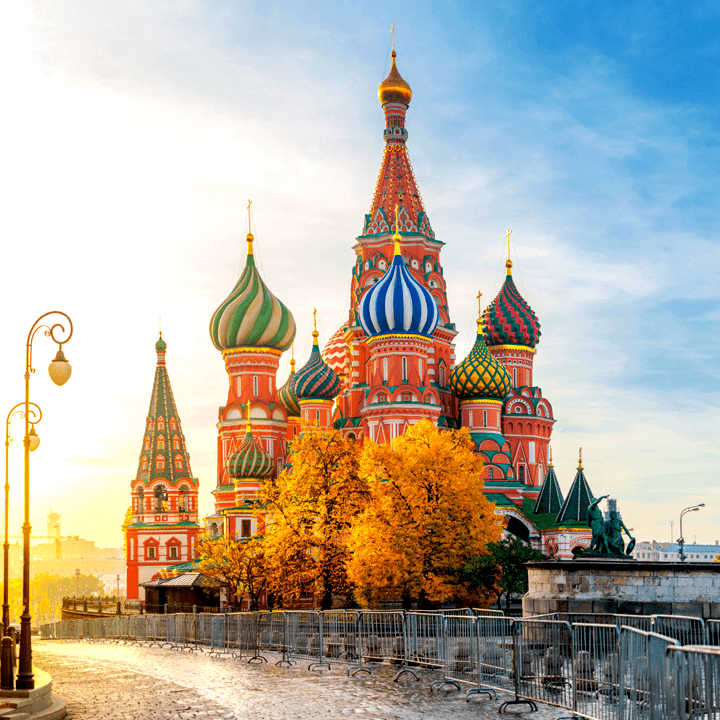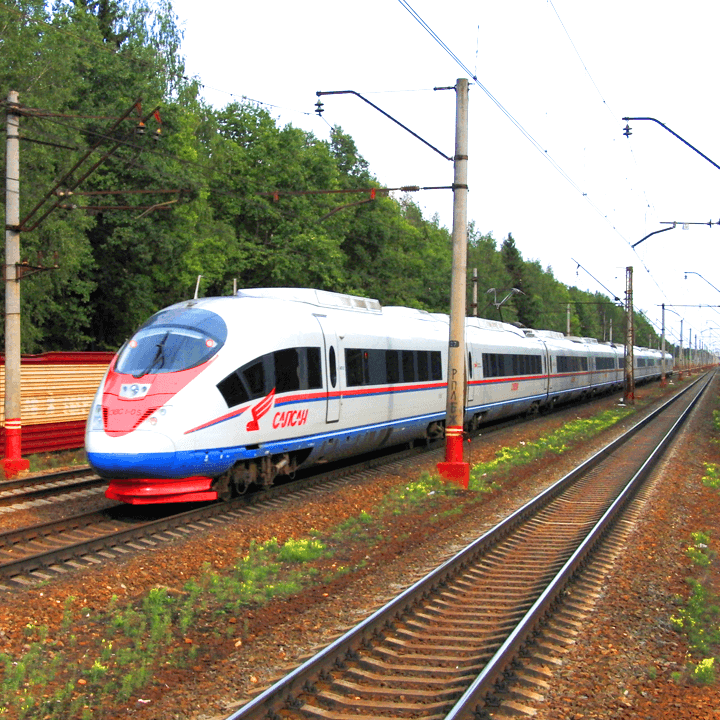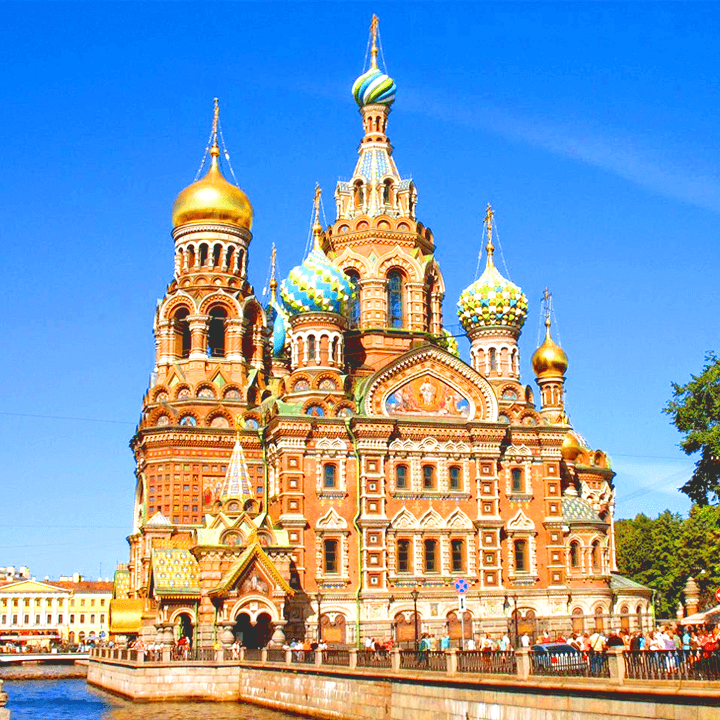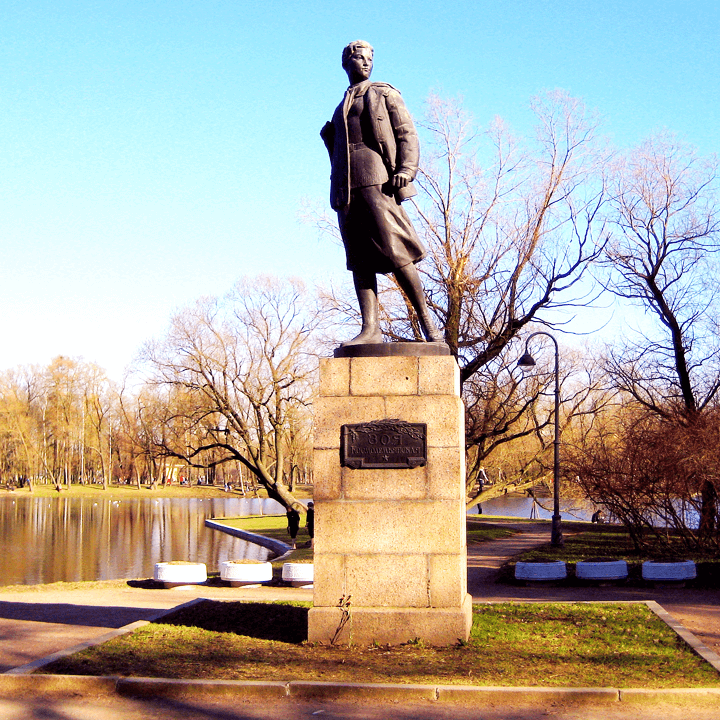 1
Moscow- Arrival
Upon arrival at the airport, you will be greeted by our representative and transferred to your Hotel.
Check in to the hotel and enjoy some free time to relax and explore at your leisure.
Optional Activity: Experience the enchanting Russian Circus at an additional cost. Russian Circus traditions include clowning, juggling, acrobatics, contortion, and animal acts (especially bear acts, such as bears who juggle with their feet).
Overnight stay at your hotel in Moscow.
2
Moscow Half Day City Tour & Moscow Metro and Arbat Street
Your day will begin with breakfast at the Hotel.
Following that, you'll embark on a Moscow City Tour. Moscow is a top destination for travelers worldwide, known for its blend of modern skyscrapers and ancient architecture. This tour highlights the must-see spots like Red Square, the Kremlin, Victory Park, the White House, the Arbat, the Cathedral of Christ the Saviour, Sparrow Hills' observation deck, Lomonosov University, and more!
After lunch (on your own), join our Moscow Walking Tour of the Metro and Arbat Street.
The Moscow Metro stands out as one of the world's largest and most impressively constructed metro systems. Originally intended as a showcase of the Soviet Union's accomplishments, it served to impress both Russians and international visitors. The stations boast unique designs, featuring decorative elements such as mosaics, statues, marble floors, walls, and staircases, showcasing the grandeur of Soviet architecture.
On the Old Arbat, delve into the street's fascinating history and experience its vibrant artisan culture. This tour provides a chance to not only learn about Moscow but also to purchase souvenirs from the many skilled craftsmen along the street. Both of these brief Moscow tours offer an excellent opportunity to gain a deeper understanding of the city.
Overnight stay at your hotel in Moscow.
3
Moscow – Half Day Kremlin and Cathedrals Tour
Your day begins with breakfast at the Hotel.
Post breakfast proceed for Kremlin and Cathedrals tour. The Kremlin, a mesmerizing and multifaceted architectural wonder, functions not only as an ancient tower but also as the city's former military fortification, a majestic palace, an armory, the repository of the sovereign treasury, and the official workplace of the Russian President. This monumental complex serves as the epicenter of Russia's political life and state power, having hosted historical figures such as Tsars, General Secretaries of the Soviet Union, and Russian Presidents.
During your guided tour, you'll wander through the expansive grounds of the Kremlin, immersing yourself in the rich history it encapsulates. The tour provides an opportunity to delve into the sacred realm of several ancient cathedrals, each steeped in significance and architectural splendor. Among these, the Assumption Cathedral, with its remarkable history and intricate design, stands out as a testament to Russia's religious heritage. The Archangel's Cathedral, another notable landmark within the Kremlin, holds the tombs of Russian rulers, adding a layer of historical depth to the experience. Additionally, the Annunciation Cathedral, with its elegant architecture and cultural significance, further enriches the exploration of this iconic site. The cathedrals not only serve as religious sanctuaries but also as repositories of the nation's cultural and historical treasures, making the tour a truly enriching journey through Russia's past and present
Later return to your Hotel.
Rest of the day is at leisure to relax. You may opt for optional activity like Moskva River Cruise, Vodka Museum tour etc. at an additional cost.
Overnight stay at your hotel in Moscow.
4
Moscow to Saint Petersburg by Sapsan Train
Commence your journey with a seamless transfer to the railway station, where you'll board a high-speed train bound for St. Petersburg (approximately 4 hours). Upon arrival in St. Petersburg, we'll ensure a smooth transfer to your hotel for check-in.
Rest of the day is at leisure.
As part of your stay in this captivating city, consider enhancing your experience with optional activities: Neva Boat Tour: Explore the stunning waterways of St. Petersburg on a Neva Boat Tour, where historic landmarks and picturesque views unfold along the riverbanks.
Faberge Museum: Immerse yourself in the exquisite artistry of the Faberge Museum, home to a remarkable collection of Faberge eggs and other precious artifacts, offering a glimpse into the opulence of Russian history.
These optional activities provide an opportunity to tailor your St. Petersburg experience, ensuring a memorable and personalized exploration of this enchanting destination.
Return to Hotel and Overnight stay at Hotel.
5
Saint Petersburg- Half Day City Tour
Begin your day with breakfast at the Hotel.
Embark on a half-day exploration of Saint Petersburg, a cultural and industrial hub on the Neva River. Discover iconic landmarks like the Bronze Horseman, Spit of Vasilievsky Island, Cruiser Aurora, Nevsky Prospect, Smolny Cathedral, Kazan Cathedral, and Peter and Paul Fortress. This concise tour provides a glimpse into the city's rich history and architectural splendor.
Post the tour you are dropped back to your Hotel.
The remainder of the day is yours to unwind or engage in optional activities of your preference, such as a tour to Peterhof (Petrodvorets) or a boat excursion along the canals of St. Petersburg.
Return to Hotel and Overnight stay at Hotel.
6
Saint Petersburg- visit to Hermitage Museum
Begin your day with breakfast at the Hotel.
Your guide will pick you up from your Saint Petersburg hotel and escort you to the State Hermitage Museum, founded in 1764 by Catherine the Great and housing over 3 million works of art. Once inside, your guide will share the museum's history and enlighten you about some of its most iconic pieces, including Rembrandt's Danaë, Matisse's Dance, Leonardo da Vinci's Madonna Litta, Monet's Women in the Garden, and Van Gogh's Thatched Houses.
During the 3-hour tour, explore key areas of the Hermitage Museum and its surroundings, passing landmarks like the Alexander Column and the Winter Palace. Concluding the visit, your guide will ensure your return to your Hotel.
The remainder of the day is yours to unwind or engage in optional activities of your preference, such as a tour to Peterhof (Petrodvorets) or a boat excursion along the canals of St. Petersburg.
Return to Hotel and Overnight stay at Hotel.
7
Fly Back Home
Begin your day with breakfast at the Hotel.
Check out from your hotel and you are transferred to the Saint Petersburg Airport.

Russia Tourist E Visa Fee

03 Nights Accommodation in Moscow on Twin Sharing Basis , 03 Nights Accommodation in St. Petersburg on Twin Sharing Basis

Daily buffet breakfast in the hotel

English Speaking Tour Guide

Return Airport Transfers on Private basis

03 Days Tours in Moscow as per given Tour Plan, 03 Days Tours in St. Petersburg as per given Tour Plan
Visa
Click to view Visa information
General Terms
Please note that these packages are customizable, which means that you will be able to make changes to the itinerary/activity if you so desire. The final payment will be calculated as per the itinerary and inclusions reflected on the confirmatory e-mail sent to you.
Please expect to receive your vouchers 72 hours before your departure date (subject to full payment of your package cost).
Personal expenses such as laundry, telephone calls, room service, alcoholic beverages, mini bars etc., are not included.
In case your package needs to be canceled due to any natural calamity, weather conditions etc. Dook Travels shall strive to give you the maximum possible refund subject to the agreement made with our trade partners/vendors.
The passenger names in the booking form should be exactly as per passports. Dook Travels will not bear any liability for the name change fee, if incorrect names and ages have been added at the time of booking.
Please note that your package includes baggage as per airlines policy. Any addition in baggage will be charged separately.
Standard check-in time at the hotel is normally 2:00 pm and check-out is 11:00 am. An early check-in, or a late check-out is solely based on the discretion of the hotel.
In case the selected hotel is unavailable for booking, an alternate arrangement will be offered to the customer in another hotel of a similar category.
Certain hotels may ask for a security deposit during check-in, which is refundable at check-out subject to the hotel policy.This amount has to be deposited by the traveler.
Please note that Day at Leisure essentially implies that no sightseeing activities have been included for that day.
Kindly be on time for your activities, tours and transfers. Dook Travels will not be liable for missing any activity thus for any refund against it in such cases.
No refund either in part or in full will be made for any unused part of the services provided in the package.
The package price doesn't include special dinner or mandatory charges at times levied by the hotels especially during New Year and Christmas or any special occasions. Dook Travels shall try to communicate the same while booking the package. However Dook Travels may not have this information readily available all the time.
Our package price does not include GST and TCS. Applicable GST and TCS will be charged over and above the package price.
For queries regarding cancellations and refunds, please refer to our Cancellation Policy.
For any paid activity which is non-operational due to any unforeseen reason, we will process the refund & should reach the guest within 30 days refund requisition. Also, for any activity which is complementary and not charged to Dook Travels & guests, no refund will be processed.
Our package prices are on twin sharing accommodation basis thus published prices are applicable for minimum two persons and multiple of two thereon.
As per RBI guideline every foreign traveler has to provide us his PAN details. The Dollar component of package price will be taken out of your BTQ (Basic Travel Quota).
The tour cost does not include any Overseas Insurance Premium, but we strongly recommend buying Overseas Insurance Policy. The same after issuance is non refundable.
These terms are general terms for our tour packages.Any term mentioned in proposal shall be considered part of it and in case of discrepancy term mentioned in proposal shall prevail.
Disputes, if any, shall be subject to the exclusive jurisdiction of the courts in New Delhi.
Payment Policy
Payment schedule depends on destination, time of booking, inclusions, airline and hotel payment policy etc thus it is specific to your package bookining.
Payment schedule will be part of our proposal to you for the package.
If payment is not made as per the schedule provided in the first booking confirmation e-mail, Dook Travels reserves the right to cancel the booking after attempting to get in touch with you. Refunds would be as per the package cancellation policy.
Cancellation Policy
Once Booking received : INR 5000 (Per PAX) + actual Ticket cancellation + Hotel cancellation as per hotel policy+Visa fee if visa is applied.
60 – 45 Days prior to departure : 25 % of land cost + INR 5000 (Per PAX) + actual Ticket cancellation+Visa fee if visa is applied.
45 – 30 days prior to departure: 50% of land cost + INR 5000 (Per PAX) + actual Ticket cancellation+Visa fee if visa is applied.
30 – 10 days prior to departure: 75% of land cost + INR 5000 (Per PAX) + actual Ticket cancellation+Visa fee if visa is applied.
Within 10 days: Full.