Must Watch Russian Movies Nominated In Oscars
Academy award or popularly known as Oscar is considered the most prestigious award in the world for film industry. Academy award is an American award ceremony, but it awards films in foreign language category as well. Foreign language films are those which are produced outside US and the language of the film is primarily non English. Academy award is held every year to honour cinematic achievements in the film industry from the entire world. Of course every cine lover waits curiously every year in the anticipation of his favourite movie or a movie from his country wins Oscar in one or more category. Academy award was first presented in year 1929 and since then it has continued till date. In this article we are not going to talk about Academy or Oscar award but what we are going to see is Russian movies which so far has been nominated in Academy awards since Russia started sending its movies to Oscar in 1992. Because Oscar chooses among the best from the entries sent from many different countries so to be nominated and winning Oscar is really prestigious and gives worldwide recognition to the movie and people attached with the movie. So let us see Russian movies which have been nominated and a single movie which did win Oscar award.
Close to Eden, 1992
The film is about friendship between Russian truck driver and a Mongolian shepherd. The original name of the movie is Urga. when released in North America it was named Close to Eden. The movie got nominated for Oscar in 1992. The movie is also about beautiful yet complicated relation between Mongol Shepherd whose name is Gombo and his wife. How Gombo wants fourth child and his wife is at unease about this because of Chinese law.
Intoxicated Russian buffoonish truck driver Sergei has stranded himself, driving his truck into a river and is picked up by Gombo, taken to his family's yurt, to join him in dinner. Gombo's family are particularly taken with Sergei's back tattoos, later revealed to be sheet music for "On the Hills of Manchuria". Gombo and Sergei become mutual dependencies despite their language and cultural differences. A Voice-over from the fourth child of Gombo concludes the film. What happens in between, you must see for yourself.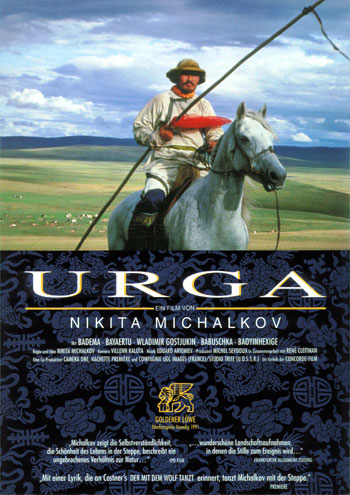 Burnt by the sun, 1994
Burnt by the sun is only Russian movie which won Oscar award in 1994 in the best foreign language film category. Burnt by the sun is quite dramatic and unforgettable film. This is a story of a Soviet hero and his family during the Great Purge of the late 1930s in the Stanlist Soviet Union. How this hero Colonel Serguei Kotov and his family is suddenly targeted by Stalin's secret police. Colonel Kovot is spending summer time in the country with his daughter Nadia and his wife Maroussia and her eccentric family. The story takes a turn when Maroussia's Childhood love and once her fiance Mitya comes back in her and their life and changes everything. The story brings allot of drama from here on as Mitya is on a secret mission against Kotov this time.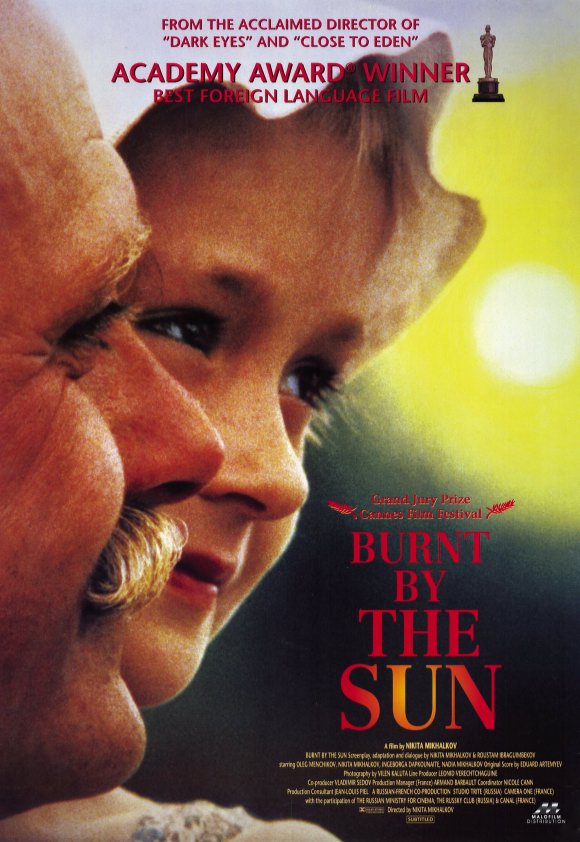 Prisoner of the mountain, 1996
Again this movie also known as Prisoner of Caucasus was nominated for Oscars in 1996. The movie shows conflicting views between Chechen culture and Russian warfare and for this the story shows personal confrontation between two Russian soldiers when they are captured by Chechen. In a faceoff between Russian soldiers and Chechen two soldiers are held by Chechen. An old man, the captor, wants his son held by the Russians in the bargain of these two soldiers. Both the prisoner soldier cope differently in the situations. One soldier tries to ecape while the other tries to make friendship with his captor and falls in love with his daughter. Well when escape plan fails two different personalities have their own fate.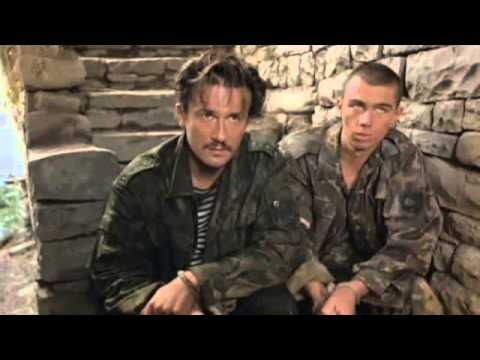 The Thief, 1997
The Thief was nominated for the Academy award for Best Foreign Language Film in 1997. The film is about a young widow Katya and her son Sanya. The young and desperate widow and her son are trying to survive in the post world war II conditions in Soviet Union in late 1940s and early 1950s. Once on a train they meet a Soviet officer Tolyan. This handsome officer tries to seduce Katya and succeeds. However the character of this handsome veteran officer remains dubious to them. As the time goes by and they live together his other cruel and abusive nature comes in front. Still Katya and Sanya don't seem willing to leave this man. The extent of Tolyan's love for his new family remains ambiguous throughout the film and provides one of the more compelling elements of the story.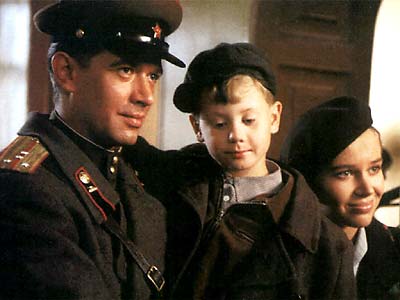 12, 2007
12 is a crime film which received an Academy Award nomination for Best Foreign Language Film 2007. The story is about judgement of a jury over a Chechen boy who is accused of murder of his stepfather, a Russian military man. In the beginning it seems the boy is murderer and all think so but one of the jury member votes in favour of acquittal of the boy. The argument restarts and everybody agrees in the end that boy was framed. In the end foreman stated that he is not in favour of the acquittal of the boy for the fear that he will be killed. After a brief argument though he also agrees in favour f acquittal of the boy and says the boy that he will find the murderer.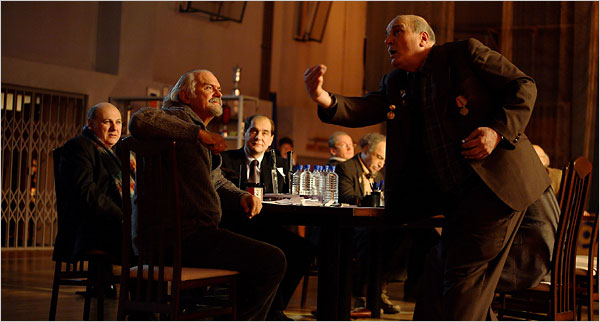 Leviathan, 2014
Leviathan won Academy award in 2014 only. The story is Russian adaptation of a man in United States. Story is quite interesting. There is a man Kolya, his seocnd wife Lilya and his teenage son Roma. Kolya is fighting a crook Mayor Vadim, who has taken a legal plot to expropriate the land on which Kolya's house is built. There is a lawyer friend of Kolya who fights for him. Kolya is jailed in between though for shouting over a corrupt police man in police station. During this time Kolya's second wife Lilya has an affair with his lawyer friend. Now starts a drama where Roma has seen his mother in n extramarital affair and can't take this. When Kloya comes back he comes to know about it too. The Mayor wins the case, lawyer friend goes back to Moscow. Kolya rapes his wife Lilya. Roma sees this and flees away and then comes back. Roma holds Lilya guilty for all that happening to them. Lilya leaves the house and is found dead few days later. Kolya is arrested and is convicted for rape and murder of his wife and he is sentenced 15 year jail for this. With no family left, Roma is taken in by Kolya's former friends.In the end, Kolya's house is torn down and Mayor Vadim's project is revealed: a lavish Orthodox Church for his friend the bishop.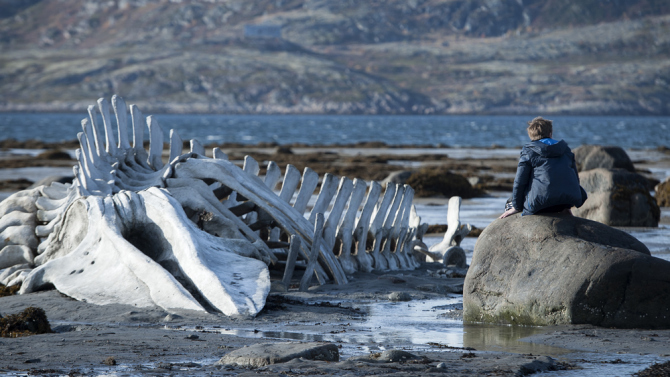 These are 6 Russian movies which so far has been nominated for Academy awards apart from winning other national and international awards. The only Russian movie winning Oscar is 'Burnt by the sun' in 1994. All you movie lovers and explores of different language and culture movie must see these 6 Russian movies to start with.
Also Read
5-kazakhstani-movies-you-must-watch
Explore Russia Tour Packages with Dook International, check our Russia holiday packages as below -
Moscow and St-petersburg 4 nights
Moscow and St-petersburg 5 nights