Museum of Fine Arts - Bishkek
Kyrgyzstan is land for travelers. One who comes to Kyrgyzstan goes back with best memories after seeing heavenly paradise. And when you want to look for beautiful architecture and culture of old time Kyrgyzstan Bishkek is the city you land to. One place where you can take the note of ancient Kyrgyzstan is State History Museum which we explored in our last article. There is another such museum where you can observe elements of Kyrgyz people, art, culture and Russian art of Soviet Period. This is Museum of Fine Arts in Bishkek city in Kyrgyzstan. So those who love to explore the details of elements which played an important role in the ancient times of a place should visit Museum of Fine arts when they are on a Bishkek tour package. You should take some time out to enter and explore Museum of Fine arts. Why? Let us see what is there for you at Museum of Fine Arts in Bishkek.
Bishkek is the first city you come to when you are on your Kyrgyzstan tour package. Bishkek is beautiful and around Bishkek city also you have many places to visit and one of them is famous and beautiful Issyk Kul Lake. So when you have a good time in Bishkek, add Museum of Fine Arts to your list. Museum of Fine Arts is dedicated to Kyrgyz Fold and applied arts and Russian art of Soviet times. Initially the museum was located in St. Nicholas Church in Oak Park and in the beginning it was state picture gallery. Today Museum of Fine Arts houses the gallery of Soviet Artist's union. The modern museum's building was built in 1974 as a part of overall capital city development project. Museum is named after famous Kyrgyz painter Gaper Aitiev and you can see several of his paintings in the museum. Museum features yurts, unchanging shyrdaks along with other things. Museum exhibits several masterpieces of National Arts and the collection of items of paintings, drawings, traditional decorative and applied arts in exhibit is over 17,500. When you are here you can see collection of artwork of Soviet period, work of Egyptian and Greek reproduction, classical western sculptures and more epic collections in the Museum of Fine arts, Bishkek. You can take a walk in the gallery here where painting from Soviet period is on display. You can also see collection of lino cuts by Hertzen based on the Manas epic. So the uniqueness of the museum is that it is a mix of Kyryz national art and Soviet modern art and every visitor can find something very interesting here. As you wind through the museum you can see the progression of medium and expression and ideology behind the works in all the items like Shyrdak carpets, intricate jewelry, sculptures, paintings which wander from romantic seascapes to social realities. So exploring the finer details of all works would be interesting for you as you would come to know about both temporal and political history.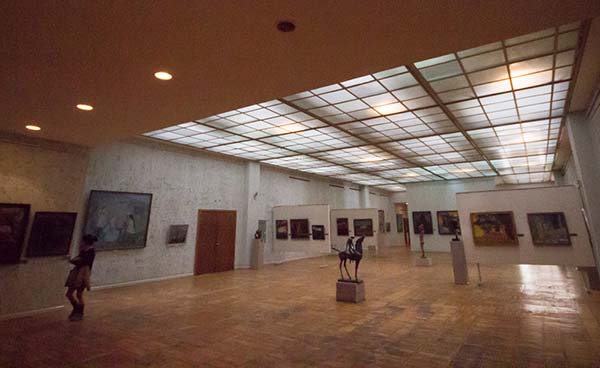 Museum of Fine Arts is located in the center of Bishkek city on the Sovetskaia Street 196 and remains open to visitors from Tuesday to Sunday between 9 AM to 5 PM. So when you are in Kyrgyzstan having a great time in Bishkek, do explore some museums of Bishkek city. One is State History Museum where you can observe about every thing of ancient Kyrgyzstan and when you want to know about the modern Kyrgyzstan then do visit Museum of Fine Arts in Bishkek. Your Kyrgyzstan tour package or Bishkek tour package should include Museum of Fine Arts, Bishkek if you love to explore such places on your trip.