Would it not be adventurous to climb and see one of the highest mountains in the world? Yes it would be. Would it not be interesting to see a mountain which is a dormant volcano? Yes it would be. And would you not be curious to know about such mountain before going there sometime in your life? Yes you would be. So we will explore one such beautiful mountain from a beautiful country spreading over two continents in this article. We will explore Mount Elbrus in Russia. Mount Elbrus is said to be formed more than 2.5 million years ago and the volcano is said to be inactive in current times. So what are attraction points of Mount Elbrus? Let us see when we try to bring some interesting things about Mount Elbrus from Russia.
Mount Elbrus is the highest mountain in Russia and in Europe and 10
th
most prominent peak in the world. Nearing the border with Georgia Elbrus is a part of Caucasus in Southern part of Russia. Mount Elbrus is dormant volcano, two summits west and east, both volcanic domes.West Summit is slightly higher than the east. West summit height is 5642 m and east summit height is 5621 m. You would be happy to know that though Elbrus is one of the highest mountains in the world but it is easy to climb. Standard path leading to Elbrus is long and strenuous still easy to climb, probably the easiest among seven summits in the world. However you need to take care of weather which may turn nasty on Elbrus anytime. And Mount Elbrus is enjoyable because it is always snow covered with an icecap and 22 glaciers. As mentioned above Mount Elbrus is inactive volcano and it last erupted around 50 A.D and its crater is now filled with snow and ice.The fact that Elbrus is easily accessible with its gentle slopes attracts a lot of tourist climbers every year. However Elbrus being one of the highest mountain in the world, one should not take it easy per say as mountains always demand highest level of alertness and volatile weather conditions can really turn things ugly at any point of time. But if you take care of these things you would enjoy the climbing experience to a great deal. People reached the west peak of Elbrus for the first time in 1874 and the east peak in 1829. Since then many have climbed the peaks. Today one who wants to ascend to the peaks can take a cable car and chairlift up to 12500 feet and from there one can take the standard route up to the summit. The route is mostly easy and safe. What all you need to face while ascending to the peak is lots of snow, high winds and high elevations. But all these can make your ride an adventure at the same time. Along the way you can stay in the valley of Terskol and Chegat. There are many hotels here. Azau valley has very comfortable hotels near to the cable car stations here.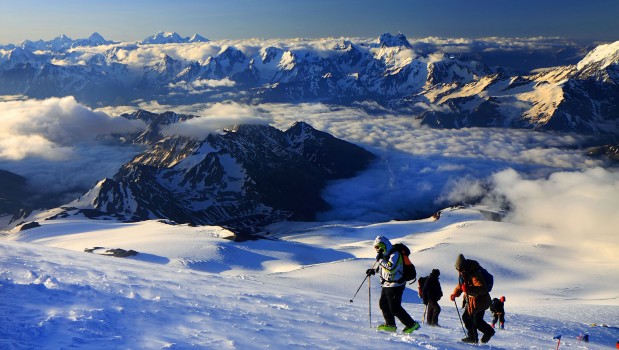 And if you are little fun loving you can stay in huts on the mountain. At the height of 4900 m if you get to stay in huts, it is surely some fun not for everyone though. What you enjoy the most at these huts is the surrounding views which are spectacular. So you enjoy climbing, camping, viewing and much much more. So all those who are nature and especially mountain loving must attempt to make a visit to Mount Elbrus, one of the highest summits in the world. Take a travel package to Russia and take a trip to Mount Elbrus.Explore Russia Tour Packages with Dook International, check our Russia holiday packages as below -
Moscow and St-petersburg 4 nights
Moscow and St-petersburg 5 nights