Northern Lights Finland - Best Places to See Northern Lights
What Are The Northern Lights?
Northern lights or Aurora is a stunning natural light display in the sky. Northern lights are predominantly seen in the high altitude regions or the Polar Regions around the Arctic and Antarctic. They may be a result of natural sequences scientific in nature but this solar phenomenon is truly spectacular to witness for everyone on the planet. In the dark night on the sky, there is a play of colors and light that everyone craves to see at least once in their lifetime.
Where Can You See Northern Lights On The Planet Earth?
Northern lights or Auroras mostly occur in a band known as the "Auroral Zone", a belt of radius 2500 KM centered on the magnetic north pole. This zone extends from where one can see northern lights over northern Scandinavia, Finland, Norway, Iceland, Greenland, Northern Canada, Sweden, Alaska and the Northern Coast of Siberia.
Experience the Northern Lights in Finland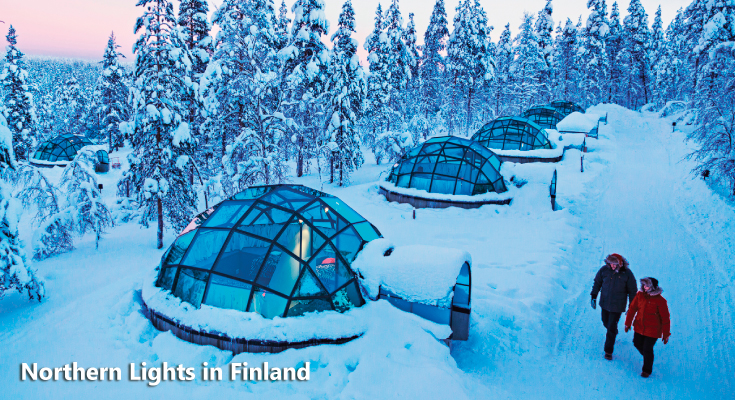 Finland is a superb travel destination for travelers around the world and northern lights are probably the top reason to visit Finland. And if you thought that winter is the only time when northern lights happen then you are mistaken. In Finland, northern lights are visible on about 200 nights every year or simply put they are visible every other clear night. So, this means you can go for a northern lights trip at any time of the year. However, in summers and spring, it may be hard to get a chance to see northern lights so from autumn till winters (from late August till March) is the best time to see northern lights in Finland. In winters especially when the skies are dark, northern lights are commonly visible.
In Finland, northern lights also have a backdated story behind it. The Northern Lights in Finnish are called Revontulet, which means fox fires. The name comes from a super old tale that tells you that a fox moved its bushy tail on the snowy fields and thus threw sparks into the air. Whether you believe the story or not is up to you, but when you reach Finland to experience northern lights you may come across some more stories or versions of the same story as well.
Northern Lights in Helsinki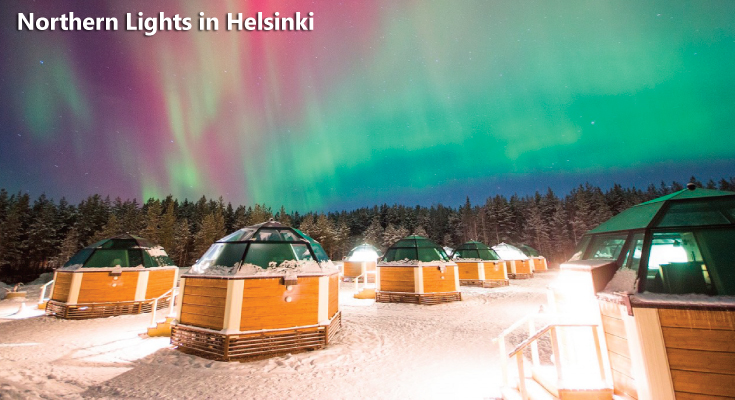 Helsinki is the capital city of Finland. Mostly when you are on a Finland Tour, your journey starts at Helsinki and often ends here as well. So, if you are craving to experience northern lights you would be curious to know if you can get northern lights in Helsinki or not? Well, if you cannot move north in Finland and still want to experience northern lights then you need to be lucky or in other words, the conditions just have to be right in Helsinki. What this means is that there must be a clear sky and a strong solar storm so that aurora created by it can be seen despite being light pollution there. So, it is possible to see the aurora in Helsinki as well but not always for sure.
Best Places to See Northern Lights in Finland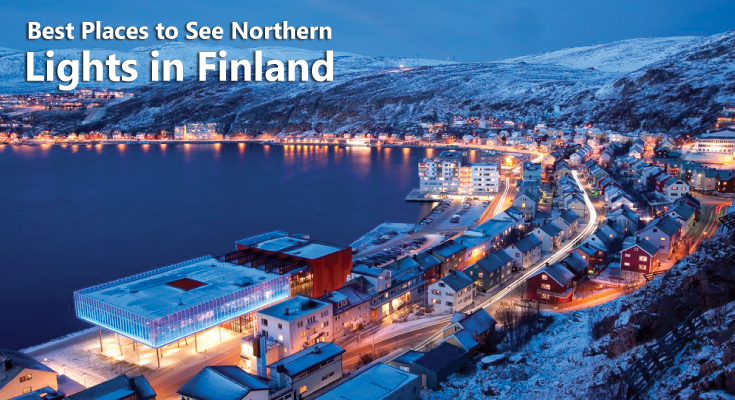 Finland's geographical positioning in the far north makes it quite an interesting place to see northern lights from several places in the country. If you succeed in finding the right conditions you can see northern lights from just about anywhere in Finland. However, here are some of the best places to see northern lights when you are planning northern lights trip to Finland.
1. Rovaniemi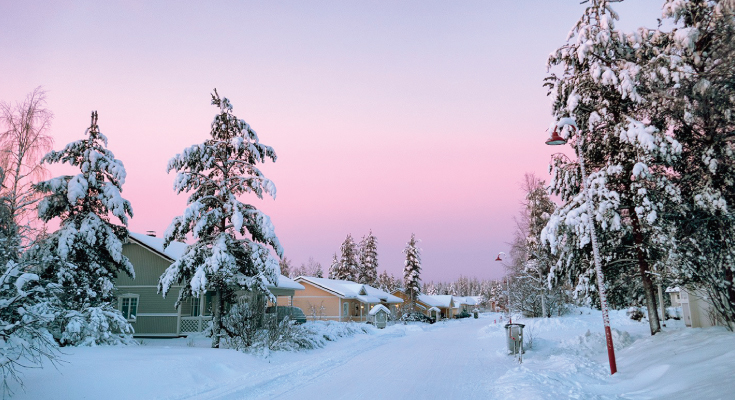 Rovaniemi is the most popular place in Finland to see Aurora Borealis. One can see the spellbinding astral show from in and around the Rovaniemi city during the autumn and winters. You can stay in a glass igloo or you can go hunting for the northern lights here. The choice is yours. But no matter where you are in the city, you can find a viewing spot and all that is required is the clear and dark sky.
2. Saariselka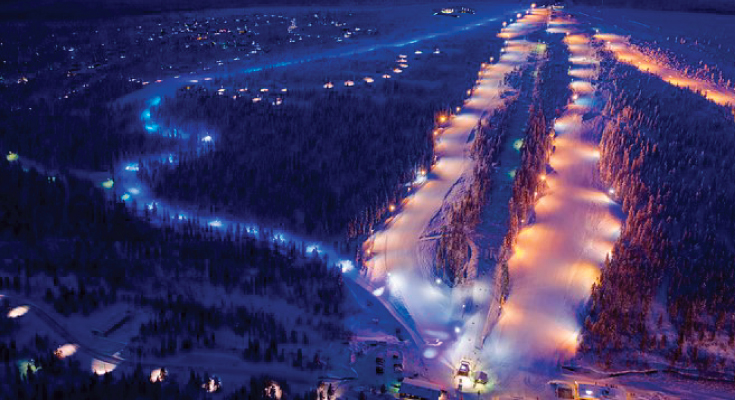 A resort village in northern Finland, Saariselka is yet another famous place to see an aurora in Lapland. Choose a glass igloo resort like Kakslauttanen, Northern light village, Aurora Village Ivalo or Muotka igloos and get the best experience of northern lights. There are glass igloos in other parts of Lapland as well, but Saariskela is by far the best among them.
3. Ylläs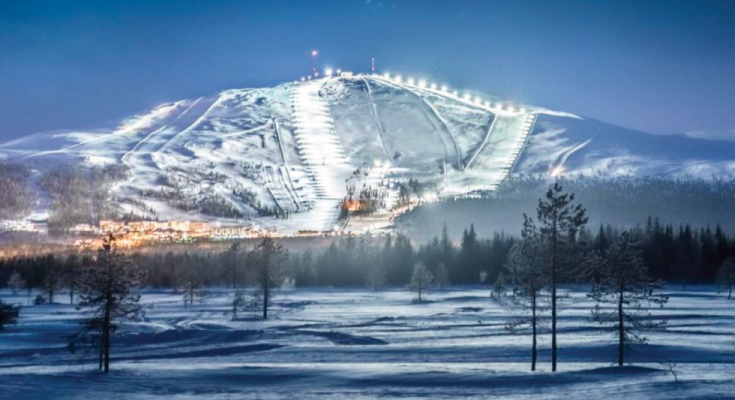 Ylläs
is also a small village in the northern Lapland of Finland. When you ask about the
best place to see northern lights in Finland
, Ylläs has to be one of the top places where visitors can see the starry and bright sky in winters when the street light in the village is turned off after 10 at night till the 06 in the morning every night from the start of October to the mid of February month. You can see
northern lights in Ylläs
from anywhere. But there are cottages available with windows facing to the north which allows you to see northern lights directly from your living room.
4. Levi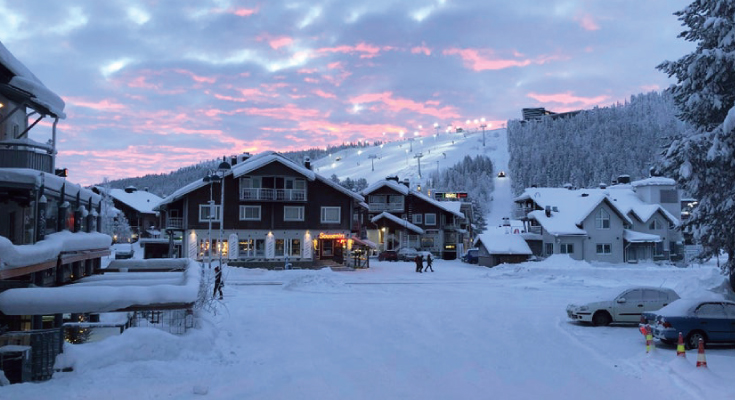 Those looking to experience the flaming sky with variations of lights each night from the comfort of a warm bed in glass-roofed resorts when outside is fully cold must try it in Levi, Finland. Levi is a small village in the northern Lapland of Finland. The village is beautiful and offers great northern lights experience to the visitors. You can stay in the Levi Ski resort or local huts anytime from the start of August lasting until April.
5. Luosto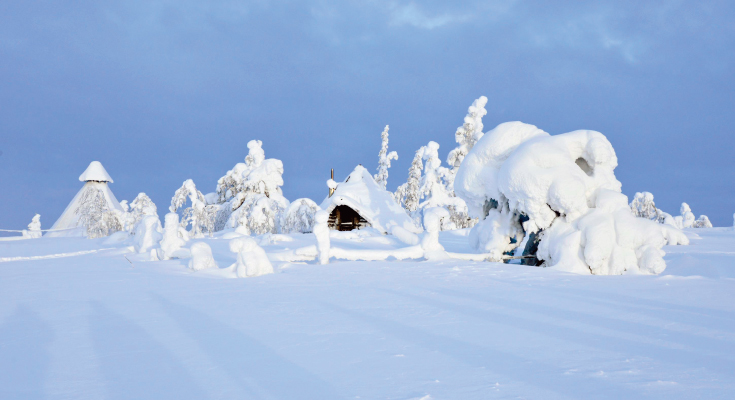 Luosto is a fell in Finnish Lapland. This is a small village full of pine cabins located in between the Pyha-Lousto National Park and Luosto fells. You will have a great time here for sure when you are on a northern lights trip to Finland. In this quiet and peaceful village, you can see clear northern lights as there are all efforts put in to keep light pollution away from this place. You can enjoy hiking as well here during the day and night time is of course for the best views of play of light and colors lighting the dark sky.
6. Sodankylä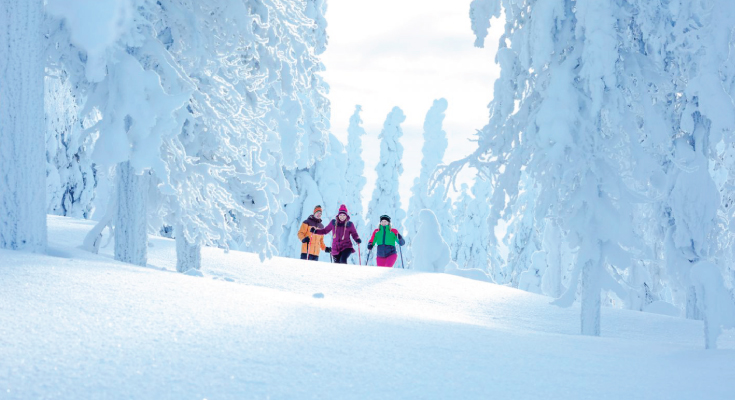 You not only want to see the aurora, but you also want to capture the best possible pictures of that. In Sodankylä you can do both. It is an ideal place for everyone to see and take pictures of northern lights. It is a small town with plenty of wilderness around it. You not only get to
see the best of northern lights
here but you can also enjoy ice fishing, snowmobile driving, snowshoe walking and more activities here.
7. Nellim, Lake Inari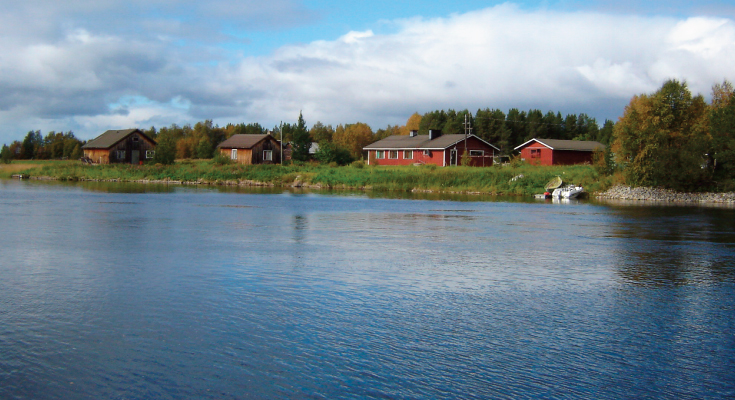 Nellim is a small place in northern Lapland of Finland but happens to be one of the best places to see northern lights in Finland. Inari Lake here is a calm and spiritual place located 250 KM above the arctic circle and offers everyone a great experience of aurora and there is also very little light pollution. You can hunt the aurora from a cabin, minibus or car and for more fun activities you can enjoy a stay at aurora camp located on the southern shores of Inari Lake.
8. Kemi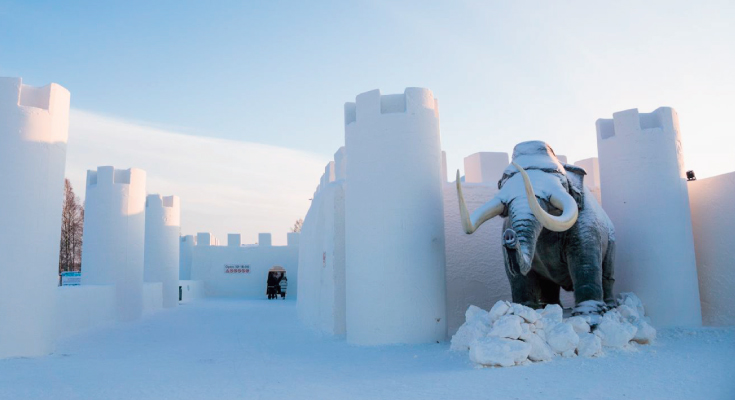 Kemi is a town in the Lapland. In Kemi, northern lights are visible on an average for 100 nights a year. Between 8 to 11 PM is the best time to witness northern lights in September, October and February, March. So, you can plan to go to Kemi for the best northern lights trip to Finland. You should not forget to stay in the Kemi Snow Castle to live life like an Eskimo for a while.
9. Kittila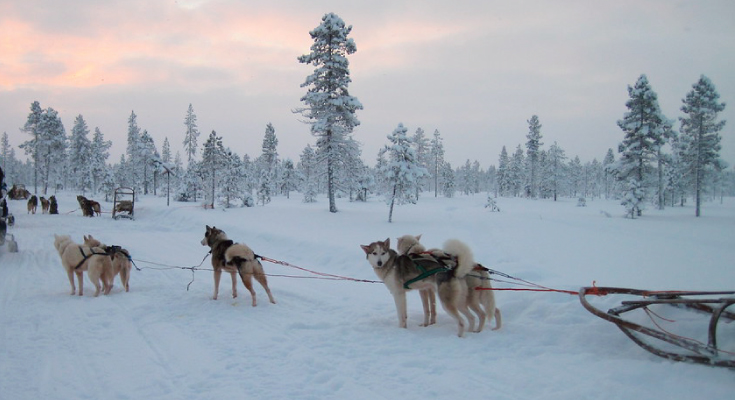 Kittila is a popular resort town for visitors in Finland. You can definitely enjoy northern lights from this place in Lapland but that is not it. You can also enjoy a variety of other activities in the Kittila which include dog sledding, snowmobiling, a reindeer safari, skiing and snowshoe walk. Enjoy these activities during the day and keep the evening time for a beautiful aurora experience.
10. Utsjoki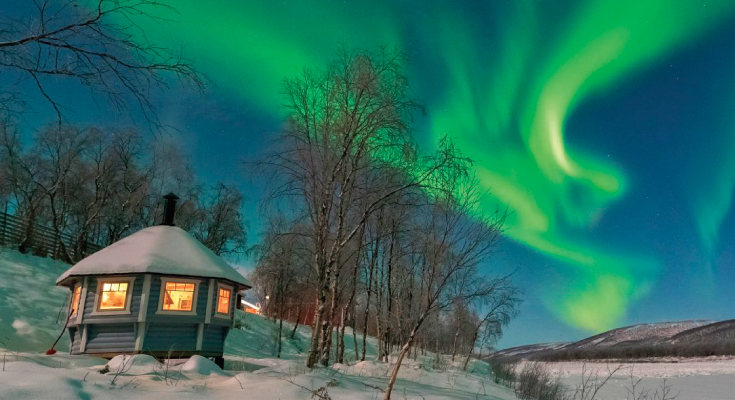 If you go far north in Finland near the Norway border, you will reach Utsjoki. Utsjoki is a small town with the population being just above 1000 people. Such an unexploited place is a great one to get the dark sky which is a key factor to enjoy the northern lights the best. Winter is the best time in Utsjoki to view the aurora.
11. Kakslauttanen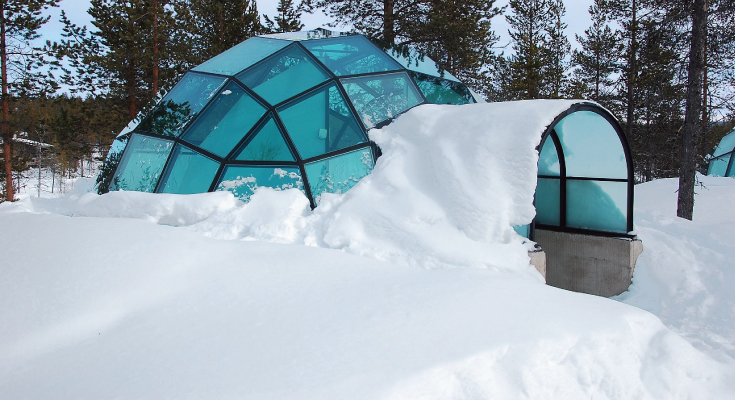 Are you still chasing for the best place in Finland to complete the list when you are on northern lights trip to the country? Well, if yes then you can surely include Kakslauttanen on your list. If you want to enjoy northern lights from a glass igloo lying in your bed in Kakslauttanen, you can simply stay in the Kakslauttanen arctic resort here. No matter how low temperature is low outside, inside your igloo you will always feel warm.
12. Muonio
By now you would have understood that small villages in northern Lapland of Finland with few hundred or thousands of human population are the best places to experience northern lights. So, it is easy for you now to choose the best place to see northern lights in Finland. Muonio is also a small village in northern Finland and the great thing about Muonio is that it is sitting directly under the aurora oval. This means you don't need to make extra effort to see northern lights in Muonio. You can be here and see the northern lights every other night.
Know More: Attractions in Finland