In last article we explore
beaches of Kovalam in Kerala
and reasons why Kerala is a hot favorite tourist destination in entire Asia region. One of these reasons is
backwaters of Kerala
. So what is backwater? Backwater is a part of river that receives little or no current and so there water is stagnant. It refers either to a branch of a main river, which lies alongside it and then rejoins it and
Kerala Backwaters
are a chain of brackish lagoons and lakes that lie parallel to the Arabian sea coast which is known as Malabar coast of Kerala in India. This huge network of
backwaters in Kerala
covers almost half the length of Kerala which includes five large lakes linked by canals which are both man made and natural and is fed by 38 rivers. So this is the immensity of
Backwaters of Kerala
. Now most amazing thing about the backwaters is that they create magnificent scenic views and when you are in Kerala you cannot simply miss boat tour here on the backwaters. So before your excitement level goes up let us explore
Backwaters of Kerala
more.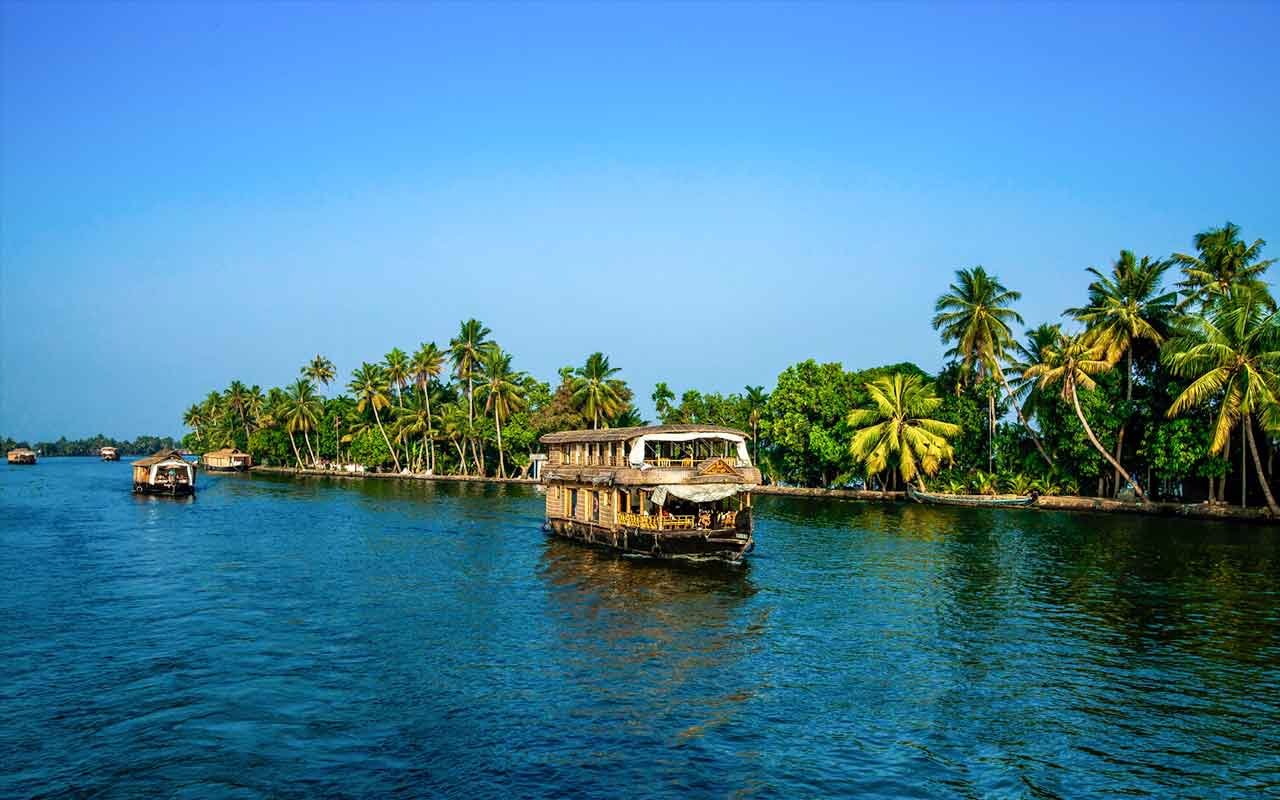 Kerala backwaters
were formed by the waves and shore currents which created low barrier islands across the mouth of many rivers flowing down from the Western Ghats range. These are network of interconnected canals, rivers, lakes and inlets which forms over 900 KM of waterways. Throughout these backwaters there are number of Kerala towns and cities which forms the staring and end point of your backwaters cruise journey. As the Kerala state in India is located between Arabian sea in the west and Western Ghats in the East, the backwaters here are simply brightest part of Kerala tourism which is famously said 'God's own country'. From Kollam to Kottapuram which is a distance of 205 KM on National waterway 3 running parallel to coast line of Southern kerala, travellers can enjoy both cargo movement and backwater tourism among the beautiful landscapes. This is one of the prime attractions of kerala for tourists. What you get to see on the move? When you are on a peaceful ride you can see thrilling view of sunset, lush paddy fields, the moon light along with gentle lapping of water when your houseboat called as Kettuvallams sails through. You are guaranteed a lifetime experience on these houseboats. Some of the top backwater regions in Kerala are Kollam, Alleppey, Kumarakom, Kuttand and Kasaragod along with several others like Munroe Island, Thiruvallam and Kozhikode. Kollam is the starting point of your houseboat ride. One of the oldest ports on Malabar Coast, the beautiful sites here during the ride are spectacular, blooming water lilies, canals and the songs coming from the birds. It is also longest backwater ride in Kerala which lasts for 8 hours from Kollam to Alleppey. Alleppey is a beautiful town in kerala also called as 'Venice of the east'. Large network of inland canals make
Alleppey
one of the most significant tourist center in Kerala. Many of the houseboat rides either start or end here. Here on the ride you can see the interwined backwaters, beaches and lagoons. Arnamula snake boat race or Nehru boat-race is the prime annual affair in Alleppey and is hugely popular among both locals and tourists. Kumarakom offers you probably the best view. The green paddy fields and Mangrove forests simply catch your eyeballs and demand special attention. These forests are full of white lilies and they draw tourists from all over the world. Through this journey you will see beautiful villages of Kerala. Kumarakoram also happens to be the best place for Ayurveda in Kerala. Next is Kuttand. The interesting and appealing point about Kuttand is that it lies below sea level and is the lowest place in India. This is also called as 'The rice bowl of Kerala' because of rice growing in abundance here. You can see stretches of paddy fields, rich growth of banana, yam and cassava and many birds. Kasaragod is far and distant from other tourists hub here in Kerala but that does not make this beautiful village any less attractive. Backwater here is more secluded and free from commercial activities. So if you love peaceful ride, Kasaragod is for you. The people here are quite hospitable and you see the culture preserved here as people still have not taken up modern lifestyle. The place is surrounded by the Western Ghats on the East; near to the Chandragiri River and has a number of forts, temples and beaches and that is the reason why Kasaragod is one of the ideal backwater destinations in Kerala that you must travel to.
So you see that
Kerala backwaters
offer you everything. A great ride, amazing sceneries, great hospitality, wonderful culture and traditions and after a ride of great length you are left with lifetime memories. The backwaters in Kerala are uninterrupted. Earlier it used to be route for transfer of goods but now they are mainly for tourism activity. So by now you would have gazed that your India travel package or Kerala tour package must include Backwaters ride. Do ask for this great ride before you book your India tour package, South India tour package or Kerala tour package.