7 Best Places to Celebrate New Year's Eve
New Year's Eve is a time where you want to have the wildest blowout ever as a young person. Even if you are too old to break it on the dance floor, you wanna enjoy some celebrations. Well, this year is one of the best times to celebrate the New Year in a unique way. You can travel to many destinations across the world and have a novel experience. However, there are some out of the way places which could serve as the ideal spot your new year's eve this year. Here are our top picks for you to choose from.
7 Best Places to Celebrate New Year's Eve 2023-24

1. Almaty, Kazakhstan

Almaty
is one of the
best places to celebrate New Years
that you may have never heard of. But it can be the exact place where you have the best party this year. If you've ever been a fan of the Slavonic traditions and myths, Kazakhstan is a great choice for your New Year's. Combined with Christmas, the
New Year's Eve celebrations
at Almaty are a revel to say the least.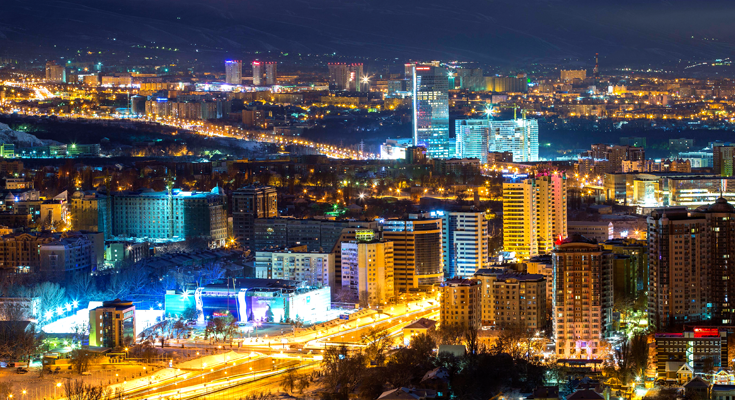 Kazakhstan is also famous for Father Frost. He is a precursor to Santa Claus and called Ayaz Ata in this country. Christmas celebrations usually last for at least 2 weeks here. So, booking for the entire time is the best way to fully enjoy it. Adding to Kazakhstan's unique year end festivities, you can find iconic New Year's Tree setups in Almaty. And if nothing grabs your attention here, go party-hopping across the city with thrift. You can do this all through Christmas on to the New Year.
Book Package: Almaty Tour Packages
2. Baku, Azerbaijan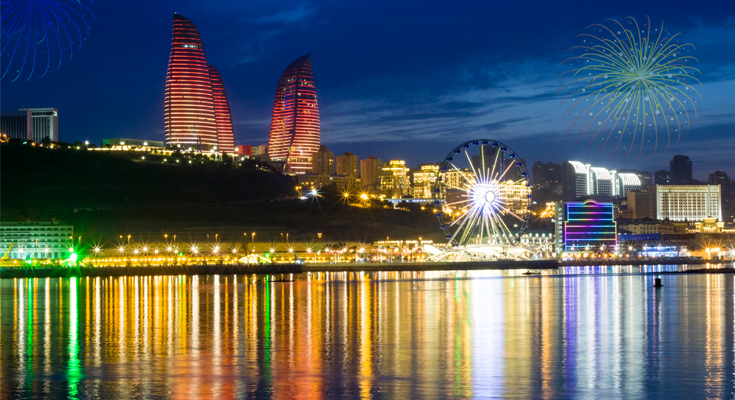 Baku is another great place to celebrate your New Year. It offers with all kinds of festivities which you may expect in any major city in the world. However, that is not all Baku will give you if you visit it at the end of 2023. Famous for its massive fairs, Baku's Fountain Square fair has always been popular. You can find all kinds of food, drinks and enjoyments laid out for locals and travellers alike.
Once you finish with the festivities, you can enjoy the stunning fireworks at the end of the evening. All major city landmarks like Heyder Aliyev cultural center, Baku Crystal Hall, SOCAR Tower etc. host fireworks. It is a massive event and the best place to enjoy it is from Baku Boulevard. You can find crowds thronging the city square parts from Azadliq Square to National Flag. Baku is a hands down a great New Year's holiday destination.
Book Package: Baku Tour Package
3. Tashkent, Uzbekistan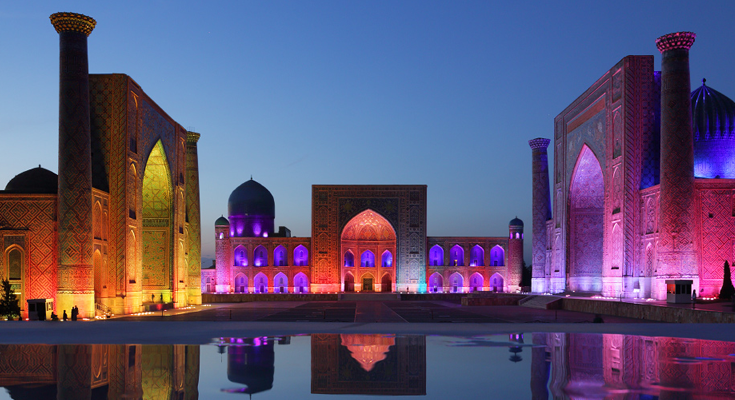 Uzbekistan shares a lot of the cultural history and heritage of its neighbors. So, Christmas and New Year's celebrations here are quite like neighbouring nations. Still, Tashkent adds its own unique touch to the mix. It celebrates its own version of Father Frost and the Snow Maiden. You'll find these two mythic figures feature in all December festivities. You can visit popular film festivals centred around its own culture and heritage.
Believe it or not, Uzbekistan gets its fair share of snow as well. So, if you fancy a ski from a steep hill, you can do it very easily. Further, you can take part in the festivities around the New Year's Tree as well as any other parties going on in the city. There will be plenty of these for both adults, couples as well as those with children. The City Circus is a particularly popular place for both adults and children. No matter who you are and who comes along with you, Tashkent is surely one of the best places to spend New Years.
Book Package: Tashkent Tour Package
4. Moscow, Russia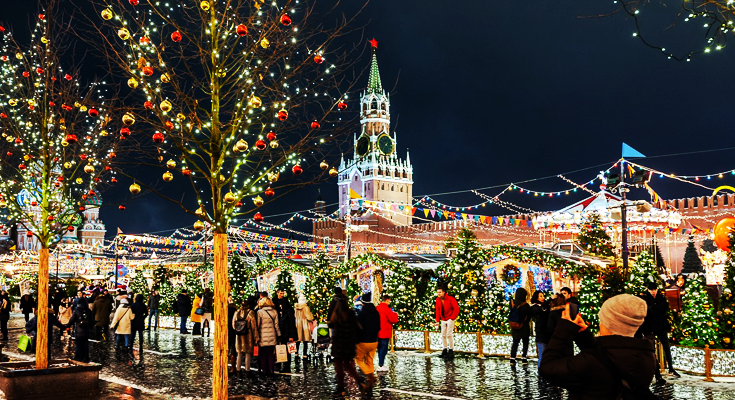 If you want a blowout New Year Holiday Destination, Moscow is the place to be. One of the most well-known destinations on our list, this city has something for everyone. New Year parties in Moscow go from high-class to flat out crazy. You can find the perfect mix for yourself with just a few clicks. Further, you will not be spending too many Rubles for an awesome New Year's bash. The Red Square party is particularly renowned for being a grand bash. You could join in with the rest of the travellers and local persons and enliven your New Year's celebration.
Another unique part of celebrating New Year's in Moscow is the Ice Skating rink at the Red Square. This is a very popular activity so you should get tickets well in advance. Nearing midnight you can enjoy the stellar fireworks visible all over the city. Try the Moskva River bridge if you like crowds. You will always find it packed full around this time. You'll get to see a lights show like no other! Choose Moscow for your New Year's Eve Destinations.
Book Package: Russia Tour Package
5. Yerevan, Armenia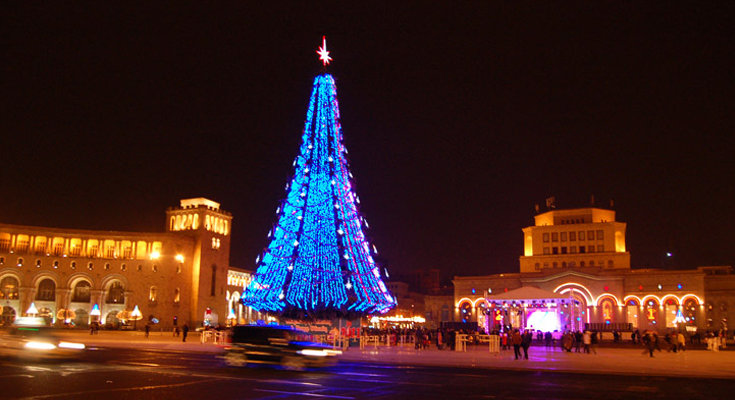 Christmas and New Year are a special time in Armenia. Yerevan is often the epicenter of all the celebration in this country. You can go visit anytime in the last 2 weeks of December and you'll find no shortage of things to do. Exclusive parties, film festivals, musical concerts – you name it and Yerevan has it. Plus, you can participate in many Christmas-themed events. Even if you're not religious, the New Year celebrations are well worth arriving in advance for. Indeed, Armenia has its own uniqueness when it comes to celebrating the turn of the New Year.
Book Package: Armenia Tour Package
6. Tbilisi, Georgia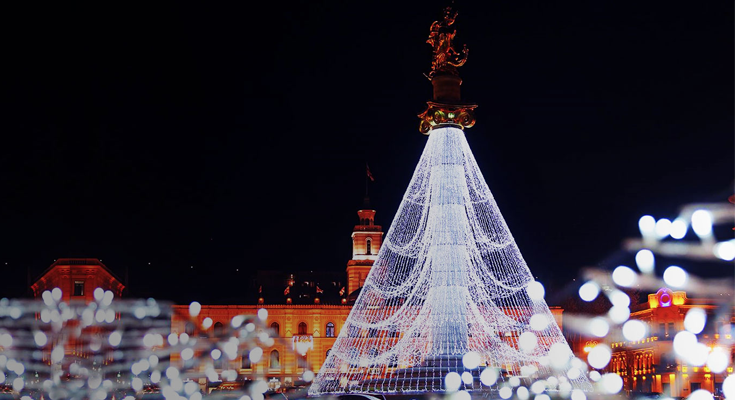 Tbilisi is the capital city of Georgia. It is a wonderful town to celebrate New Year's in whether you are with family or friends. The entire city is lit with lights all throughout the last few weeks of December. At the same time, some very special events that cater to specific types of travellers. Rike Park in Tbilisi has always been a centre for celebration during Christmas and New Year. This place offers rides, amusements and other festivities to all locals and tourists.
Tbilisi is also host to a number of parties and celebration which you can make special bookings for. You can also find many hotels and lodges offering special discounts. But you need to book them quickly since they usually go out fast. Tbilisi is easily one of the best places to spend New Year's Eve.
Book Package: Tbilisi Tour Package
7. Kiev, Ukraine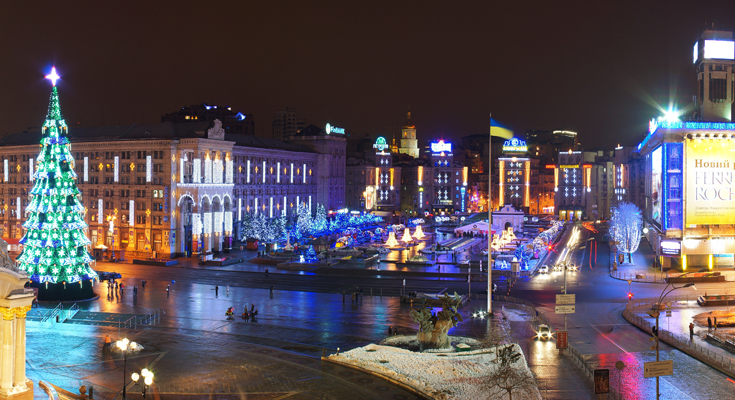 Kiev is a great city to spend your New Year's Eve. This town has all the lights and show anyone needs to make their entry into the new year momentous. Aside from major nightclubs like Xlib and Arena Dance Club, you can also visit the many other venues. All of them offer some sort of special celebration for the New Year's and you can avail a solid discount on your table.
Of course, fine dine and dance are not the only Christmas and New Year highlights in Kiev. You can also go for a more modest New Year with local families. Independence Square is a popular place for families and has its own delights to offer. You can enjoy these with your family and still not feel like you've missed out on anything. No wonder Kiev often features on many of the top places to celebrate New Year's Eve.
Book Package: Kiev Tour Package
Where Should You Go for New Year's Eve This Year?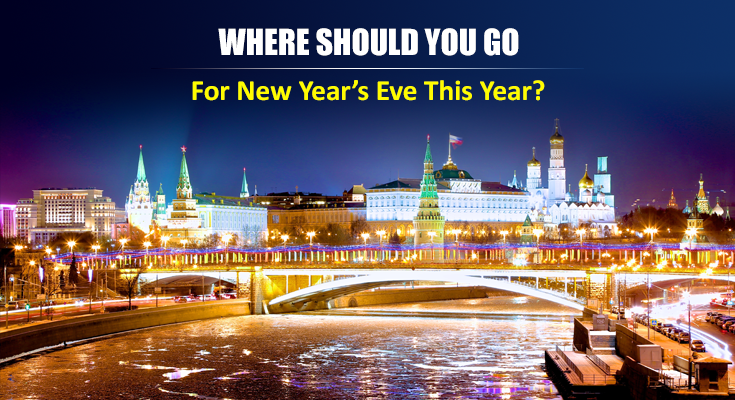 New Year's is a festive time that you want to let your hair down. All our destinations offer something unique for your New Year's experience. They feature on the Best Places for New Year's Eve list all over the internet. Get the best priced deals on these exotic destinations. Contact Dook International for an exclusive New Year's Tour Package now! We will help you choose the right destination and the perfect year-end getaway plan!