Incredible journeys to Slovakia with DOOK!
No matter your travel style, we have a Slovakia package tailored for you
Slovakia Tour Packages
Explore Slovakia with DOOK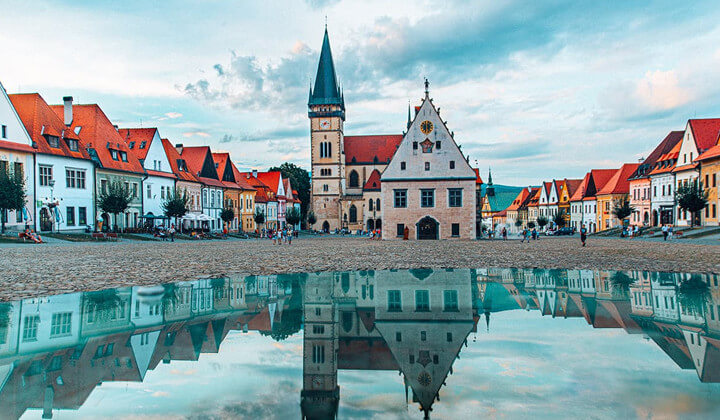 Slovakia: Land of nature, history, architecture and glorious beauty

Experience Slovakia like never before with Dook's Slovakia Packages

Slovakia is a landlocked country bordered by Poland, Austria, the Czech Republic, Ukraine and Hungary, with high hills towards the north, low mountains across the centre, beautiful hills to the west and incredible valleys to the south of the country. Witness the beauty and glory of Slovakia with Dook Travels' Slovakia Holiday Packages. The majority of the population are ethnic Hungarians, but there are a considerable number of Roma (Gypsies), and a few thousand Rusyns in the east, the population is much diversified and has multiple cultures to be explored.

Experience the adrenaline rush and feel rewarded by climbing the high peaks of the Tatra Mountains. Spend a night in a mountain cabin while looking for chamois and marmots. Explore the nine national parks surrounding a substantial portion of the Slovak terrain. Explore the karst areas with limestone canyons and caves, Slovakia's most recognised natural beauty. Taste sweet tokay in a genuine wine cellar, or relish haluky with bryndza cheese. Kneel under the world's highest Gothic wooden altar or take a tour of the Kremnica Mint, the world's oldest continually operating manufacturer, having been in operation since 1328. Your Slovakia Tour includes trips to historic mining villages, underground tunnels, unique folklore and cultural activity in Bratislava and Kosice to round out Slovakia's distinct experiences.

Bratislava is the most famous tourist attraction, but don't miss out on the old-world charm of locations like Spis castle. Slovakia vacations are every traveller's fantasy. When you visit Slovakia, you will be met with mediaeval castle ruins, hilly national parks and traditional villages. The natural beauty and the traditional culture continue to dominate in Slovakia. Hikes through waterfall-filled gorges and visits to wooden churches should be a must-to-have in your Slovakia Tour Packages. These little pleasures will leave you wanting for more.

The country will fill you with spectacular rural vistas, massive castles towering over cities and rivers, excellent hiking paths over hills and romantic mediaeval villages hidden behind rocky peaks. Our Slovakia Tour Packages from India will also allow you to try some of the region's best items, such as exquisite sheep's cheese dumplings and plum brandy. Food is an additional element that will make your Slovakia trip enjoyable and worthwhile.

If you are interested in going on an eventful Slovakia tour and witnessing the magnificent beauty and glory Slovakia has to offer, you are at the right place. With the best Slovakia Holiday Packages offered by Dook, experience Slovakia like never before.

General Information for your Slovakia Tour:

Capital: Bratislava
Languages: Slovak
Currency: Euro
Driving Side: Right
Best Time to Travel: May, June, July, August and September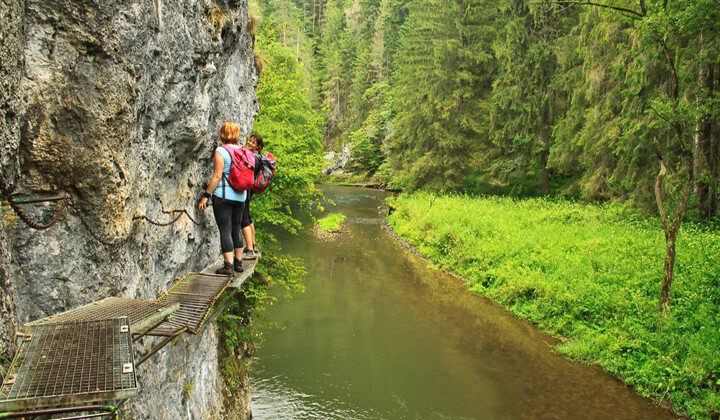 Explore Slovakia

Bratislava is a mediaeval town with cobblestone streets, low arches and little squares. It's tiny enough to see in a day yet large enough to keep you entertained for a long weekend. Banská tiavnica, a UNESCO-protected mediaeval mining town amid a lunar environment of extinct volcanoes, is located in central Slovakia. East and north are the High Tatras, a mountain range as majestic as any in Central Europe. They've long been a popular destination for skiers, hikers and sonnet writers. The rugged, mountainous Spi area, which borders Ukraine, is home to the enormous mediaeval Spi Castle and the twelfth-century walled town of Levoa. Continuing south, close to the Hungarian border, you'll discover Kosice, Slovakia's second most famous city.

Below is a list of destinations which are a must-to-have in your Slovakia Packages:

1. Bratislava Castle: The magnificent glory of Slovakia

Slovakia's awesome castles attract visitors from all over the world. This surreal castle in Bratislava is the most magnificent of them all. The castle was constructed in the 10th century and is situated on a breath-taking plateau. This massive old structure is nearly rectangular and encircled by four tall towers. The location is worth visiting for those interested in arts and culture. You can enjoy a fantastic view of the city from the top of the castle, which is excellent for watching sunsets! Our Slovakia Tour Packages will make sure that you enjoy fantastic moments like these.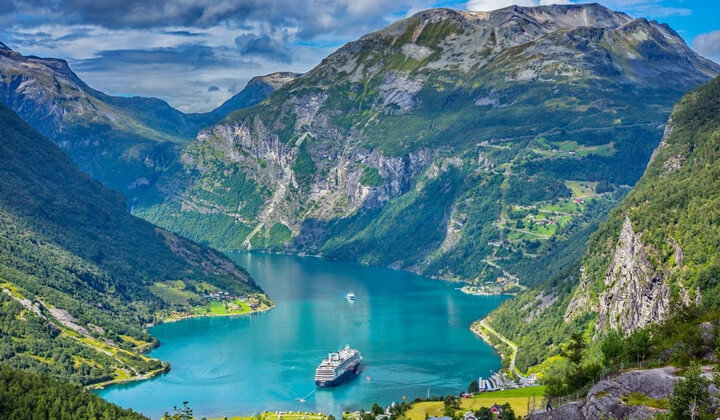 2. St Martin's Cathedral: An architectural and historical wonder

St Martin's Cathedral was founded in 1452, making it one of the oldest cathedrals in Europe and another must-to-have in your Slovakia Holiday Package. The design of this castle is influenced by gothic architecture, located on the western boundary of the Bratislava Castle. This castle is one of the historical locations to visit in Slovakia, Europe. Historically significant events took place there, such as the coronations of Hungarian monarchs and Queen Maria Theresa. The golden crown is also on top of the castle, which adds to its splendour. No Slovakia Tour is ever complete without visiting this magnificent cathedral.

3. Slovak Paradise National Park: Explore the beauty of nature

Explore the unquantifiable charm of nature in your Slovakia Tour. Slovak Paradise National Park is one of Slovakia's nine national parks in the country's eastern regions. Its goal is to protect animals and natural reserves. This park first opened in 1988. The park offers a plethora of attractions that will keep you engaged during your eventful visit. It contains soothing lakes, glittering waterfalls, scenic canyons and a lush forest with diverse flora and wildlife. You may also trek or wander through nature to get peace of mind.

Top Bucket List Experiences in Slovakia

1. Witness the magnificent Tatra Mountains

It is Europe's second-longest mountain range, just after the Scandinavian Mountains. The Tatra Mountains are part of the Carpathian Mountains, a mountain range that runs over numerous European nations, beginning in the Czech Republic and terminating in Romania. Trbské Pleso (1346m), Popradské Pleso (1494m), and Hrebienok (1285m) are must-sees because the panorama of the glacial tarn with the spectacular peaks in the background is one of the best-known vistas not only in Slovakia but also internationally. These glorious mountains are a must-have in your Slovakia Holiday Packages.

2. Explore history at the Demänovská Cave of Liberty

Slovakia is well-known for its rich history and culture, but it is also famous for its spectacular and glorious natural landscapes. More than 100 caverns may be found beneath the alpine scenery of Slovakia. Demänovská Cave of Liberty is a karst cave that was discovered in 1921. In 1924, it was opened to the public. This cave's entrance is located at an elevation of 870 meters. The cave is an archaeological paradise, if you are interested in exploring ancient living systems, this place must not be missed and is included in Dook's Slovakia Tour Packages.

3. Banská tiavnica: Slovakia's best kept secret

If you like green rolling hills, pastel-coloured houses and medieval architecture, you'll enjoy Banská tiavnica. Banská tiavnica, Slovakia's oldest mining town and a UNESCO World Heritage Site, is one of the country's best-kept secrets. Wandering about its lovely Old Town, you'll come across a plethora of fascinating and colourful Gothic and Renaissance structures that will make you feel like you've walked into an ancient fantasy.

4. Cherish scrumptious Central European delicacies in Slovakia

An ideal Slovakia Holiday Package is incomplete without indulging in the country's mouth-watering delicacies. Slovakia lies in Central Europe and surrounds Poland, Hungary, the Czech Republic, Austria and Ukraine. Hence its cuisine is a combination of several specialities. Dumplings are available across Central Europe, but the authentic bryndzové haluky, Slovakia's incredible national dish, can only be found here. Haluky, or potato dumplings, are typically served with a high quality, deliciously creamy, soft, locally made sheep's cheese known as bryndzové. When deciding where to dine, choose a traditional restaurant that will bring Polish culture and flavours to your table, making your experience enticing and one-of-a-kind.

5. Experience wine like kings at the Rákóczi Cellar

A unique experience to add to your Slovakia Tour. Drink wine in a quaint subterranean medieval wine cellar. Cherish wine like medieval kings, enjoy a wine tour and taste at Rákóczi Cellar. This alluring wine cellar, created in the early 15th century, was privy to monarchs, sovereigns, princes, and generals. The cellar is a wine tasters haven, with dark stone corridors, soft lighting, and the damp odour of old wine. The bottles are stored in cages and are coated in harmless black mould, giving them the appearance of being 100 years old (which some of them are). The wine is spectacularly delicious, and clubbed with the experience of drinking underground in a medieval setting is one of the best attractions Slovakia has to offer.

6. Splurge and spoil yourself while shopping in Slovakia

Your Slovakia Tour Packages always include a visit to the shopping hubs. The most popular souvenirs from Slovakia have indigenously produced food and drink goods and traditional folk arts and crafts. Traditional folk embroidered apparel is one of the most fabulous Slovak souvenirs available, particularly for ladies. T-shirts, tank tops, and skirts are embroidered in brilliant colours with traditional folk motifs and sold in numerous souvenir stores around the country. Another sort of wine to try is honey products or medovina. You can buy Tatratea, which is an alcoholic tea, a fun alternative to the usual mundane tea. It is a herbal liqueur made from tea that comes in six different flavours.

Plan your trip to Slovakia with Dook International!

Slovakia needs to get its due credit as an international tourist destination. Because each city is stunningly beautiful, it is gradually becoming a popular destination for travellers worldwide who want to witness a unique experience, more than just the standard European attractions. On your Slovakia Tour witness ancient towns with vibrant architecture, wine cellars, castles and cathedrals, exquisite architecture, delicious delicacies, and more! With our Slovakia Tour Packages from India, you will discover every hidden beauty and mystery of this wonderful country.

Plan your holiday to Slovakia with Dook International and have new, unforgettable experiences with your friends and families while we care for the rest.
Explore More: Top Attractions in Slovakia