Incredible journeys to Hungary with DOOK!
No matter your travel style, we have a Hungary package tailored for you
Hungary Tour Packages
Explore Hungary with DOOK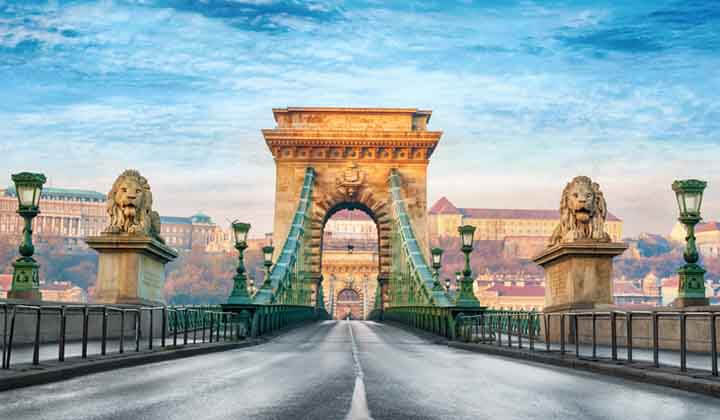 Hungary: The land of water and proud patriots!

Give yourself a mineral spa session at Lake Hévíz with Dook's Hungary Tour Packages

Hungary must be on your list if you're looking for a place to explore. This country has a long history of being home to some of the most famous people in all of history. From the world's most famous escapologist Harry Houdini to famous Hollywood actress Drew Barrymore, Hungarians have left their mark on the world stage.

There's more to Hungary than just its history though! Hungary has become a popular tourist destination in recent years, and for good reason. The country has an incredible variety of climates and landscapes, from pine forests and rolling hills in the west to arctic tundra in the east. You can get almost anything you want here: from great food and wine at fancy restaurants to traditional folk music concerts at small clubs across town, the choices are endless!

Furthermore, the people of Hungary are friendly and welcoming, they love meeting new people and sharing stories about their life experiences. They are generally known as proud patriots, especially for their ancestry, nation, traditions, culture, and language. If you're looking for adventure, our Hungary Tour will take you there.

So if you're planning on traveling abroad soon from India, consider taking some time out to go through our wide range of Hungary Tour Packages from India!

Capital: Budapest
Languages: Hungarian
Currency: Forint
Driving Side: Right
Best Time to Travel: Spring and Fall (May, June, September, and early October)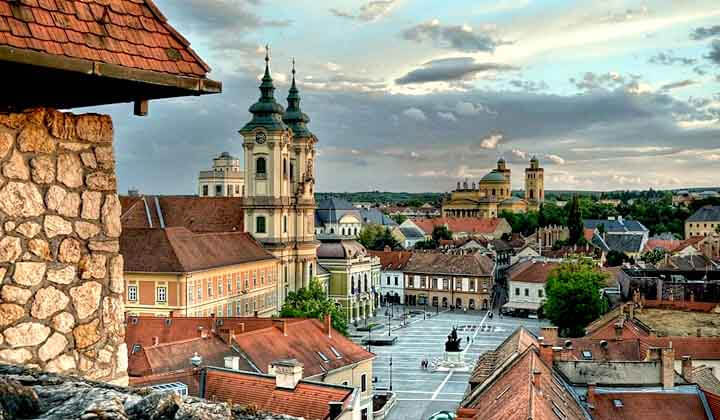 Explore Hungary

When you travel to Hungary, you'll be amazed at the beauty of the country. From its rivers and lakes to its rolling hills and breathtaking castles, this country is a wonderland for travelers. With our customized Hungary Holiday Packages you can choose to land in some of the best Hungarian countries.

1. Budapest- The largest city and capital of Hungary

The capital city is a land of divergences. One of the most influential cities in Hungary, Budapest is a vibrant metropolis filled with cobblestone streets and grand palaces, yet it's also home to the world's largest thermal baths. You can visit a museum dedicated to the horrors of World War II or relax in a bar that serves only cocktails made from alcohol distilled from grapes grown on their own vineyard. Not only that, our exclusive Hungary Packages will let you pay homage to the heart-wrenching memorial of the 3,500 people killed on the Danube Bank! For some fun, you can explore the Great Market Hall at the neo-gothic tunnel or praise the beauty of the 13th-century Buda Castle.

2. Eger- Home to the Valley of Beautiful Women and old baroque buildings

Eger, a small town in Hungary, is known for its food and wine. In fact, Eger is the oldest town in Hungary which is reflected in their way of living. The Eger Castle found its way to the UNESCO World Heritage Site list due to its amazing architecture and relics that boasts the Turkish tradition and culture of the Hungarians. With an important cultural center, a rich history, and gorgeous architecture, it is also known as "the pearl of the Danube Delta". Going on a wine-tasting tour to hiking along the countryside, Eger is eager to welcome you!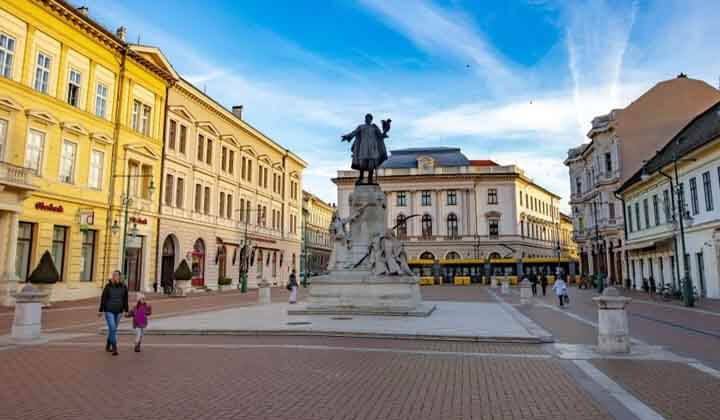 3. Szeged- The City of Sunshine

Szeged is a beautiful city with a rich history. It is the third largest city in Hungary, known for its architecture and its food. If you love art, Szeged has some of the best museums in all of Europe. The city's architecture is also quite unique, featuring many old churches and castles. You can find incredible museums and beautiful parks throughout the city as well! You'll love exploring our Hungary Packages because it has so much to offer! Famous for its festivals, the Open Air Theatre Festival is a tourist favorite. The nightlife in Szeged is livelier than anything, there are plenty of places to dance all night long! And don't forget: Szeged has one of Europe's largest universities!

4. Pecs- The 2000-year-old city of Romans

You've seen the photos of Pecs, Hungary, but have you ever been there? The tiny city is nestled in southwest Europe and is known for its gorgeous architecture and its famous thermal baths. It's more than just a pretty face! Pecs is a thriving community that has been growing economically and culturally over recent years. Known for its thriving arts scene, the local art museum has been collecting works by Hungarian artists since 1926. The city has also seen an influx of people from all over the world seeking out its natural beauty and welcoming atmosphere. If you're looking for a place where history meets modernity, look no further than Pecs!

5. Debrecen- The Calvinist Rome of Hungary

Exploring Debrecen with our Hungary Holiday Packages is an excellent plan for a weekend getaway. The city has an abundance of historical sites and cultural attractions, including the Déri Museum, the Reformed Great Church of Debrecen, Református Kollégium Múzeum, and so on and so forth. For those who enjoy nature, Debrecen has plenty to offer in terms of hiking and biking trails as well as beautiful lakes and rivers. The city's nightlife is just as exciting as its day-life and includes bars and clubs with live music, dance clubs, pubs, and restaurants with outdoor seating areas or inside dining rooms where you can enjoy traditional dishes like goulash or chicken paprikash, just to name a few!

Top Bucket List Travel Experiences in Hungary

Hungary is a country that has always been known for its history, culture, and people. It's a country where you can feel the spirit of the nation in everyday life. Whether you're looking for a quiet retreat or a bustling metropolis, Hungary has something for everyone. The countryside is filled with rolling hills and beautiful forests. The cities are filled with art galleries, historical buildings, and museums. And the people? They are warm, friendly, and welcoming to all visitors from around the world! Those traveling from India will find themselves in a country that would feel closer to home with such vibrant culture! For a 'worth it' experience, take up our Hungary Tour Packages from India and do not miss out on the following:

1. Enjoy a cave bath at Miskolctapolca

Think of it as a ritual where you need to go inside a cave and enjoy a natural hot water bath! It is also said that water contains some essential minerals that are very helpful for the body. The natural cave system is centuries old and the influx of people can be dated back to the 17th century. Entry to the cave is not free, take up our Hungary Tour packages and skip the plight of waiting in line!

2. Go on a cruise at the Danube River

Do you know the river Danube bifurcated Hungary into two halves? Alongside the serenity and calmness of the river itself, Danube Bend and the Freedom Bridge are some of the best spots to witness some amazing sights and mind-boggling sunsets! The river flows through the Visegrád Mountains which is an excellent hiking spot for tourists and natives alike. If you wish to feel the winds of the Danube river up close, the Danube Cycle Path is the best spot. The cruise timing is anyway between 10:15 am to 10:15 pm.

3. Go hiking at Lillafüred with Dook's Hungary Packages

Go hiking at Lillafüred, the most beautiful spa destination in Hungary. You'll be surrounded by nature, and you can see the Danube River while hiking through the trail of Szeleta Cave or the Anna Limestone Cave. Once you've reached the spot, take some time to enjoy the view. When it's time to go back, take a dip in the river and sit back with a glass of wine. You'll love this hike so much that you'll want to do it again and again!

4. Visit the Eger Castle on your Hungary Tour

A visit to the Eger Castle is not just a historical trip. It's an experience that will leave you feeling rejuvenated, and ready to take on the world. The Eger Castle is one of the most visited UNESCO World Heritage sites in Hungary. With a Romanesque architectural style, the castle was known to repel the Attack of the Turks in 1552. Today, it's a museum that offers visitors a chance to explore what life was like during the time period. Visiting the historic site will also give the opportunity to learn more about Hungary's history and culture and what better way than through a guided tour? You'll get to hear about how Eger Castle changed over time, as well as hear stories from some of the castle's residents and visitors alike. Your guide will share facts about the castle's architecture, history, and role in Hungarian culture with you throughout your stay at Eger Castle Museum!

5. Explore the grand architecture of Sopron

The architecture of Sopron is a testament to the city's rich history and unique character. When you are done seeing the natural wonders of the land, the man-made wonders won't miss your sight. Situated in the football of the Alps, Sopron is famous for its renaissance and Baroque-styled architecture. The century-old city comprises a total of 240 buildings and 115 monuments which are listed under the protected status. The old buildings symbolize many historical eras and your full-day exploration of them will indeed bring back memories of their former splendor.

Did you know Hungary discovered Vitamin-C and invented the Rubik's cube? Well, there are plenty! Discover them with Dook's Hungary Tour Packages

Hungary is a country full of culture and history. Dook International can help you explore the heritage of this beautiful country, which has been shaped by its people through centuries of hardship, strife, and triumph. From the ancient castles to the modern art galleries, Hungary has much to offer travelers who want to see what makes this place special. It's also home to some amazing food, try a traditional meal in one of Budapest's many restaurants or enjoy a snack at one of the city's bakeries. With Dook's Hungary Tour, you can do what most people only dream about: enjoy the Hungarian lifestyle inside out!
Explore More: Top Attractions in Hungary