Incredible journeys to Czech Republic with DOOK!
No matter your travel style, we have a Czech Republic package tailored for you
Czech Republic Tour Packages
Explore Czech Republic with DOOK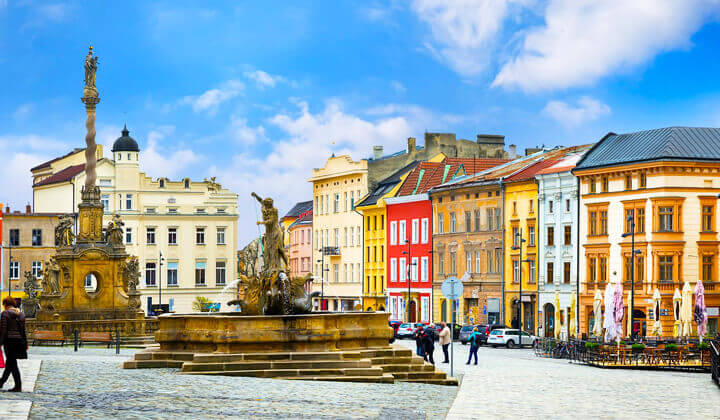 Czech Republic - A Hidden Jewel in the Heart of Europe

Czech Republic is a small country located in Central Europe. Czech Republic is a landlocked country sharing borders with Austria to South, Poland to North, and Slovakia to the Southeast. This small country has a rich history with influences from Czechs, Germans, Jews, Slovaks, Italian and French people for centuries. You can still witness their brilliance sense of innovation and skill in hundreds of castles in the country, along with several monasteries and stately mansions. In fact the country is full of architectural treasures, forests and mountains. It is evident then that you must go for a Czech Republic Tour as soon as possible.

Czech Republic Tourism and Tour Packages

You can move from east to the west of Czech Republic to explore this wonderful travel destination in Europe. You can look for the best Czech Republic Tour Package to see this beautiful tourist destination. The country is receiving more than 20 million visitors every year. This is because Czech Republic is offering lot of options to the visitors. It has great cultural heritage to explore as there are 12 UNESCO World Heritage Sites. There are Historic centers of Prague and Cesky Krumlov which are quite popular as tourist sites among the foreign visitors coming from all over the world.

Czech Republic trip also offers lot of adventure to outdoor enthusiasts. There are hiking and skiing options at the countryside. There are several comforting ski resorts from northeast to northwest in Czech Republic. You would find the most famous ones in Krkonose Mountains. There are many hiking possibilities as well in mountains here. And don't forget to explore castles, caves and other landmarks in the countryside of Czech Republic.

You can get lucky to dive into the ecstatic nightlife of the country with best Czech Republic Holiday Package. You can hit the bars and clubs open till late at very low costs. Czech Republic is also popular for its wine production and wine tourism around some towns like Mikulov, Velke, Pavlovice, Znojmo and Slovacko.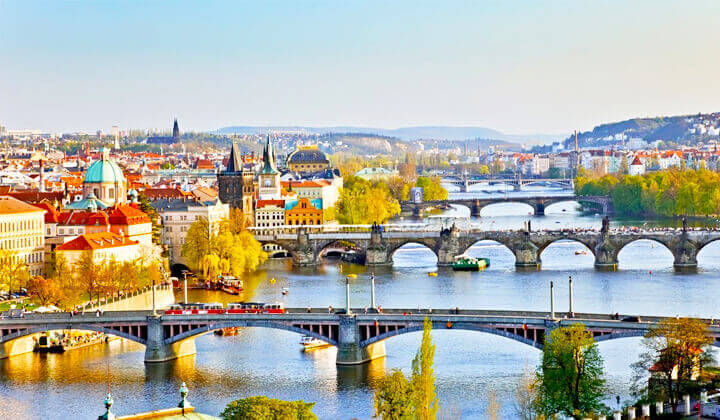 Places to Visit in Czech Republic

Czech Republic is a small landlocked country but it has some amazing places that attract tourists from all over the world. Prague is the capital city and the most popular tourist attraction in Czech Republic. Prague is famous for its architectural gems which are clearly visible in countless splendid domed churches and old towers here. You can simply walk the narrow lanes of the city which all end up to spectacular squares. Old homes and buildings are just worth seeing.

Czech Republic boasts of many wonderful attractions. Some very popular topping the charts of tourists are Cesky Krumlov Castle, Kutna Hora, Karlovy Vary, Karlstejn Castle, Telc, Olomouc, Litomysl, Moravian Karst, The Bohemian Paradise, Hluboká Castle, Pruhonice Park and Plzen.

Cesky Krumlov Castle dates back to 13th century but it has been very well preserved. Castle houses Rosenberg ballroom, renaissance hall, royal apartments and Chapel of St. George. There is also old baroque theater in the castle which is worth seeing. You can easily spend some time here.

Kutna Hora is a place which you must see but this is apart from Prague. Kutna Hora is a UNESCO World Heritage Site and your Prague Tour must include this though it is out of Prague. Only 80 KM from Prague, Kutna Hora was once central place to one of Europe's major silver mines. The major highlight of Kutna Hora is St. Barbara's Cathedral built in 1388. The cathedral has beautiful interiors.

Karlstejn Castle is another Major Attraction of Czech Republic. Built between 1348 and 1365 for king Charles IV, the castle still looks amazing both from inside and outside.

Czech Republic is a beautiful country and everyone must explore this European tourist destination.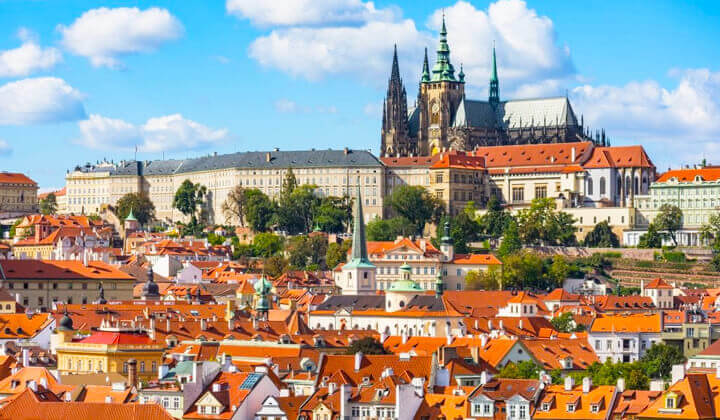 Prague Tour Package: City of a Hundred Spires

Prague is the capital city of Czech Republic. It is a famous tourist destination not just in Czech Republic but entire Europe. Despite being a small town you will be delighted when you go for a Prague Tour. There are excellent sightseeing opportunities in Prague. Many of them are right there in your face and there are also some out of the way Attractions in Prague.

Prague Tours: Explore One of the Most Beautiful Cities in the World

Places to See in Prague

When you hit Prague with Czech Republic Tour Package then you either have the list of sightseeing attractions or you add some there also. However, some super popular attractions cannot be missed when you bought the best Czech Republic Tour Package from India and landed to Prague. First place to see is Prague Castle. This is easily the focal point for any traveller visiting Prague or Czech Republic. And this is for a very good reason. Prague castle has been a central part of Eastern European History for centuries. The castle which has over 1000 years of history is the largest in the world in terms of area.

Another major attraction is Charles Bridge. You cannot afford to miss the chance of traversing a spectacular and most important Charles Bridge in Prague. This River Vltava crossing bridge was built in 1357 and is 520 m long. Along the bridge there are plenty of interesting points and statues. Most famous statue is that of holy Roman emperor Charles IV.
Then there is the old town square and the astronomical clock in Prague. You want to explore as many wonderful places as possible especially those which are on top of the list when you bought the best Czech Republic Tour from India. So, this amazing old town square which was the Prague's first market has still buildings that belong to the 10th century. At this square, there is old town city hall which holds famous Astronomical Clock. This square is very popular among tourists for having many spots, market, hotels, restaurants, shopping and entertainment.

Other Places to See in Prague include St. Vitus Cathedral, Wenceslas Square, The Hilltop Fortress: Vyšehrad, Prague National Theatre, The Dancing House, Petrin Hill, The Municipal House, The Infant Jesus of Prague, The Jewish Town of Josefov, Tyn Church, The Olšany Cemetery, Powder Tower, The Petrín Lookout Tower, The National Museum, Prague, Mala Strana, Spanish Synagogue, The Clementinum and the National Library, Prague Zoo, Letná Park and Žižkov TV Tower.

Dook International is Your Best Travel Partner for Best Czech Republic Tours

Dook International has been servicing travel enthusiasts for quite some time now and has been to offer best travel experience to all of them. Our Czech Republic Tour Packages are quite affordable, loaded with best hotel stay, food, sightseeing opportunities, flight bookings, visa facility and so on. Our team is always happy to assist you in every way possible right from the time of inquiry you place with us till you return happily back home. We are industry leader and have won several awards for excellence in our services and customer satisfaction. Next time when you plan to visit Czech Republic, a wonderful European country you just have to call us or write us and we will be happy to offer you the best Czech Republic Holiday Package.