Ultimate Cambodia 3 Nights Tour
Pkg Id

0000331

Destinations

1

Duration

3 Nights

Attractions

3

Price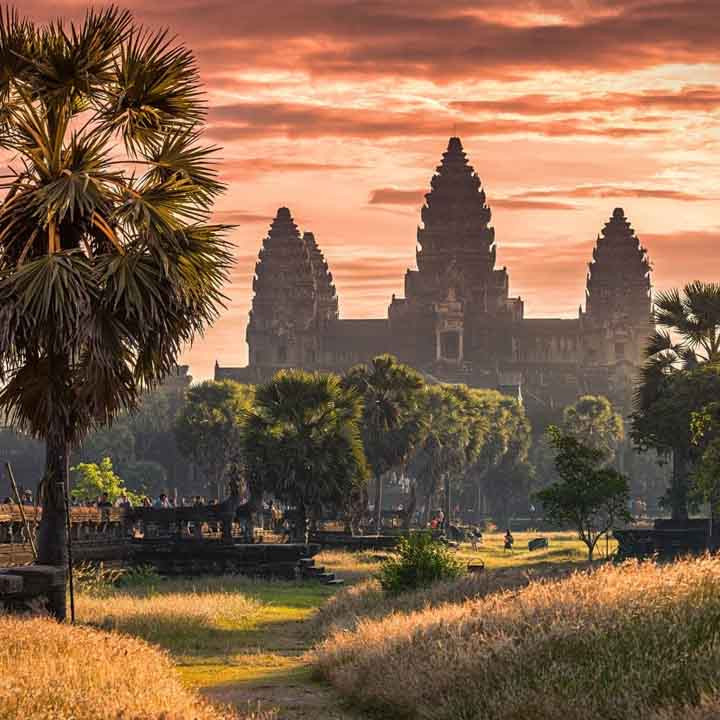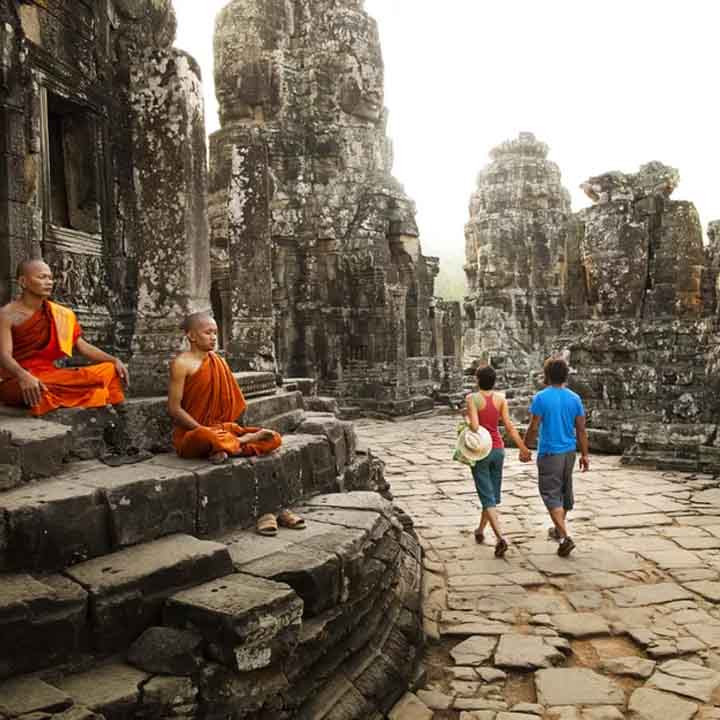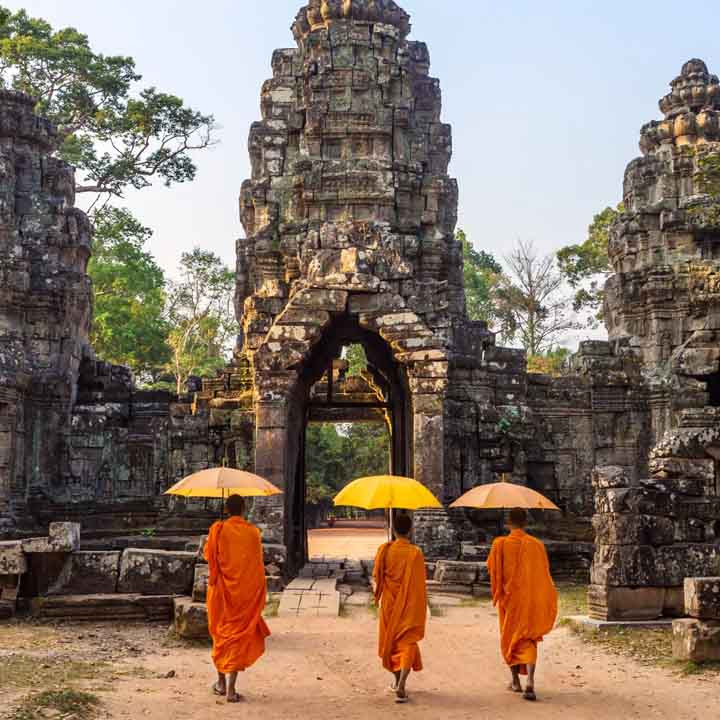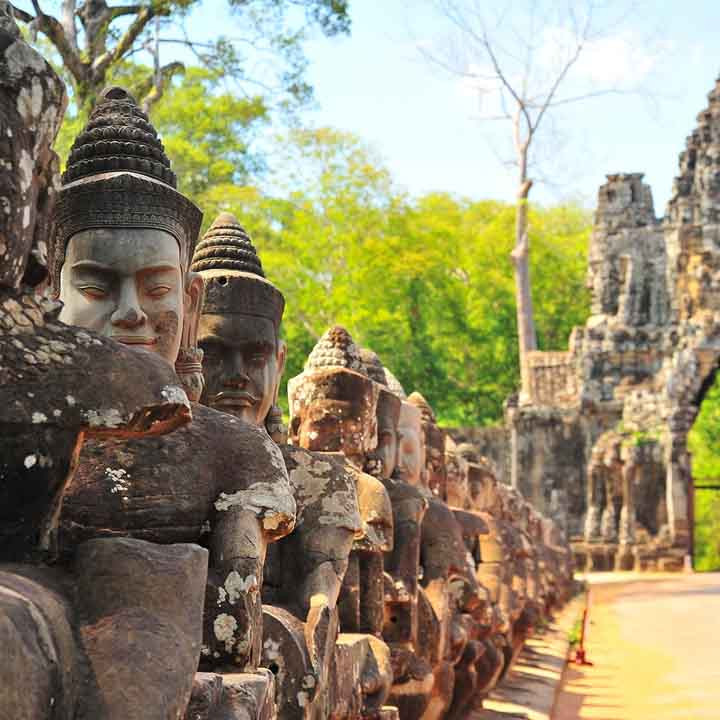 1
Arrival
Arrive at Phnom Penh International Airport.
You will be greeted by our representative, later pick up from the airport and transfer to hotel.
Check-in to the hotel.
Evening free at leisure to explore the close by market at your own.
Back to hotel and overnight stay.
2
Phnom Penh
Breakfast at the Hotel.
Post breakfast you will be picked up for your full day excursions, Royal Palace & Silver Pagoda, National Museum of Cambodia, and Independence Monument.
Royal Palace and Silver Pagoda:Phnom Penh Royal Palace is a Khmer-style Throne Hall that was built in 1866 to serve as the residence of the King of Cambodia and his family. It also hosted foreign dignitaries and served as a venue for the performance of court ceremonies and rituals. Most importantly, the palace is a symbol of the Kingdom. South of the Throne Hall are the Royal Treasury and the Villa of Napoleon III, built in Egypt in 1866 for the opening of the Suez Canal and later presented to the Cambodian king as a gift.
The famous Silver Pagoda, originally constructed of wood in 1866, was expanded in 1962 by King Sihanouk, who had the floor inlaid with 5,329 solid silver tiles – hence its name. Inside the palace grounds, traffic noise is thankfully blocked off by the high walls and the various royal buildings sit in tranquility amid the manicured tropical gardens.Phnom Penh Royal Palace and Silver Pagoda - one of the highlights of 21 Best Things to Do in Phnom Penh and 10 Best Things to Do in Cambodia.
National Museum of Cambodia: The National Museum of Cambodia is where you can find the cultural side of Cambodian history that dates back to the 4th century. The museum is housed within an impressive red sandstone structure and inaugurated in 1920 as the Musée Albert Sarraut during the French colonial period. It stands out as a fine illustration of traditional Khmer architecture.
Later in the evening you will explore the Independence Monument ,Independence Monument: It's an iconic landmark that's set in the heart Phnom Penh City Centre. Locally known as Vimean Ekareach, it signifies Cambodia's liberation from the French who have colonized the nation between 1863 and 1953. Built in 1958, and inaugurated in 1962 during the regime of Sangkum Reastr, this monument also serves as a proud testament to commemorate people who sacrificed their lives for the welfare of the country. The monument is captivating for its cool, serene atmosphere, which in turn makes it a much sought-after destination. On most days, the best time to visit is at night as that's when Independence Monument and its surroundings are illuminated by blue, red and white floodlights.
Back to hotel and overnight stay.

3
Phnom Penh
Breakfast at the Hotel.
Today you will take a tour to Phnom Tamao Zoo and Wildlife Rescue Centre (PTWRC) – the country's largest zoo and wildlife sanctuary that is located about a 45-minute drive outside town. Opened in 2000, it is more a wildlife rescue centre than a zoo, serving as a safe refuge to rare and endangered animals rescued from the clutches of poachers, traffickers and illegal wildlife traders. The wildlife center's residents now include over a thousand animals plus hundreds of exotic birds and reptiles. Managed by the Ministry of Agriculture's Forestry Department with support from Wild Aid and Free the Bears Fund, the zoo occupies about 1,200 hectares land out of a 2,500-hectare forest protected area of Phnom Tamao that enjoys picturesque surroundings comprising mountains and ancient temples such as Phnom Tamao Temple and Thmor Dos Temple.
Later spend rest of your day @ Sisowath Quay as it is a striking 3-km-long boulevard located along the intersection of the Tonle Sap and Mekong rivers. This is perhaps the most bustling area in the city, with a row of boutiques, bars, cafes and restaurants.
For art lovers, Sisowath Quay presents an array of options. You'll find several stores stocked with handicraft items and several painting workshops. It's also a good place to pick up silk items. One of the best places to buy this material as well as linen is Kravan House.
There are ample restaurants, cafes and bars to serve almost anything you wish to take a bite of or sip, whether it's authentic Khmer, Mexican, French Indian or Italian dishes. A highly favored place for both foreigners and locals is the Foreign Correspondents Club or the FCC. It offers Khmer and western cuisines, in addition to a variety of signature cocktails in its horseshoe-shaped bar. There's plenty to see along the riverside walk, including people releasing live birds from cages and fortune tellers looking for business.
Back to hotel and overnight stay.

4
Fly Back
Breakfast at the hotel.
Check-out and transfer to Phnom Penh International Airport for your flight back to home.

As per mentioned in itinerary

As per mentioned in itinerary

English speaking tour guide

As per mentioned in itinerary
Visa
Click to view Visa information
General Terms
Please note that these packages are customizable, which means that you will be able to make changes to the itinerary/activity if you so desire. The final payment will be calculated as per the itinerary and inclusions reflected on the confirmatory e-mail sent to you.
Please expect to receive your vouchers 72 hours before your departure date (subject to full payment of your package cost).
Personal expenses such as laundry, telephone calls, room service, alcoholic beverages, mini bars etc., are not included.
In case your package needs to be canceled due to any natural calamity, weather conditions etc. Dook Travels shall strive to give you the maximum possible refund subject to the agreement made with our trade partners/vendors.
The passenger names in the booking form should be exactly as per passports. Dook Travels will not bear any liability for the name change fee, if incorrect names and ages have been added at the time of booking.
Please note that your package includes baggage as per airlines policy. Any addition in baggage will be charged separately.
Standard check-in time at the hotel is normally 2:00 pm and check-out is 11:00 am. An early check-in, or a late check-out is solely based on the discretion of the hotel.
In case the selected hotel is unavailable for booking, an alternate arrangement will be offered to the customer in another hotel of a similar category.
Certain hotels may ask for a security deposit during check-in, which is refundable at check-out subject to the hotel policy.This amount has to be deposited by the traveler.
Please note that Day at Leisure essentially implies that no sightseeing activities have been included for that day.
Kindly be on time for your activities, tours and transfers. Dook Travels will not be liable for missing any activity thus for any refund against it in such cases.
No refund either in part or in full will be made for any unused part of the services provided in the package.
The package price doesn't include special dinner or mandatory charges at times levied by the hotels especially during New Year and Christmas or any special occasions. Dook Travels shall try to communicate the same while booking the package. However Dook Travels may not have this information readily available all the time.
Our package price does not include GST and TCS. Applicable GST and TCS will be charged over and above the package price.
For queries regarding cancellations and refunds, please refer to our Cancellation Policy.
For any paid activity which is non-operational due to any unforeseen reason, we will process the refund & should reach the guest within 30 days refund requisition. Also, for any activity which is complementary and not charged to Dook Travels & guests, no refund will be processed.
Our package prices are on twin sharing accommodation basis thus published prices are applicable for minimum two persons and multiple of two thereon.
As per RBI guideline every foreign traveler has to provide us his PAN details. The Dollar component of package price will be taken out of your BTQ (Basic Travel Quota).
The tour cost does not include any Overseas Insurance Premium, but we strongly recommend buying Overseas Insurance Policy. The same after issuance is non refundable.
These terms are general terms for our tour packages.Any term mentioned in proposal shall be considered part of it and in case of discrepancy term mentioned in proposal shall prevail.
Disputes, if any, shall be subject to the exclusive jurisdiction of the courts in New Delhi.
Payment Policy
Payment schedule depends on destination, time of booking, inclusions, airline and hotel payment policy etc thus it is specific to your package bookining.
Payment schedule will be part of our proposal to you for the package.
If payment is not made as per the schedule provided in the first booking confirmation e-mail, Dook Travels reserves the right to cancel the booking after attempting to get in touch with you. Refunds would be as per the package cancellation policy.
Cancellation Policy
Once Booking received : INR 5000 (Per PAX) + actual Ticket cancellation + Hotel cancellation as per hotel policy+Visa fee if visa is applied.
60 – 45 Days prior to departure : 25 % of land cost + INR 5000 (Per PAX) + actual Ticket cancellation+Visa fee if visa is applied.
45 – 30 days prior to departure: 50% of land cost + INR 5000 (Per PAX) + actual Ticket cancellation+Visa fee if visa is applied.
30 – 10 days prior to departure: 75% of land cost + INR 5000 (Per PAX) + actual Ticket cancellation+Visa fee if visa is applied.
Within 10 days: Full.