When we talk about Central Asian countries, there are many things which are centuries old worth visiting. Only in our last article we saw Great Minaret of Kalon in Bukhara, Uzbekistan. In this article also we will see another interesting place from another Central Asian country Kyrgyzstan. Kyrgyzstan is quite famous for its natural beauty and also for this reason is generating lot of tourism since last few years. In this article we will talk about Tash Rabat. Tash Rabat is a well preserved stone caravanserai sitting at the height of 3200 meters. It is beautiful place to be. High altitude places make your journey great. Tash Rabat can also be called as offbeat places and off beat places have its own charm.
Tash Rabat is said to be constructed in 15th century, on the old trade route from Central Asia to China. So Tash Rabat served as resting place for travelers. Tash Rabat is largest stone structure of its time and is still noted for its size, building material and its layout which is example of great symmetry. This is why Tash Rabat is considered Kyrgyzstan's most remarkable monument. Tash Rabat is also against the general tenet of Kyrgyzstan which is its natural beauty which is largely landscapes while Tash Rabat is a historical sight. Tash Rabat is also a mystery when it comes to about its origin time. Some research says that it was originally built as Nestorian Monastery in the 10th century however no artefacts sacred to Christians have been found during excavations.
Today Tash Rabat is a Silk Road monument of great excellence. It is one of the most interesting sites in Central Asia. Its location is also very interesting. This centrally domed structure has 31 rooms which includes cavities in the central hall. All the rooms are dome shaped. Tash Rabat is about 520 KM from Bishkek. If you want to stay near Tash Rabat then it is possible to camp in the valley and there are also Yurts set up in the nearby places. There is also a track over the hills that goes through Tash Rabat pass to Lake Chartyr Kul and also offers views of Chinese border. You can trek if you want to which will tale around 4 hours or you can for Horse riding as well.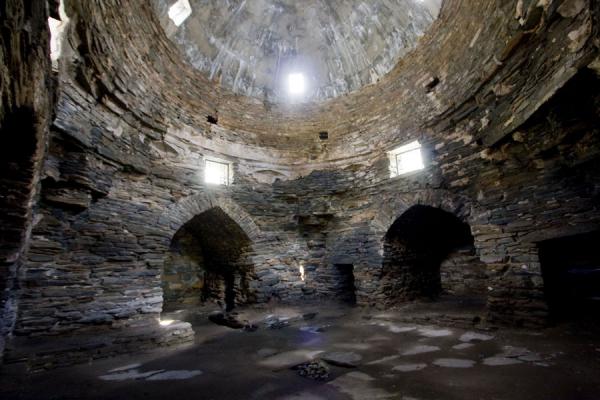 Tash Rabat is ancient preserved stone structure which is still quite intact even after centuries. One can go here and explore the details of this space and also the surrounding areas which are also quite beautiful. So if you are considering Kyrgyzstan Travel package do thing of going to Tash Rabat.
Explore Kyrgyzstan Tour Packages with Dook International, check our Kyrgyzstan holiday packages as below –
Bishkek 3 Nights and 4 Days
Bishkek 4 Nights and 5 Days
Bishkek 5 Nights and 6 Days
Bishkek winter 3 Nights and 4 Days
Bishkek Winter 4 Nights and 5 Days
Bishkek Winter 5 Nights and 4 Days