Russian Dolls - Centuries Old Tradition and Masterart
A country that is special in many ways has a rich culture and heritage too. Russia has many historical elements which still maintain their charm. One of them is Russian Dolls. Yes, you heard it right. Matryoshka Dolls or Russian dolls are quite popular. They have a long history. They have other names too like Russian Nesting Dolls and stacking dolls. They look beautiful and can easily be part of your home. First Russian nested doll was made way back in 1890. Since then it has continued and demand for Russian dolls is quite high even today. Russian dolls are not just toys but they are symbol of the country. Let us see what is unique about these Russian dolls and why should you buy them when you are in Russia on Russia Tour?
History and Themes of Russian Dolls
Russian dolls first happened 110 years ago. They first appeared in stores on the eve of Paris World Exhibition of Industry and Commerce which was held at the end of 1890. This Russian Matryoshka is much more than wooden toy. In technical specification, a set of matryoshkas consists of a wooden figure which separates, top from bottom, to reveal a smaller figure of the same sort inside, which has, in turn, another figure inside of it, and so on. Outer layer is traditionally of a woman dressed in Sarafan which is a traditional Russian dress. The other figures inside may be of other gender as well while the smallest and the innermost doll is typically a baby. The most attractive part of these dolls apart from nesting is the color and painting of each doll which are quite elaborate and very pleasant to see. These dolls are made with a theme. Earlier themes were mainly drawn from fairy tale characters but since late 20th century they have embraced to a larger range which includes soviet leaders.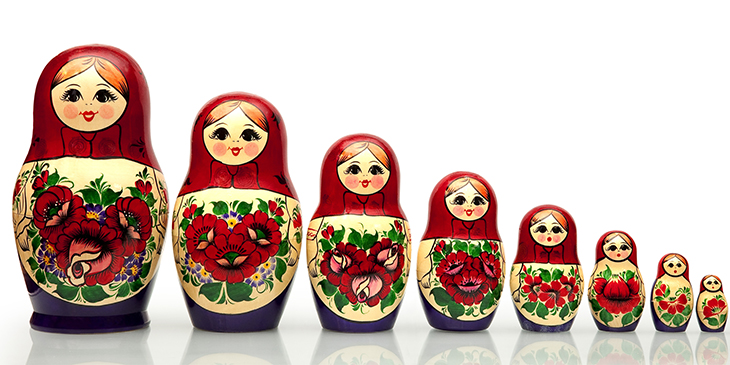 Themes of dolls have traveled across time. In 1980 s and 1990 s freedom of expression in the Soviet Union allowed many leaders to express their strong views and this was visible also in the themes of Russian doll which was dominated by then political leaders. Largest doll of that time featured Mikhail Gorbachev, leader of that time. Modern artists are adopting new styles of nesting dolls. They incorporate wide themes like floral, Christmas, Easter, animal collections, caricatures, portraits famous musicians, politicians, sports stars, movie starts etc. However the trend continues of making the largest doll featuring current leader with the size of predecessor decreasing. The largest set of matryoshka dolls as on date in the world is a 51-piece set. This set was hand-painted by Youlia Bereznitskaia of Russia and it was completed in 2003. The tallest doll in the set is 54 centimeters and the smallest is 0.31 centimeters. They are arranged side-by-side and the dolls span 3.41 meters.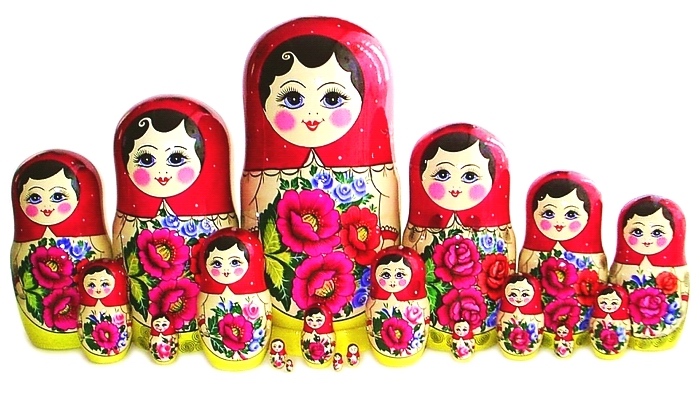 Take Back Russian Dolls to Your Home
These dolls are beautiful, colorful and can easily add a charm to any part of your home. When you are in Russia with Russia Travel Package you can buy these Russian dolls. You must take a Russian Nesting Doll back home when leaving Russia Tour. People from all over the world collect matryoshkas. The simplicity and originality of matryoshka dolls attract the art lovers from around the world. You can put these bright and picturesque Russian nesting dolls to decorate your fireplaces and bookshelves in your home.