Road Trip to Ladakh - Roof of the world
It is known to all that when you are on an India tour then you must visit Delhi, Agra in north, Goa in west, Kerala in south and several other famous tourist destinations in India. But as we saw in last article that those who love adventure and off the beaten path travel experience they can touch high peaks of Himalayas. Spiti valley by road is once in a life time experience. Then there is the roof of the world known as Ladakh. As you can see different colors and flavor in places like Agra, Delhi, Goa and Kerala, you can experience completely different world in Himalayas. Life is different here, it slows down. Your days are made of gorgeous walks, mountain greenery, freshest and purest air and hot cup of tea with locals. We saw that Spiti valley at the height of 12, 500 feet above sea level is a cold desert mountain valley in the state of Himachal Pradesh, India. Another jewel in the Himalays is Ladakh. Road to Spiti from Manali is an absolutely tough terrain but roads going to Leh Ladakh from Manali-Khardungla pass are better and well connected. Ladakh is accessible both by road and by air but road trip to Ladakh has best of travel experience. So let us see this beautiful place, roof of the world in Himalayas in India, Ladakh in detail.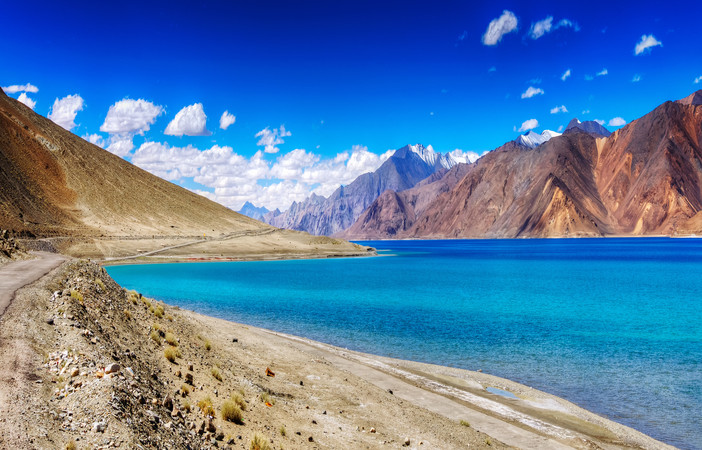 Ladakh is located in northern most state Jammu & Kashmir, India. Ladakh is known as Little Tibet. It is a barren landscape on the roof of the world where one can feel other worldly life experience. Given a chance one must not miss the opportunity of taking a road trip to Ladakh as one should not miss going to Spiti valley. There are two way to reach Ladakh. One is through Manali-Leh highway and the other is Srinagar-Leh highway. But whichever road way you choose you must know the weather condition ad the condition of road in advance as in the winters due to heavy snowfall roads remain closed. Both the road routes have its own elements of adventure and excitement along with challenges. Road from Manali-Leh highway is better one especially when you need any kind of help. Unlike road going to Spiti valley which is far more challenging and takes lot out of riders, the road to Ladakh is less challenging. However both road trips offer you unique set of experience. When going to Ladakh on your own vehicle, one needs to get permit from the office of Sub divisional Magistrate of Manali and Leh. You can also choose to go by bus from Delhi and Manali going to Ladakh. Cab service is also available for travelers from Delhi and Chandigarh. Air route is also there from Delhi. However last two options can be little expensive.
Road trip to the peak of Himalayas is not easy to be described in words as it would not match the inner feeling of the traveler. Reaching Ladakh by road is deeply satisfying and kind of spiritual because the road involves crossing the highest mountain passes in the world. One can easily describe as the best road trip in the world. When one travels through amazing valleys and the mountain passes with serene beauty all around which raises you're his heart beat and the memory gets registered forever. Ladakh is at the height of 3000 meter above sea level and whether you are going solo or in a group going down the hilly road you would simply fall in love with the place. As mentioned one route to Ladakh goes from SriNagar-Leh. On this route you will see beautiful villages, war memorial, Himalayan valleys, a mountain top Gurudwara, monasteries and many more beautiful things. This trip is of a kind which exposes you to the various facets of Ladakh. In this exciting road trip, you visit spectacular locations beyond your imagination. Let your eyes be filled with the beauty of green fields of Sonamgarh, quaint and happy villages on the bank of Sindh River introducing you to the essence of Ladakh. On this route you cover a distance of over 430 KM. Best time to take this route is from early May to late October when Highway opens. On the route you cover major milestones which you must visit are Srinagar – Sonamgarh-Zozi La-Drass-Kargil-Mulbek-Lamayaru-Saspol-Leh.  Another route is Manali-Leh. On this route you cover slightly longer distance which is around 500 KM. This route is absolutely fantastic as well. You will pass through high mountain passes, hair pin bends and picturesque valleys. Don't forget to click the best panoramic pictures here.   When you take this route in the way you will go through Manali-Rohtang-Gramphu-Kokhsar-Keylong-Jispa-Darcha-Zingzingbar-Baralacha La-Bharatpur-Sarchu-Gata Loops-Nakee La-Lachulung La-Gya-Upshi-Karu and Leh. The best time to go through this route is from June to September.
Places mentioned on these 2 routes going to Ladakh must be given some time especially when you are going on a bike. Srinagar, Sonmarg, Drass Valley, Kargil, Mulbekh, Lamayuru, Moonland, Alchi, Likir and Leh are all God's special places with penultimate beauty. On the other route Manali is special. Rohtang La is among the highest mountain passes in the world. Keylong is headquartering of Spiti region and a paradise on the planet. Jispa along the Chandra River is another paradise filled with sightseeing locations. Darcha, Zingzing bar, Baralacha La, Sarchu, Gata Loops, Nakee La, Lachulung La, Tanglang La, Upshi, Karu and Leh demand you to stay and explore the scenic beauty and mountains magic.
Must-see Places in Ladakh
When you reach Ladakh you must see some beautiful lakes, Monastery and more. There is Magnetic hill at the height of 14,000 feet. These magnetic hills are said to have some magnetic energy which can pull cars uphill. It is there on the Leh-Kargil- Batalik national highway.
1. Tso Moriri Lake
You cannot miss Tso Moriri Lake when you are on a road trip to Ladakh. This lake is set amidst the mountain ranges in Leh and this lake mesmerizes you with some of the best views with peaceful surroundings.  Surrounded by barren hills with the backdrop of the snow capped mountains this lake is a must see spot.
You will instantly fall in love with this place for the crystal clear water and blue color of the lake. This lake was once a popular source of salt. You must not miss a chance to explore this lake while on your road trip to Ladakh.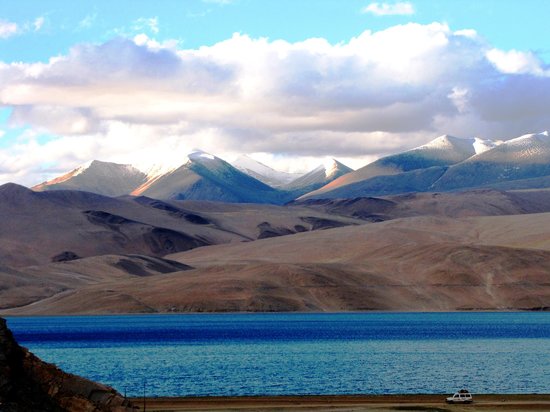 2. Pangong Lake
This is another must see spot here. This is 134 m long lake and is an endorheic lake located in the Himalayas.  You will be mesmerized by the lake as it slowly keeps changing its colors. The scintillating water of the lake is very famous among the visitors here. You must spend some time here and you will be enchanted by the breath taking view of the lake.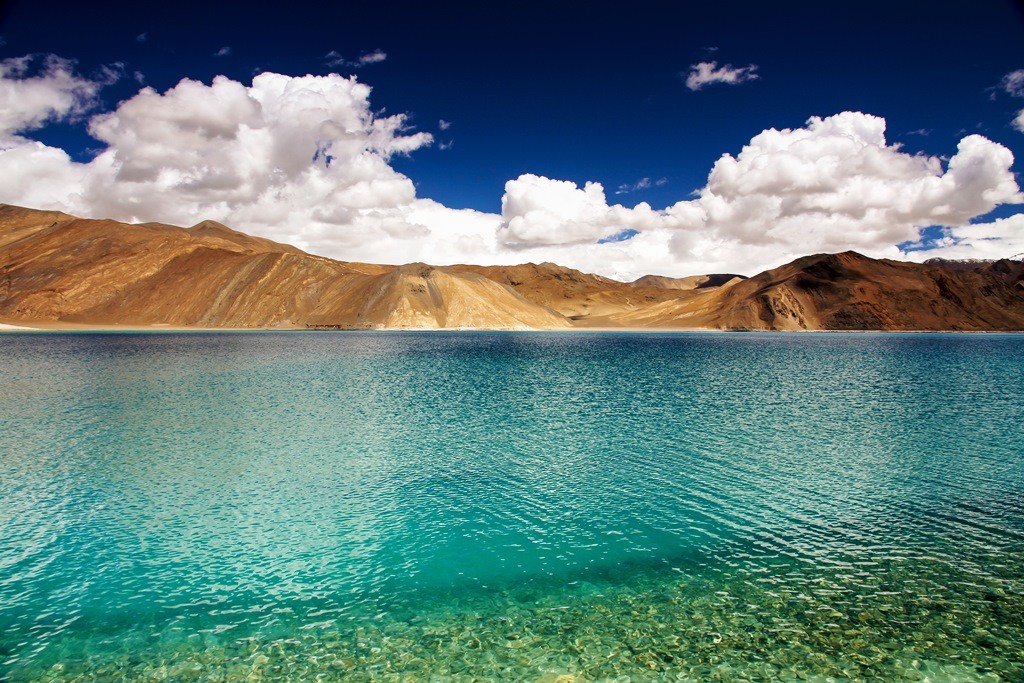 3. Khardung La Pass
Your road trip to Ladakh becomes perfect because of Khardung La Pass which is the most noteworthy motorable street in the world. At the height of 5,359 meters this is vital door to Nubra and Shyok valley. Kahrdung La is also door to Siachen Glacier.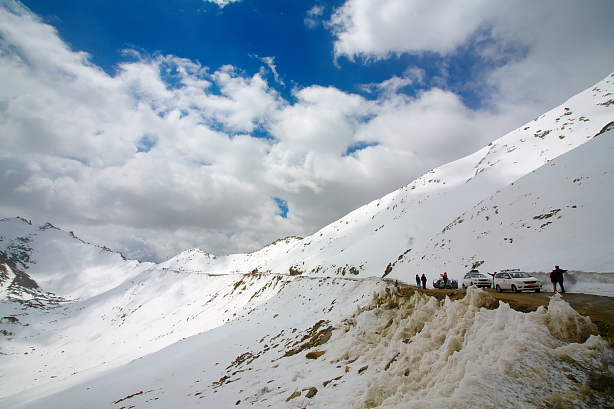 4. Tso Kar Lake
This is another magnificent lake in Ladakh. This is popularly known as 'White Lake'. The range encompassing Tso-kar Lake is rich with wildlife and birds. Be that as it may, the main fascination here among the birds life at Tso Kar is dark necked cranes.
5. Sangam Point
This is an amazing point, a must see for you. As the name suggests this is the meeting point of Indus and Zanskar Rivers. The water of the Indus River is very warm and the water of Zanskar River is frozen so the sangam Point is absolutely fantastic for onlookers. You must soak yourself into this majestic meeting of two rivers.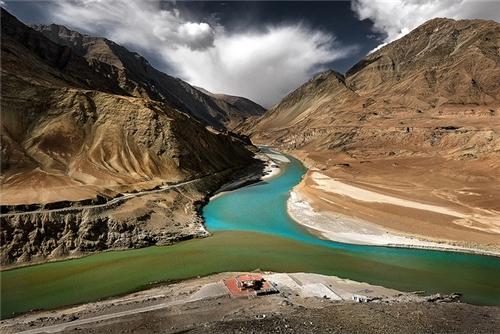 These are only some magical places to see in Ladakh. There are some monasteries like Shey Monastery, Namgyal Monastery, Spituk Gompa, Thiksey Monastery, Hemis Monastery and Diskit Monastery which you must visit. Apart from these Hemis National Park, Shanti Stupa, Gurudwara Pathar Sahib, Hall of Fame and Royal Leh Palace are places to see.
When you are on a road trip to Ladakh or to Spiti you must be careful and take some vital information with you in advance. Ensure that your bike is in proper working condition as you you will find only few mechanic shops. Be aware of the weather and keep proper clothes. Keep stock of dry fruits, chocolates and food which are not easily perishable. Carry enough cash as number of ATMs is less. Likewise you should take care of other factors which matters for your road trip to Ladakh in upper Himalayas.
This journey is absolutely once in a lifetime kind of journey especially for foreign travelers. But not for everyone as the trip is demanding and challenging at the same time. Adventure lovers must go on a road trip to Ladakh and Spiti. On your India Travel Package you can think of adding this special road trip.