Merv - An Ancient Silk Route Oasis In Central Asia
In the age of fast forward movement about everything, it is only worth stay for a while and look back. When you start looking back you get to know and see footprints of amazing things and amazing places that existed on this planet. Of course there were plenty of such places which have little yet wonderful sites left for anyone to see and go to the memory lane of early civilisation. So in this article we will see one almost 4000 year old city and its ruins in Turkmenistan, Central Asia. This city is Merv which despite oldest history has been preserved well. As a tourist you will enjoy going through the age old ruins here and will come back with plenty of memory to cherish with. Historical silk road saw many cities along with it in the past.
Merv was a major oasis city in Central Asia located near today's Turkmenistan. The oasis of Merv in the Karakum Desert, was at the crossing of the Amu Darya river on the main east-west caravan route to Bukhara and Samarkand. Merv is probably the oldest city along the silk road which has been preserved well. This city's origin is prehistoric and archaeologists say that many traces of village life here dates as far back as the 3rd millennium BC. Lot of historical fact goes around this city. From time to time one or the other dynasty or empire had this city and at times with different names as well. Once it was a part of Alexander the great empire. Merv reached was best developed in the Seljuk period, especially during the government of Sultan Sanjar during 1118-1157, who made it the capital of his empire. Merv was then a world class centre of science, education and culture, attracting astronomers and mathematicians such as Omar Khayyam. Once one of the most important cities of Islam and a vibrant commercial centre, Merv was slaughtered by Mongols in 1220s.
From Arab occupation to Turks and Mongols in early times to Uzbeks in 16th century, Merv was occupied and was destructed slowly when entire population of the city and the surrounding oasis of about 100,000 were then deported in several stages to the Bukharan oasis and the Zarafshan Valley. Marvis (Merv people) survive today and through 1980s they were listed as Iranis in Soviet Census. Now they are found in Samarkand and Bukhara and in the area that lies between or on Zarafshan river.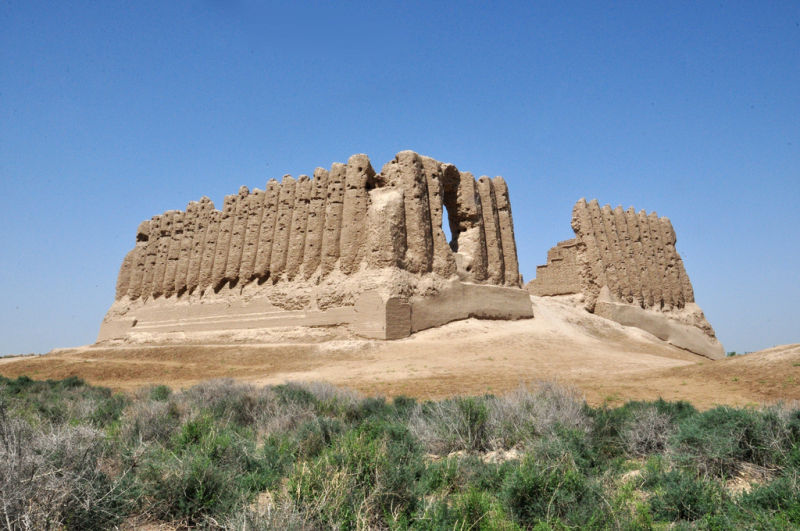 Merv today is collection of ruined cities. Several digs have taken place here since 1890 when first dig was done by Russians. Today ancient Merv is a large archaeological park which includes remains of thousands years BC centres on this place like Kelleli, Adji Kui, Taip, Gonur, and Togoluk, Yaz/Gobekli Depes and Takhirbaj Depe and historic urban centre like Abdullah Khan Kala. The Merv Archaeological Park today holds an area of more than 1,000 hectares. There are five separate, adjacent cities. Merv was rightly declared a World Heritage site in 1999. Merv over a period of time consisted of few walled cities very near to each other. These cities were constructed on uninhabited land by builders of different eras, used, and then abandoned and never rebuilt. These few cities basically 5 are Erk Gala, Gawurgala, Soltangala, Shaim Kala and Abdyllahangala. The walls of the post medieval city are of exceptional interest, because they showcase remarkable evolution of military architecture from the 5th century BC to the 15th-16th centuries AD.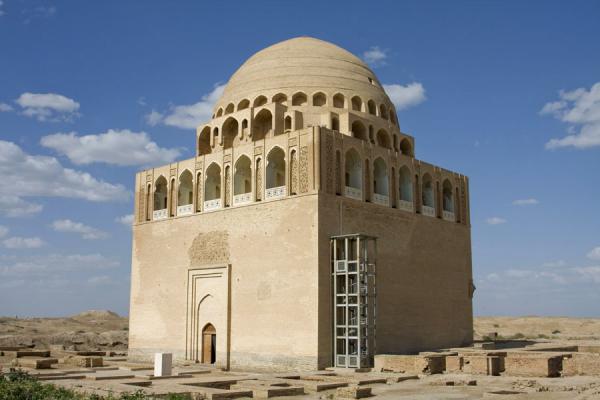 There are also major monuments from different historical periods in the oasis. Among them one must be mentioned which is the Koshks, one of the most characteristic architectural features of the oasis, fortresses and many fine mosques and mausolea. So here you can check out mostly unexcavated sites which will take you through 4000 years of history. Then, stop by the cities of Merv for a taste of Turkmenistan's station on the Silk Road. With a Turkmen guide here you can enjoy the ruins of this ancient and other walled cities here which contains enough elements to make your eyes open as wide as possible.Also Read
http://www.dookinternational.com/blog/black-and-red-sand-two-deserts-of-central-asia/classical-islamic-architectures-in central asia