Iskanderkul Lake Tajikistan
Taking a cue from last article we will venture into another beautiful lake, this time from Tajikistan, Central Asia. This is again a mountain lake of glacial origin in Tajikistan. It is Iskanderkul lake in Sughd province of Tajikistan. As the lake is mountain lake so you will be delighted to know that the lake is situated at a whopping height of 2,195 meters in the Fann mountains. Iskanderkul Lake is quite popular among tourists because of its high scenic value. The lake is not far away from Dushanbe as the distance is only 134 KM. Fann mountain is quite a beautiful place to explore and Iskanderkul lake here in the Fann mountain is a sort of must see place in Tajikistan. Let us see more about this scenic beauty from Tajikistan, Central Asia.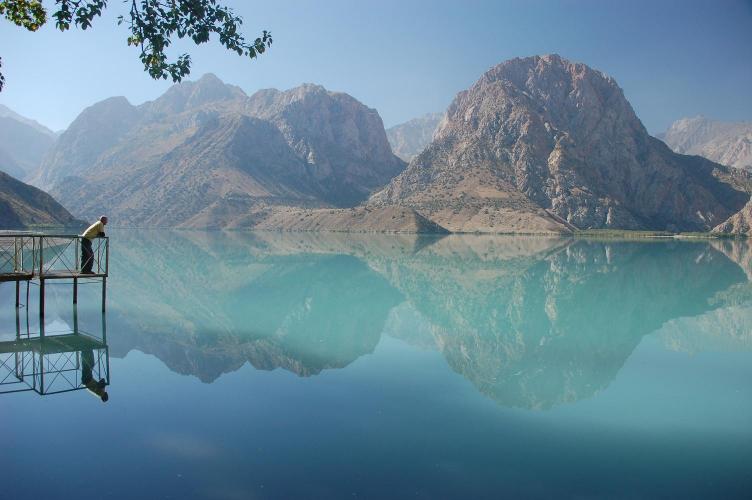 Iskanderkul lake as the name suggests has taken its name from Alexander the Great. Dimensions of the lake is like this, length around 2850 m, width around 70 m, depth 72 m with area of 3.5 square KM. The water of the lake remains cool during summers and even if you love swimming you should restrain from swimming here because it is risky as the lake lives with melting glaciers and the glacier is only at a distance of few kilometres. Lake and its surrounding area has been designated as a nature reserve. The habitats in and around lakes are rivers, water meadows, forests, sub alpine meadows and mountains. Local wildlife is another attraction point of this lake. Half of the reserve area is identified as important bird area. Because this area has lot of birds species like Himalayan snowcocks, saker falcons, yellow billed choughs, wallcreepers and more. The mysterious shapes of mountain here grab your eyeballs and they may be scary to look at nights. So it would not be wrong if one says that one of the most attractive sightseeing place in Tajikistan is Iskanderkul Lake in the Fann mountains.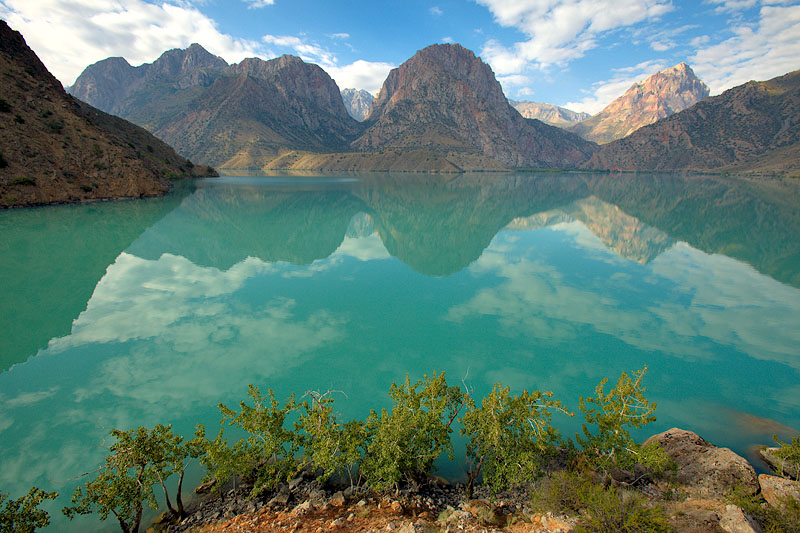 The story of Iskanderkul lake is also interesting. How fights went on between locals and Alexander who was on his way to India. Alexander in attempt to destroy people here made a dam to flood the local's area. However locals did not give up and at the end Alexander had to leave the place. So the lake's name came from that time only when the lake was formed by congestion of Saratogh river during this time of Alexander passing through and fighting with locals for many days. Cut to modern days, there is a tourist base on the shore of the lake with few chalets. And there is a waterfall not far away from the lake known as Niagra among locals which is formed by Iskanderdariya river. To enjoy seeing the fall there is also an observation deck for tourists where you can spend some time as well along with watching water fall.

So how to get to this Iskanderkul Lake in Tajikistan? You need to rent a taxi between Dushanbe or Khojand to the lake. There is no public transport and cars available to reach the lake. One adventurous way to reach to the lake is hiking from other places in Fann mountains. So go to the Iskanderkul lake and enjoy camping there. Take a Tajikistan travel package and do visit the Iskanderkul lake.