Golden temple
is known to all across the world.
Sri Harmandir sahib
or
Sri Darbar sahib
is popularly known as Golden temple. Located in the Amritsar city in Punjab, India, Golden temple is a sacred place. This is the holiest Gurudwara of Sikkhism. Golden temple is visited by millions of pilgrims and travellers from across the world every year. Golden temple is sacred and beautiful. Amritsar falls in the northern part of India where lot of tourist places are there. Amritsar is not far away from Delhi, the capital city of India so getting there is quite easy as well. People go to Golden temple for faith, for exploring and for spending time in a beautiful complex.  People go and worship there from all walks of life and every religion. Golden temple was founded in 1577 and since then has stood as a place of worship, harmony and as a temple of God. Let us explore this sacred place of Golden temple a little more.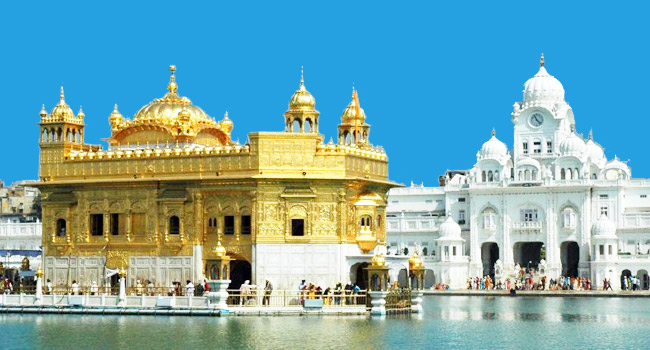 Golden temple
was established in 1577 by the 4
th
Sikh Guru named Guru Ram Das. This was then designed by 5
th
Sikh Guru named Guru Arjun to be built in the center of this holy tank and after it got completed he installed the Adi Granth (the Holy Scripture) of Sikhism, inside the Golden Temple. This complex of Harmandir Sahib is home to Akal Takht which is the throne of timeless one and this was constituted by 6
th
Sikh Guru, Guru Hargobind. Harmandir Sahib is regarded as the abode of the God's spiritual attribute and the Akal Takht is said to be the seat of God's temporal authority. So this is how Golden temple is so sacred not just for Sikhs but people of other religion also consider the place a holy temple for prayer and getting in touch of God. The greatness of the temple shows in the 4 entrances to get into the Golden temple which symbolises openness of Sikhs for people of all religions. Thousands of people visit the shrine everyday for worship and service by partaking jointly in the free community kitchen and Langar (meal). This is a great tradition and one can observe it in all the Sikh Gurudwaras.
Harmandir Sahib or Golden temple
houses the holy book if Sikhism that is Guru Granth Sahib. The holy tank of nectar in the Golden temple complex is said to be God's home and it is also believed that one who takes a bath in the tank obtain all spiritual and temporal advantages. The Gurudwara is surrounded by this tank or Sarovar which is fed by Ravi River is believed to consist of Amrit (Holy water or immortal nectar). Four entrances to the gurudwara signifiy the importance of acceptance and openness. There are three holy trees (bers). All three of then signify a historical event or Sikh saint. Inside the gurudwara you can see many memorial plaques that commemorate past Sikh historical events, saints and martyrs, including commemorative inscriptions of all the Sikh soldiers who died fighting in World War I and World War II. Architecture of the Golden temple is beautiful. Some of the architectural features of Golden temple intended to be symbolic representing the world view of Sikhs. Generally Gurudwaras were built on high land but contrary to that Golden temple was built at a lower level than the surrounding land so that all devotees who came to visit have to go down the steps to enter Gurudwara. You must cover your head inside the temple all the time.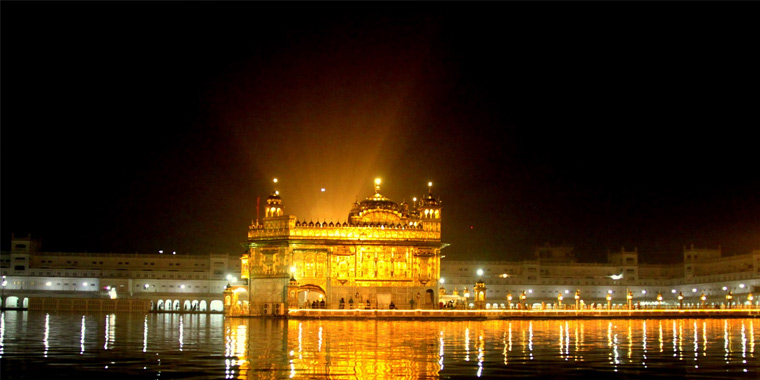 Talking about Golden temple would be incomplete if we don't talk about Langar of Golden temple which is the world's largest free kitchen. This Langar of Golden temple serves free vegetarian food to all the visitors without any differentiation and discrimination. The capacity of the kitchen is so big that it can feed up to 300,000 people every day. The very basis of this Langar is that it considers people of all religion, race, cast, creed, age, gender or social status equal and this also expresses the ethics of sharing, inclusiveness and onness for all. You can find this amazing tradition of Langar at all Gurudwaras providing free vegetarian food to all the visitors. Amritsar has developed into a great city. Amritsar is also one of the oldest cities of India so lot of traditions and culture can be observed here when you are on India tour. Food is amazing in the city. Punjabi people are very very warm and welcoming. So a trip to Amritsar is must when you are on India Tour and Amritsar trip is not at all complete without visiting Golden Temple. You don't need to be a devotee to visit Golden temple. You can just get awe-inspiring experience when you are here at Golden Temple. Entry is absolutely free. Temple is open all day and it is easy to get to Amritsar from Delhi via train, bus or private taxi. So when you are on India tour and you are exploring North India, Amritsar visit and Golden temple visit is must.