FIFA World Cup 2018: India's Biggest Football Fans Ready to Fly Russia with Dook International
8 groups, 32 teams, 64 matches, 12 venues and 32 days of super excitement!
FIFA world cup 2018
, the biggest sport event on the planet is just hours away. All the football lovers are gearing up for the opening ceremony of the 21st FIFA World Cup on 14th June 2018. This time it is going to be bigger and better. It will be the most expensive football championship event in the history of the game. Budget has soared upto US$ 14billion which is higher than last world cup held in Brazil in 2014. All the football fans from all over the world will be coming to Russia. Yes, Russia is the hosting country for this FIFA World Cup 2018. Fans will be cheering for their favourite players and players will be eager to write their names in the history books in the league of Pele and Diego Maradona, the two greatest footballers of 20th Century. Without a doubt Lionel Messi from Argentina, Neymarjr from Brazil, Cristiano Ronaldo from Portugal, Luis Suarez from Uruguay, Toni Kroos from Germany, David Silva from Spain MesutOzil from Germany and Eden Hazard from Belgium are some names in the top of the list of players to watch out for. Defending champions Germany, Brazil, France and Spain are being considered as the top contenders for the title this year. However all the 32 teams have huge fan following and that is what makes this sport a cult in the sports arena.
Pannalal and Chaitali Chatterjee – the Kolkata couple, the biggest football fan will be seeing the world cup 10th time in a row
You know that sports and especially Football is religion for many. What make it super special are fans from all round the world. This time again, Millions will be watching matches on their TV or mobile screens. But millions of lucky ones will be watching it live in the stadium. And two of those cult fans who will be watching it live in the stadium are from our own 'city of joy' Kolkata. Yes, you read it right. Pannalal and Chaitali Chatterjee, the couple from Kolkata is a huge fan of the game. So much so that they have attended all the previous 9 FIFA world cup matches. This time this will be their 10th time world cup appearance in a row in the stadiums of Russia.
Pannalal is 86 and Chaitali is 76 but their love for the game is not less than any teenager. In fact their love for Football is unmatched. Their journey to the world cups started in 1982 when they attended the event in 1982 for the first time. Since then this Kolkata based couple has seen the matches from the stands in all consecutive FIFA world cup tournaments. However their journey has not been easy. These two from middle class background had to make lot of sacrifices to keep alive their love for the game. They have consistently cut down their expenses even on necessary items like food to make sure that their funds for world cup was never compromised with.
The couple have been recognized by FIFA
The couple is a big time Brazil supporter. Talking about the most memorable moments of all these world cups Chaitali says that they have savoured each of their world cup journey and one of the high points has been when they witnessed the famous 'Hand of God' from Diego Maradona from the stands and also when they posed for a photograph with Pele.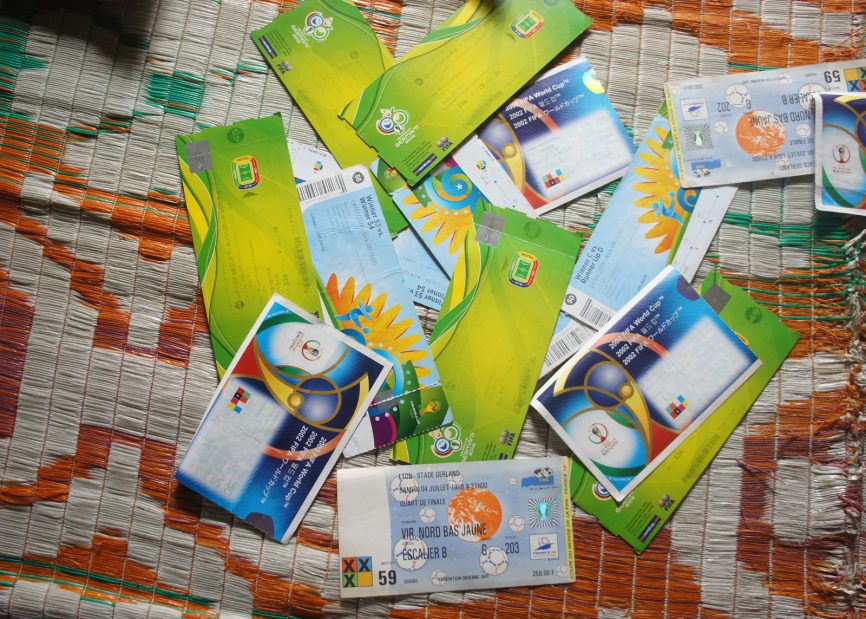 FIFA the organising body has recognized the love and effort of this couple and they had given them a grand hospitality during the U-17 World Cup matches in 2017 held in India. Chatterjee couple says, FIFA provided vehicle at their doorstep, premium seats, and dinner for them at the venue and also arranged media coverage.
Dook is privileged because the couple is flying to Russia with Dook this time
Yes,
Dook International
is proud and privileged because India's biggest Football fans are ready to fly to Russia. They will witness the 21st FIFA World Cup matches and their 10th Football world cup with your own Dook International. Dook recognizes and celebrates the passion and love of the couple for the game. So, it is needless to say that when they will be living the joy of watching the game from close quarters of the stadium, Dook International will add little more joy to their journey by making all the arrangements for their trip a special one. They will be in 7 Pax Group – Guinness World Record Group which includes Mr. Pannalal Chatterjee, his wife Chaitali Chatterjee and 5 Other Members. With Dook International's 8 Nights/ 9 Days package from 16th June to 24th June, 2018 the couple will cheer from the stands in the matches of Argentina Vs Iceland, Germany Vs Mexico, Portugal Vs Morocco and Brazil Vs Costa Rica during their visit. We hope the couple and other 5 members have a great time in Russia with Dook International Tour Package. Dook is also arranging tours for many other football fans that are going Russia to see the FIFA World Cup 2018. Book your
Russia Tour
today with us!